Country: New Zealand | Born: 1975
Robin Hammond is the recipient of the W.Eugene Smith Fund for Humanistic Photography, a World Press Photo prize, the Pictures of the Year International World Understanding Award and four Amnesty International awards for Human Rights journalism.

He has dedicated his career to documenting human rights and development issues around the world through long-term photographic projects.

Robin won the FotoEvidence Book Award for Documenting Social Injustice which resulted in the publication of his long term project on mental health in Africa, Condemned. The same body of work was exhibited at the photojournalism festival Visa Pour l'Image in France, and in New York, Italy, Belgium.

Winning the Carmignac Gestion Photojournalism Award allowed him to continue his long-term photo project on life in Zimbabwe under the rule of Robert Mugabe. The work culminated in an exhibition in Paris and the publication of his first book 'Your Wounds Will Be Named Silence'. The work went on to be exhibited at Le Recontres in Arles, France and in Milan, Rome, and Cologne and was featured in National Geographic Magazine.

Robin has made a wide variety of other photographic bodies from the impact of climate change on Pacific Island communities to rape used as a weapon of war in Congo and Bosnia, to the poisoning of ecosystems by multi-nationals in developing countries, to the rise of Africa's middle class.

Born in New Zealand, Robin has lived in Japan, the United Kingdom, South Africa and France.
Agency:
Website: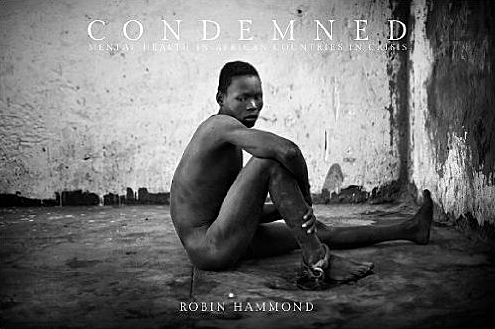 Author: Robin Hammond
Publisher: FotoEvidence
Year: 2013 - Pages: 132
Condemned: Mental Health in African Countries in Crisis by Robin Hammond presents a profound body of work produced over seven years in nine African countries. "Condemned" was selected for the 2013 FotoEvidence Book Award by a prestigious international jury. Hammond captures both the deplorable conditions that the mentally ill endure and the overwhelming challenge that mental health workers face with limited resources and inadequate or failed systems health care systems in which the mentally ill have the lowest priority. Interviews with both the incarcerated mentally ill and those working to heal them - secular mental health workers and both Christian and Muslim faith healers - provide blunt evidence of the past trauma and current suffering of his subjects and the challenges and frustration of those struggling with limited resources to find ways to address the needs of vast numbers of mentally ill. Shame and prejudice based on traditional and religious beliefs about mental illness add cultural obstacles to the effective treatment of the mentally ill in many regions of Africa. The hardbound book measures 8 inches by 12 inches, with a matt laminated cover. It contains 89 black and white images, an introduction by the photographer and raw fragments of interviews conducted with patients, care givers, healers, and mental health administrators. Printed on 100lb paper on a Heidelberg press at Ofset Yapimavi in Istanbul, the photographs bring a rich aesthetic feel to a subject matter that could be considered harsh and disturbing.