Country: United States | Born: 1954
Cindy Sherman was born in 1954 in Glen Ridge, New Jersey. Sherman earned a BA from Buffalo State College, State University of New York (1976). In self-reflexive photographs and films, Cindy Sherman invents myriad guises, metamorphosing from Hollywood starlet to clown to society matron. Often with the simplest of means—a camera, a wig, makeup, an outfit—Sherman fashions ambiguous but memorable characters that suggest complex lives that exist outside of the frame. Leaving her works untitled, Sherman refuses to impose descriptive language on her images—relying instead on the viewer's ability to develop narratives, as an essential component of appreciating the work. While rarely revealing her private intentions, Sherman's investigations have a compelling relationship to public images, from kitsch (film stills and centerfolds) to art history (Old Masters and Surrealism) to green-screen technology and the latest advances in digital photography. Sherman's exhaustive study of portraiture and self-portraiture—often a playful mixture of camp and horror, heightened by gritty realism—provides a new lens through which to examine societal assumptions surrounding gender and the valuation of concept over style. Among her awards are the Guild Hall Academy of the Arts Lifetime Achievement Award for Visual Arts (2005); American Academy of Arts and Sciences Award (2003); National Arts Award (2001); a John D. and Catherine T. MacArthur Foundation Award (1995); and others. Her work has appeared in major exhibitions at Sprüth Magers, Berlin (2009); Jeu de Paume, Paris (2006); the Museum of Modern Art, New York (1997); and the Museum of Contemporary Art, Los Angeles (1997); among others. Sherman has participated in many international events, including SITE Santa Fe (2004); the Venice Biennale (1982, 1995); and five Whitney Biennial exhibitions. Cindy Sherman lives and works in New York.
Website: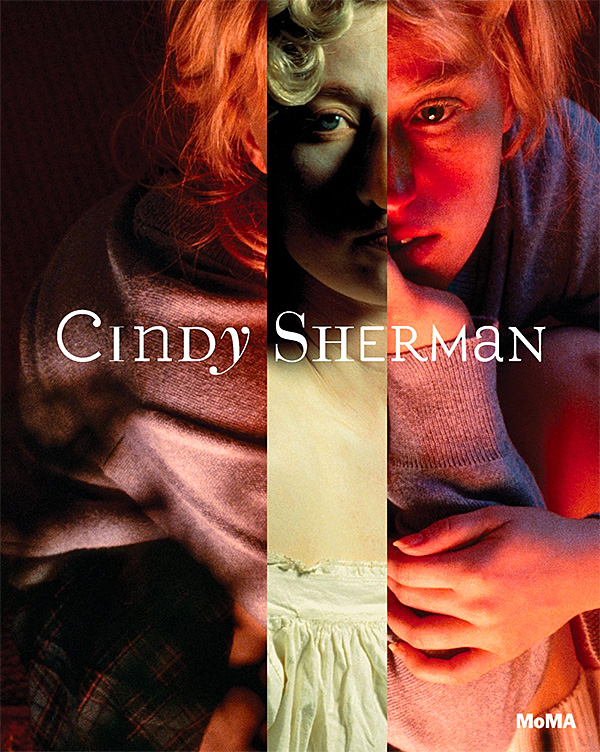 Author: Cindy Sherman, Eva Respini, Johanna Burton
Publisher: The Museum of Modern Art
Year: 2012 - Pages: 264
Published to accompany the first major survey of Cindy Sherman's work in the United States in nearly 15 years, this publication presents a stunning range of work from the groundbreaking artist's 35-year career. Showcasing approximately 180 photographs from the mid-1970s to the present, including new works made for the exhibition and never before published, the volume is a vivid exploration of Sherman's sustained investigation into the construction of contemporary identity and the nature of representation. The book highlights major bodies of work including her seminal Untitled Film Stills (1977-80); centerfolds (1981); history portraits (1989-90); head shots (2000-2002); and two recent series on the experience and representation of aging in the context of contemporary obsessions with youth and status. An essay by curator Eva Respini provides an overview of Sherman's career, weaving together art historical analysis and discussions of the artist's working methods, and a contribution by art historian Johanna Burton offers a critical re-examination of Sherman's work in light of her recent series. A conversation between Cindy Sherman and filmmaker John Waters provides an enlightening view into the creative process.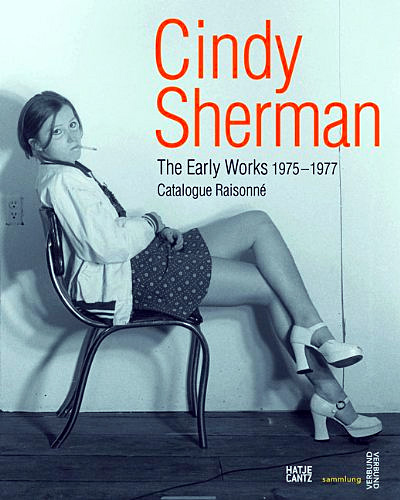 Author: Cindy Sherman, Gabriele Schor
Publisher: Hatje Cantz
Year: 2012 - Pages: 375
For more than 30 years now, Cindy Sherman has been enacting a gamut of female roles and identities. Contrary to popular belief, the famous Untitled Film Stills (1978-80) are not Sherman's earliest works, but rather those photographs she took as a student at State University College at Buffalo, between 1975 and 1977. During those years, Sherman cast aside the career in painting she had initially imagined for herself and began to study photography: "I was meticulously copying other art and then I realized I could just use a camera and put my time into an idea instead," she later recalled. Cindy Sherman: The Early Works, 1975-1977 gathers all of the artist's work from this decisive phase, in which Sherman was formulating her conceptions of gender and identity construction, gathering her toolkit of props (wigs, makeup, costumes) and becoming friends with artists such as Robert Longo (with whom she would establish the Hallwalls gallery in New York). With nearly 300 plates, including numerous previously unknown photographs, plus scholarly research by editor Gabriele Schor, this substantial volume adds a wealth of new information to our understanding of Sherman's oeuvre.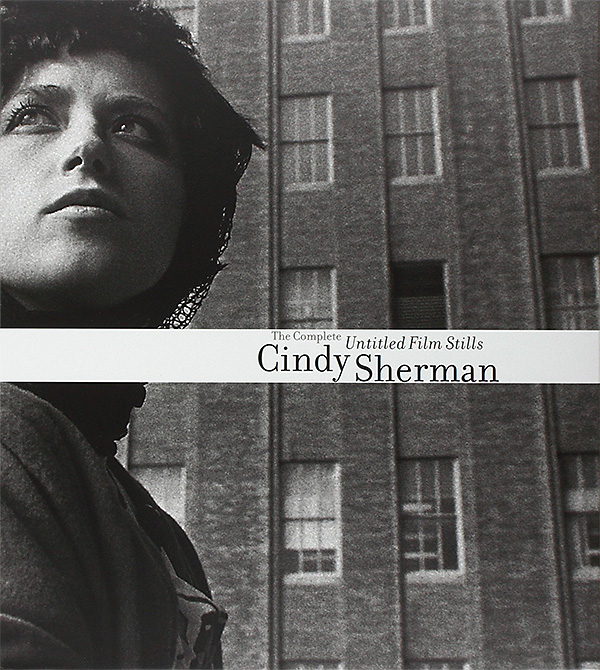 Author: Cindy Sherman
Publisher: The Museum of Modern Art
Year: 2003 - Pages: 164
Cindy Sherman's Untitled Film Stills, a series of 69 black-and-white photographs created between 1977 and 1980, is widely seen as one of the most original and influential achievements in recent art. Witty, provocative and searching, this lively catalogue of female roles inspired by the movies crystallizes widespread concerns in our culture, examining the ways we shape our personal identities and the role of the mass media in our lives. Sherman began making these pictures in 1977 when she was 23 years old. The first six were an experiment: fan-magazine glimpses into the life (or roles) of an imaginary blond actress, played by Sherman herself. The photographs look like movie stills--or perhaps publicity pix--purporting to catch the blond bombshell in unguarded moments at home. The protagonist is shown preening in the kitchen and lounging in the bedroom. Onto something big, Sherman tried other characters in other roles: the chic starlet at her seaside hideaway, the luscious librarian, the domesticated sex kitten, the hot-blooded woman of the people, the ice-cold sophisticate and a can-can line of other stereotypes. She eventually completed the series in 1980. She stopped, she has explained, when she ran out of clichas.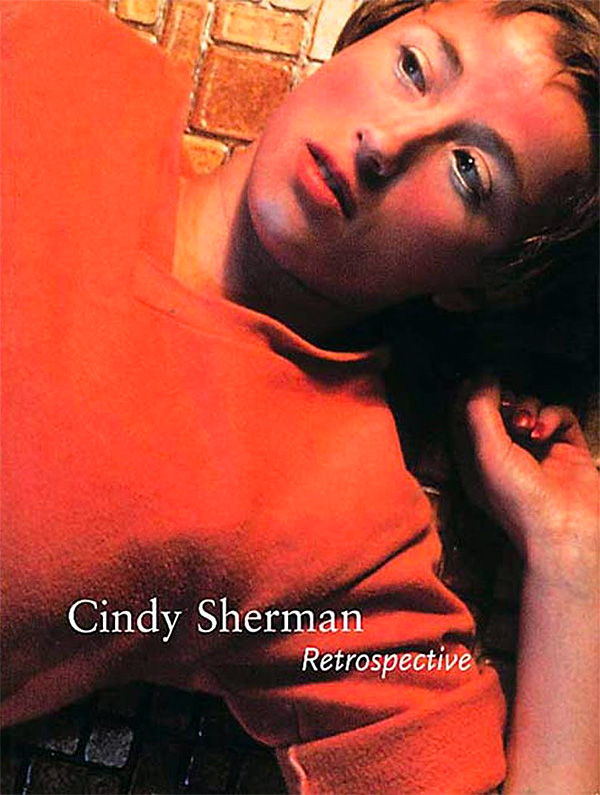 Author: Cindy Sherman
Publisher: Thames & Hudson
Year: 2000 - Pages: 220
American artist Cindy Sherman creates staged and manipulated photographs that draw on popular culture and art history to explore female identity. Her art embodies two developments in the art world: the impact of postmodern theory on art practice; and the rise of photography and mass-media techniques as modes of artistic expression. This volume, published on the occasion of an international touring exhibition, presents over 200 images from the breadth of Sherman's work, from the "Untitled Film Stills" of the 1970s to series such as "Centerfolds", "Fashion", "Disasters", "Fairy Tales" and "History Portraits". Essayists Cruz, Jones and Smith offer insights into Sherman's art from several vantage points, positioning it within the trajectory of feminist art history and revealing her influence since the 1970s.