From May 25, 2021 to July 30, 2021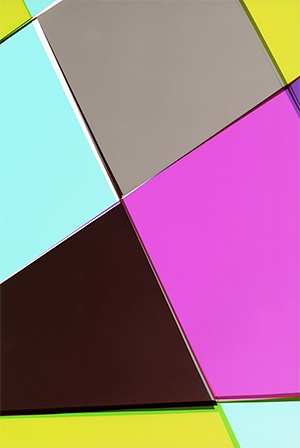 91 Water Street
New York, NY 11201
JANET BORDEN, INC. is pleased to announce C O L O R, a new exhibition of color photographs by a variety of gallery artists. There are certain qualities unique to color photography, and each of these artists is addressing at least one. The color makes these photographs particularly enticing, and different from other work.

Starting with Hanno Otten's spectacular large Colorblock, each image is dependent on the impact of the color. Generally, photographs are selected for their information, their message, their narrative; Otten's light studies (Lichtbilde) are abstract large swaths of color delivering a punchy impression without a story.

Jan Groover's extraordinary still life has a Morandi-like simplicity, primarily due to its colors. Groover has painted the bottles a matte gray to diffuse the color. The composition also has a Morandi-like complexity, with implied planes making various bottles more prominent. This is extremely rare and difficult in photography, yet Groover makes it appear simple.

Alfred Leslie's masterful pixel study of a woman's head is an amazement of color and surface. Winokur's Glass of Water is a powerful image of deadpan simplicity in blue. No metaphor here. Fred Cray's Untitled #C is a kaleidoscopic view of Deno's Wonder Wheel at Coney Island. The layered yellow color adds to the appeal of this somewhat hallucinogenic view.