From September 29, 2020 to November 07, 2020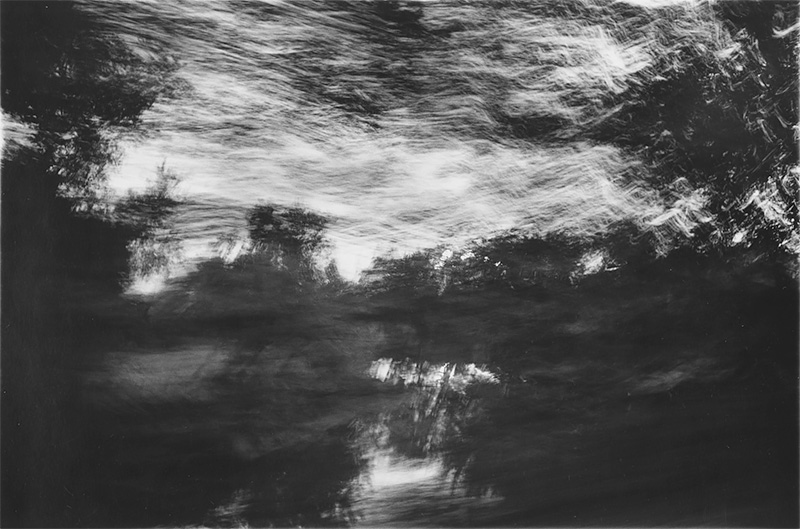 7661 Girard Avenue
La Jolla, CA 92037
Tom Zetterstrom, Moving Point of View. 1972-1985
Joseph Bellows Gallery is pleased to present Tom Zetterstrom's long-running series, "Moving Point of View." The show will be on view in the gallery from September 29 to November 7, 2020.

Raising questions about established photographic realities, Tom Zetterstrom's silver prints, made throughout the 1970s and 80s, synthesize traditional landscape photography with a cinematic sweep of motion. Shot from a car, a train, or airplane, the unique combination of elements that results - some adrift, some still - makes the viewer acutely aware of his lagging eyes and mind when confronted with the more efficient oculus of the camera.

Going to considerable lengths to facilitate his artistic fiction, including wiring strobe lights to the front of his car and carefully setting the camera tripod in the center of the front seat, Zetterstrom reveals the beauty and surprise inherent in his photographic portrayal of movement.

"Moving Point of View... consists of images that hurdle by, a mass of streaks and whorls, or that hang as if caught in the middle of a seismic shudder, they are as desolate as any painted by Caspar David Fredrich." - Vivien Raynor, New York Times

"Initially, I was interested in the lateral, frontal, and curved motion captured by the careening car-camera. Gradually, however, I was drawn toward a more complex concept; the tenuous interaction between these machines and the passing landscape. These photographs interrupt the flow of time and motion; they capture the essence of a glance. In doing so, they hold onto evasive reality, revealing the precarious balance between the intangible and the actual."

"From his photographs [the photographer] learned that the appearance of the world was richer and less simple than his mind would have guessed. He discovered that his pictures could reveal not only the clarity but the obscurity of these things, and that these mysterious and evasive images could also, in their own terms, seem ordered and meaningful." - John Szarkowski

Tom Zetterstrom (b. 1945) lives in Connecticut. He has photographed trees extensively and is an activist in their protection. His work is represented in the permanent collections of the Addison Gallery of American Art; Fogg Museum, The Museum of Fine Arts, Houston; The High Museum of Art; George Eastman Museum; The Library of Congress; The Museum of Modern Art, New York; Philadelphia Museum of Art; and the Saint Louis Museum of Art, among others.