Santa Claus, also known as Father Christmas, Saint Nicholas, Saint Nick, Kris Kringle, or simply Santa, is a legendary character originating in Western Christian culture who is said to bring gifts to the homes of well-behaved children on the night of Christmas Eve (24 December) or during the early morning hours of Christmas Day (25 December). The modern character of Santa Claus was based on traditions surrounding the historical Saint Nicholas, the British figure of Father Christmas, and the Dutch figure of Sinterklaas. Some maintain Santa Claus also absorbed elements of the Germanic deity Wodan, who was associated with the pagan midwinter event of Yule and led the Wild Hunt, a ghostly procession through the sky.
Santa Claus is generally depicted as a portly, jolly, white-bearded man—sometimes with spectacles—wearing a red coat with white fur collar and cuffs, white-fur-cuffed red trousers, red hat with white fur, and black leather belt and boots and carrying a bag full of gifts for children. This image became popular in the United States and Canada in the 19th century due to the significant influence of the 1823 poem A Visit from St. Nicholas. Caricaturist and political cartoonist Thomas Nast also played a role in the creation of Santa's image.
Nowadays, actors portraying Santa Claus appear in the weeks before Christmas in department stores, shopping malls, or at parties. The practice of this has been credited by some to James Edgar, as he started doing this in 1890 in his Brockton, Massachusetts department store.
Ron Cooper
, decided to capture the many faces and personalities of Santa. A long project he undertook for 14 months. The result is a whimsical and inspiring collection of beautiful pictures of actors who portray Santa before and after their magical transformation.
In addition to the fifty Santa Claus around the United States, the texts and stories accompanying the images, detail what drives these men to take on the role with heartwarming backstories.
We are Santa
was listed in the 15 Feel-Good Books Guaranteed to Lift Your Spirits by the Washington Post. We agree! This is a must-have for the entire family this Holiday Season. Enjoy!
Ron Rooper Explains:
I'm a portrait, travel and documentary photographer based in Denver, Colorado. I travel overseas extensively in pursuit of images that reflect local cultures and people. My most recent project, We Are Santa, was produced a bit closer to home, specifically in photo shoots in eight cities across the United States.
I met my first professional Santa Claus three years ago in New Mexico, where I was photographing cowboys, gunslingers, snake handlers and Civil War-era reenactors. One subject made a convincing 1860s Union soldier, complete with authentic costume and musket-rifle. After we had completed the shoot, he asked if he could show me a very different character that he portrayed with equal enthusiasm. I agreed, and he returned fifteen minutes later as Santa Claus. As it happens, he had a gig at an Albuquerque shopping mall during the holiday season.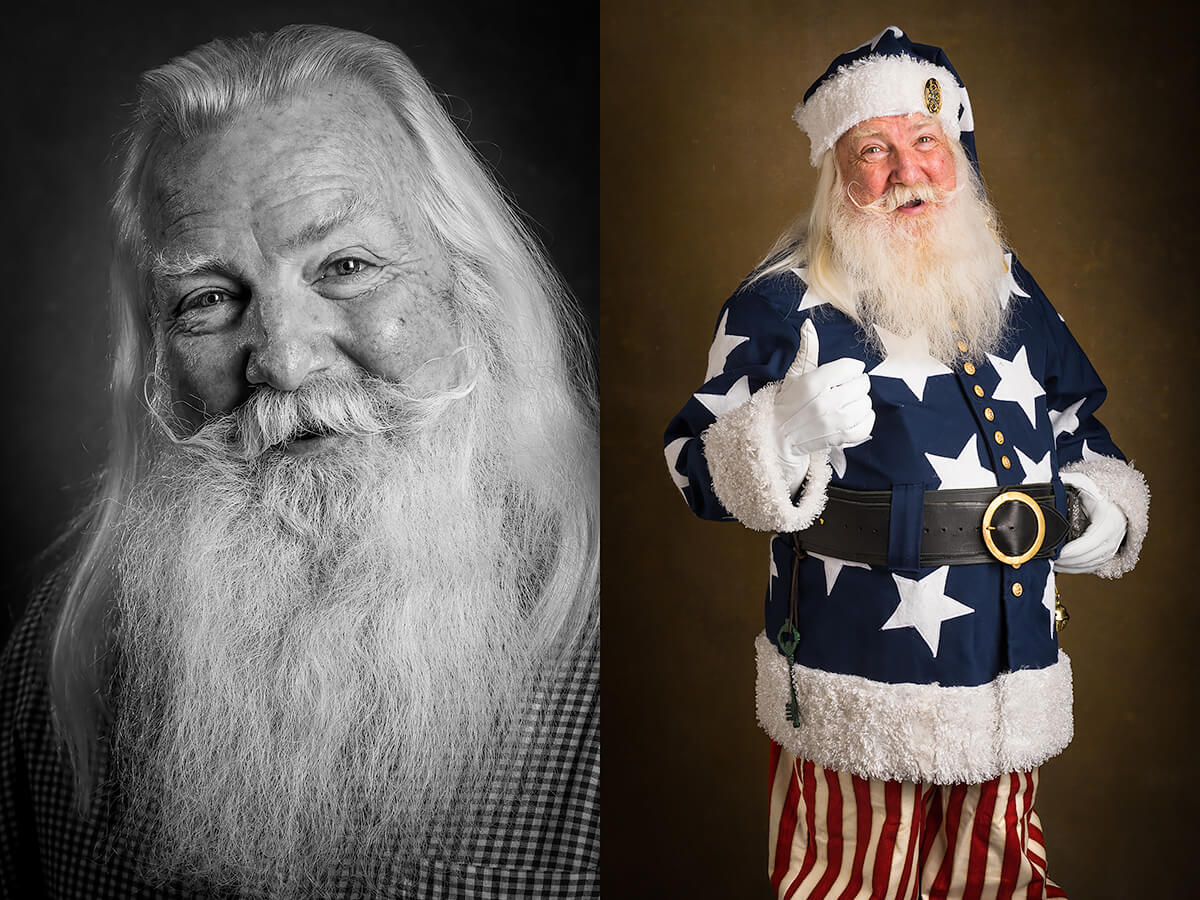 Left: Barry Swindall. Right: Santa Barry Swindall © Ron Cooper
Shortly after that, I saw a news story about the Charles W. Howard Santa School, the oldest Santa training program in the nation. This idea -- that there is an actual school for Santas -- was a new one to me, but I was immediately intrigued by the seriousness with which the school's students pursued the art and craft of embodying Santa Claus. It wasn't long before I learned that Santa Claus is the most photographed character in the word! That's when I thought to myself, who better to be the focus of a portrait photography project? Santa, of course.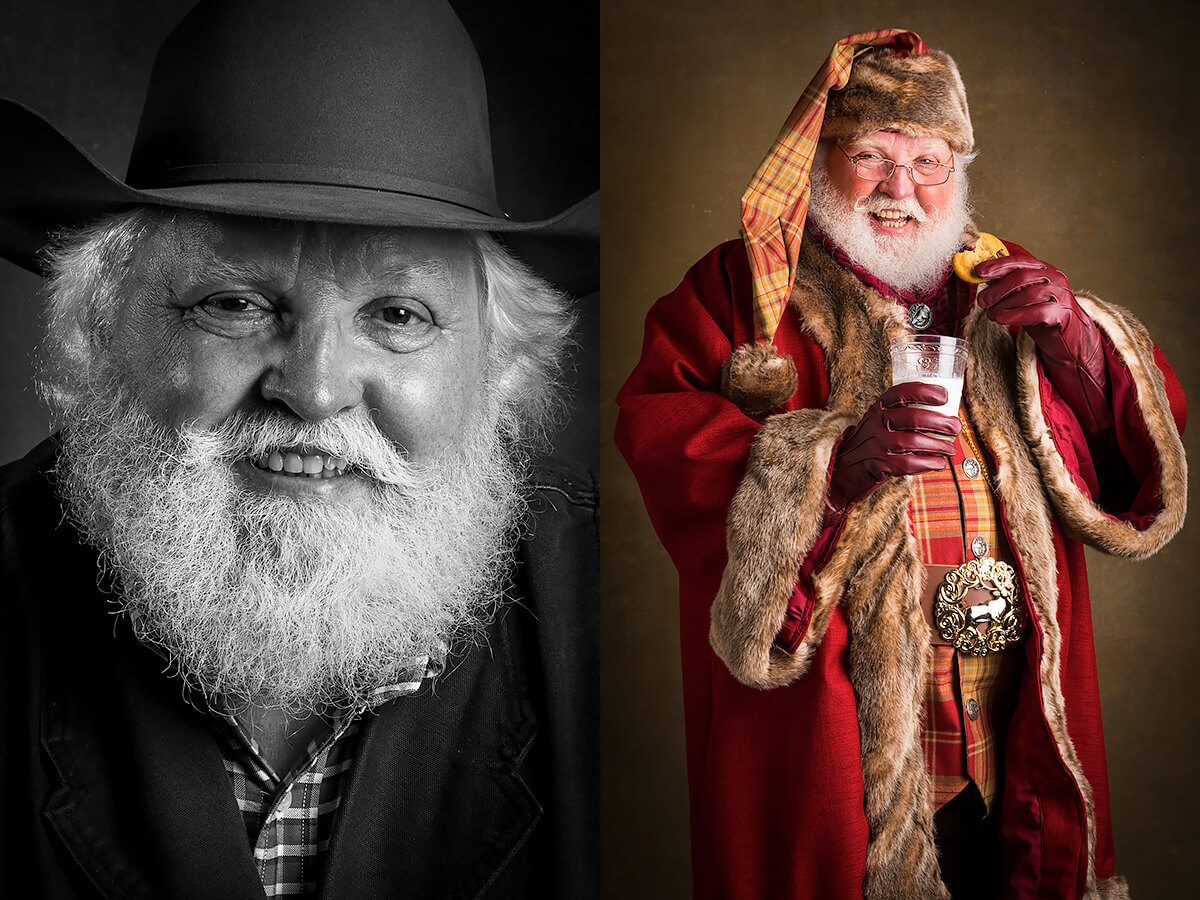 Left: Bill McElyea. Right: Santa Bill McElyea © Ron Cooper
I've always enjoyed meeting and photographing people who follow their passions, especially when those ambitions take them far outside the realm of their daily lives. In addition to historical reenactors, I've photographed clowns, drag queens, cosplayers, zombies and, of course, Santas. On the surface, they are very different groups of people, but these transformers are united in their commitment to their callings and in their eagerness to creatively reinvent themselves physically as they embody their character of choice.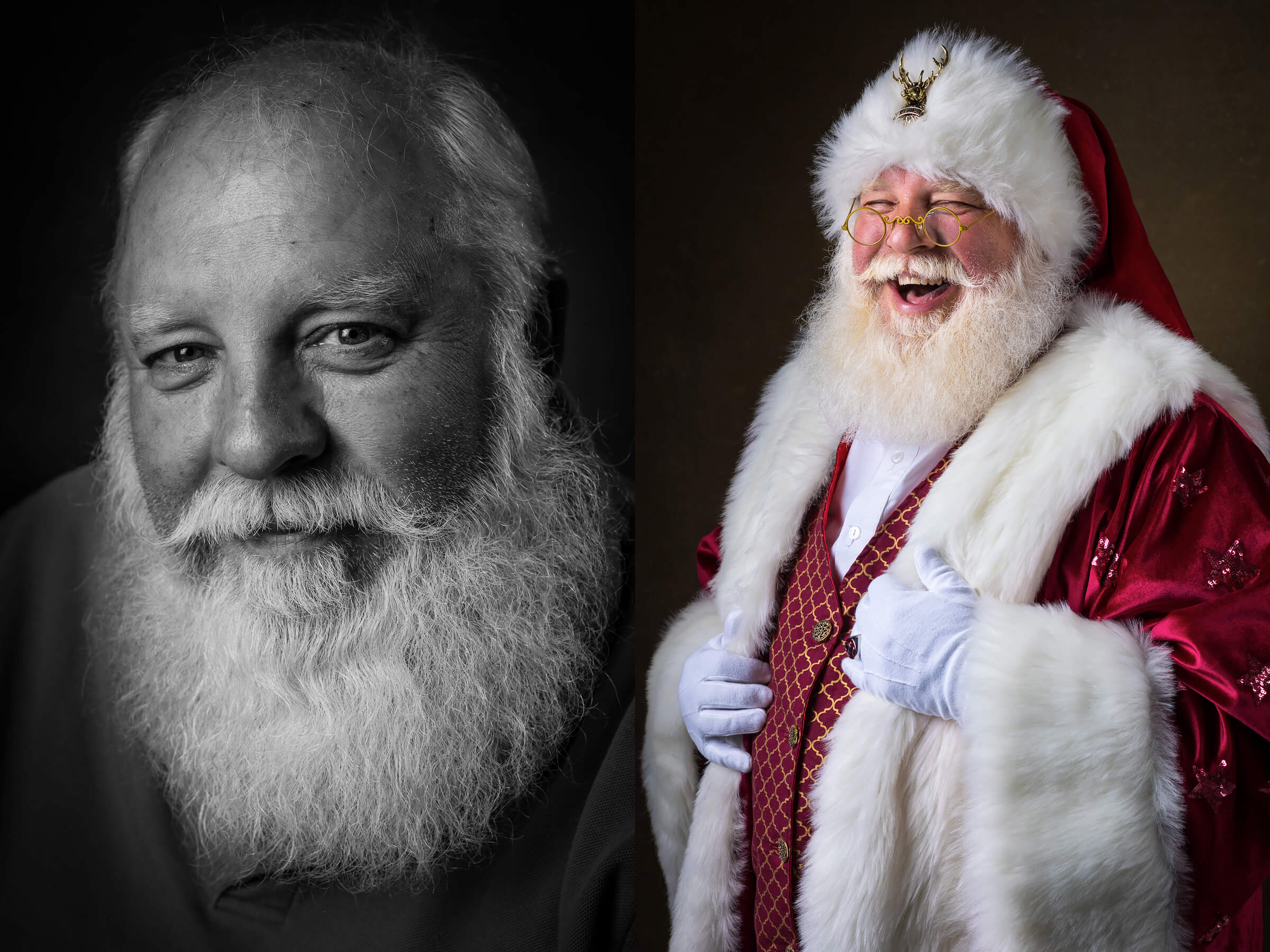 Left: Cesar Janeira. Right: Santa Cesar Janeira © Ron Cooper
With the assistance of two leading Santa booking agents, I arranged photo shoots with over 100 of the top professional Santas in cities across the country. I asked them to arrive at the studio in street clothes -- no bells, no red suit -- so that I could make their portraits, to be presented in black and white.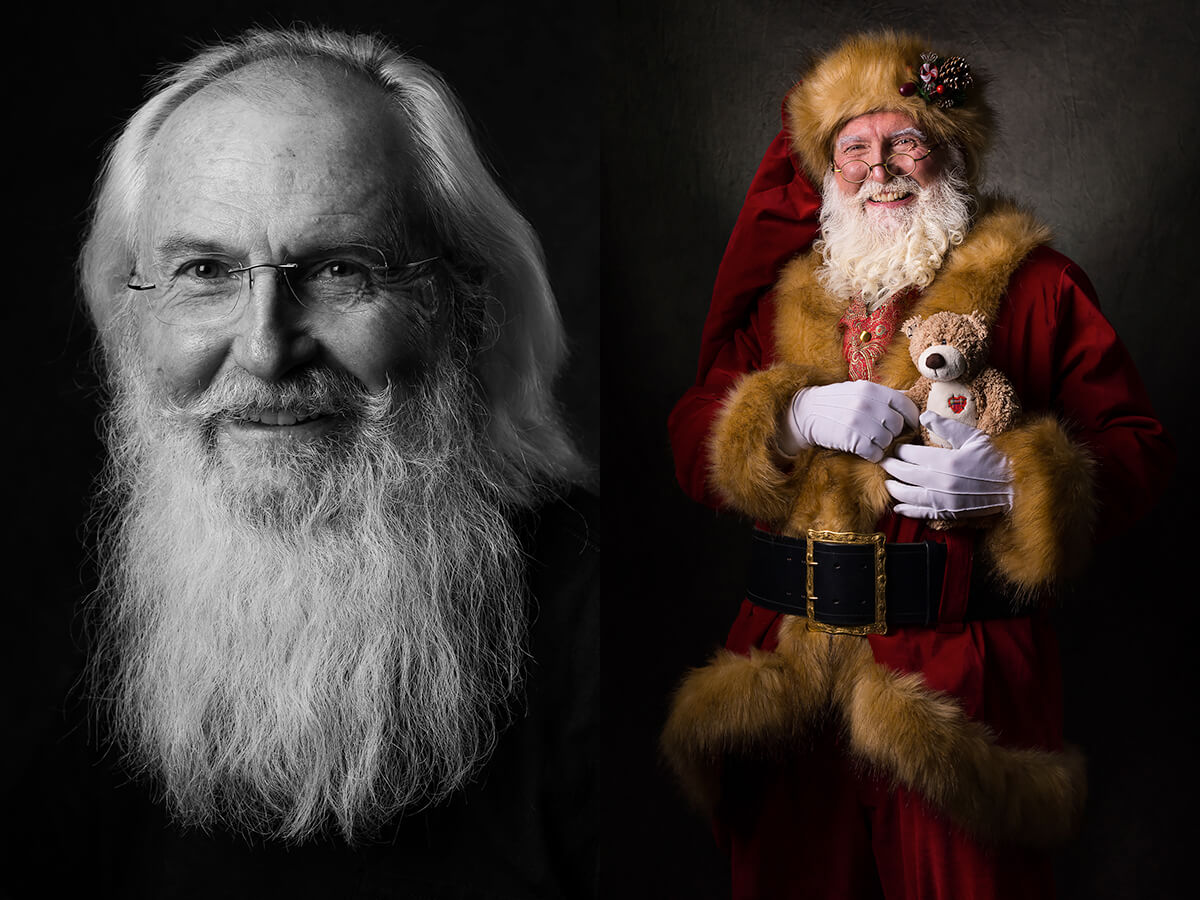 Left: Garth Scovill. Right: Santa Garth Scovill © Ron Cooper
That's when the real fun began. In what was often an elaborate and lengthy physical transformation, each Santa changed into his favorite suit for another set of portraits, this time in full color. I present both the before and after portraits in the book, along with a brief bit of biographical detail and a few anecdotes drawm from interviews I conducted with each Santa.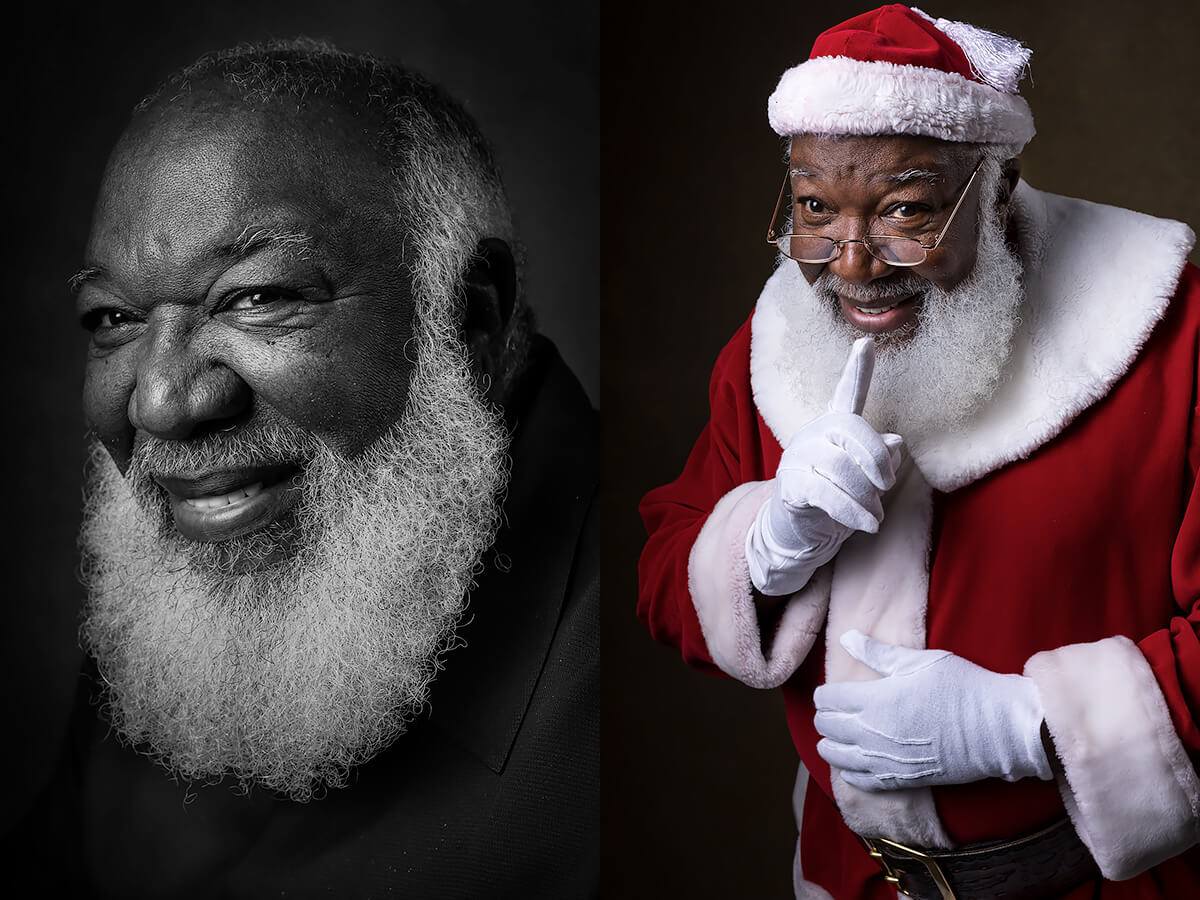 Left: James Nuckles. Right: Santa James Nuckles © Ron Cooper
This was a fun project! I found myself surprised and impressed by the diversity and range of the character we know simply as Santa. More importantly, I learned about the dedication, professionalism, commitment and character of the men I met and photographed. They are deeply devoted to their mission -- to the children they meet, and to the integrity of their persona, to the spirit of the season, and to the history and traditions of Santa Claus.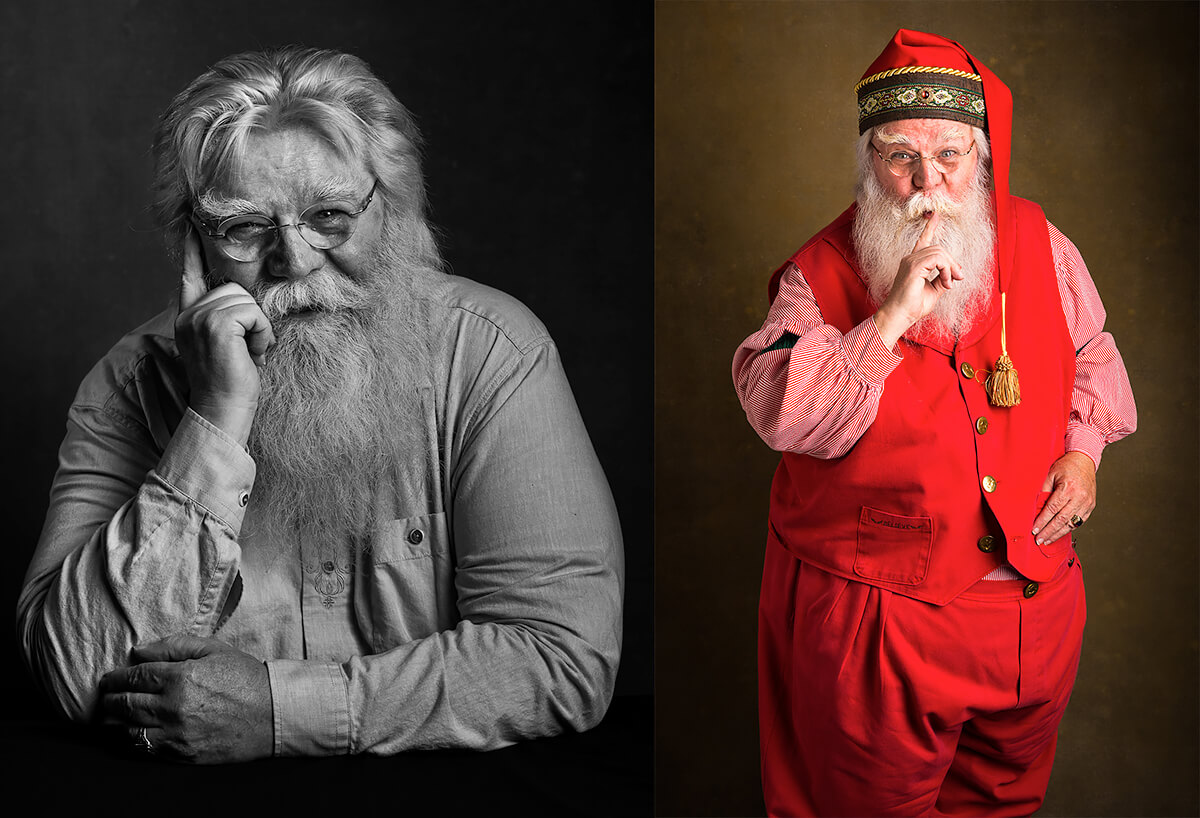 Ron Cooper on Instagram
All about Ron Cooper