Nude photography is a popular genre of fine art photography since the inception of the medium in the middle of the 19th century, but it has long been controversial and even considered to be just pornographic.
Mentalities have evolved and amazing photographers like Imogen Cunningham, Larry Clark, David Hamilton, Robert Mapplethorpe, Diane Arbus, Helmut Newton, Sally Mann, Nobuyoshi Araki, Alfred Stieglitz, Edward Weston, Ruth Bernard, Annie Leibovitz, Jean Loup Sieff, Lucien Clergue, Man Ray, George Brassai, Bill Brandt, Erwin Blumenfeld, André Kertész, Ralph Gibson, Sasha Stone, Germaine Krull, Herb Ritts... to name only a few, have elevated nude photography over time to a popular genre. It even has its own
Festival
at Arles in France each year.
The human body is an extraordinary creation and its complex shape and its sublime contours make it an ideal subject for photographers. But it is not as easy as it seems, at least if you want to take beautiful pictures. So here are a few tips to help you make the best out of your photo-shoot.
Find the right model
It might seem obvious but unless you want to take pictures of yourself, you need to find a model that will be willing to get naked in front of your camera. If you don't know anyone that would accept to do so, you can either hire professional models through
model agencies
or try to find models through
art schools
. Sculptors, painters etc. hire models for art classes and some of them are familiar with working long hours and being naked. Students are also happy to become models for a few dollars but make sure they know exactly what you intend to do.
The person you will be working with needs to trust you as well as you need to trust him/her. The more comfortable she/he will be, the easier it will be to work together.
Also ask you model to wear large clothes the day of the shooting so that there are no marks on the body you intend to photograph.
Important:
Before you start, you need to ask them to sign a release form. Be professional. If you don't have a written consent from your model, you won't be able to use any of the images for publication, exhibitions and so on. The model also needs to understand that her/his image might be out there on the internet.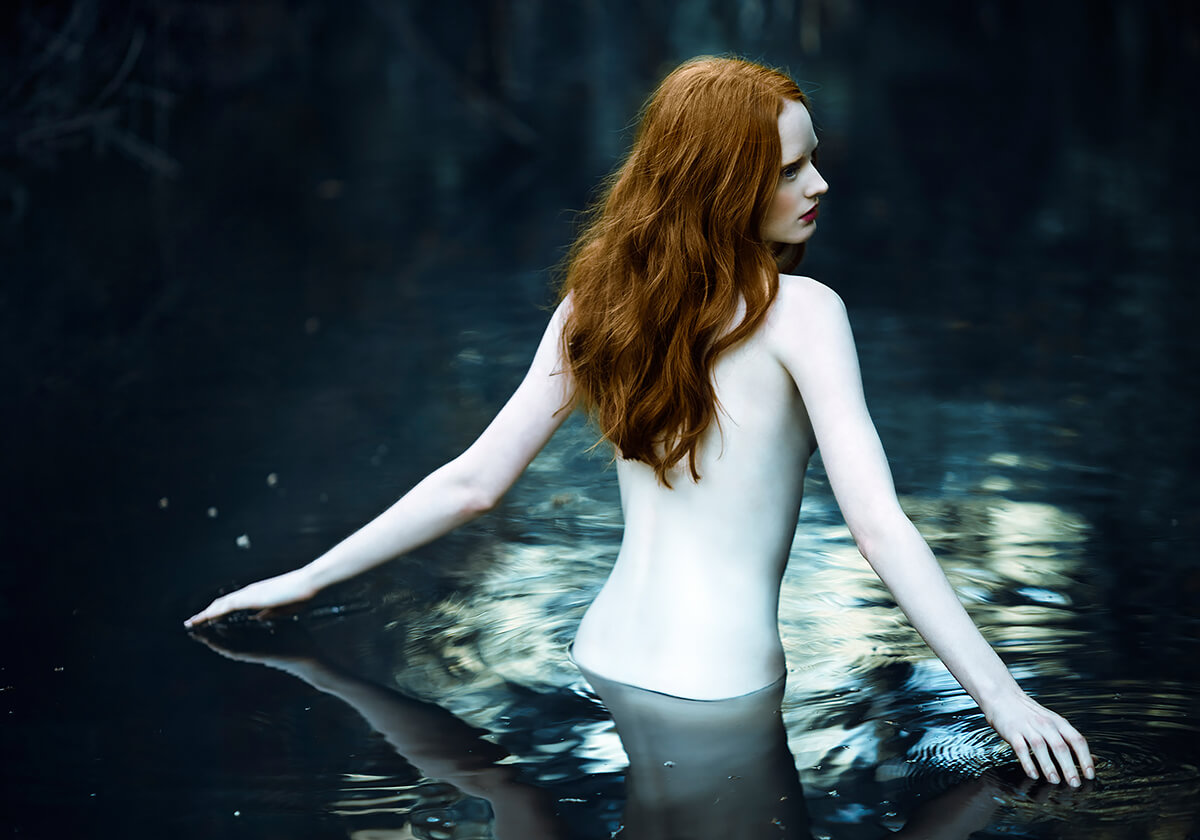 All about Zhang Jingna
Find the right location
Be on the lookout for places that might be suitable for a nude photo shoot. The location should help you highlight the model.
Natural landscapes, such as fields, forests and bodies of water, are popular choices because they will bring out the naturalness of the naked human body. However, you could also opt for an industrial site, an urban landscape or another interesting area to look at. Beware of any authorizations you might need if you shoot outside.
Depending on your project, choosing an indoor setting is sometimes easier, especially if you are just starting. It also allows you to better control lighting. The room should be large enough to allow you to move around your model and get her/him from head to toe unless you want to work on close-ups. The temperature is also important to keep your model comfortable as well as a changing room. Also remember to provide a bathrobe or a comfortable outfit that your model can put on if she/he is cold.
If it is the first time you work with a specific model, choose to rent a studio instead of asking her/him to go to your place or to rent a motel room. Meeting at your place or in a hotel might make your model think twice about their safety. Put yourself in your model's shoes.
In any case, the location should be very private for the day of the shooting.
Prepare beforehand
Don't be impatient to start shooting, you will need to have a clear vision and prepare beforehand to know how you can achieve it. Think about the types of thematic elements you would like to incorporate, as well as technical details, such as angles, lighting and framing. It would be very unprofessional and a recipe for disaster if you are not prepared before you start shooting. There should be a tacit bond of trust between the photographer and his subject and the idea of getting undressed for an ill-prepared amateur, with no real project in mind, could make your model very uncomfortable.
Don't hesitate to browse the internet to find ideas and get inspiration from others. You can also make sketches of what you have in mind. It will help your model understand what you are trying to achieve.
If possible meet with your model before your shooting date to talk about your project, where it will take place...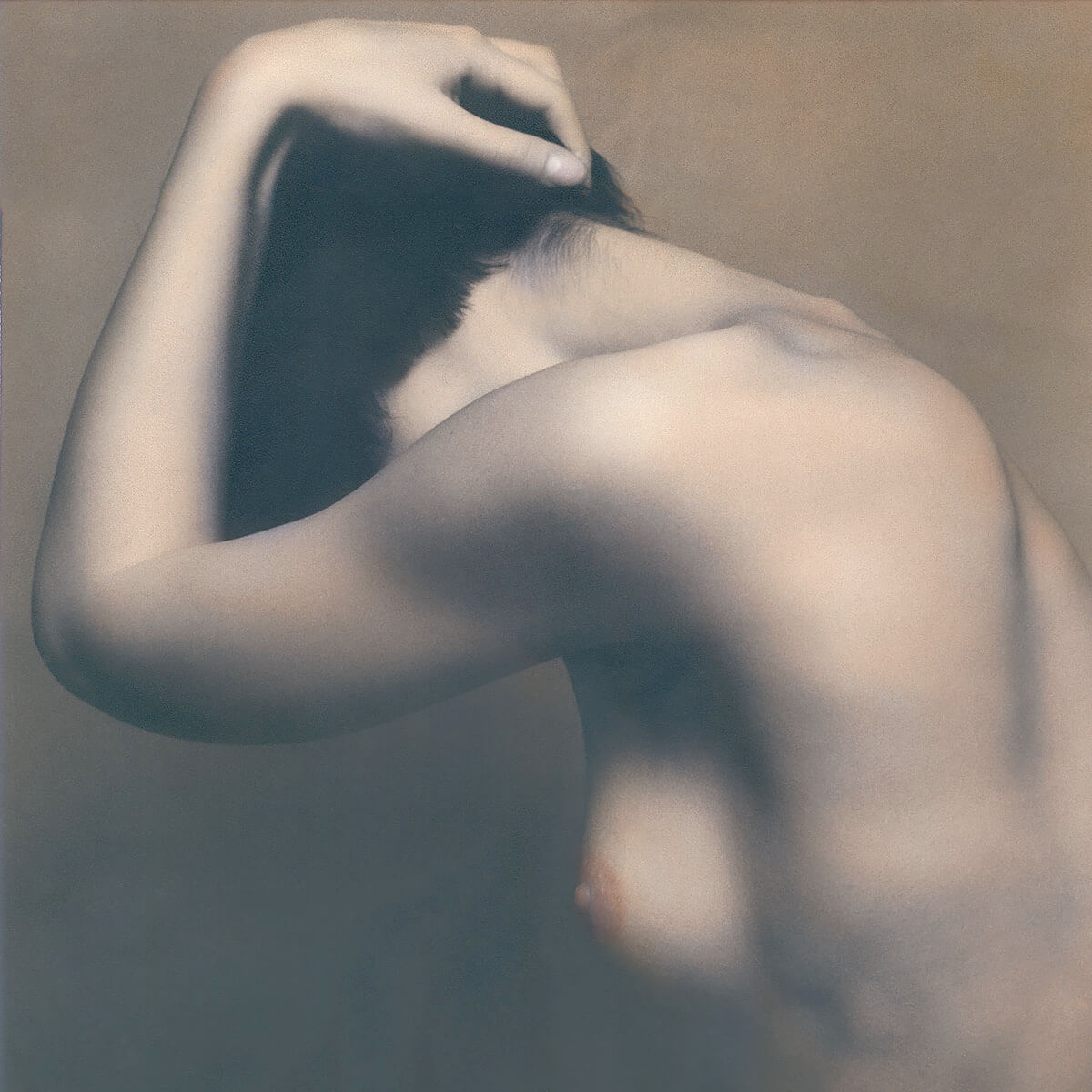 Nude with raised arm © Brigitte Carnochan
All about Brigitte Carnochan
Lighting
Lighting is extremely important in any type of photography but even more so for nude photography. You have lots of different possibilities when you're working with light and you need to adjust your light source to highlight and accentuate the features of your model.
If you're shooting in a field for example, it could be the soft, diffused light of the sunset. Your lighting should work with the shapes and postures of your model, to give you the most aesthetic images possible. Choose natural light sources like the sun or fire (in a chimney or bond fire pits, don't burn the forest to the ground) or even candles. The result is usually warmer and softer than artificial light especially if you take pictures in broad daylight.
For sharper contrast, you can use a flash or lamps in a studio setting. When I started taking nude pictures (a long time ago), I used French A.E. Cremer studio spot lights that used to be on film sets. They give you a sharp light that allowed the body to stand out from the black background.
You can also use rim light, a lighting technique where the model is backlit and the image is exposed to hide the subject features in shadow. The technique gets its name from the fact that lighting a subject in this way produces a thin line or 'rim' of light which appears to cling to the subjects outline.
Another option is to use a softbox.
Move your light sources around and try different intensities, different placements and different orientations, until you get the result you want. It can take a while to get the perfect lightning but it is worth it!
Don't Be Afraid to Experiment
Unless you know exactly what you want or you already have a specific visual style, don't hesitate to try different compositions, filters, types of lighting, etc. Each model is unique and each photo shoot should therefore be a little different. Be thoughtful in your approach and take the time to capture every nuance of your subject, location, lighting and action. By doing so you will have happy (and sometimes unhappy) accidents.
Try different things. Include a few black and white shots in a series of color images, to incorporate other thematic elements into the shoot. You can decide to use them in post production and to do something completely different than what you had initially decided. There are many styles and ideas for photographing nudes. Don't hesitate to experiment outside of your comfort zone. A lot of nude shots are the same thing replicated over and over again, by experimenting you might do something different.
You can also let your model move and pose freely and capture everything you can. If these spontaneous photos are not successful, you can simply delete them. But you could also get two or three really special shots. You can decide to put on some music and ask your model to dance to capture movement and unconventional postures.
Give your model some freedom in the way she/he represents herself/himself. Encourage her/him to contribute to the project in her/his own way and let their personality shine through.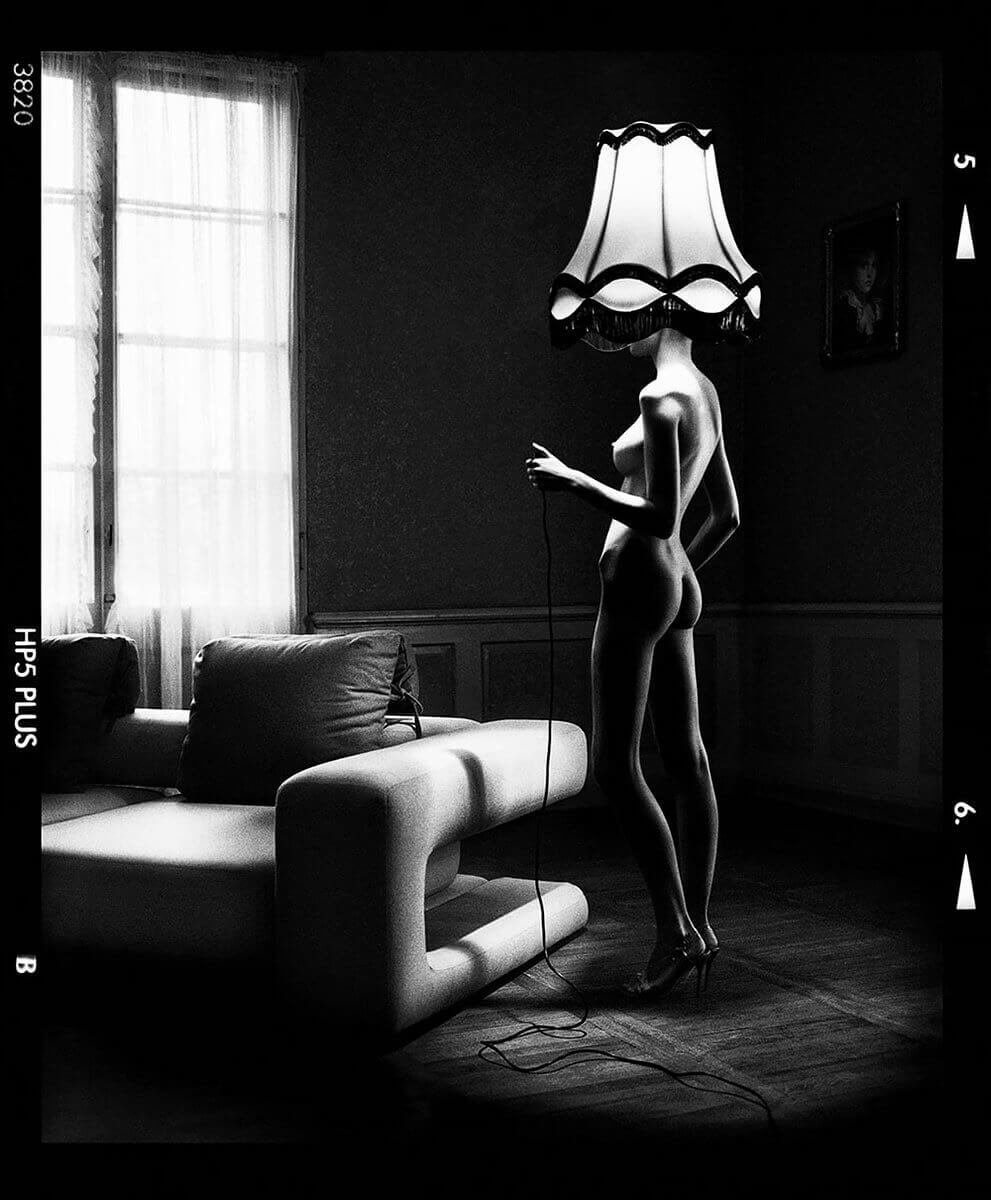 All about Szymon Brodziak
Less is more
Don't feel the need to show the entire body of your model or to act like a voyeur. Sometimes less is more! Find elegant ways to hide or reveal your model's body. Use minimalist accessories (such as scarves or jewelry) to cover the most intimate parts of the body or photograph your subject from original angles. Nude photography does not necessarily imply showing all the body's details. You could easily leave the field of art and cross a line that leads to pornography.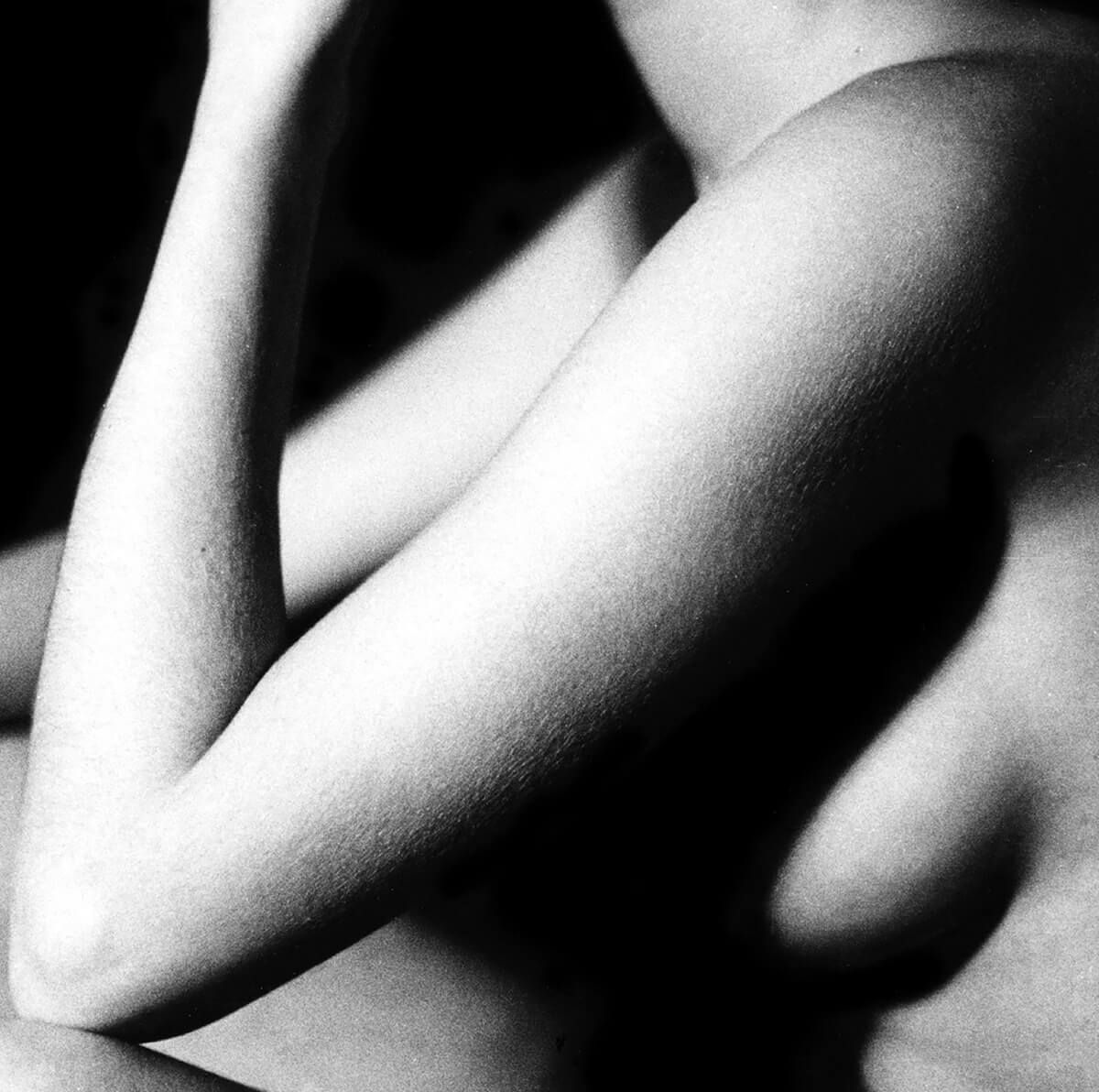 © Sandrine Hermand-Grisel
Important warnings
- Always ask your model's permission before touching or photographing her/him in a new pose. You are not suppose to touch your model at any time except with their approval.
- If you want to do some post production modifications, before retouching your model's body using a software, ask her/his opinion. Some models will tolerate this practice more easily than others.
- Before using your pictures for contests, exhibitions, books, social media or any type of presentation, make sure that your model gives you his/her agreement. You cannot use their image without their written consent!
- Do not try to sexualize your subject more than necessary. Respect her/his privacy.
- Be always respectful of your model, behave like a professional. Take your model seriously, as an artist in its own right, with his/her own personality.