Out of thousands of entries, these remarkable photographers come from around the world with 17 different countries being represented.
Their work allows us to escape for a few moments in these difficult times to other beautiful places around the world, allowing us to dream of a better future.
From Ethiopa's church in the sky, to the misty mornings of China or the streets of Nizhneangarsk in Russia, we virtually travel to the four corners of the earth.
Kyrgyzstan, Norway, Mongolia, Papua New Guinea, Japan, China, Saigon, Mauritania, Russia, India, Myanmar, Nepal, Azerbaijan, Mali, Benin, Vietnam, Peru, Australia, Chad and the United States are amongst the countries you will be able to discover in the 11th edition of AAP Magazine.
The Winner of AAP Magazine 11 Travels is Mauro De Bettio (Spain) with his image Closer to Heaven.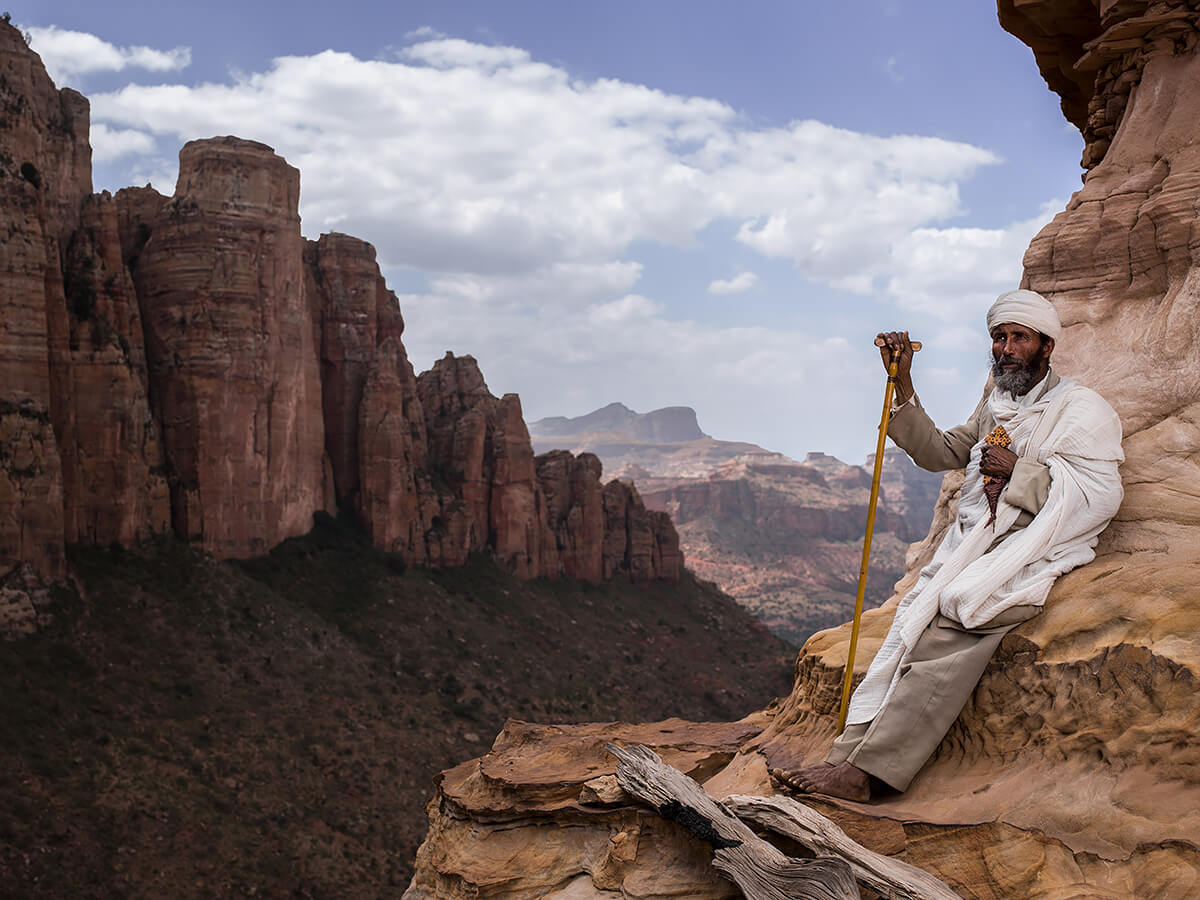 Ethiopia's 'church in the sky' is arguably the most inaccessible place of worship on earth, perched on top of a vertical spire of rock and 200m drops on all sides. The monolithic church, located in northern Ethiopia in the Tigray region, is 2,600m high and must be climbed on a vertical rock with bare feet to reach it, making you wonder how families grit it out to visit the church for Sunday services
Mauro De Bettio's Website
Mauro De Bettio on Instagram
2nd Place Winner: Philippe Fatin (France) with his series 'In the Mounts of the Moon'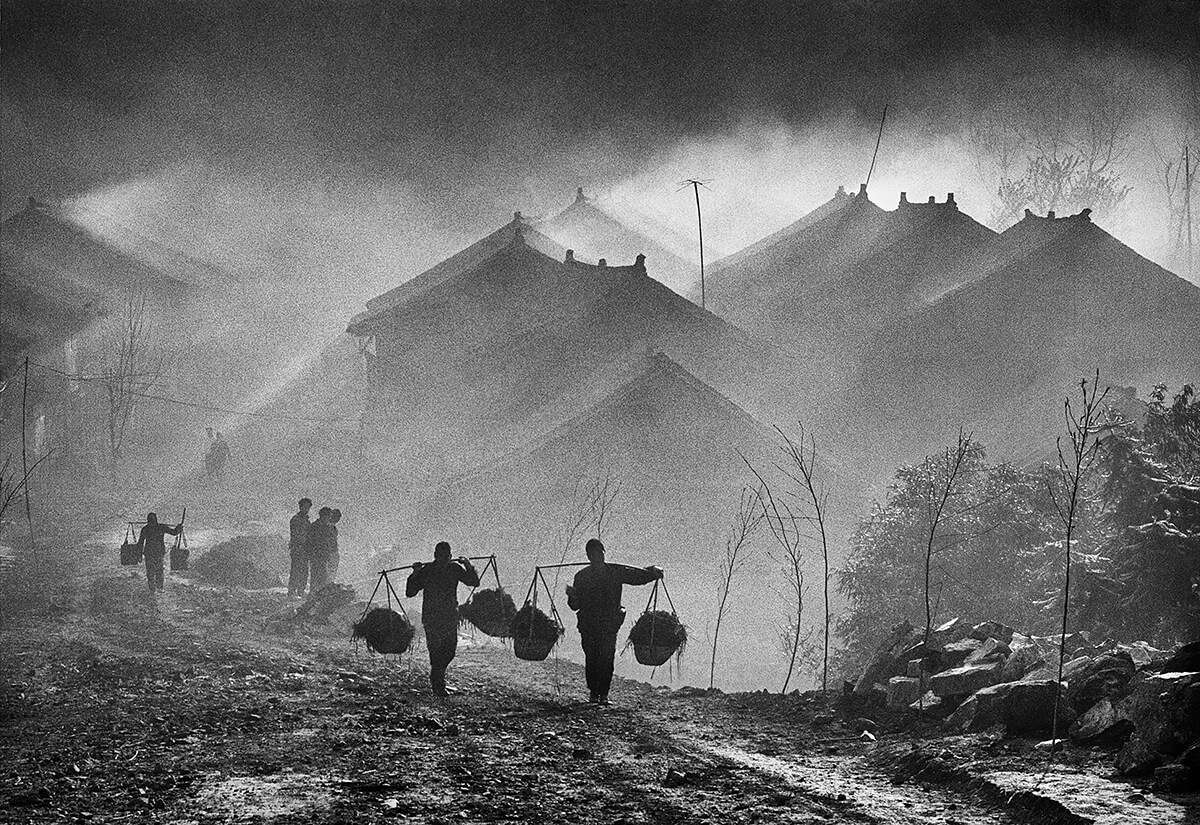 Misty morning at Baojin village in winter time - For the third day of the third lunar month , the Dong peoples celebrate this event. They are preparing the sticky rice in each houses, the smoke melt with the misty morning created this magic atmosphere . In early morning, they are going to pick shallots and garlics in the gardens. Guizhou province, Zhenyuan district China.
Philippe Fatin's Website
Philippe Fatin on Instagram
3rd Place Winner: Natalya Saprunova (Russia/France) with her series 'Isolated: life around Baikal lake'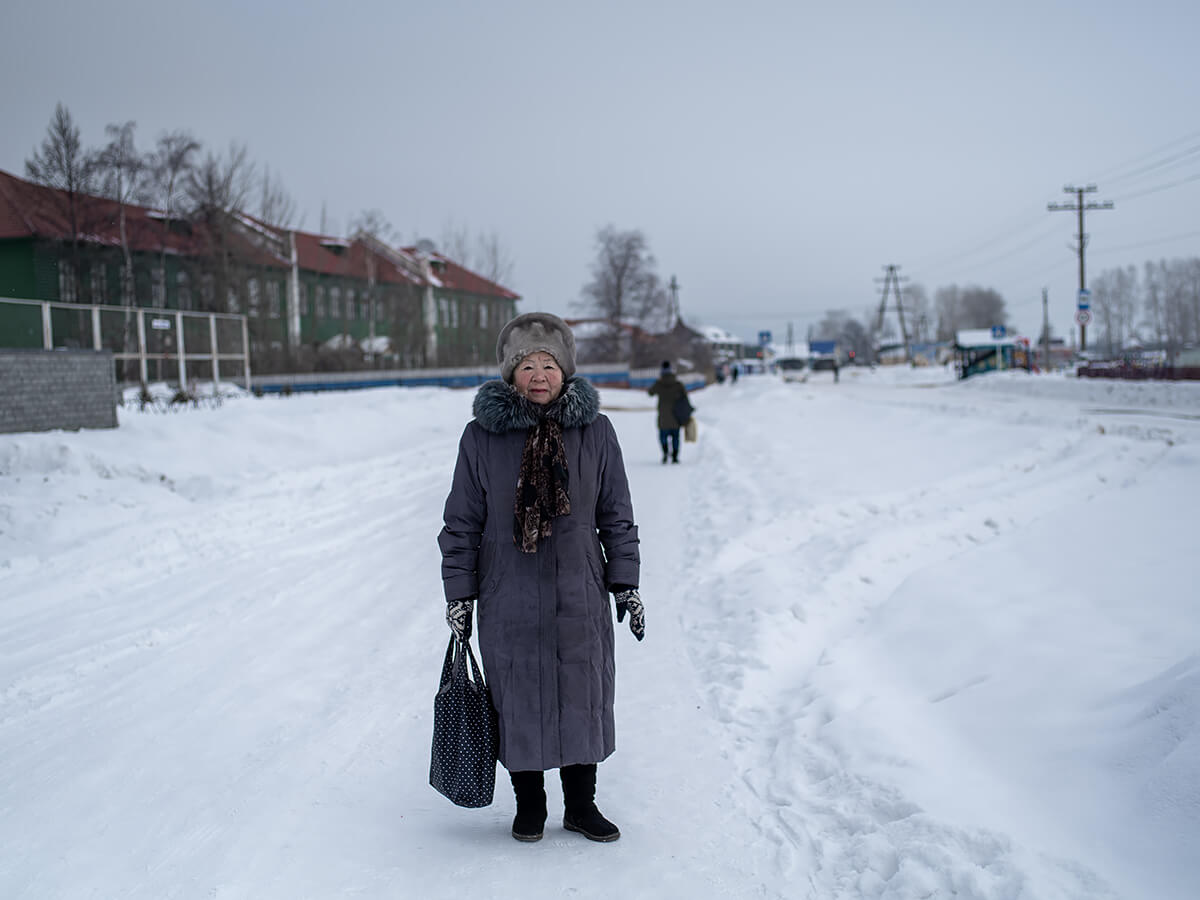 In the streets of Nizhneangarsk - A warmly dressed resident of Nizhneangarsk, an urban locality of Buryatia Republic in Russia, walks down the street to do her shopping. The town is located at the northernmost part of the Baikal lake and was developed mostly during the construction of the Baikal-Amur Mainline (BAM) railway line at the end of the 70's. The BAM was built as an alternative strategic route to the Trans-Siberian Railway for transporting raw materials away from the sensitive Soviet-Chinese border.
Natalya Saprunova on Instagram
MERIT AWARDS GALLERY
Alain Schroeder (Belgium)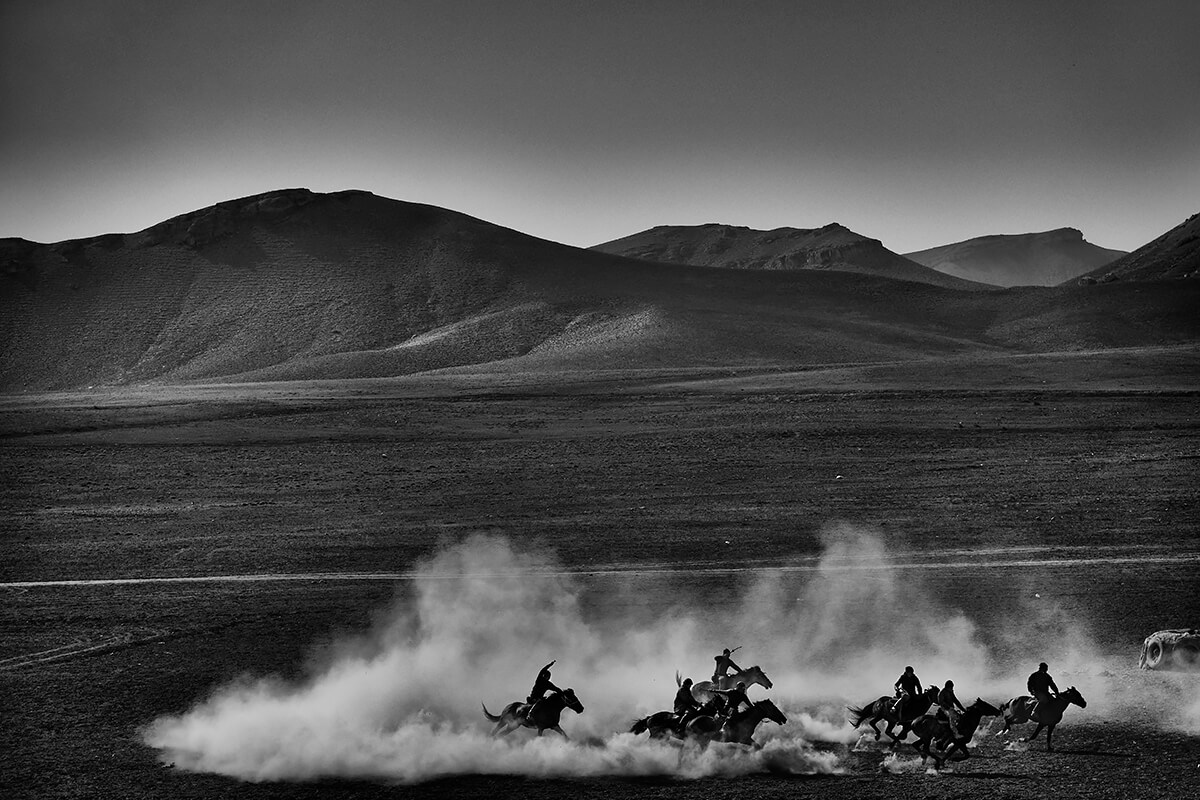 Dead Goat Polo 5 - In Kyrgyzstan, on the plateau framed by mountains, the riders circle around the tai kazan battling for an opportunity to score a goal. Trying to outrun your opponents with a decapitated (headless) goat wedged between your leg and your horse, might not be your idea of a fun game, but in Kyrgyzstan, Kok Boru is the national sport. Dead goat polo feels more to me like cavalier rugby. Organized in two teams of four, but sometimes many more, riders race from one end of the field to the other chasing the rider with the goat whose sole intention is to score a point by heaving the 30 kilo body into the Tai Kazan (goal) on either end.
Alain Schroeder's Website
Alain Schroeder on Instagram
All about Alain Schroeder
Alain Schroeder's Exclusive Interview
Jean Mathieu Saponaro (France)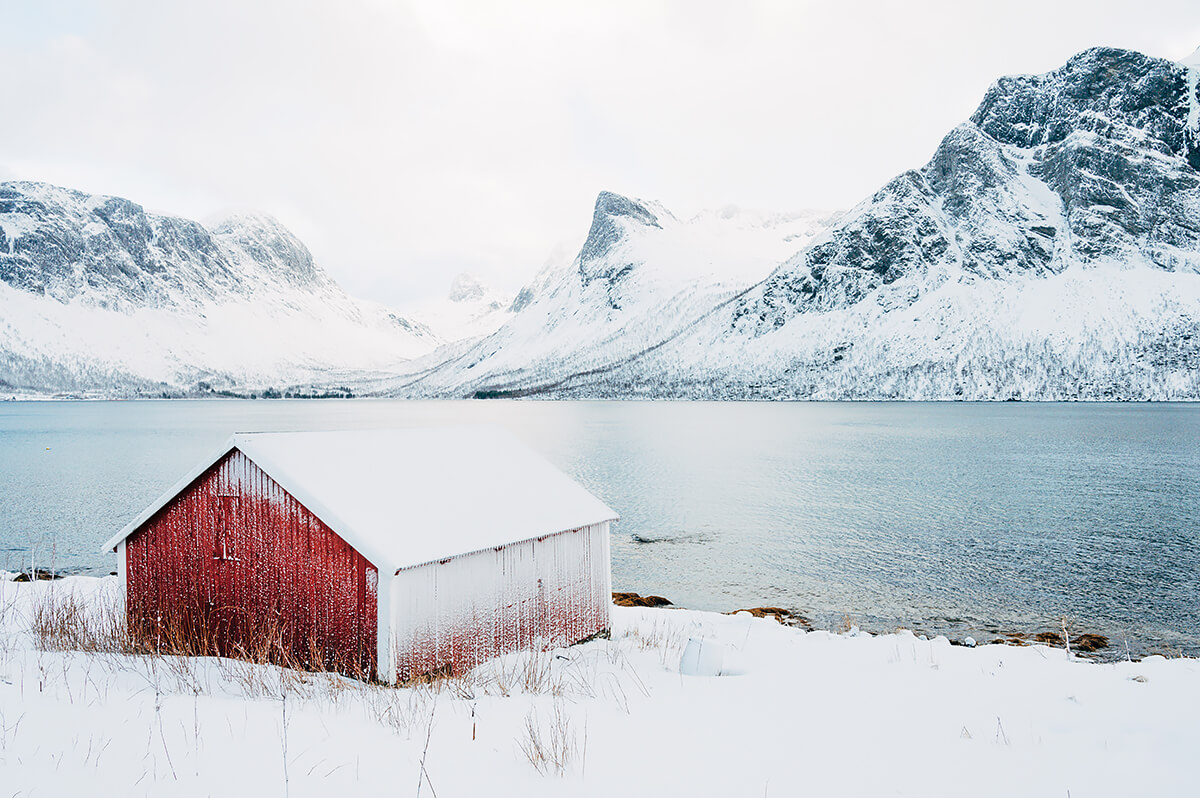 The Barn, Senja Island, Northern Norway, from the series The red and the White - White, always more, out of sight. A desert without any color. Or is it the opposite? White is actually all colors at once. And suddenly, like a mirage: Red. Mysterious, only escape for the eye in this immensity. Only trace of Humanity in this nature so powerful, so wild, so hostile.
Jean Mathieu Saponaro's Website
Jean Mathieu Saponaro on Instagram
Tuan Nguyen Tan (Vietnam)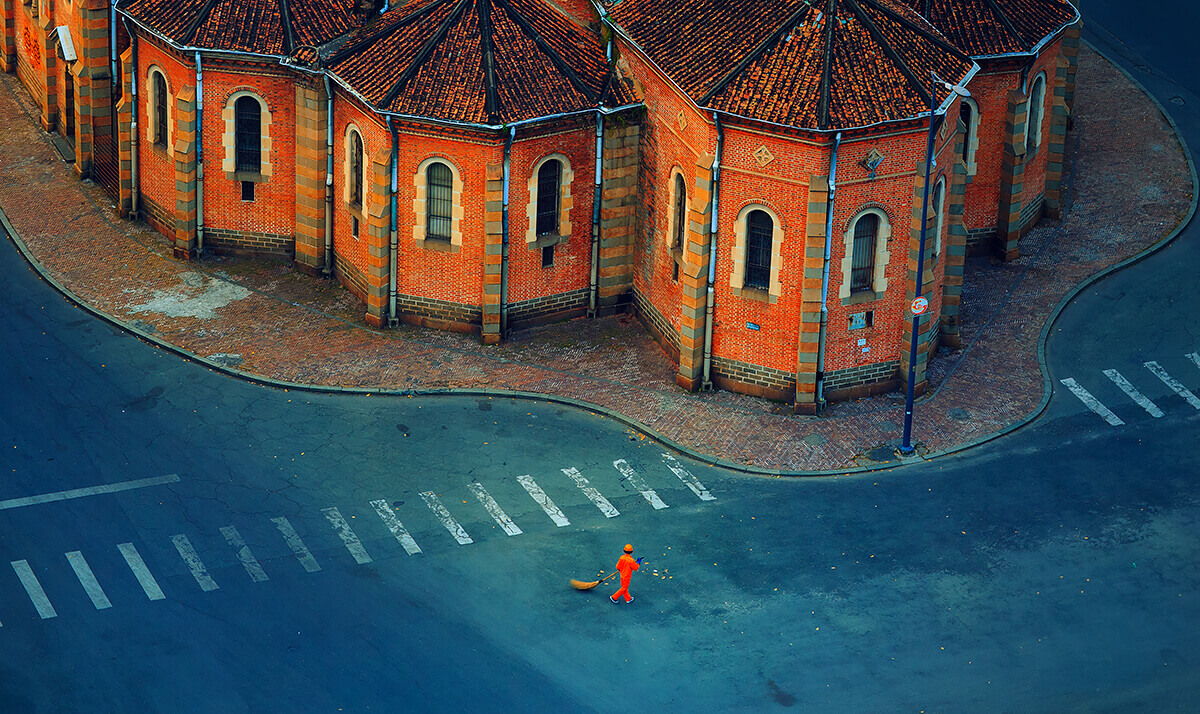 The sound of bamboo brooms beside the Church - The worker is cleaning the road next to the Notre-Dame Cathedral Basilica of Saigon at dawn. This is the quiet moment of Saigon in the morning before the city is crowded with traffic.
Tuan Nguyen Tan on Instagram
Samuel Devantery (Switzerland)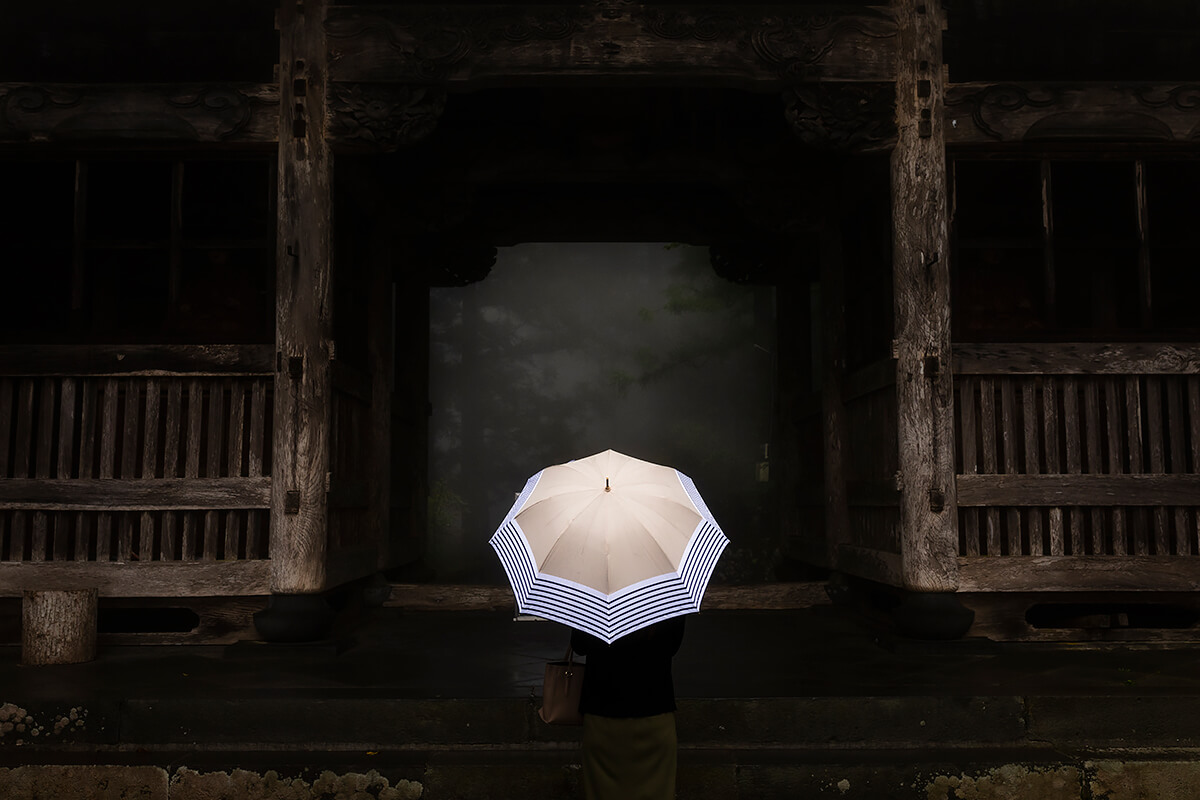 Umbrella - This serie was taken September 4, 2018 in Japan. It was during the violent Typhoon Jebi. As I was inside the country I just felt the side of it. There was a sweet feeling, a misty fog and a tiny rain who refreshed the hot weather of September. It was very special to feel all those positives energies while the typhoon smashing the japanese coast.
Samuel Devanterys Website
Samuel Devantery on Instagram
Chin Leong Teo (Japan)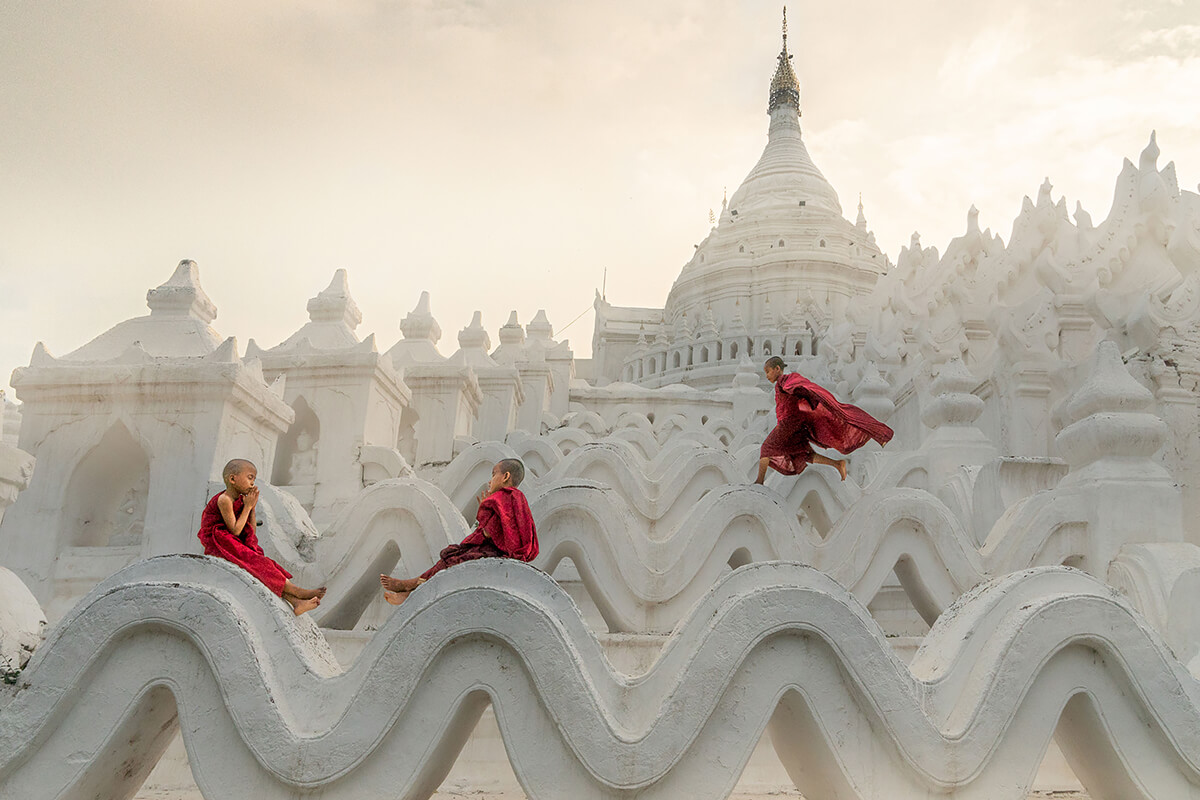 Pagoda Novice Monks 2 - In Myanmar, some children enter monkhood at a young age. They live a life of simplicity and austerity. But being the children whom they are, the desire for fun and play sometimes come out in the open, in the midst of their daily chores and prayers.
Chin Leong Teo's Website
Chin Leong Teo on Instagram
All about Chin Leong Teo
Trung Pham Huy (Vietnam)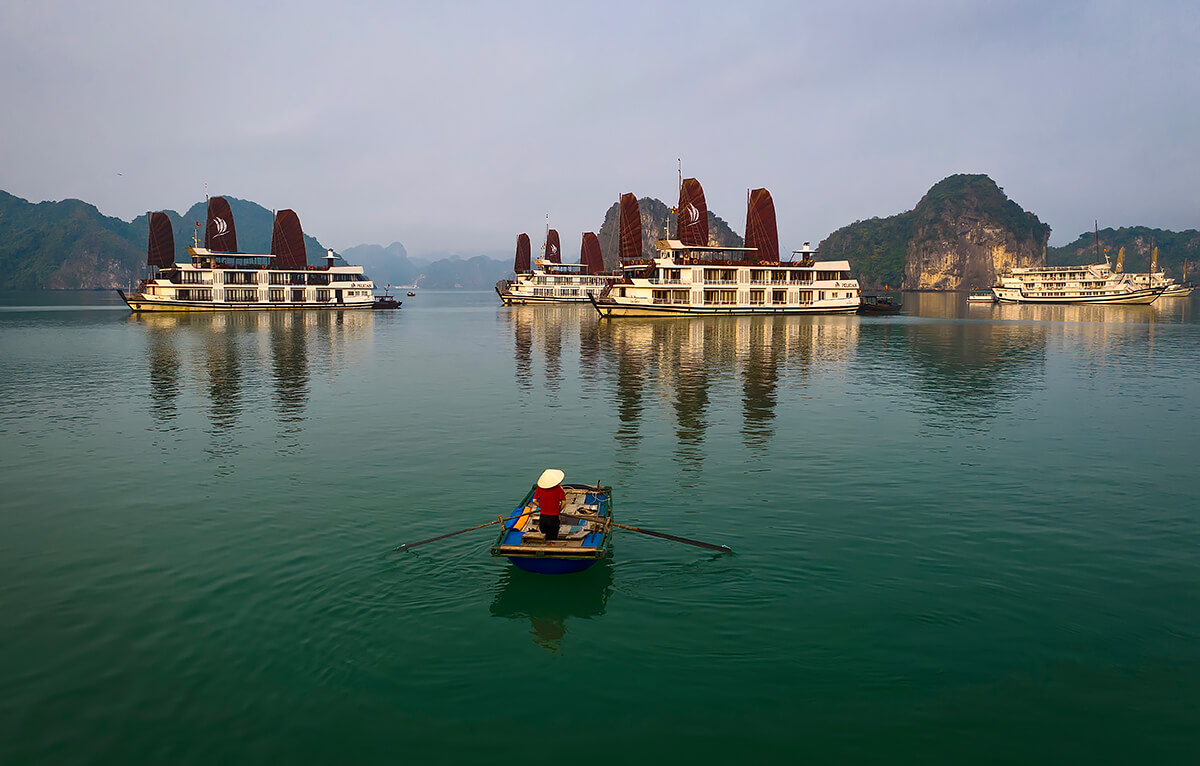 A morning in Halong Bay - Halong Bay is in Quang Ninh province, northern Vietnam. The bay is Unesco recognized as World heritage. Visitors could stay overnight on the cruise and wake up to welcome a beautiful sunrise of new day with hundreds of rocky mountains surrounding on the sea.
Trung Pham Huy's Website
Trung Pham Huy on Instagram
All about Trung Pham Huy
Enrico Pescantini (Italy)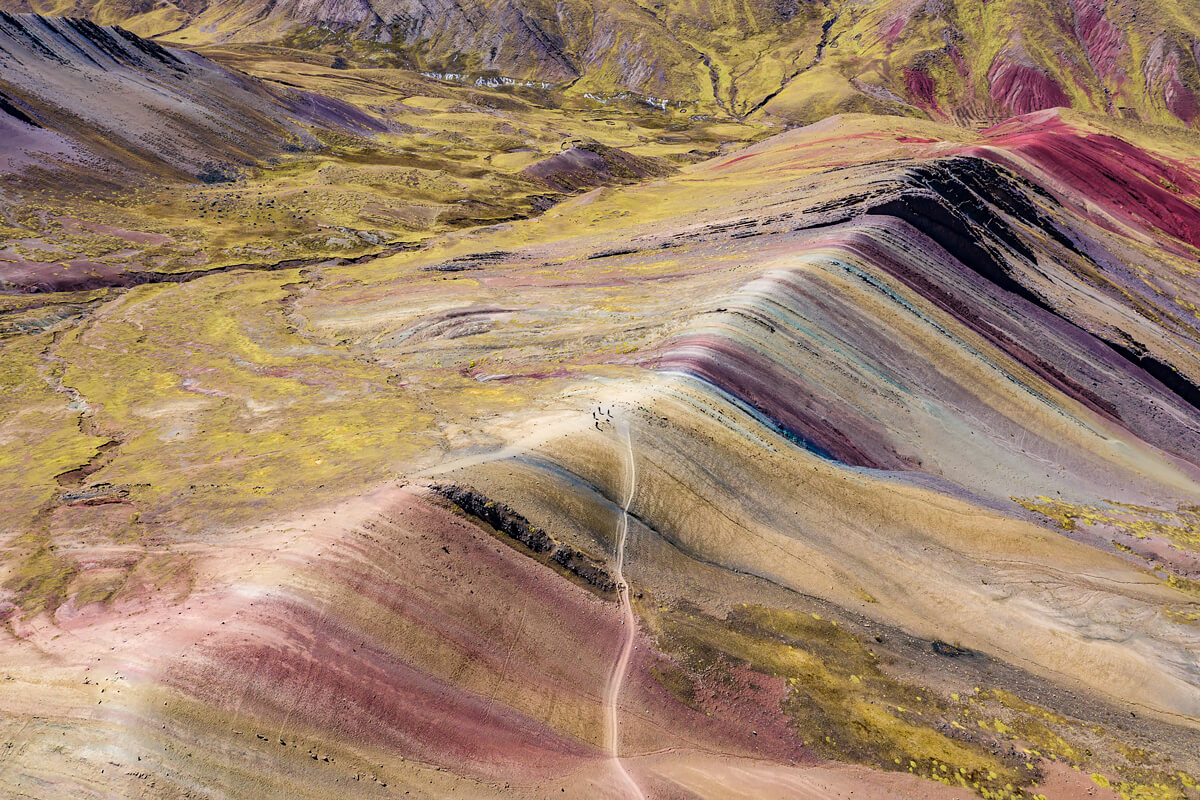 Earth's Rainbow - Nature is always showing us as the greatest painter of all time: in the Peruvian Andes, a unique mineral composition and millions of years of wind and rain created the Rainbow Mountains, a true wonder of nature. It is indeed a "sad" discovery made only recently, due to the melting of snow and ice that once covered them.
Enrico Pescantini's Website
Enrico Pescantini on Instagram
Guy Peterson (United Kingdom)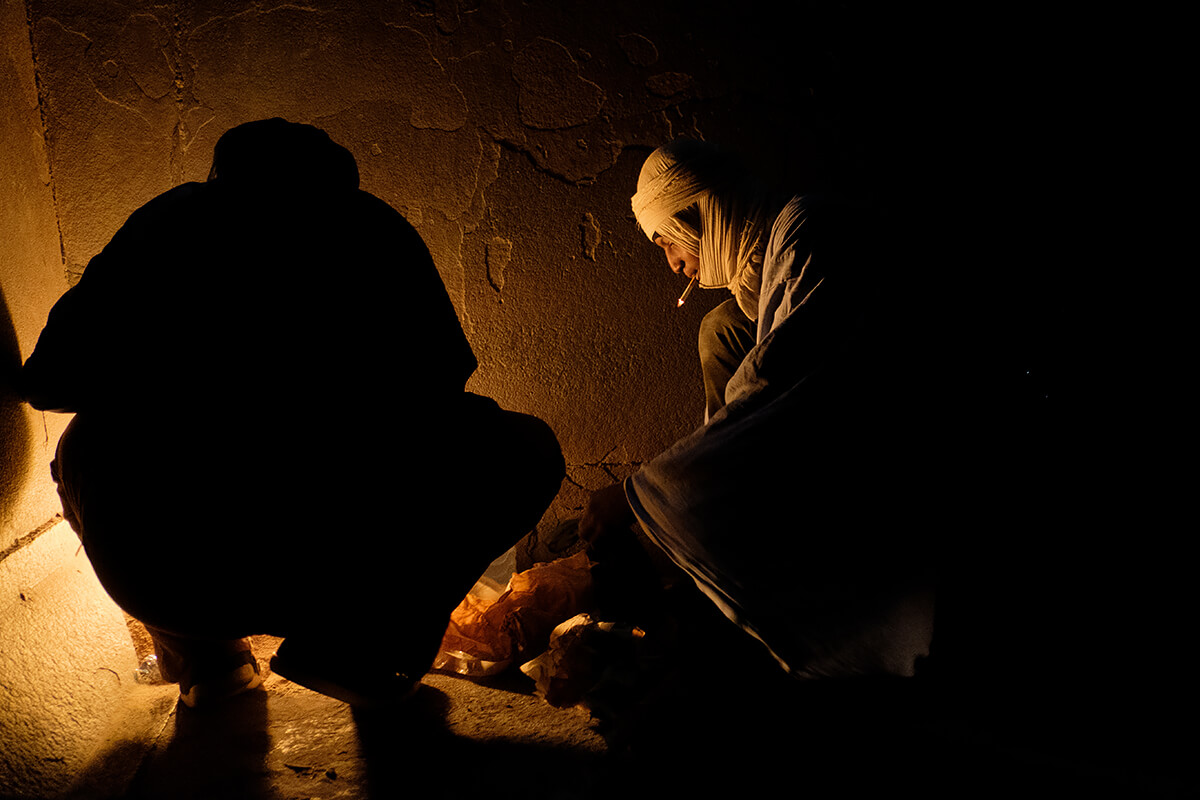 Two Mauritanian men light a fire in the back of an empty iron ore freight train to make tea while on the 18 hour non-stop ride 750km east into the Sahara desert. Nouadhibou , Mauritania March - 2020.
Guy Peterson's Website
Guy Peterson on Instagram
Enrique López-Tapia (Spain)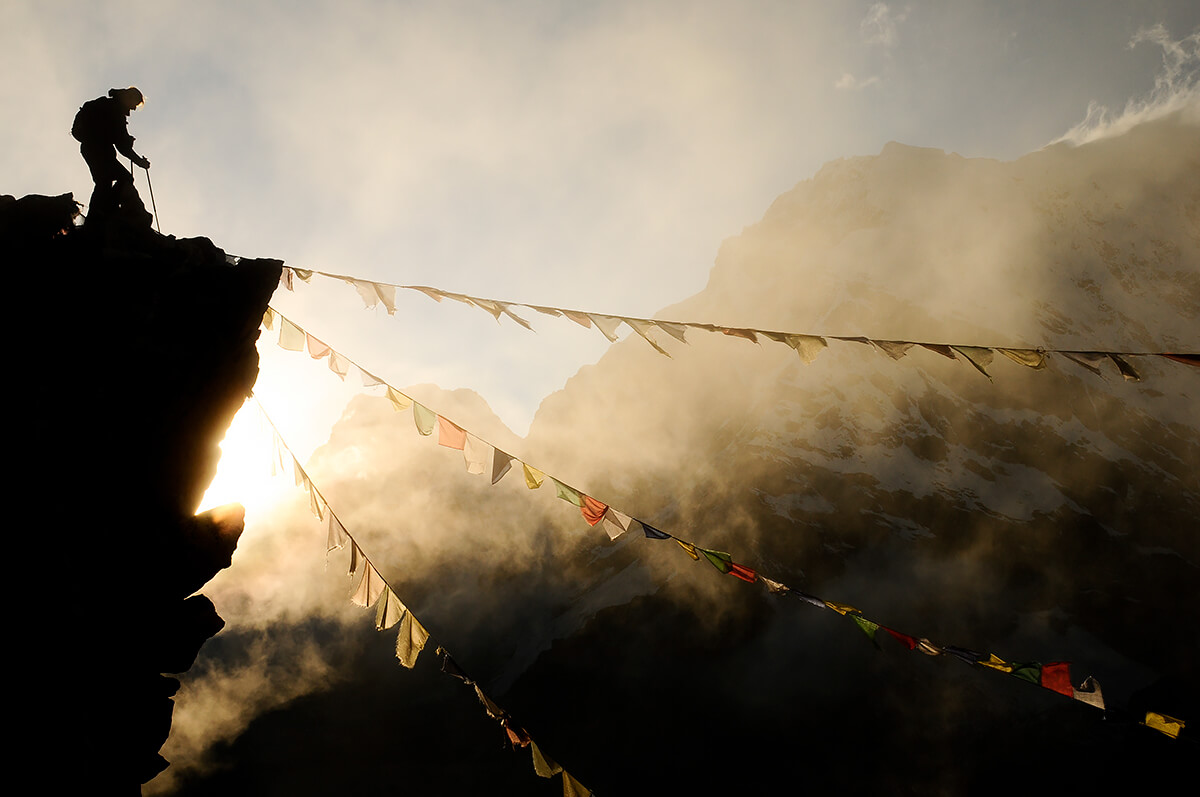 Mountain Lights - Kalapathar peak, at 5500 meters of altitude, is one of the best places in the Khumbu region to see the Everest. While I was waiting for the evening light to illuminate Everest, the real spectacle was behind me, when a mountaineer was outlined against the light, the marvelous sunset light and the clouds and Buddhist prayer flags moving in the wind. Himalaya, Khumbu. Nepal.
Enrique López-Tapia's Website
Enrique López-Tapia on Instagram
Zay Yar Lin (Myanmar)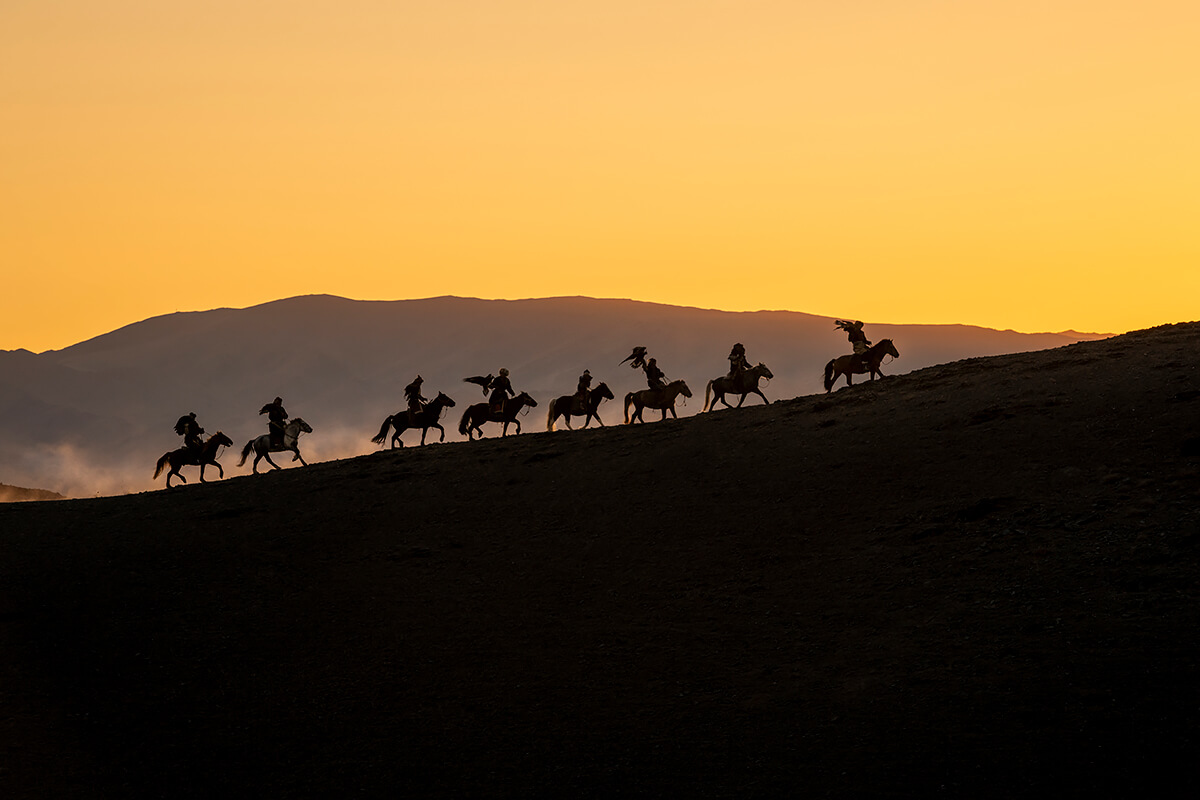 The Last Eagle Hunters - Kazakh eagle hunters riding on horseback across the vast landscape of Mongolia. For centuries, they have used golden eagles to hunt prey during the bleak winter months, an extraordinary example of a relationship between humans and semi wild animals. There are an estimated 250 eagle hunters in Bayan-Ölgii, which is located in the Altai Mountains of western Mongolian. They maintained ancient practice of hunting with golden eagles on horseback, and they primarily hunt red foxes and corsac foxes.
Zay Yar Lin's Website
Zay Yar Lin on Instagram
Volodymyr Kutsey (Ukraine)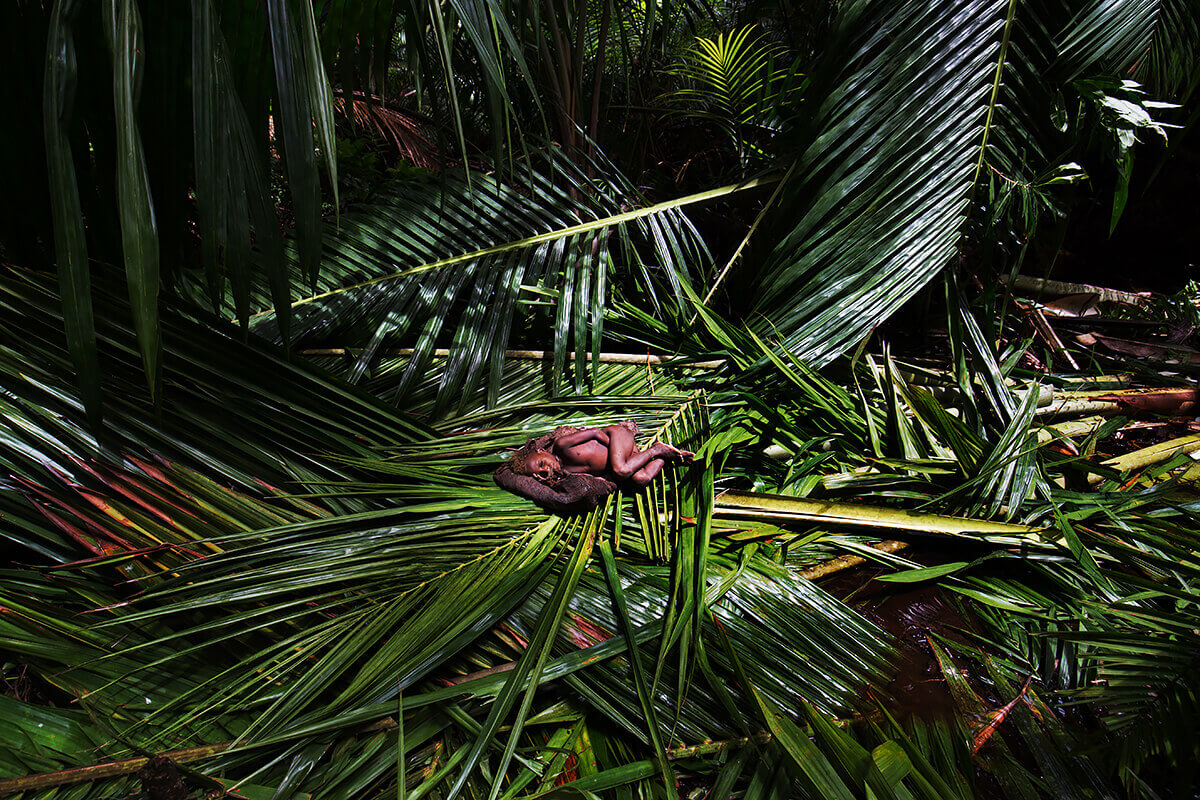 Life in the jungle - A little boy of Korowai tribe enjoys a balmy sleep in his natural crib made of palm leaves in the depth of Papua jungle, while his parents work hard on extracting sago starch from a sago palm trunk. Korowai tribe, Papua
Volodymyr Kutsey's Website
Volodymyr Kutsey on Instagram
Sergey Zubov (Russia)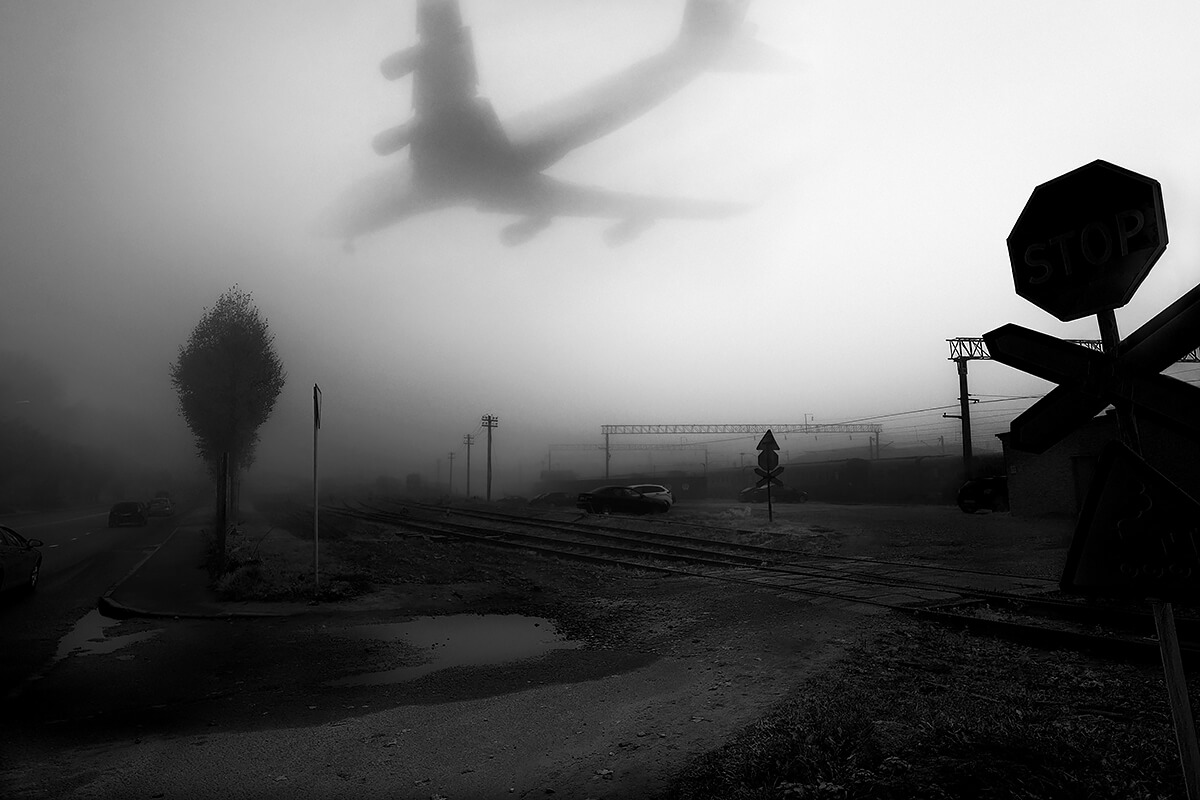 Titan - The plane is about to land
Sergey Zubov on Instagram
Théo Saffroy (France)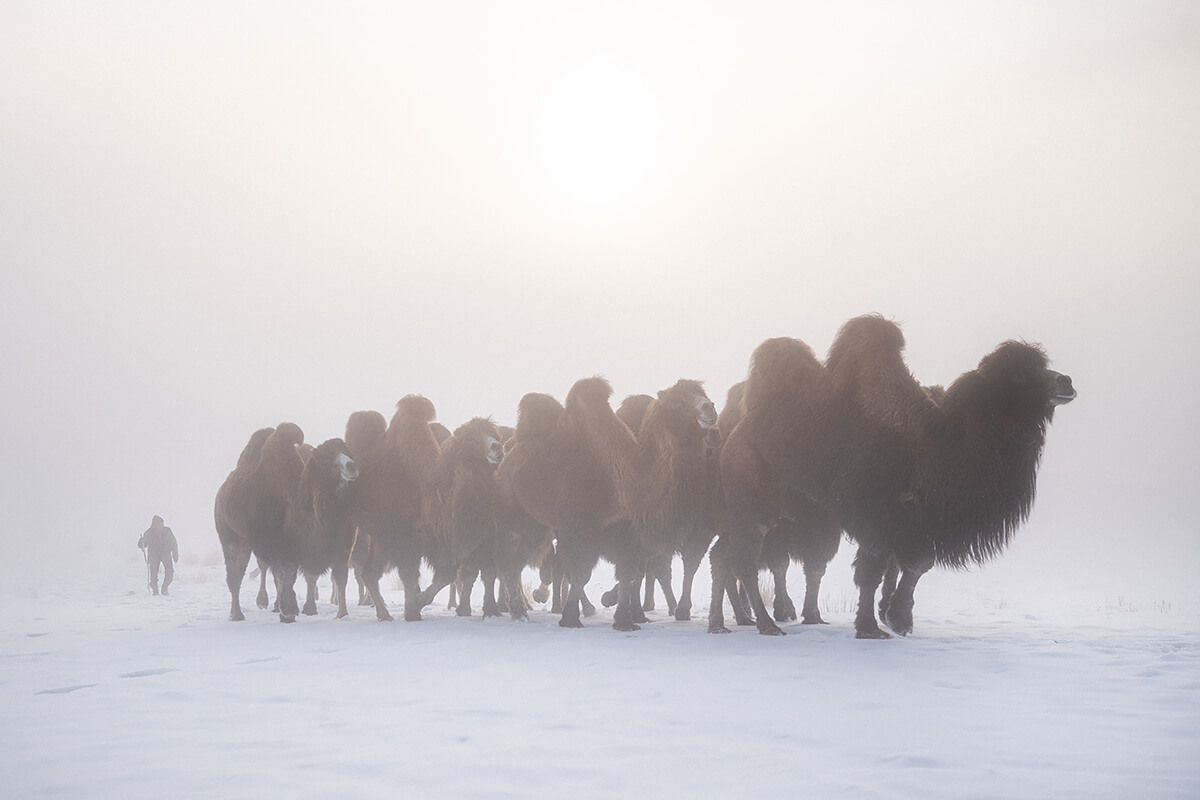 Camel Shepherd and his Herd in the Fog - In the heart of the snow-covered Tian Shan mountains, far from the abundance of cities, Bolotbaike keeps leading its rhythm of life far from the world. Apprized for its endurance and adaptation to extreme conditions, the Bactrian camel is used as a pack animal but also for its meat, fat and milk.
Théo Saffroy's Website
Théo Saffroy on Instagram
France Leclerc (USA)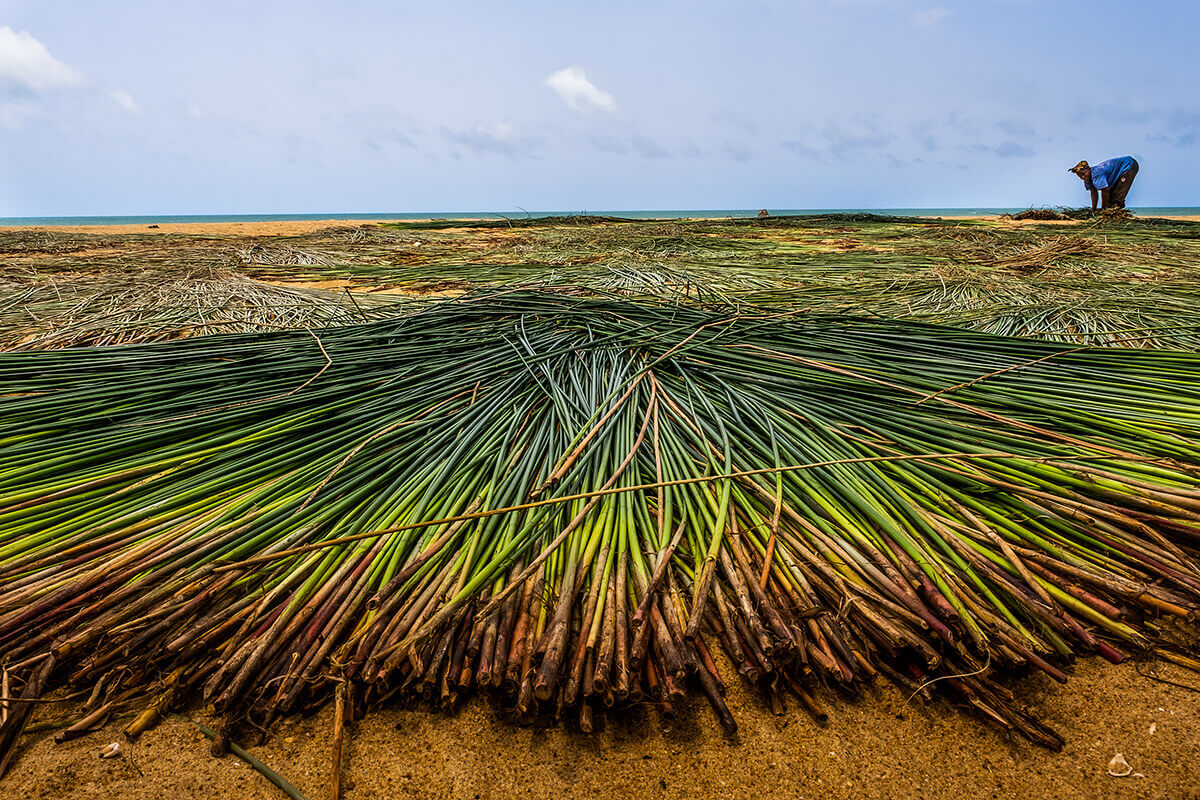 Raffia-After harvest, raffia grass is drying on a beach near Grand Popo in Bénin.
France Leclerc's Website
France Leclerc on Instagram
All about France Leclerc
Robi Chakraborty (USA/India)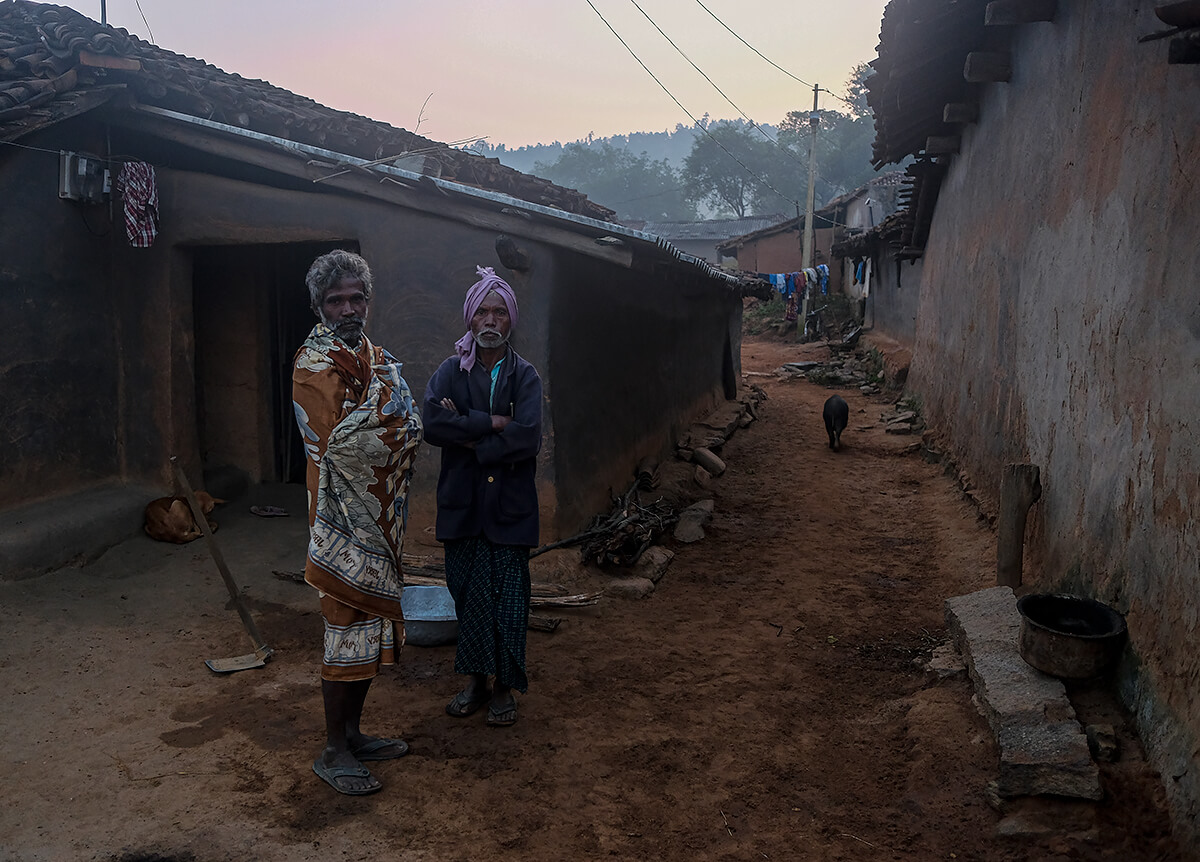 The villagers - A household staff member who works for a friend was visiting his village in Chhattisgarh and I self-invited myself. Chhattisgarh falls under the Maoist belt and is prone to attacks and kidnappings. I felt assured to travel as I would be with people that I knew. Years ago missionaries had converted many tribes to Christianity and everyone in this particular village was Christians.
Robi Chakraborty's Website
Robi Chakraborty on Instagram
All about Robi Chakraborty
Robi Chakraborty's Exclusive Interview
Melissa Stewart (Australia)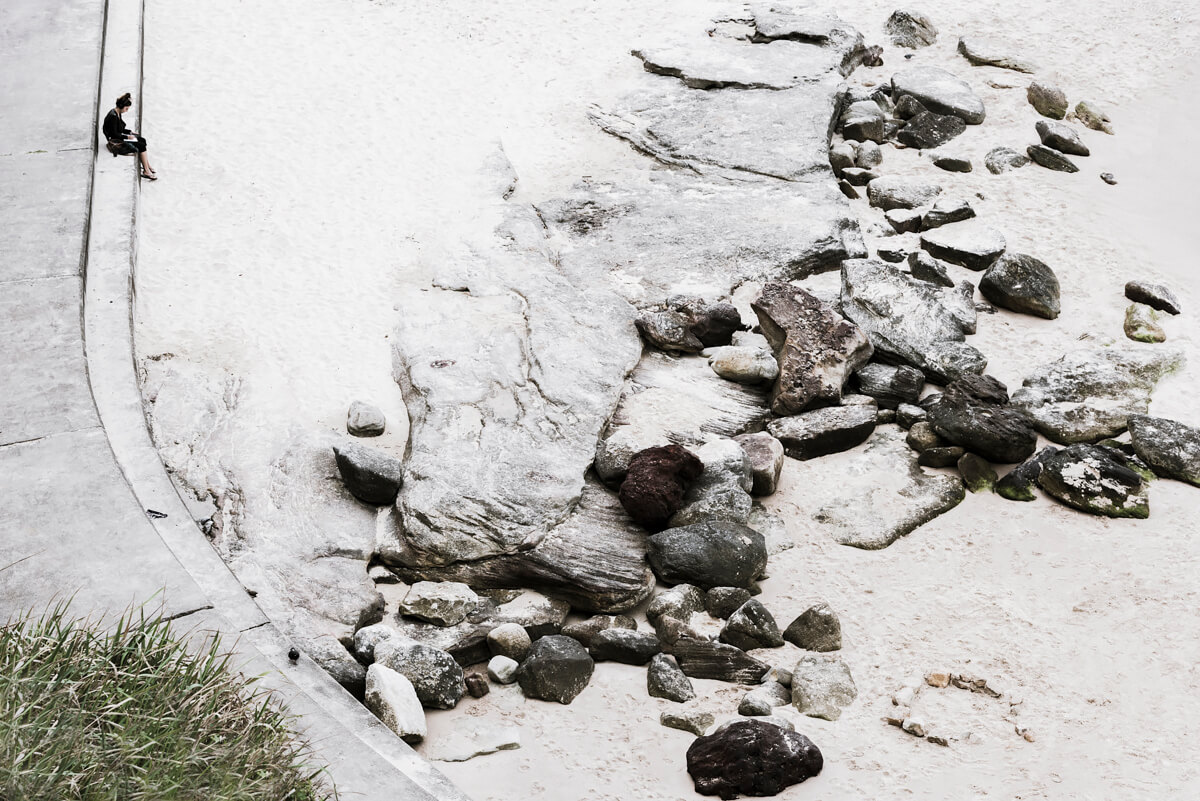 Journey by Foot - A breath of fresh air,a state of mind.
Melissa Stewart on Instagram
Maynard Switzer (Canada)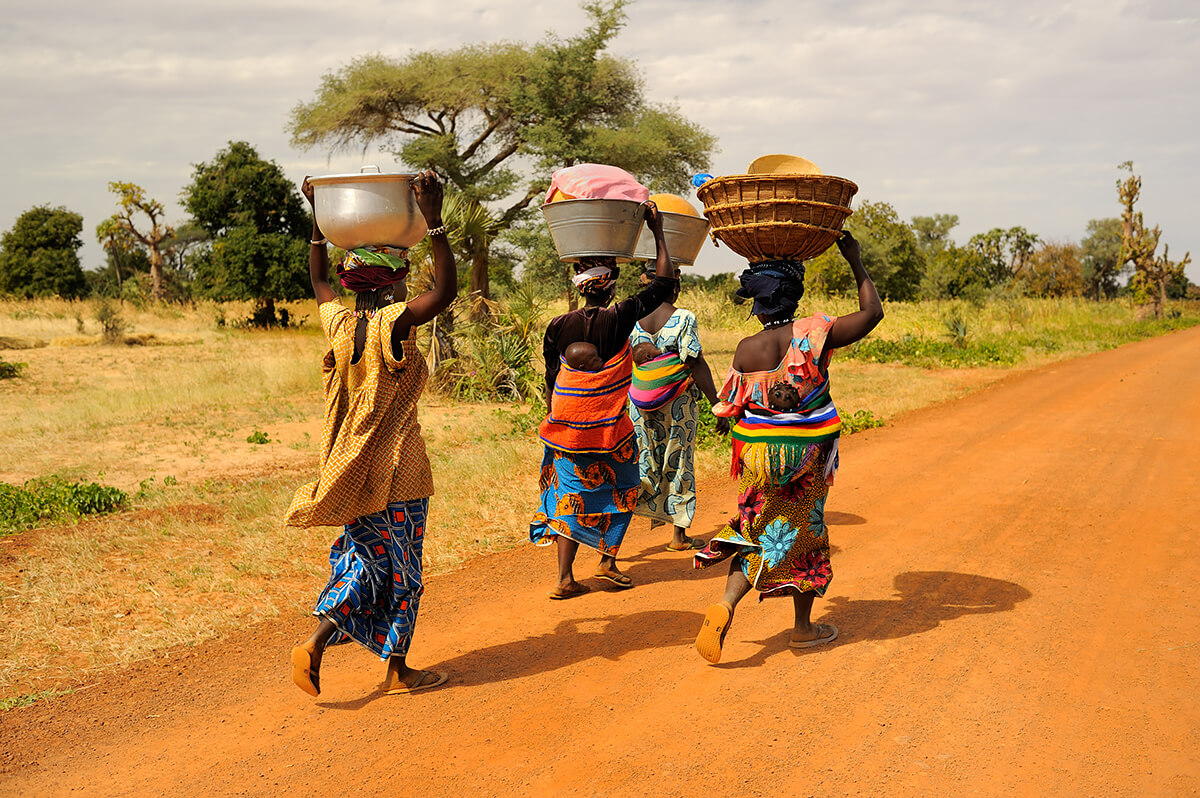 Wash Day - Four women with babies on their backs taking their clothes to be washed in the local river, Mali.
Maynard Switzer's Website
Maynard Switzer on Instagram
Terri Gold (USA)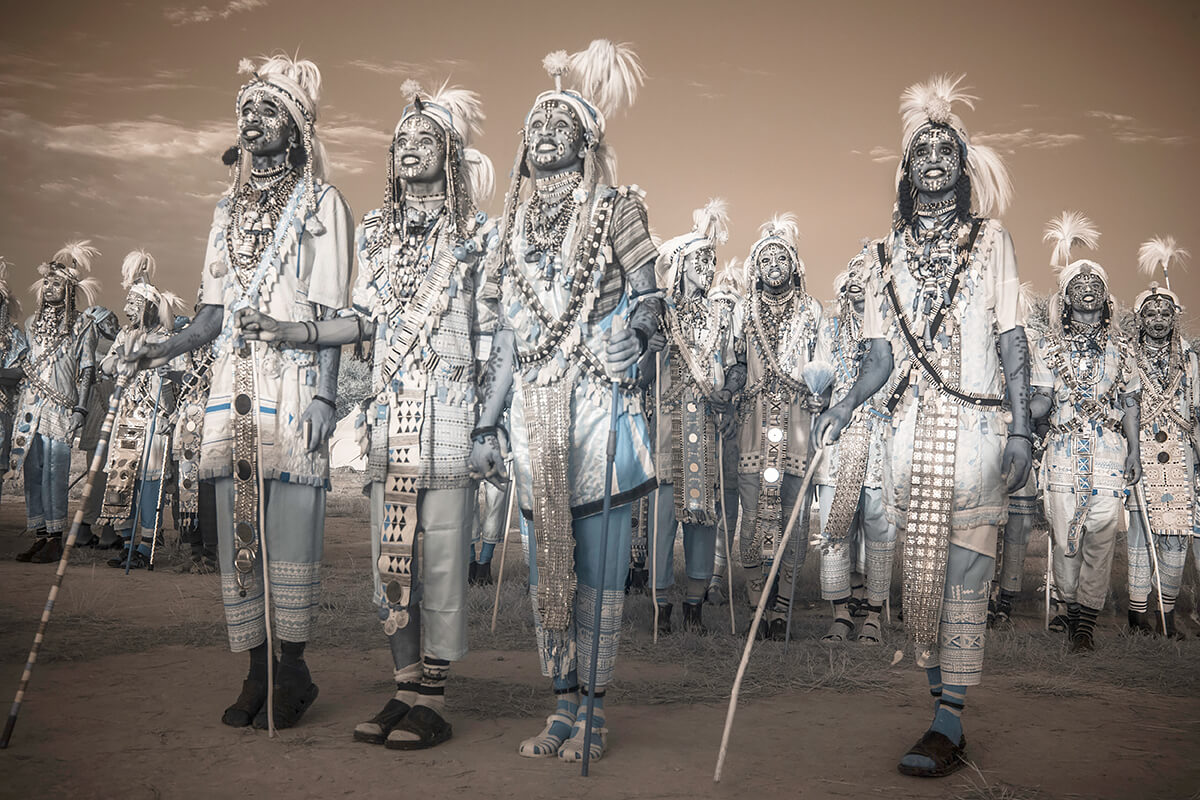 At The Gerewol Festival In Chad - In the Sahel desert in Chad, the nomadic Wodaabe people spend months apart, searching out pastures for their herds and shelter for the families. When the rains are good, the clans celebrate with an extraordinary courtship ritual and beauty contest called The Gerewol and it's the men who are on parade.
Terri Gold's Website
Terri Gold on Instagram
Maureen Ruddy Burkhart (USA)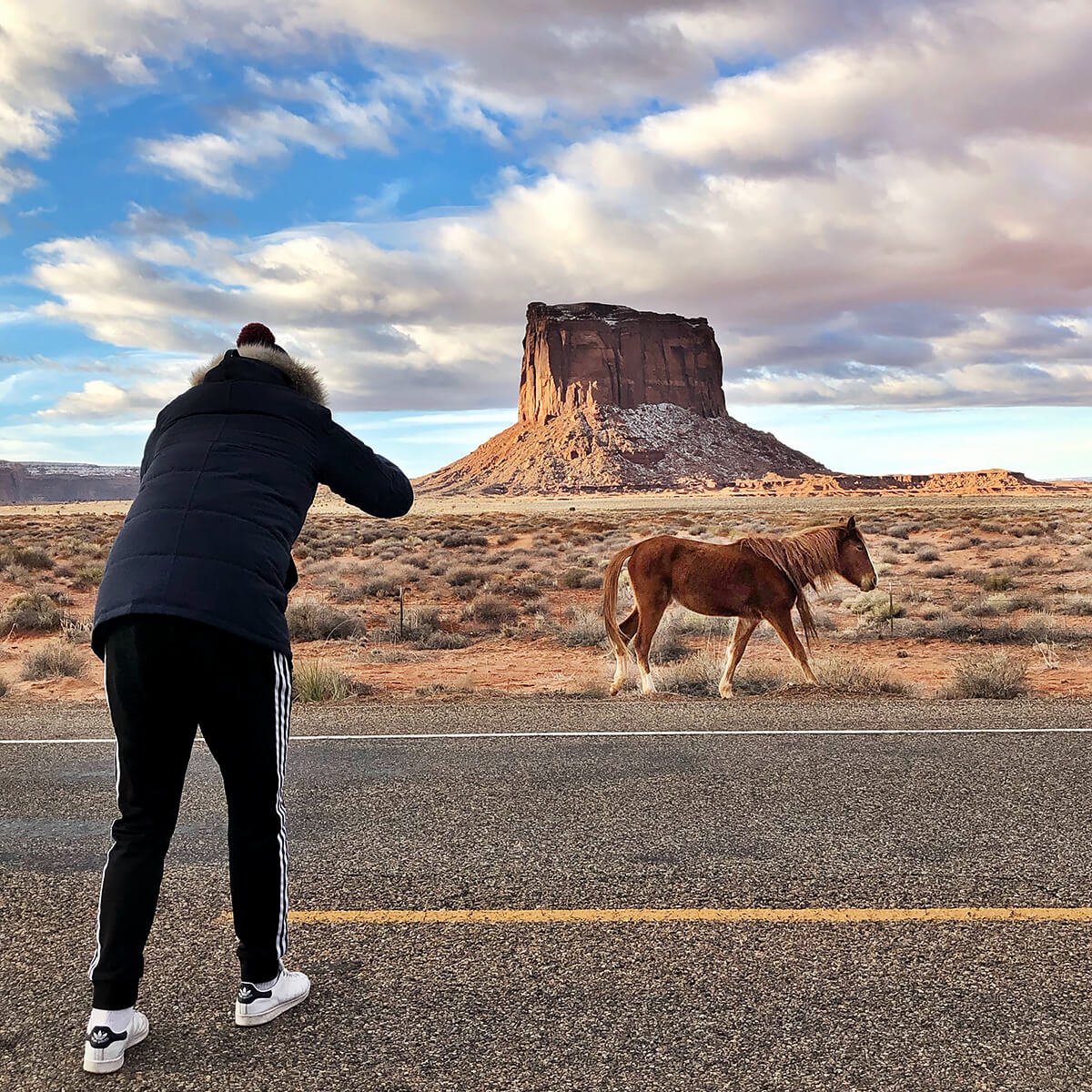 Monument Mustang -A passerby pulled over his car, jumped out, and tried to photograph a wild mustang in the Monument Valley of Utah. Like many photographers, I love to watch the sunrise on the landscape. I especially love photographing early on winter mornings, like this time in the Navajo Country of Monument Valley, Utah. I was alone on the street when I stopped to watch a wild mustang gallop across the land and onto the road. Suddenly, a blue Mustang sports car (no kidding!) pulled up in front of me and a tourist jumped out yelling What a wonderfully whimsical thing to see here! How magical!. And so I photographed the tourist photographing the horse. It's those perfect moments that give me the greatest joy as a photographer. His whimsical moment was also my whimsical moment.
Maureen Ruddy Burkhart's Website
Maureen Ruddy Burkhart on Instagram
All about Maureen Ruddy Burkhart
Maureen Ruddy Burkhart Exclusive Interview
Elizabeth Bourne/Philotera (Norway)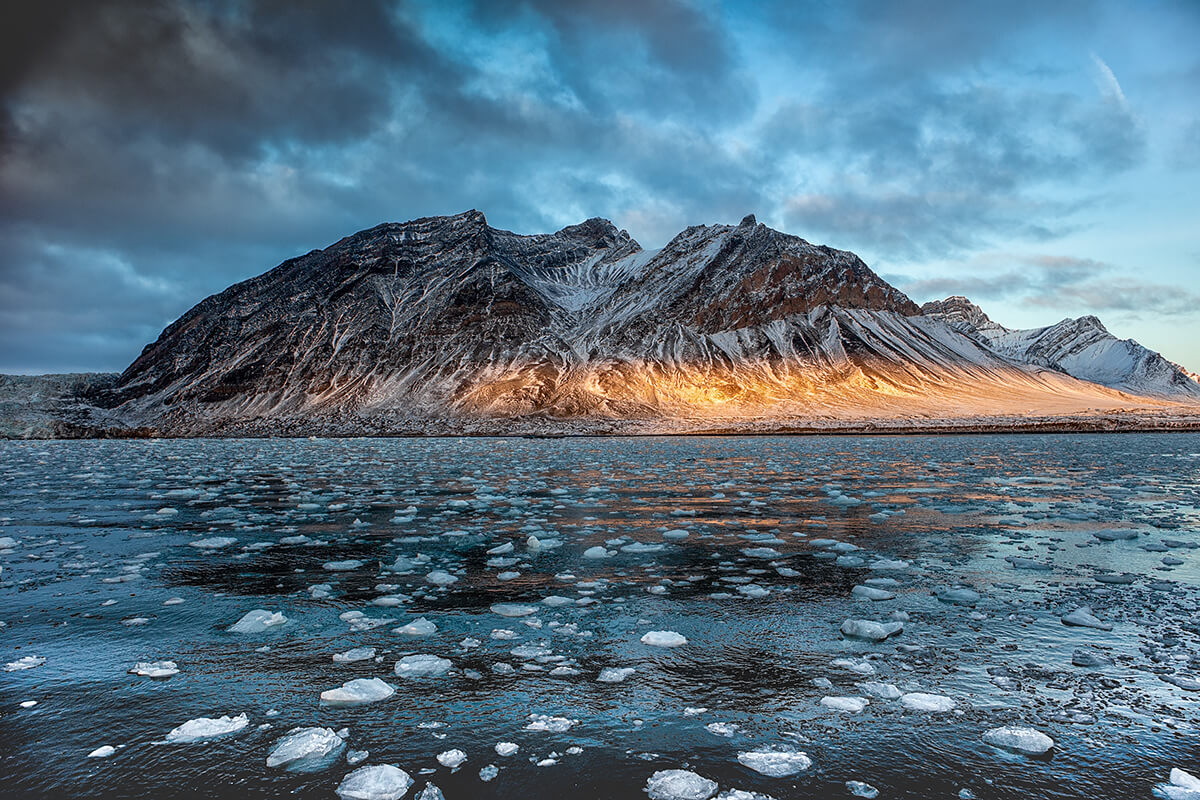 The Last Light- Growlers from a nearby glacier speckle the water in Isfjord as the last tongue of October sunlight licks at distant mountain. In two weeks, the sun will be gone.
Philotera's Website
Philotera on Instagram
Abdulla AL-Mushaifri (Qatar)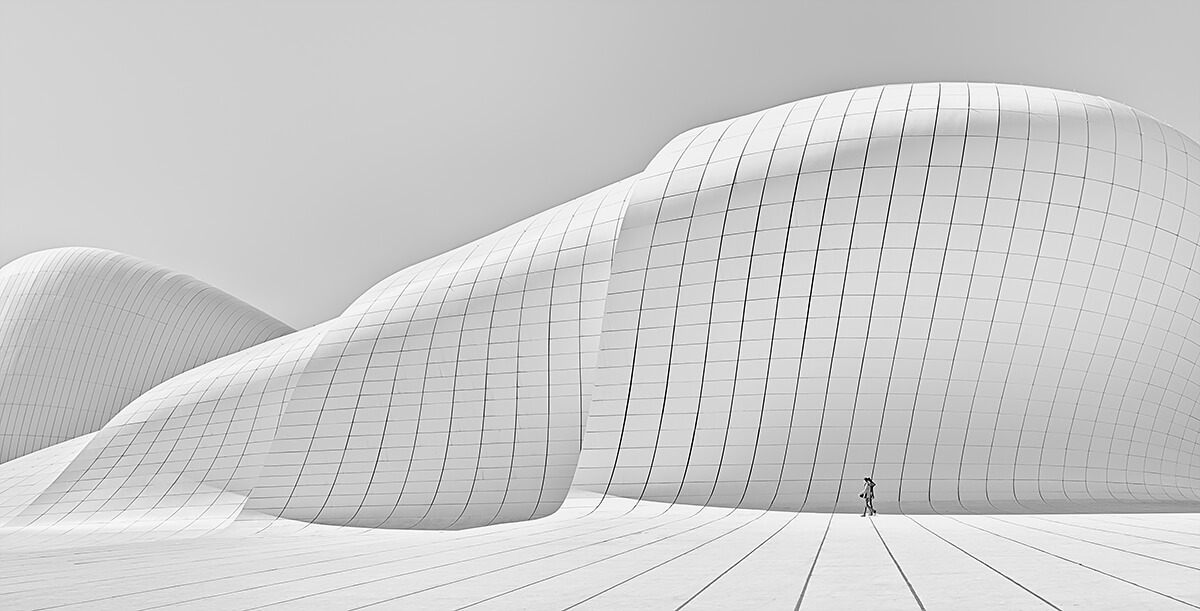 Hayder Museum - The Museum, designed to become the primary building for the nation's cultural programs, breaks from the rigid and often monumental Soviet architecture that is so prevalent in Baku, aspiring instead to express the sensibilities of Azeri culture and the optimism of a nation that looks to the future. Zaha Hadid Architects was appointed as design architects of the Heydar Aliyev Center following a competition in 2007.
Abdulla AL-Mushaifri's Website
Abdulla AL-Mushaifri on Instagram
Attila Balogh (Hungary)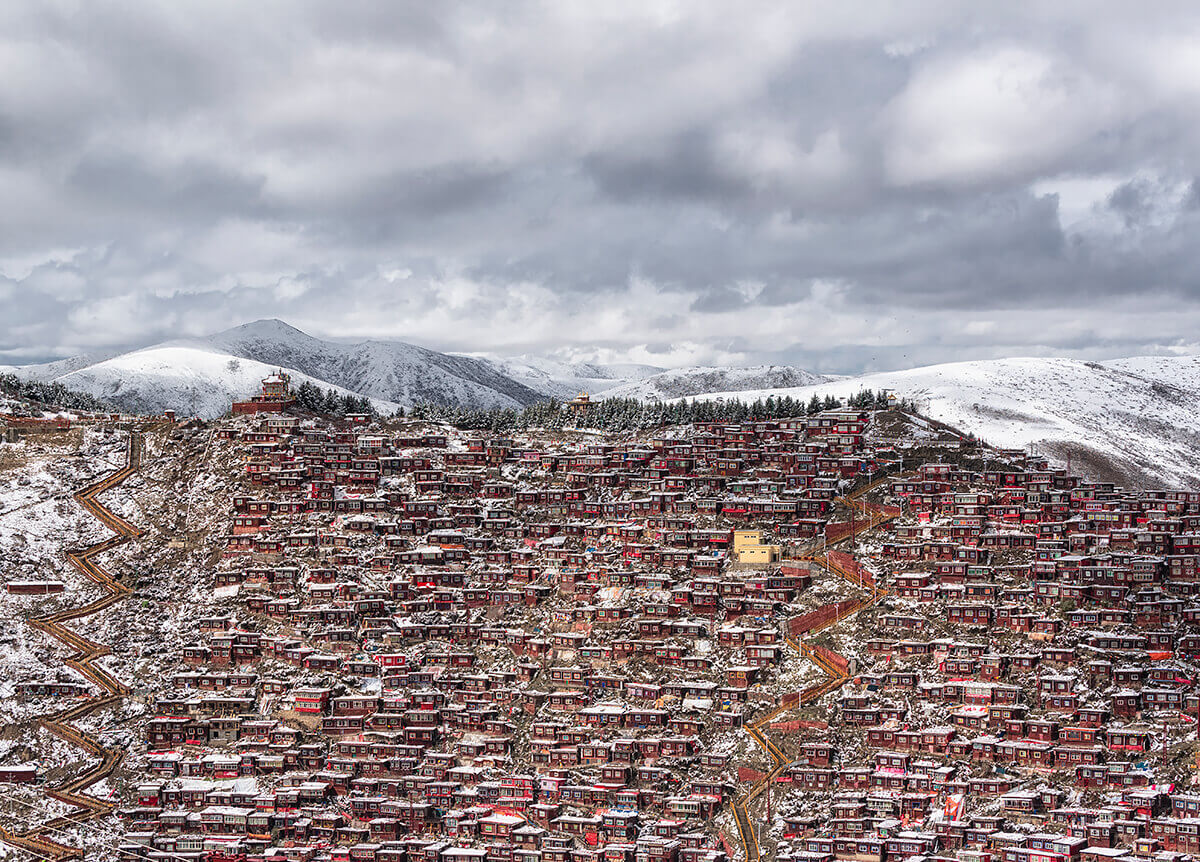 First snow - October in Larung Gar Buddhist Institute, the largest religious institute of the World.
Attila Balogh's Website
Attila Balogh on Instagram