1. What are fire festivals?
Since ancient times, fire festivals were believed to ensure abundant harvests, ward off disease, remove ritual impurity (kegare) and expel evil spirits. Such festivals, with their roots deep in local culture and preserving their own traditions, have been passed down over the centuries without interruption and are still performed today as annual events. Reports that evidence of fir e rituals has been found in neolithic sites in Japan has led some scholars to consider that the origins of these fire festivals can be traced back to that time.
These festivals, based on a feeling of awe towards fire itself, and the belief that the spirits of the ancestors, the deceased and the kami (deities) can be brought into this world through the medium of fire, pray for the health and well-being of those participating in them and for bountiful catches, hunting and harvests, as well as acting as purification and exorcism rituals. I have spent the last six years travelling around Japan photographing fire festivals and I would like to introduce some of the most interesting, together with the photos I have taken of them.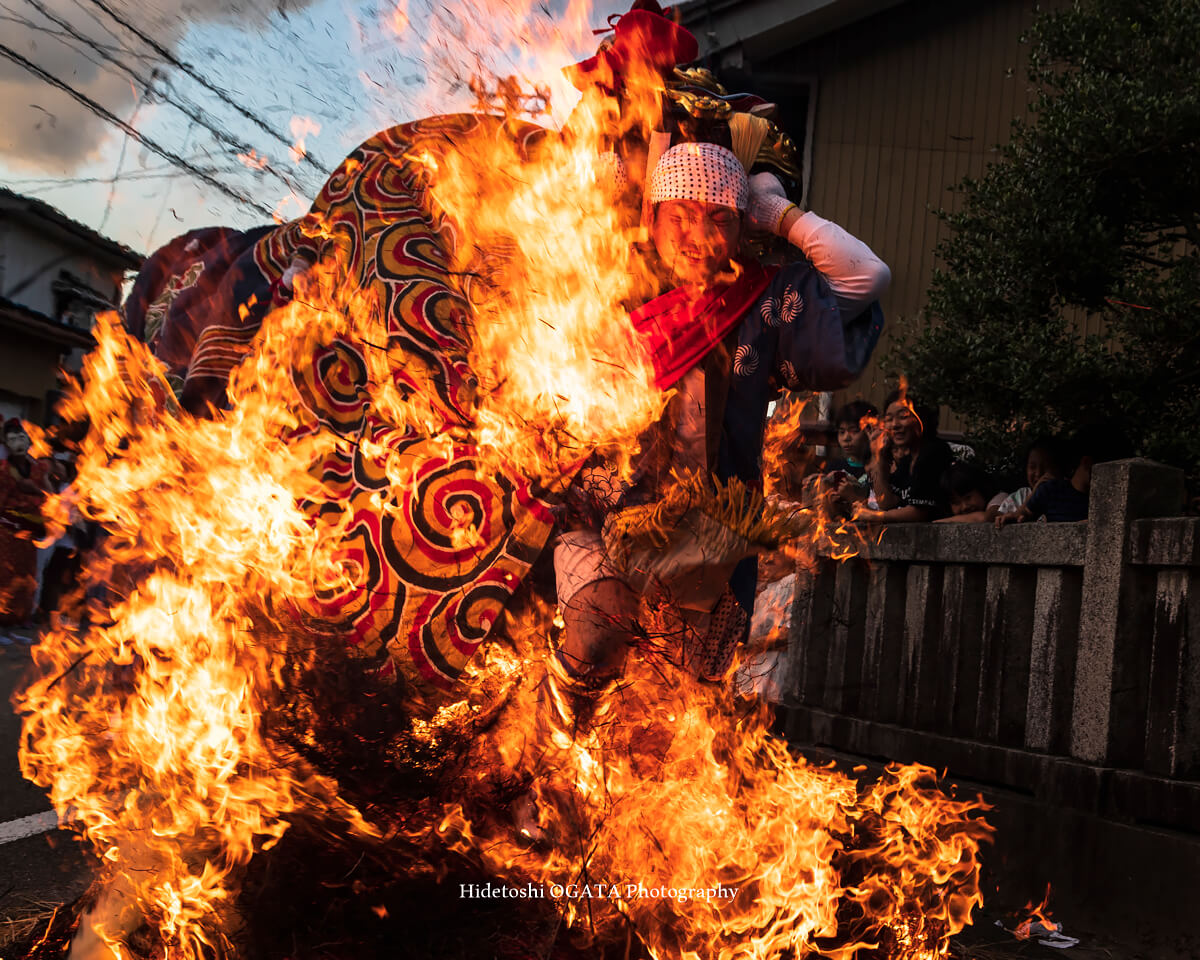 Photo 1:
The Kumano Shrine Autumn Festival (ritual of passing through fire at Futakuchi Kumano Shrine). Futakuchi Kumano Shrine, Imizu, Toyama prefecture, early September. Participants first visit the houses of parishioners to gather into themselves their kegare and then burn it away by running through the flames of burning straw. This is a ritual based on traditional ideas about the coexistence of buddhas and kami, predating the strict sectarian divisions of modern Shinto and Buddhism.
2. Various fire festivals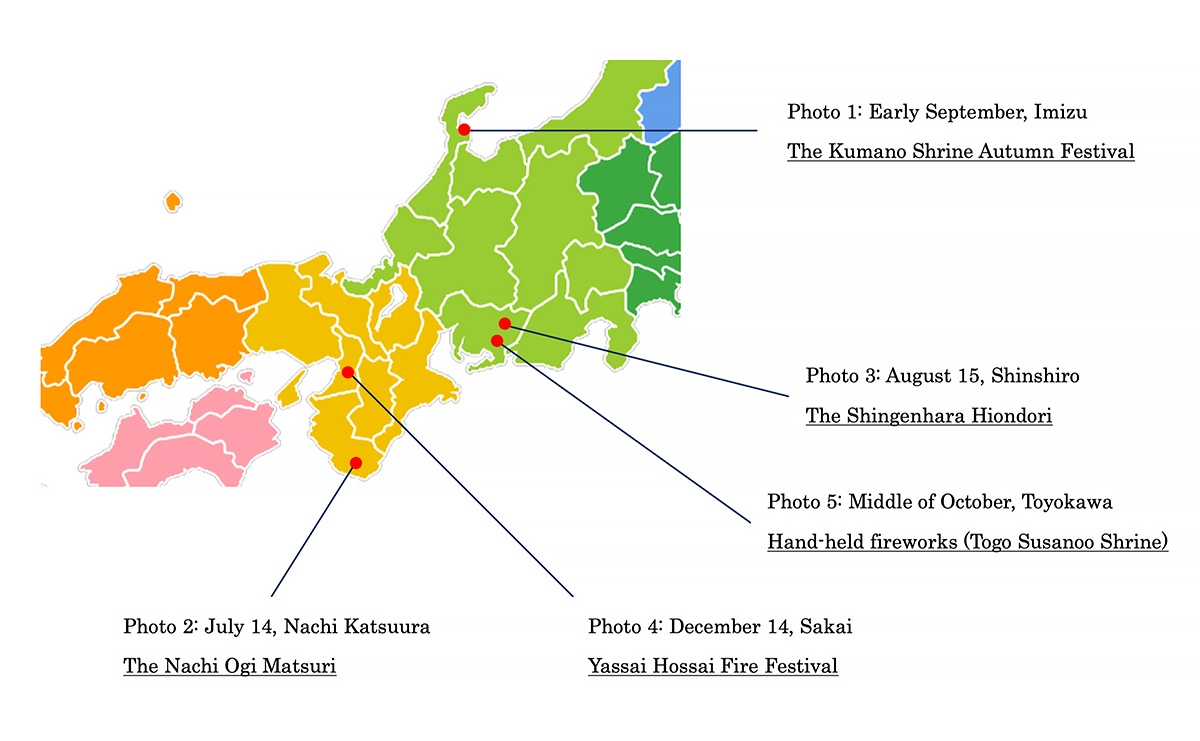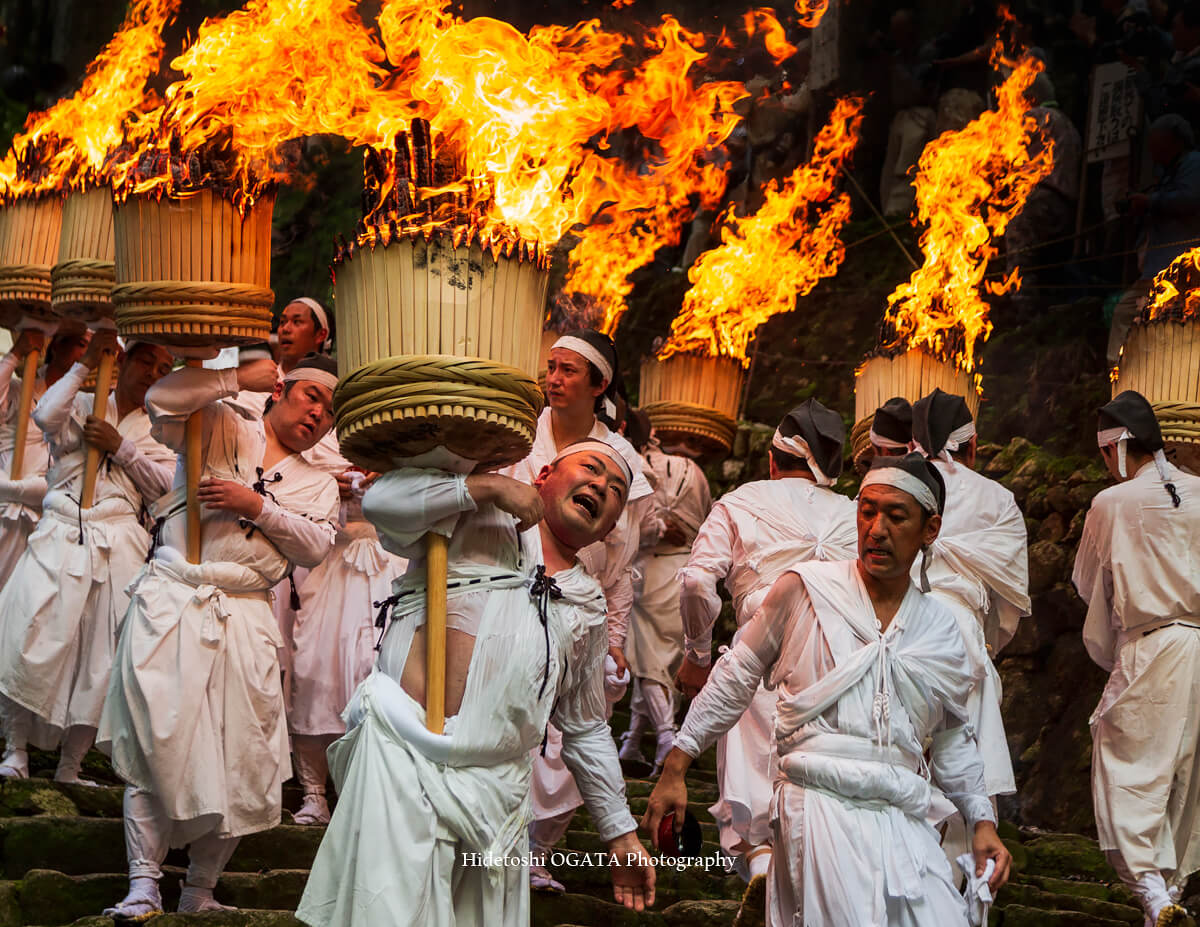 Photo 2:
The Nachi Ogi Matsuri (fan festival). Kumano Nachi Shrine, Nachi Katsuura, Wakayama prefecture. July 14. This ritual, commemorating the founding of the shrine at the Nachi falls seventeen hundred years ago according to legend, invigorates the kami and prays for the ongoing generation of all things.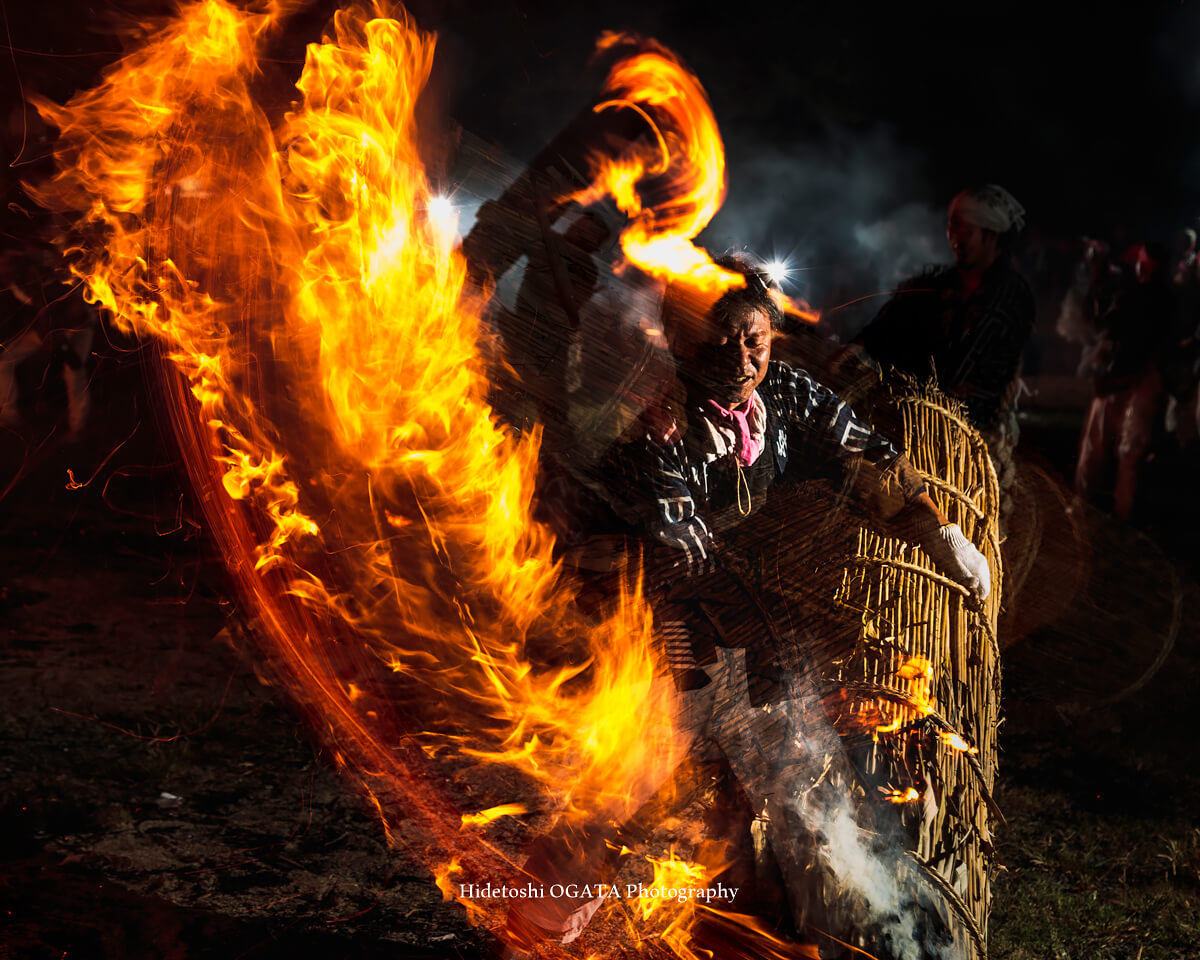 Photo 3:
The Shingenhara Hiondori (fire dance). Shingenzuka, Shinshiro, Aichi Prefecture. August 15. This fire ritual, with a history of over four hundred years, commemorates those who lost their lives in the Battle of Nagashino in 1575.
3. Fire festivals today
Modern people, who take it for granted that they can control fire, are losing the opportunity to see its essence, naked flame. All the same, there are many places in Japan, as these photos show, where they can experience the formidable energy of fire and come to understand the awe felt for it by their ancestors through the fire festivals that have come down to us from the past. There will be few who are not stirred by the danger facing flesh-and-blood people coming into direct contact with fire at these festivals.
In contrast to large-scale fire festivals like the Nachi Ogi Matsuri, local village fire festivals found al l over Japan are in decline and face difficulty surviving, especially in those villages being overcome by the tide of depopulation, with a low birthrate and aging inhabitants. The continuation of the festivals is threatened both by the lack of people to perform them and by the difficulty of finding those who can undertake the financial burden they entail. If these conditions continue, these traditions will be lost in the near future. Nevertheless, the spirit of our ancestors who revered nature and were in awe of it is important, connected as it is with the wellspring of Japan's spiritual culture. The task facing the people now living in Japan is to understand the meaning and ideas our ancestors infused in their rituals and to think about the significance of their survival, before we lose the cultural heritage left to us.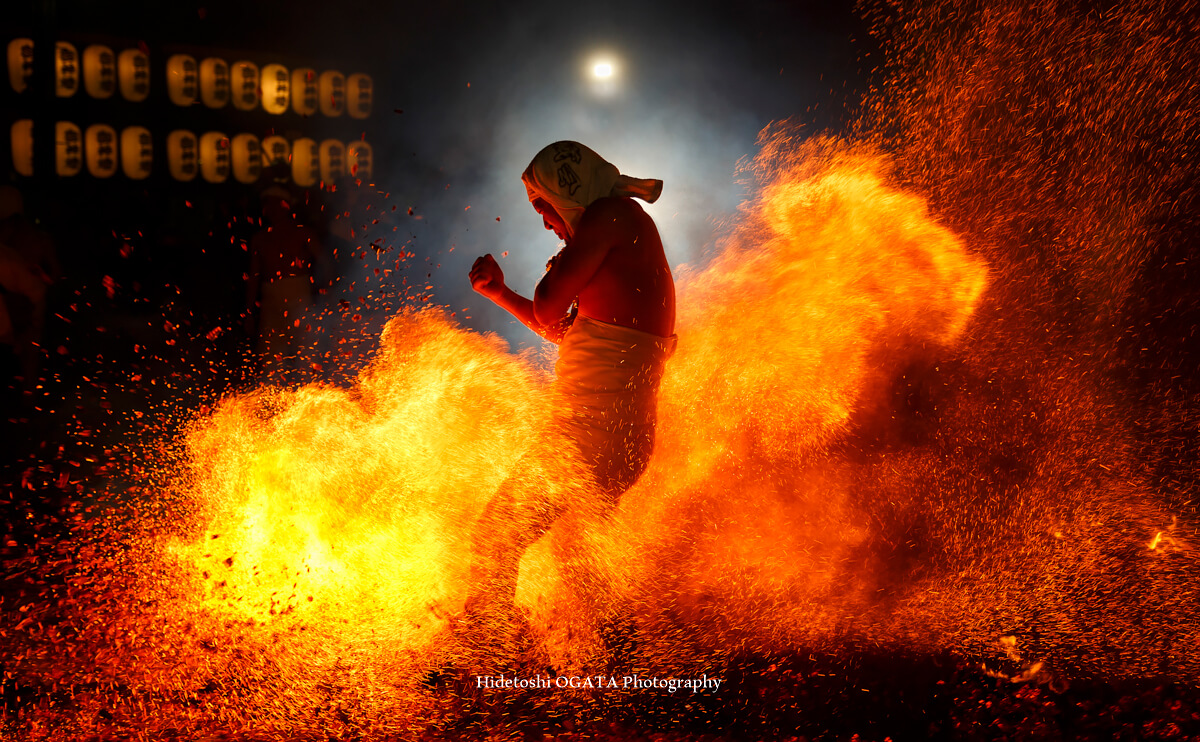 Photo 4:
Yassai Hossai Fire Festival. Iwatsuta Shrine, Sakai, Osaka. 14 December. This festival is based on an old tale that describes how local villagers made a fire to keep the kami Hiruko (Ebisu) warm after he had drifted ashore there. The ritual is characterised as a fusion of the Ebisu cult and Shugendo (beliefs and practices associated with mountains).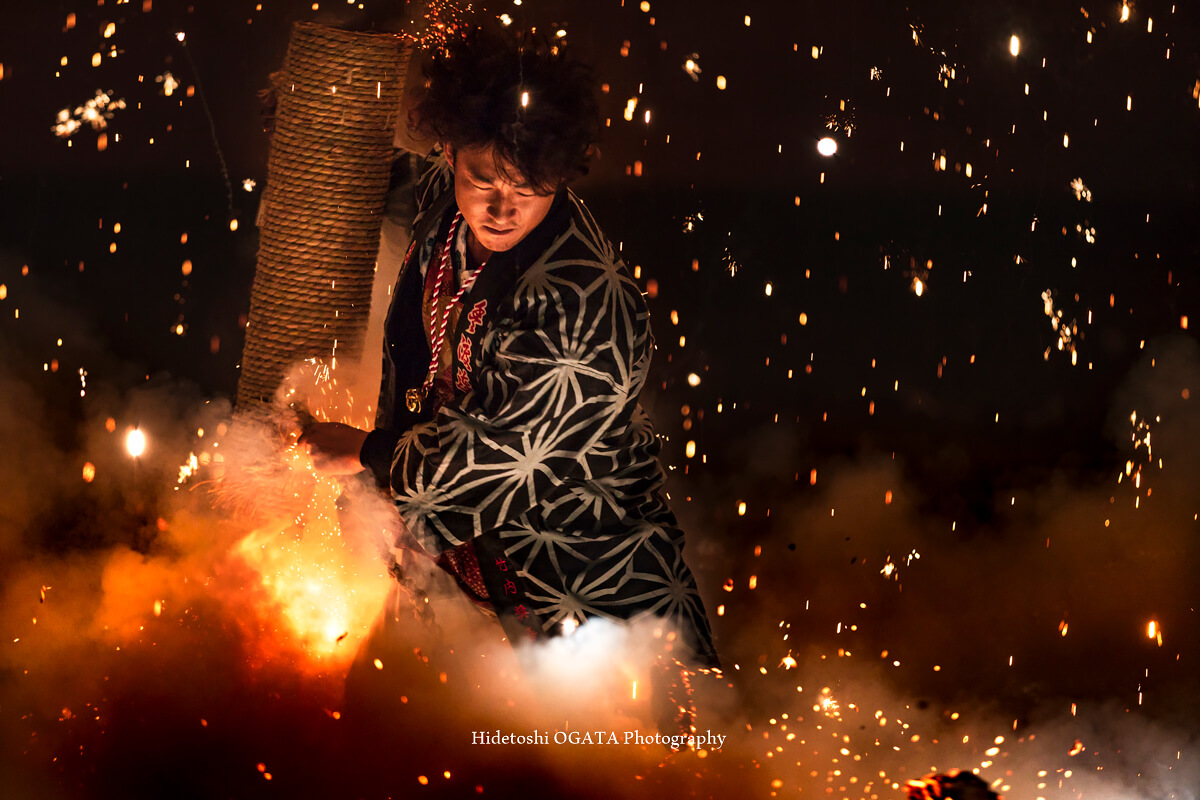 Photo 5:
Togo Susanoo Shrine, hand-held fireworks. Togo Susanoo Shrine, Toyokawa, Aichi prefecture. Middle of October. A fire festival praying for firework safety and for transmitting the petitions of local people to the kami. It was in abeyance between 1975 and 1991.