In Lost Venice (Damiani, April 2020) photographer Sarah Hadley presents an alluring and haunting portrayal of this majestic city as distilled through her personal lens of loss and nostalgia. By contemplating the temporal beauty of Venice, Hadley examines our own impermanence and the uncertain future of this unique city.
She writes: Venice, Italy is a surreal and mysterious place with a storied past. Its seemingly endless maze of passageways and canals have fascinated me since I was a child. And while most people visit Venice and see only its overwhelming beauty, I see a Venetian way of life that is changing rapidly, while the city's foundations are eroding.
Hadley's love of Venice was nurtured by her childhood spent living in an apartment above the Gardner Museum in Boston, Massachusetts, where her father served as the Museum's Director. Designed to look like a Venetian palazzo, the building reflected her father's passion for Italian Renaissance art and architecture, which Hadley would later embrace. Her father introduced her to Venice, and they made many trips there from her childhood through early young adult years. Tragically, these trips ended abruptly following her father's sudden premature death from a heart attack when she was 25.
Many years later, Hadley returned to Venice where she witnessed a man coming out of the fog who looked like her father. This apparition became the genesis of Lost Venice, which examines her deep connection with this mythic place whose opulence is still powerful and transformative. Hadley's photographs guide us on a journey through foggy days and veiled nights through the mysterious hidden corners of Venice and outlying islands.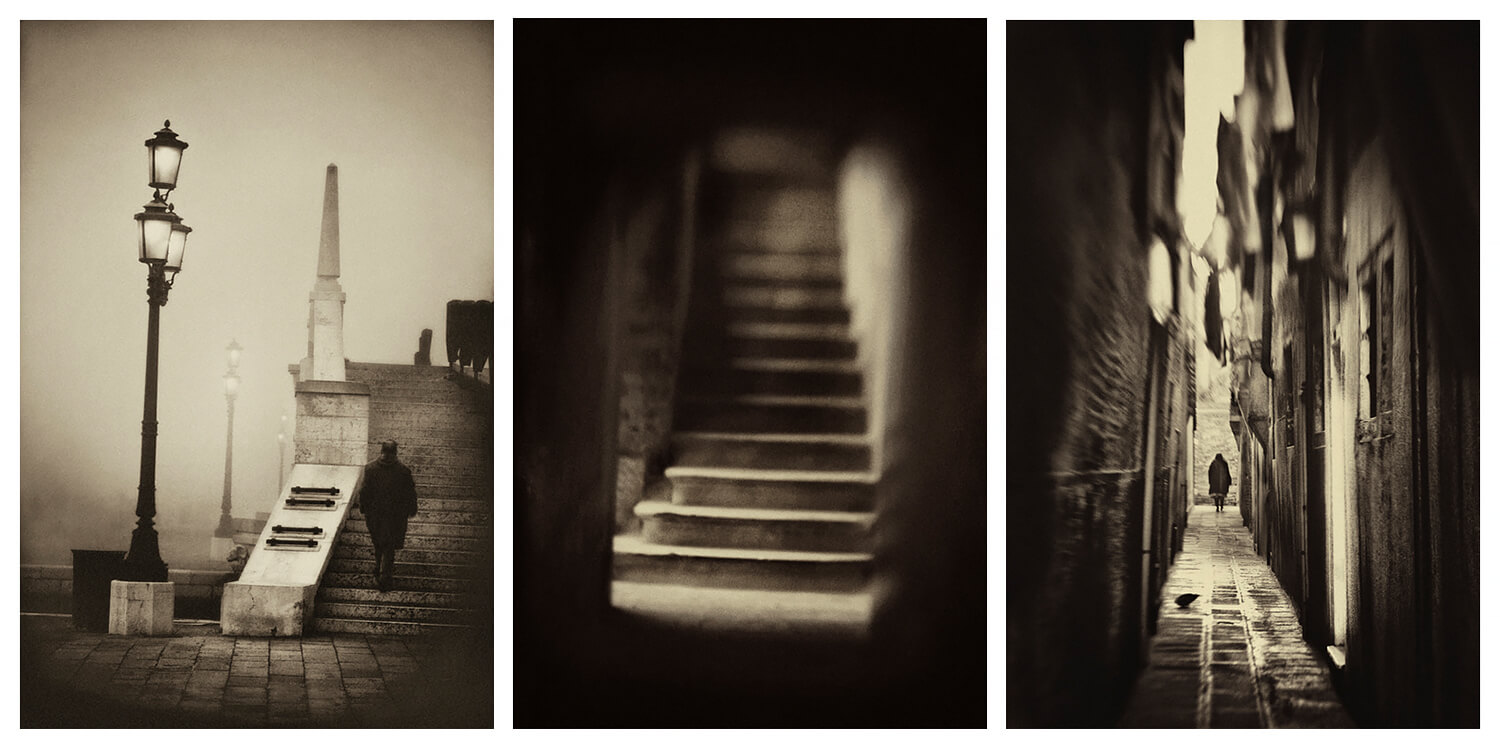 In her foreword, Karen E. Hass, Lane Curator of Photographs, Museum of Fine Arts, Boston, writes about Hadley's emotional journey that culminated in the publication of Lost Venice: ... Sarah searched for and ultimately found, solace and inspiration. Walking its narrow passageway and out-of-the-way neighborhoods, she was drawn to record such things as the shadowy silhouettes of figures disappearing into the mist, cloudy skies and birds reeling above tall dark buildings, and softly lit interiors creating reflections on water at night. All of these details the artist transformed into evocative sepia-toned images that seem to glow from within as though permanently captured in amber.

Lost Venice includes an illuminating conversation between Sarah Hadley and Susan Burnstine, an award-winning fine art photographer, accomplished educator, and the author of two monographs as well as a monthly column for Black and White Photography Magazine (UK).

ABOUT THE PHOTOGRAPHER
Sarah Hadley was born and raised in Boston, Massachusetts. She interned at the Peggy Guggenheim Collection in Venice, Italy and later worked at the Venice Biennale, the National Gallery of Art and the Library of Congress. She moved to Chicago in 1996 where she eventually founded the Filter Photo Festival. Since 2009, Hadley has lived and worked in Los Angeles and she has exhibited her work internationally. Hadley has also had solo exhibitions at the Griffin Museum of Photography (Boston), the Loyola Museum of Art (Chicago), Afterimage Gallery (Dallas) and Fabrik Projects Gallery (Los Angeles) and her work has been shown in museums and galleries around the US. Her art has also been featured in international publications. Hadley has received grants from the California Center for Cultural Innovation, the Illinois Arts Council, and several fellowships from the Ragdale Foundation.