Pierre Baëlen
was born in 1981 in South of France. His interest in photography began when his best friend promised him to have good fun in jumping in devastated buldings during photography courses when he was 14 years old. Surprising by the discover of the The 6x6 camera, his first love quickly became the darkroom where he began experimenting with printing and developing in the family's bathroom. We asked him a few questions about his life and work.
All About Photo: Were does your creativity come from?
Pierre Baëlen
: I love the banality of everyday life scenes painted in surreal atmospheres. Take photographs with large areas calms me and makes me very happy but the noise and contrast of major cities stimulate my creativity and pushes me to take images that make me grow more in my approach as a photographer.
When is the decisive moment for you?
When I make photographs of landscapes, the decisive moment is definitely the time the alarm sounds at night to arrive on the scene before daybreak ! On staged with characters, I like to organize things fairly accurately, telling little stories, which involves a lot of preparation ahead of the shooting, but the decisive moment happens when I leave room for the unexpected, I put a frame and let the moment do the rest!
What or who inspires you?
The journey is my first source of inspiration! But especially the contrast between the freedom that the discovery of the great outdoors and the strange misunderstanding that I sometimes feel when mass tourism invades the wild world and installs a form of universal usability. I love working on the sometimes absurd relationship between man and the environment in which he operates.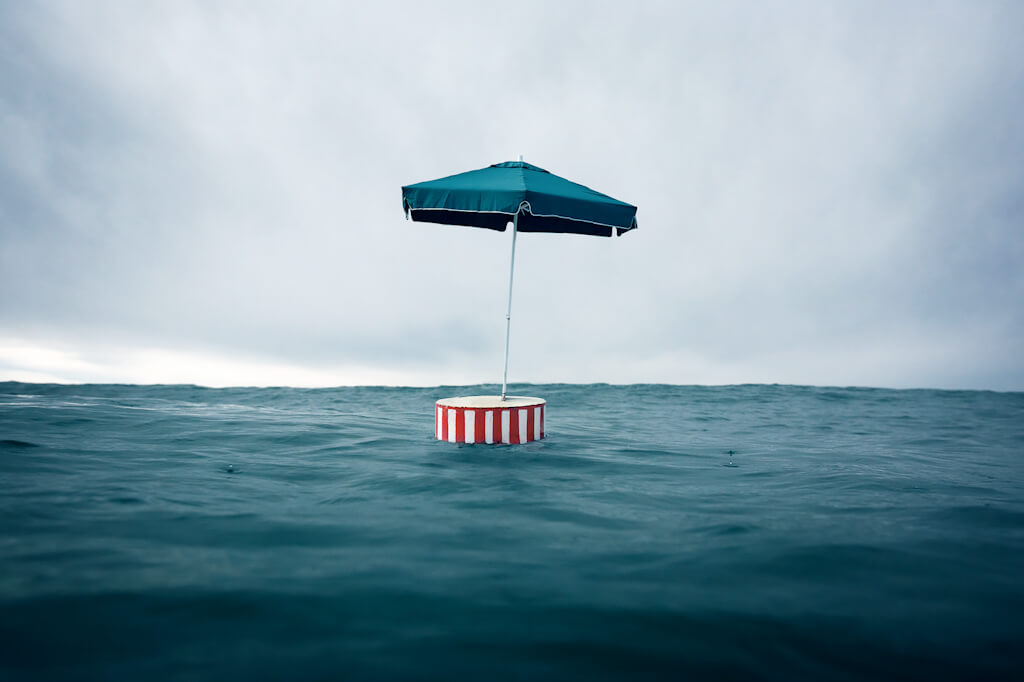 What is the link between your commercial and personal work
When I conduct an advertising campaign it is an exercise like an extension of my personal work, even if I keep my own sensibility I approach these projects in a more collective and collaborative manner as human and material resources used are more important than in my personal images.
What are your priorities: a great advertising campaign or an exhibition?
Both! I think making advertising campaigns and show his personal work in galleries are two essential aspects of the life of a photographer. I recently exhibited at the gallery in Paris FAT and the experience gave me a lot of pleasure from the many meetings this project initiated. It is a moment of exchange with many people and it is very rewarding. Happiness comes pinning these images to a gallery wall!
What is your current trend?
Surrealism is an important part in the photographic landscape. It is created using digital tools or a simple staged shifted, I love the atmosphere transports or dreamlike reality.
What is the influence of digital technology on your photography?
We live in an era that moves at a hundred miles per hour ! The digital era is here but the references are more than ever the authenticity of traditional film photography. I deeply love the process of shooting with film, but the digital tools allows me to compensate for the lack of budget to achieve some of my personal images and then the creative possibilities are so great ! I am not one of those who regret the past!
Anything else you would like to share?
Yes, a little nod to my agent Zeynep. I have been working with him for two years and without whom I would not have evolved so rapidly!