Brigitte Carnochan
's photographs are represented nationally and collected globally by museums, corporate and private collectors. We asked her a few questions about her life and work.
All About Photo: When did you realize you wanted to be a photographer?
Brigitte Carnochan:
It sneaked up on me! I've been making photographs my entire life—especially portraits—and then in 1989 I took a darkroom class at a local junior college. I don't even remember why I did it--curiosity I suppose. That was it. I was hooked. I was working full time at Stanford University and over the next five years I realized I had to quit my job and pursue photography full time because otherwise I would be too sleep-deprived from trying to pursue two careers.
Where did you study photography?
I took a number of classes at Foothill Junior College in the Bay Area from a very fine teacher and photographer named Steve Kiser. He is a perfectionist and his courses gave me a fantastic grounding in technical skills as well as insights into aesthetics. I also took workshops from various people I admired. It seemed so liberating after getting a BA, MA, and PhD with very strict course requirements—William Albert Allard, Mary Ellen Mark, Morley Baer, John Sexton, Ruth Bernhard, Cole Weston, Ted Orland, and David Bayles.
Do you remember your first shot? What was it?
I received a Brownie Hawkeye camera for my 10th birthday. Unfortunately, my cat had just had kittens, so pretty much the entire first roll of film was kittens. However, I did take one rather arty shot of my friends from the top of a jungle gym--they were looking up and I was shooting straight down. Perhaps that's as edgy as I've ever gotten! My style is rather classical.
What or who inspires you?
Two things important to my life are my fine art inspirations—dancing and gardening. My nude models are usually friends and acquaintances from dance classes and my flowers and fruits are usually ones I've grown in my garden. But I can't be in a garden—any garden—without being inspired to make photographs. We just came home from visiting cousins in Somersetl England--they have a fabulous garden and that wonderful overcast sky—a perfect set-up for me.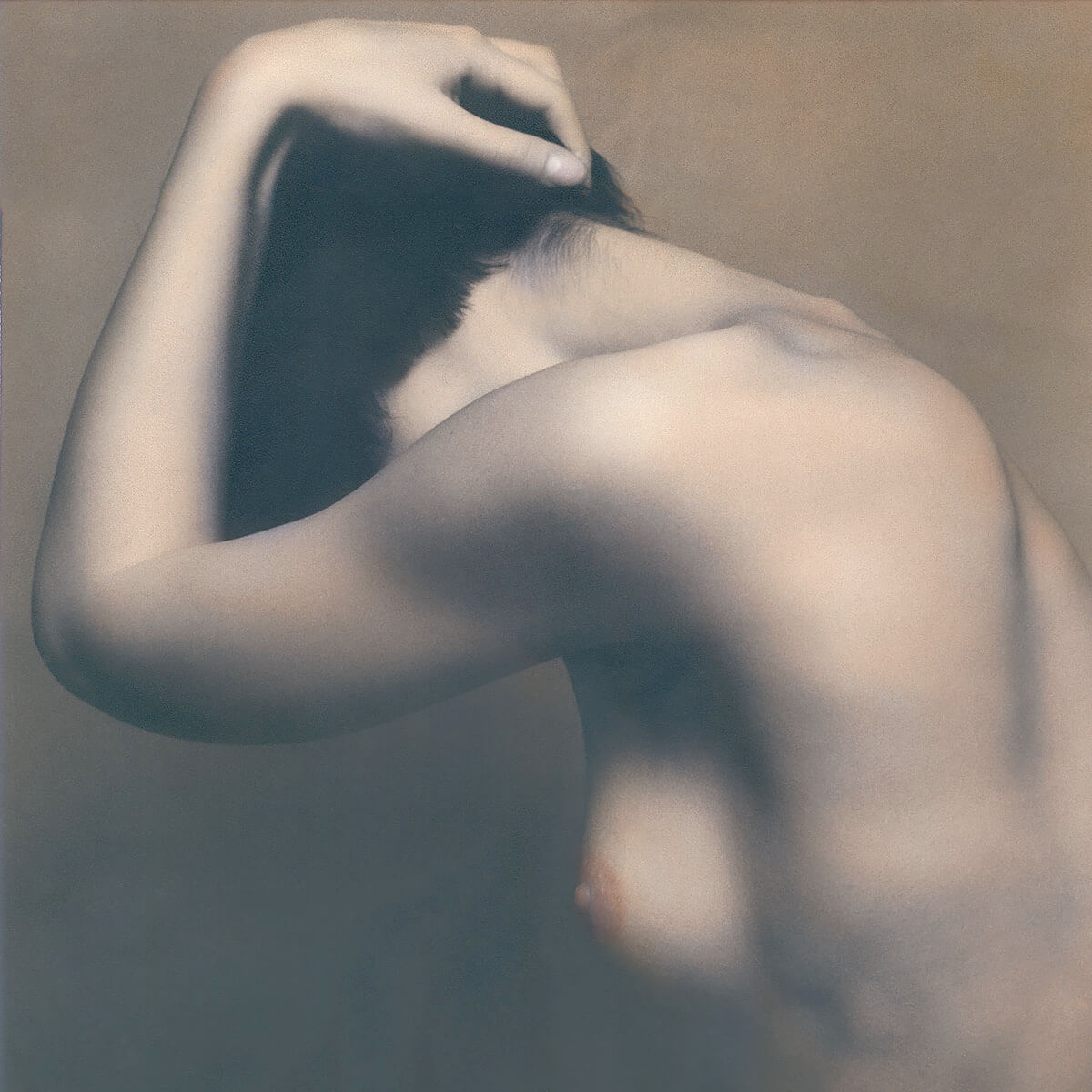 Nude with raised arm © Brigitte Carnochan
What kind of gear do you use? Camera, lens, digital, film?
I began with a Olympus OM1 and Tri-X films. Then a Hasselblad and 80 mm and 120 mm lenses (still Tri-X). I worked up to a Sinar 4x5 and Polaroid PN film. I finally began using a Nikon D70 digital camera for family snapshots about 2005. When the Canon Mark EOS 1D came out, I tried it but didn't trust the printers enough to switch my professional work to digital. It wasn't until 2007 that I began making a few digital prints that I sold. Mostly, I was still printing silver in my darkroom. And then painting the images with oils.
Do you spend a lot of time editing your images?
I don't shoot hundreds of images. I still shoot pretty much like a film photographer because I really hate to spend hours at the computer going through files. I've done that a few times after a long trip—like the one I took to China in 2005. But it was agony. I work alone, so I'm forced to budget my time carefully.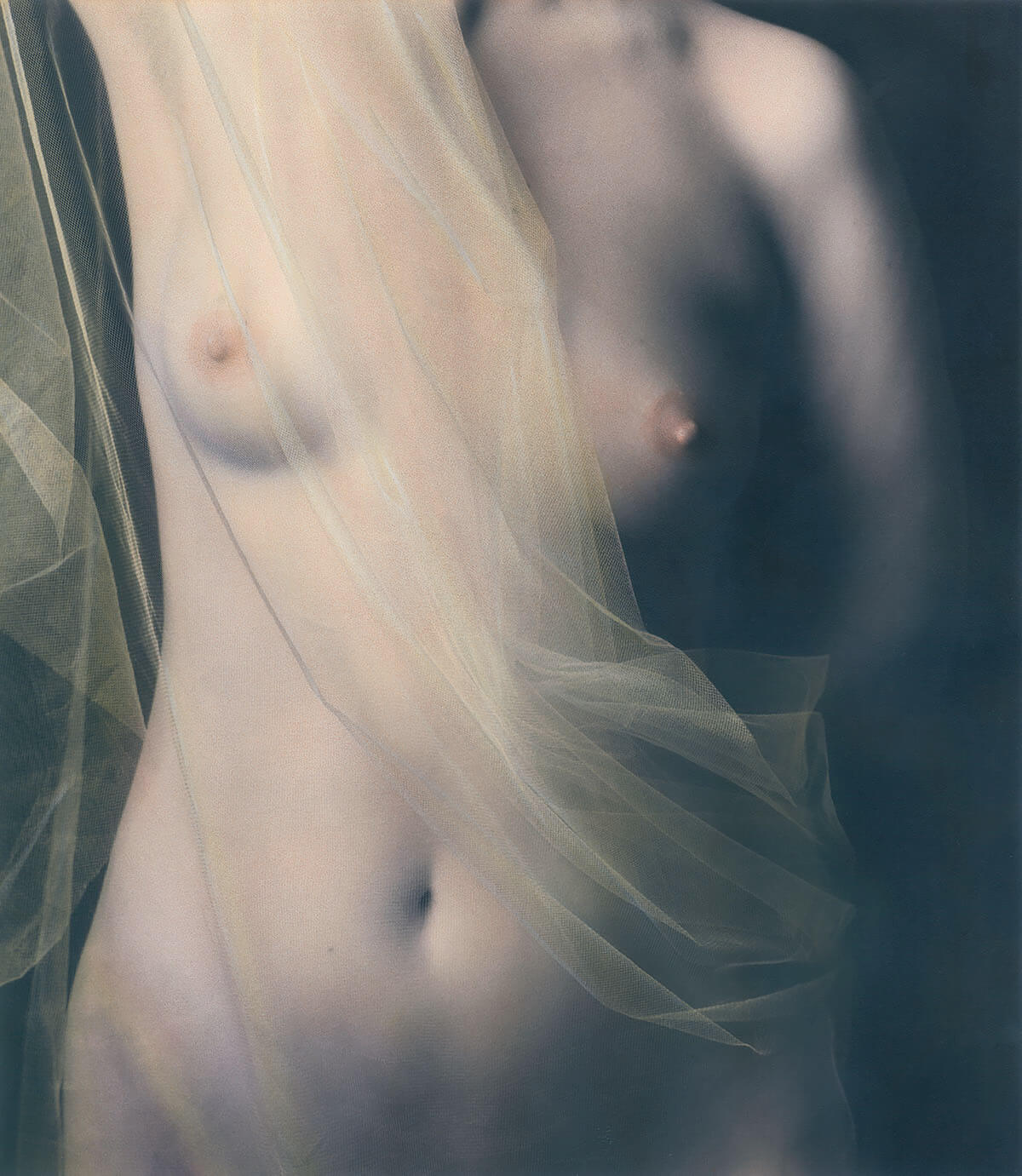 Nude with netting © Brigitte Carnochan
What advice would you give a young photographer?
Don't give up your day job! There are so many photographers now. Many more than when I started in 1990. And very talented recent graduates are looking for work, for recognition, for galleries, sales. And they keep looking. I fell into the gallery world pretty much by accident and I've been very lucky. But I think it's a much harder path to follow now.
If you could have taken the photographs of someone else who would it be?
Well, as I mentioned, I've just come back from England (and Scotland). Julia Margaret Cameron was a wonderfully inventive and daring (really!) photographer. And bossy and gutsy. In 1863 one didn't just point and shoot—a lot of physical labor was involved in making first a plate and then a print. Cameron and I share a passion for beauty. She apparently said, I longed to arrest all the beauty that came before me and at length the longing has been satisfied. I completely understand and concur with that ambition.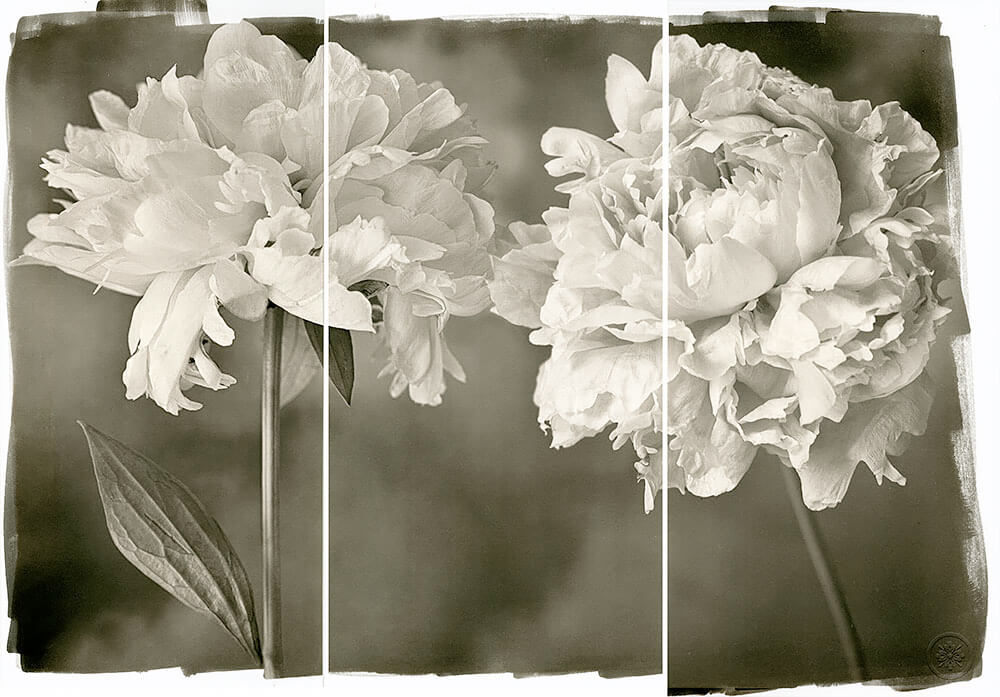 Engagement peonies © Brigitte Carnochan
Brigitte Carnochan's photographs are represented nationally and collected globally by museums, corporate and private collectors. She has had solo exhibitions in Latvia, Italy, Chile, and Hong Kong as well as in New York, Houston, Boston, Palo Alto, Los Angeles, Santa Fe, Ketchum, Woodstock, Albuquerque, Carmel and San Francisco. In addition to the publication of three monographs (Bella Figura 2006, Shining Path 2006, Floating World 2012), The German publisher, Edition Galerie Vevais, launched a monograph of her images in 2014 at Paris Photo. For many years she taught workshops and classes through the Extension Program at UC Santa Cruz and Stanford's Continuing Studies Program. She is on the Advisory Councils of Center, in Santa Fe and The Center for Photographic Art in Carmel.