Are you interested in approaching a background removal service? Or are you dissatisfied with the agency you are currently working with? Either way, this post will come in handy. It is hard to understand from the first glance whether a certain background removal service is a decent one. I'm sure you don't feel like testing each existing company one by one until you find a suitable option. That's why I have prepared this objective review of the best background removal services in 2020.
Criteria
If you know what aspects to take into account when searching for an image background removal service, you will be able to make a more informed decision. The criteria, which are listed below, helped me a lot while evaluating the services of the companies I tested for this review.
1. Quality of Background Removal
The quality of work is highly important for any service. You will need to visit the company's website and search for examples of edits. If you see that the number of image examples is more than enough and the quality is satisfying, don't hesitate to place an order. If there are no examples at all or the quality of background removal is questionable, I don't recommend considering this company.
2. Turnaround Time
The time from submitting an order to receiving the final result is no less important. In case you need the edit as quickly as possible, find out if the company is capable of finishing the order in the shortest term (within 24 hours). Truly professional companies will remove image background and send you the edited pictures according to the deadline you set, maintaining high quality. They know that time is valuable and will do their best not to let you down.
3. Customer support
If you see that the customer support doesn't react to your inquiries or it takes too long for them to respond, it is a clear sign that the company doesn't respect its clients and doesn't appreciate that you want to use their services. In this case, cancel the order and search for a more professional and responsive platform.
4. Cost
For some clients, price is a decisive factor when it comes to choosing a background removal service. You need to define how much you are ready to pay for the service. Obviously, services from top-grade companies are quite expensive. However, some decent companies have an adequate pricing policy. I recommend searching for companies with competitive rates. Remember to be careful with too cheap services as low prices may mean that their retouchers aren't pros at all.
Top 10 Photo Background Removal Services
I took into consideration all the aspects mentioned above and approached 10 companies that claim to provide professional image background removal service. I checked whether it is really true and I'm ready to share the results with you.
1. FixThePhoto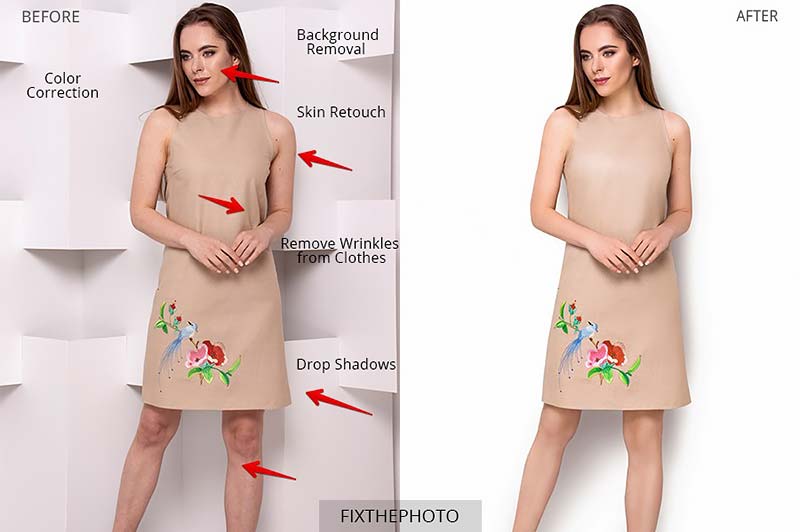 Price: $2+
Frankly speaking, I didn't expect
FixThePhoto
to take the first place on my list. I was familiar with their high-quality wedding and portrait retouching results. However, background removal is a totally different thing and I am always a little prejudiced against services who claim to be good at all types of editing, but this company has proven me wrong.
Having a 15-year experience in the digital photography sphere, FixThePhoto has been cooperating with a great number of popular e-commerce, media, fashion, photography and other companies worldwide.
FixThePhoto's team consists of approximately 400 experienced shooters, retouchers, graphic designers, who do their best to provide services of the highest quality.
Due to the vast image editing experience, the team is ready to deal with all kinds of image manipulations, including the most complicated ones. A 50% discount for bulk orders is also a nice offer.
I can't not mention their wonderful blog, that has very helpful photography-related articles, like
how to blur background in Lightroom
, how to edit in Photoshop professionally and others.
FixThePhoto offers manual background removal services. These are more effective than any photo background remover application. I really like that retouchers can remove background from different kinds of product shots - from electronics, clothes, shoes, cosmetics to food, jewelry and equipment. My order was completed very quick and I was truly amazed with the results! They removed the background, but also made color correction, retouched the model's skin, and even added a drop shadow!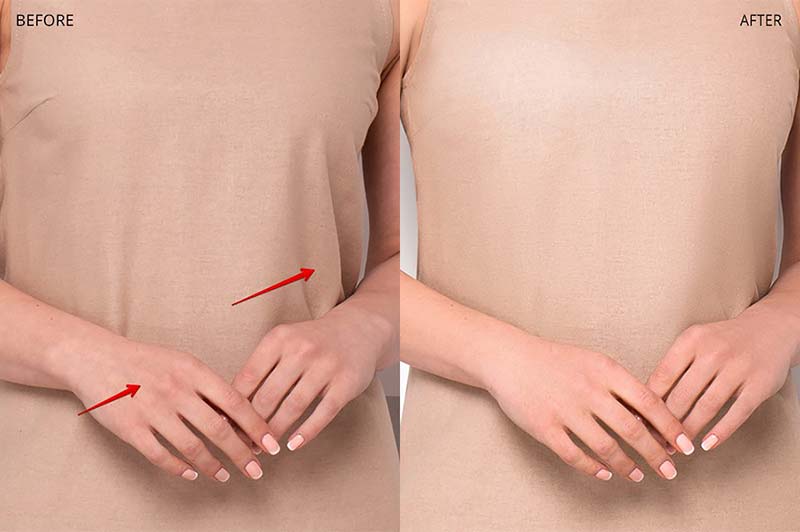 The fact that they removed clothing wrinkles deserves a special mention. They have exceeded all my expectations. This is the work of true professionals.
Summing Up:
Satisfied with the results. The background was removed seamlessly; the image can be printed in high resolution. Their first place is well-deserved. Aside from the fast turnaround time and bulk order discounts, FixThePhoto provides many more benefits.
2. WeEditPhotos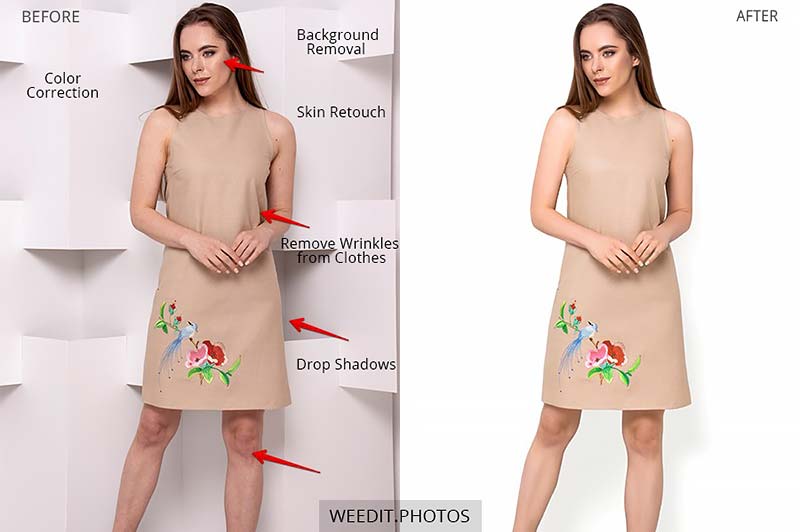 Price: $5
The next background removal service, which has truly impressed me, is
WeEditPhotos
. With a 17-year experience in this sphere, the company deals with various kinds of image post-production and is a wonderful option for photographers of different genres. Look for the images edited by WeEditPhotos' team in the Portfolio section. All of the examples are conveniently categorized.
It wasn't difficult to make the order on the website thanks to the provided instructions. I received the final result according to the deadline, within a day. They have removed the background at a high-quality level, which proves their professionalism. Besides, WeEditPhotos offers a flexible and beneficial discount system for all the return customers.
Customer support is another advantage. The managers are eager to answer the clients' questions and effectively solve their problems at any moment. They responded to me promptly and are ready to hear the feedback.
WeEditPhotos did an excellent job! They went above and beyond to deliver a professional-looking picture: from color correction to skin retouch - they did everything on a high-end level.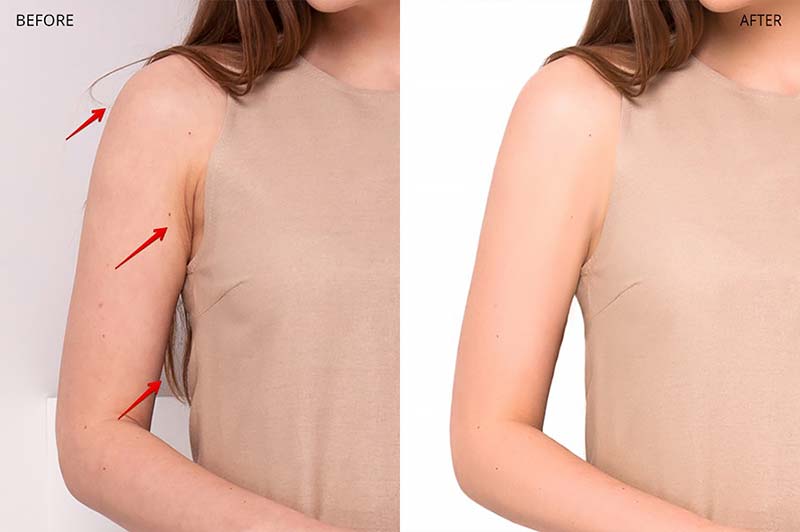 The armpit retouching was done perfectly. Exactly what I wanted! There's nothing to complain about and WeEditPhotos. It occupies the second place on my list just because their price for photo background removal service is higher than at FixThePhoto.
Summing Up:
Top-grade service! Ask this company to remove the background from pictures and you will certainly step up your online marketing game.
3. Wedding-Retouching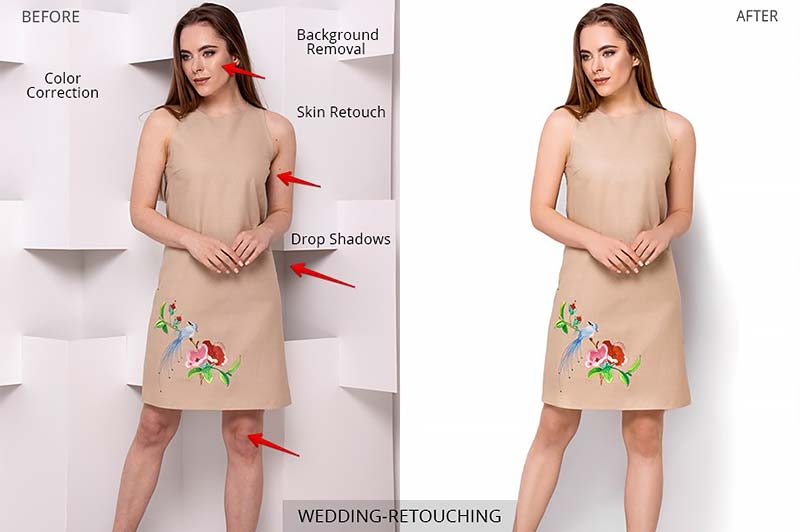 Price: $10
I wasn't sure that
WeddingRetouching
would cope with the task well. That's because its main specialization is wedding photography. Nevertheless, the results I got were surprisingly on-point.
I didn't have any problems using the website and placing an order there. The customer support is super responsive and can be approached through the online chat window at the bottom of the site.
WeddingRetouching openly demonstrates the results of its work. You can go to the Gallery tab (at the top of the main page) and look at the previously edited pictures. The number of examples is considerable. After viewing them, you stop hesitating and feel eager to make an order.
But I haven't found many examples of photo background removal, which, I think, they need to fix.
My order was done fast. I was very satisfied with the final result and quick turnaround. Skin retouch, drop shadows, color correction - everything looks harmoniously.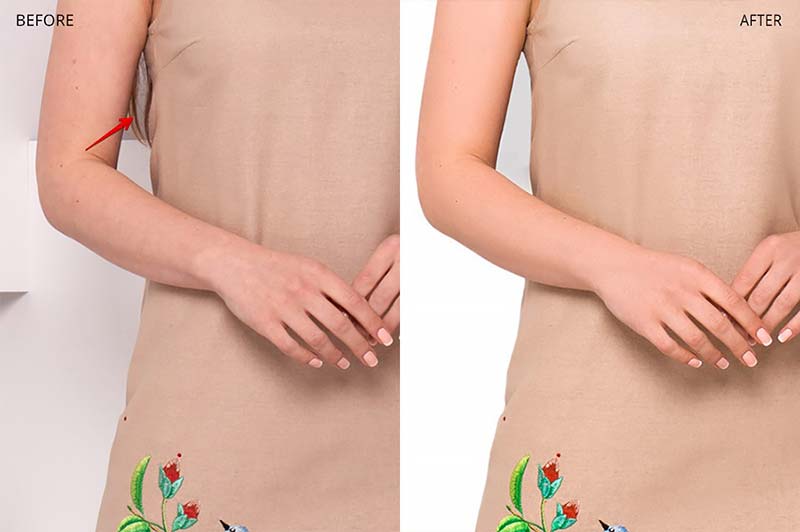 I simply love how they removed the model's hair in-between her arm and body. The contours look clean and natural. They managed to fulfil the task completely.
Summing Up:
This service for removing backgrounds from images will definitely help you increase your sales. Worth your time and money.
4. HighEndBeautyRetouching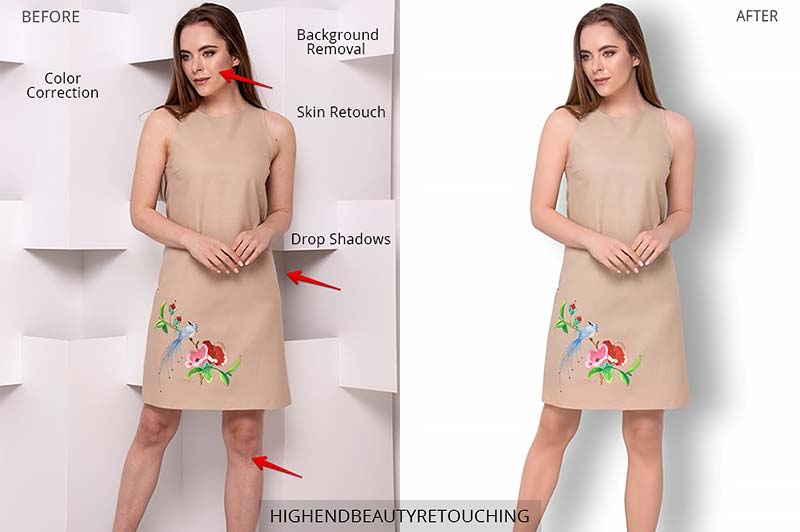 Price: $10
Another website that deserves my praise is
HighEndBeautyRetouching
. The company's main specialization is nude and boudoir photography editing.
The design of the website is appealing. The gallery - Portfolio Tab has pleased me with a great number of picture examples. All of them can be zoomed in and examined in detail. The company provides 4 levels: High-End Retouching, Ultra High-End, Magazine and Ultra Magazine Level. The number of images that clients can send isn't limited. On the website, you can easily find the answer to any question you need thanks to a thorough FAQ page. It goes over each question in detail and explains every step of the process.
The customer support at HighEndBeautyRetouching is eager to help clients at any moment. You can approach them through the online chat window or a Facebook box. The retouchers managed to remove background from pictures flawlessly. I received the edited picture very quickly. Stunning result!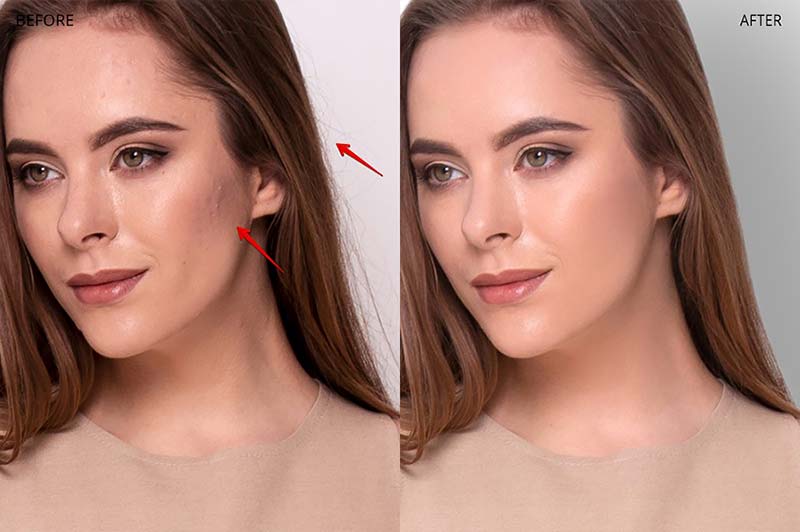 Notice the silky-smooth skin, that still retains all of the detail. They did a great job fixing flyaway hairs too. The final result looks super attractive.
Summing Up:
Turnaround and the quality of their background removal is wonderful. All small details were taken into consideration. I recommend!
5. NudeRetouching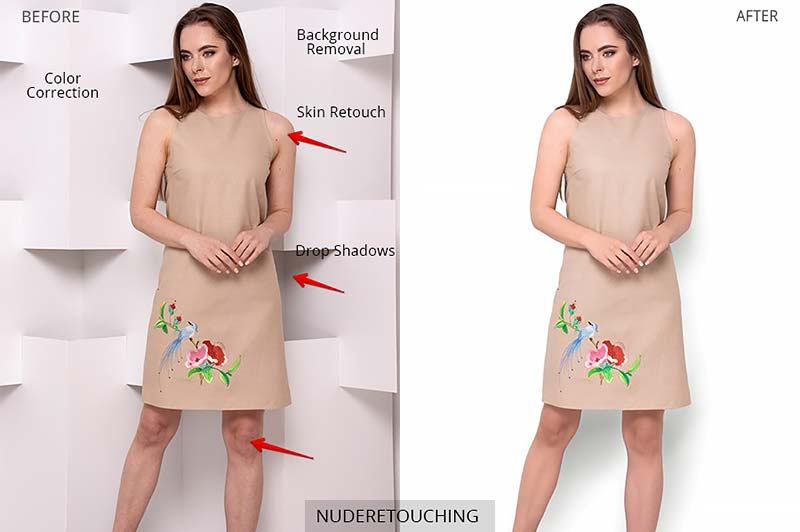 Price: $10
NudeRetouching
can definitely compete with the outsourcing companies mentioned above. The website is very basic, without extra information, which is great for novices that can be confused by all the redundant info.
There you can view and compare multiple before/after image examples. You can approach their customer support through the online chat window in the right lower corner of the site. In case the managers aren't currently online, just leave your message in the chat window with your e-mail address.
Once they are available, you will get a response immediately. Besides, you can contact the manager through Facebook.
Even though the company specializes in boudoir photography editing, the job was done on time and at a professional level. No part of the photo was neglected.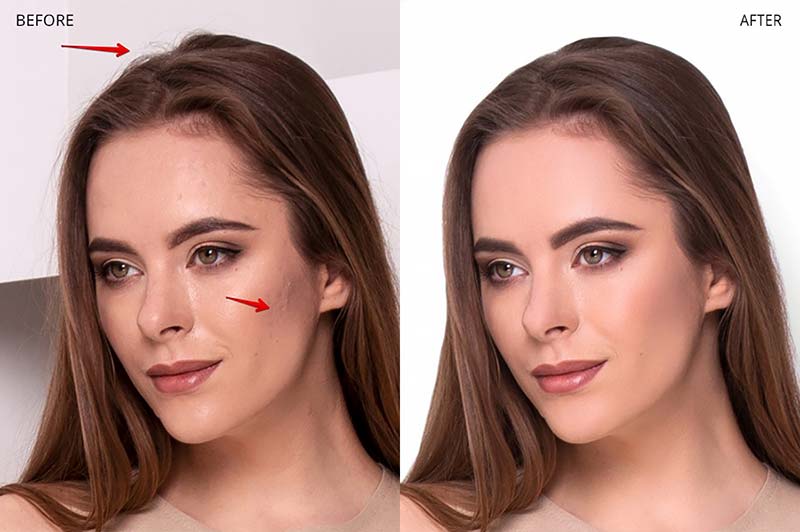 I know how time-consuming it is to perform quality hair retouching, that's why I appreciate the job that they've done. There's no stray hairs along the contour. I like how the retouchers managed to achieve a natural smooth skin. I'm 100% satisfied with this image background removal service.
Summing Up:
The company works quickly and effectively. The prices are quite expensive but such high quality is really worth the money. I would not hesitate recommending this service.
6. DamagedPhotoRestoration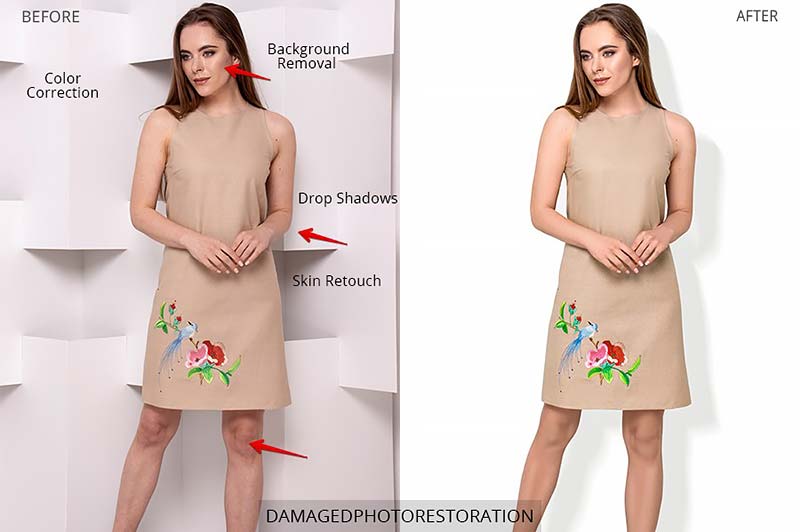 Price: $10
DamagedPhotoRestoration
and its skillful experts use the most innovative and effective methods to bring back an old or damaged shot to its initial state. I didn't really expect them to remove image background successfully, providing even better results than the services specialized in background removal.
Dealing with customer support was a pleasure. They were responsive, quick and patient especially since I tend to bombard consultants with all kinds of questions.
The offered services are quite expensive. However, the company provides a beneficial system of discounts to regular clients.
I got finished result in 2 days. The edited image looks impressive. The model's skin looks smooth and blemish-free. The drop shadow is also a nice touch.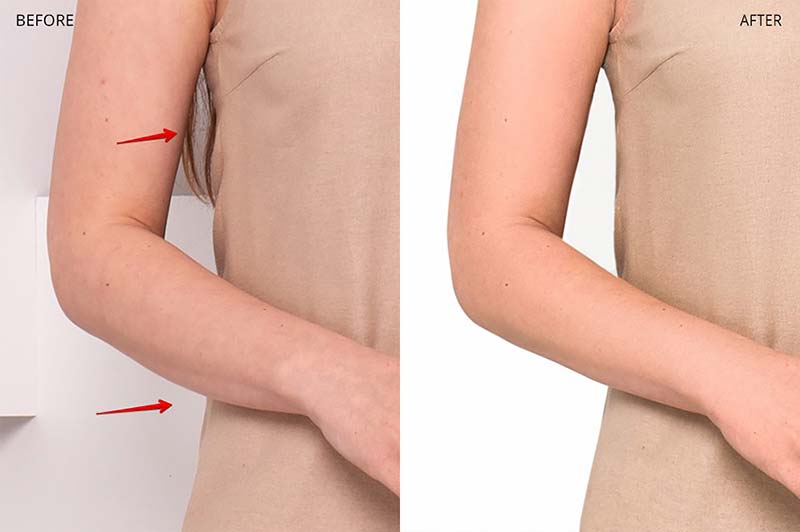 I like the inconspicuous way they removed her hair, it's looks very natural. The use of the Liquify Tool to make the arm skinnier is also worth mentioning. I have no complaints concerning the company's work and customer support. Everything was done quickly and professionally.
Summing Up:
Fast, effective and responsive - exactly what I was looking for. I will surely approach the company more.