Whether you're a beginner or a pro photographer, one thing is certain: your work is worth more attention. Instagram is the perfect social media network to take your personal brand's exposure to the next level, but only if you'd only knew how.
Nowadays, all social channels are full of visual content, meaning that people prefer sharing images and videos over text or audio. That is an advantage to every professional who's in the photography field.
Your photo works can be promoted in many ways, as there are countless digital marketing techniques to work with. However, some are better than others. For example, Instagram marketing is a much better choice than LinkedIn marketing when it comes to promoting photos.
Establishing a strong presence on Instagram is simple if you know how to position yourself in the marketplace. Knowledge, skills, and experience, they all matter. But what matters most is your commitment. The commitment to test, fail, learn, optimize, and scale. In today's post, I'm sharing 5 tips to start promoting your photo works on Instagram effectively. Let's get started:
Take Your Instagram Profile to the Next Level
The first impression always matters. For that reason, you should create a truly professional Instagram page that displays your unique personality as an artist:
• Eliminate selfies, photos with friends, and personal life stuff
• Create a simple and memorable username, that is also easy to spell and type.
• Write an amazing Instagram bio. Keep it short and relevant and leave a link to your website or contact page. Never avoid or neglect this step!
• I'd advise you choose a branded logo for your profile picture rather than your face, mostly because the logo is more recognizable, and your work will get recognized much easily. However, that is up to you.
Approach a Quality over Quantity Mindset
Quality over quantity – this advice applies to absolutely every field of activity, every marketplace sector, and especially to every person's actions.
Whenever you publish a new photo, always think in terms of that. It's better if you edit it for 10 days rather than one, and post one picture rather than 10.
This applies to your photo descriptions also. I'd suggest you write high-quality content always. If you don't have the necessary skills, do like I did. When I was a student, I used to ask professional writers to write my essay. Now, as a photographer, I ask the very same professional writers from Ninja Essays service help me get the content part done.
Get People Used to Esthetic Photos Through Stories
Instagram stories – a great feature that should be taken into every Instagram marketing campaign. As a photographer, you're working with the aesthetic. Your brand is basically your name, your original work, and the content you share.
Since you won't be posting a new unique photo of your every day but you're supposed to consistently post new content to attract more followers, you can simply share amazing art that belongs to other people. Do that through stories, but if you do it, make sure you never compromise your quality standards.
Get people used to associating your personal brand with something exceptional, and all your unique photos will be assessed that way too!
Leverage Hashtags All the Time
Hashtags are the bread and butter of Instagram. Even though the hashtag feature has initially started on Twitter, it became much more popular on Instagram as time went by.
Studies show that 11 hashtags per post represents the ideal engagement strategy. Others state that less is better. Depending on your style and target audience, you should post as many hashtags as you feel its right. Then, you should test and measure the results. Optimize if needed.
• Insert trending hashtags in both your posts and stories will get your photos and art in front of fresh eyes
• Developing a branded hashtag is another great way to leverage this feature to your own benefit. When people recognize your art after a hashtag, you can relax because you're doing it right!
• Always use hashtags that effectively describe your "hidden art message". It could be feelings, events, or anything that presents a great connection with the meaning behind your photos.
Promote Your Instagram in Different Places Online
If you focus mainly on Instagram marketing, it means that your main social portfolio is actually your Instagram business page. It's best that you also develop a website portfolio, just for professionalism purposes.
Nevertheless, promoting your Instagram profile on other social media channels is often better than promoting your own website. People are extremely used to social channels, so they'll often prefer taking a look at your pictures through their Instagram app rather than on a browser.
I would suggest you create a Facebook page, Snapchat, Twitter, Pinterest, Tumblr, and all the other social channels that are "prioritizing" photos over anything else. Simply scale your promotion and use the "secondary" channels to lead people back to your Instagram main channel.
Takeaways
Promoting your photo works on Instagram takes time, patience, and commitment. The person who enjoys taking pictures, compared to a person who wants to create a photo agency and earn million dollars will never think and act the same way. Now, it depends on what type of photographer you want to be.
Instagram is the place that can support your dream and allow it to make it happen. There are many successful no-name artists who are making a good living selling their art through a website and promoting it through Instagram. You can do the same, so what are you waiting for?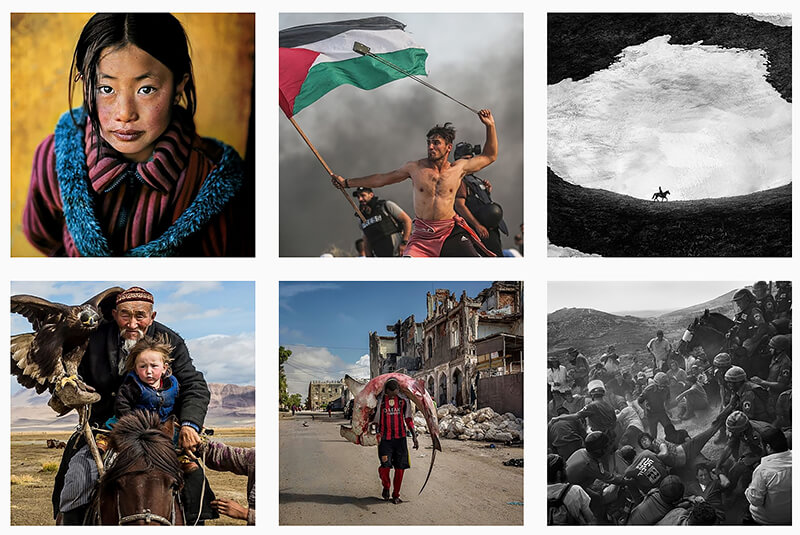 About Jacob Dillon
Jacob Dollon is a writer at
edu birdie
, where he helps businesses with show correspondence and marketing. He is also a content manager at
rush my essay
and writes texts for grademiners reviews.