Sabine Weiss
was born in Switzerland in 1924. In 1942, she wonders what she will do with her life, and decides that she should become a photographer because it is what she loves to do. She is the daughter of a mother who showed her art galleries and Roman churches at a very young age, and of a researcher chemist father who loved to see her print her little photos with the resources available at the time. From 1942 until 1945 she was an apprentice at Boissonnas in Geneva, house of a dynasty of photographers that celebrated its 80th birthday. In 1945 Sabine Weiss moved to a studio in Geneva, but in 1946 she decided to leave the city of her childhood to live in Paris. She knew there was no turning back. She asked Willy Maywald to become her assistant. In 1949, she met the painter Hugh Weiss and realized right away that she would spend her life with him. Sabine Weiss left Maywald, where she mastered her craft and started a long career, experimenting fashion, photojournalism, advertising and everything else she was asked to do. During her free time, she liked to immortalize the depths of man in all simplicity. Her photographs moved Edward Steichen when preparing his major exhibition The Family of Man therefore he decided to present three of her images. In recent years, Sabine Weiss has dedicated her time to exhibitions that showcase the humanist side of her work because it meant a lot to her.
Sabine Weiss is a juror of a juror of
All About Photo Awards 2017.
We asked her a few questions about her life and work.
All About Photo: When did you realize you wanted to be a photographer?
Sabine Weiss:
In 1942, I was 18. But I started taking photographs at a very young age with a small Bakelite camera I had bought with my savings. Ever since I was a little girl, I made my own contact prints using a small wooden chassis that I would place on my window and stabilize with kitchen salt.
AAP: Where did you study photography? With whom? How did you become photographers?
Sabine Weiss:
I am 18 when I start working at the Boissonas studio in Geneva, it was celebrating its 80th Birthday. From 1942 to 1945, I learn the photographic technique and how to use all the equipment that nowadays seem primitive. This is where I learn lighting, retouching, the practice of 18x24 and 24x30 view cameras, prepare baths and make deliveries for clients.
AAP: Do you remember your first shot? What was it?
Sabine Weiss:
The first photograph that I loved was a crucifix placed on Saint-Pierre-de-Clages' church 's altar in Switzerland, a small Norman church.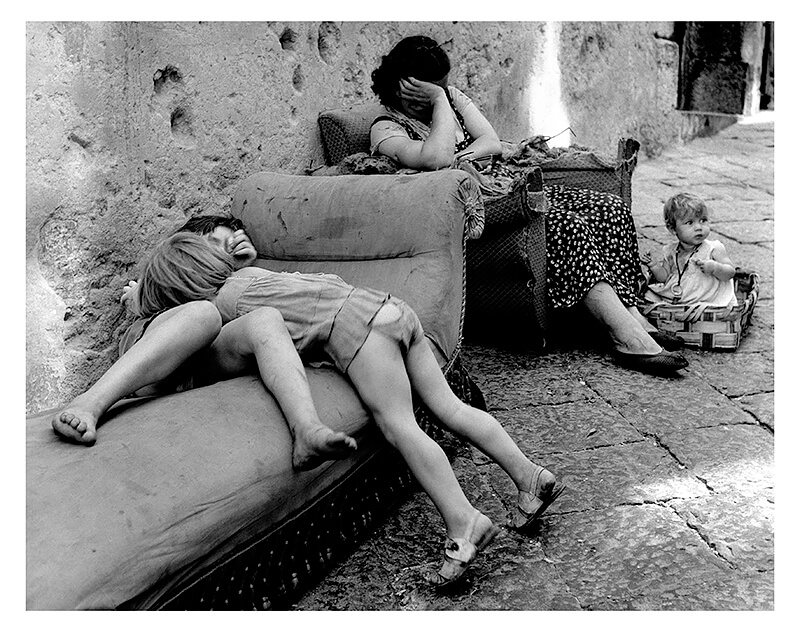 © Sabine Weiss - Une rue à Naples, 1955
AAP:What was your first paid assignment/job?
Sabine Weiss:
In 1945 I get my photographer's degree and I open my own studio in the center of Geneva. I undertake advertising, portraits and start documentary before relocating definitively to Paris in 1946. In 1952, at Vogue, Robert Doisneau discovers my photographs and offers me to join his Agency Rapho. I sign at the same time for Vogue a nine-year contract. In the United States, Charles Rado who represents the Rapho Agency in New York, supports my work and presents me to numerous American reviews for which I have worked for many years: Time, Life, New York Times, Newsweek, Town & Country, Fortune, Holiday, European Travel & Life, Esquire.
AAP: What or who inspires you?
Sabine Weiss:
Anything human and out of the ordinary.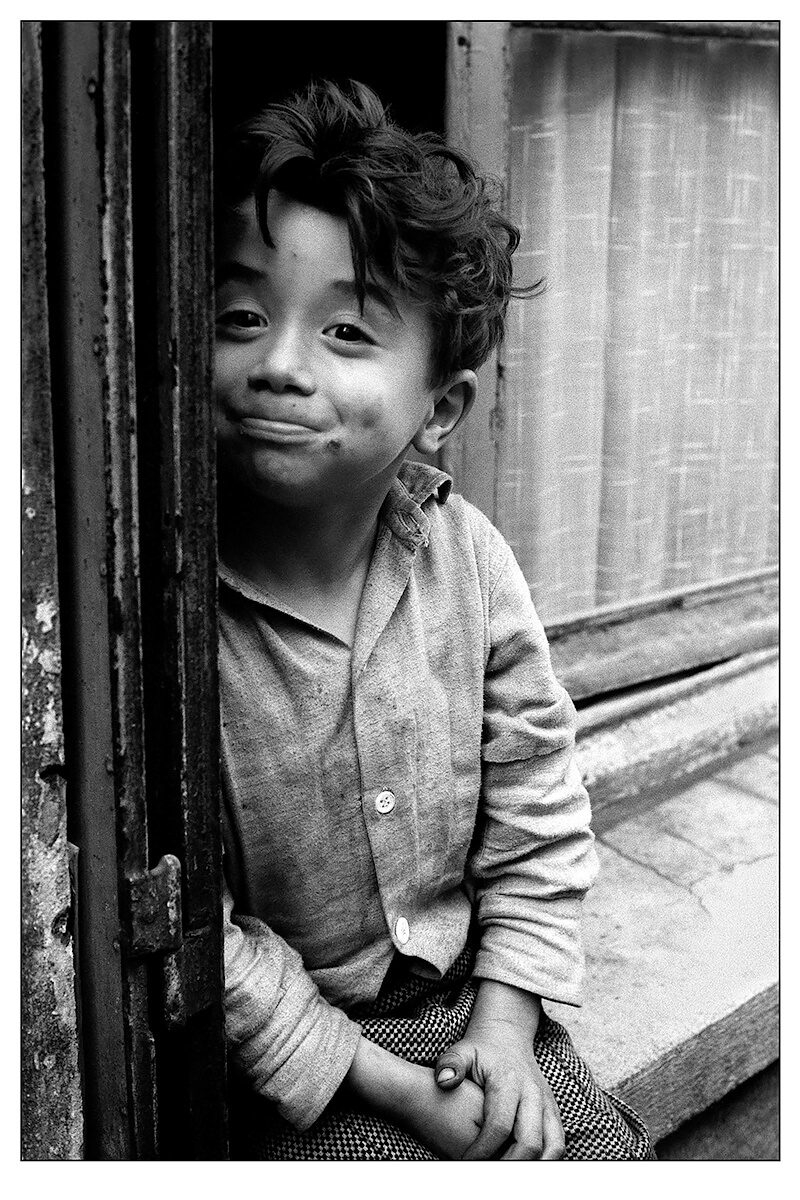 © Sabine Weiss - Paris, 1955
AAP: How could you describe your style?
Sabine Weiss:
Always spontaneous but with a view for composition.
AAP: Do you have a favorite photograph or series?
Sabine Weiss:
My photographs are my children; I love them all! But at the moment I particularly like the photograph of the 'clochard gentleman' (gentleman hobo).
AAP: What kind of gear do you use? Camera, lens, digital, film?
Sabine Weiss:
I have worked with many different formats from 8/10 inches to 24x36 mm images and of course the 24x36 mm gave me more freedom to take spontaneous and candid photographs.
AAP: What is the influence of digital technology on your photography?
Sabine Weiss:
I don't use digital cameras for shooting. I use technology for scans and sometimes make large format prints for exhibitions.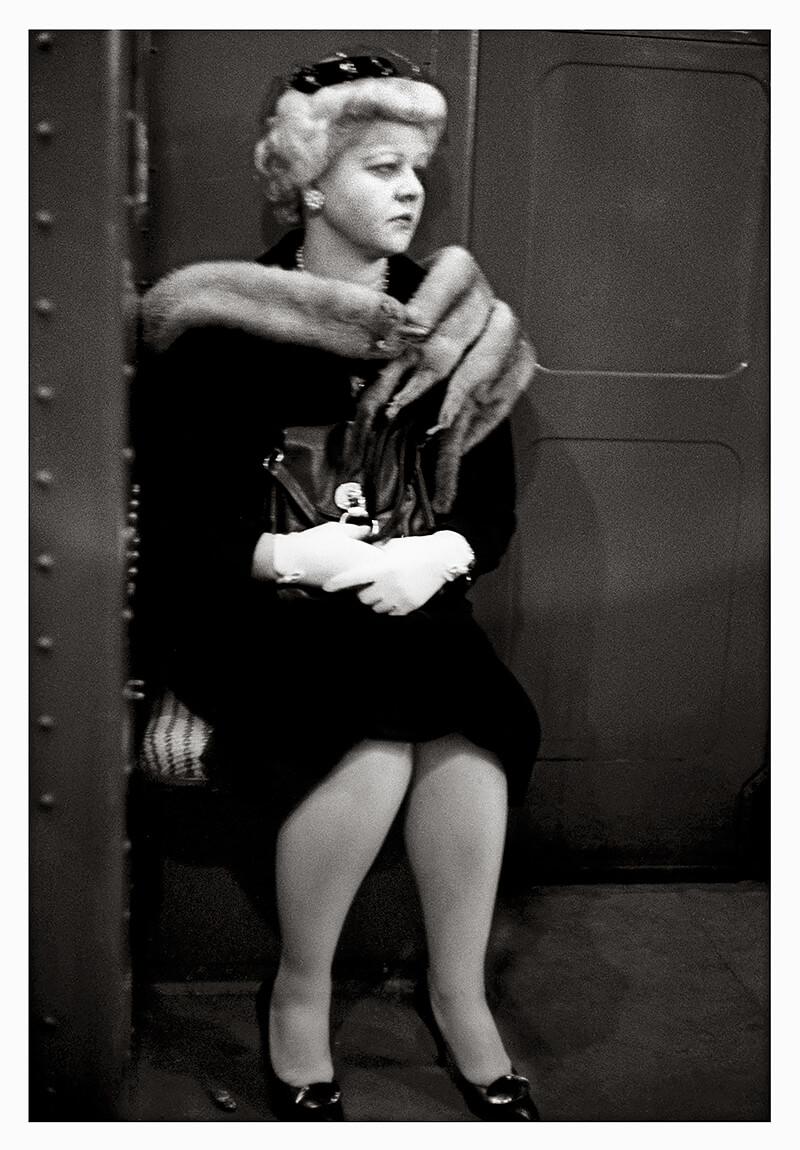 © Sabine Weiss - New York Underground, 1962
AAP: Do you spend a lot of time editing your images? For what purpose?
Sabine Weiss:
Yes, I have always done it very carefully, for myself, for the press, for books and exhibitions; and I am editing once again! I want to review all my contact sheets with a fresh look.
AAP: How do you choose your subjects?
Sabine Weiss:
At random, I don't choose; I photograph what strikes and touches me.
AAP: Can you explain the process that you use to set up a portrait?
Sabine Weiss:
Each portrait was done in a different way, depending of the situation: sometimes arranged, with flash, with candles.
AAP: Favorite(s) photographer(s)?
Sabine Weiss:
Marc Riboud.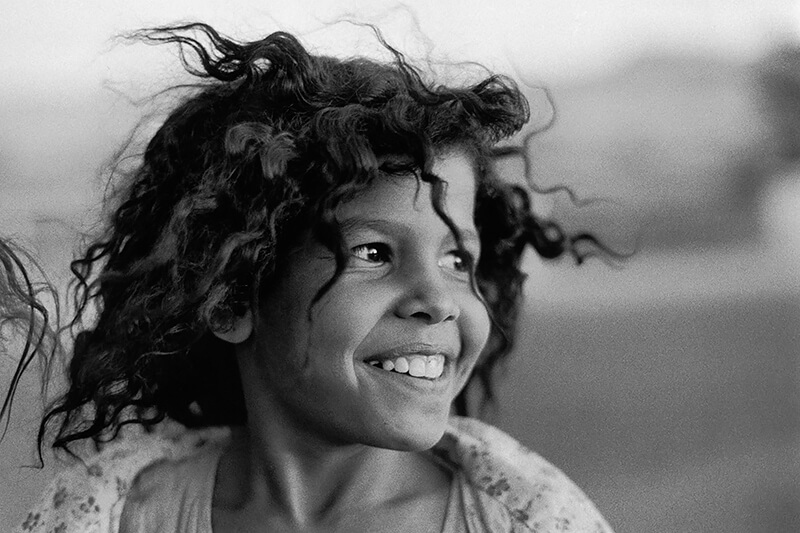 © Sabine Weiss - La petite Egyptienne, 1983
AAP: What advice would you give a young photographer?
Sabine Weiss:
To keep a personal point of view, no matter the technique.
AAP: What mistake should a young photographer avoid?
Sabine Weiss:
Not take enough distance with his photographs and want to go too fast.
AAP: What are your projects?
Sabine Weiss:
After the big exhibition in Paris at the Salon de la Photo, another one in December/January at the Lumiere Brothers Photo Gallery in Moscow and in 2015/2016 other exhibitions in France, for the month of photography in Nevers, the biennial of image in Nancy...
AAP: Your best memory as a photographer?
Sabine Weiss:
So many good memories, encounters, unforeseen events.
AAP: Your worst souvenir as a photographer?
Sabine Weiss:
One day when the flashes didn't trigger.
AAP:The compliment that touched you most?
Sabine Weiss:
One day a woman came to my house and told me: 'the photograph of the little Egyptian girl, I want it, I can't live without it anymore.'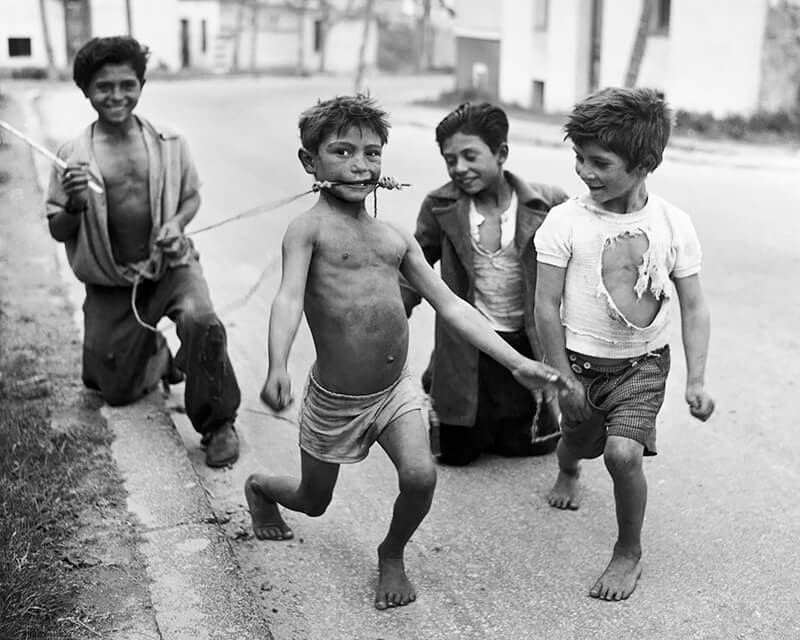 © Sabine Weiss - Je suis un cheval, Espagne, 1954
AAP: Did someone or something change your way of thinking?
Sabine Weiss:
No.
AAP:The award that touched you most?
Sabine Weiss:
The French National Order of Merit I received in 2010.
AAP: Is there another job you could have done?
Sabine Weiss:
All the manual trades I came to know.
AAP: Your favorite photo book?
Sabine Weiss:
'The Family of Man' from Edward Steichen and so many more.
AAP: An anecdote that comes to your mind?
Sabine Weiss:
I started photography in 1942, there would be too much to tell!
AAP: Anything else you would like to share?
Sabine Weiss:
I'd love to come to the USA for a show!!!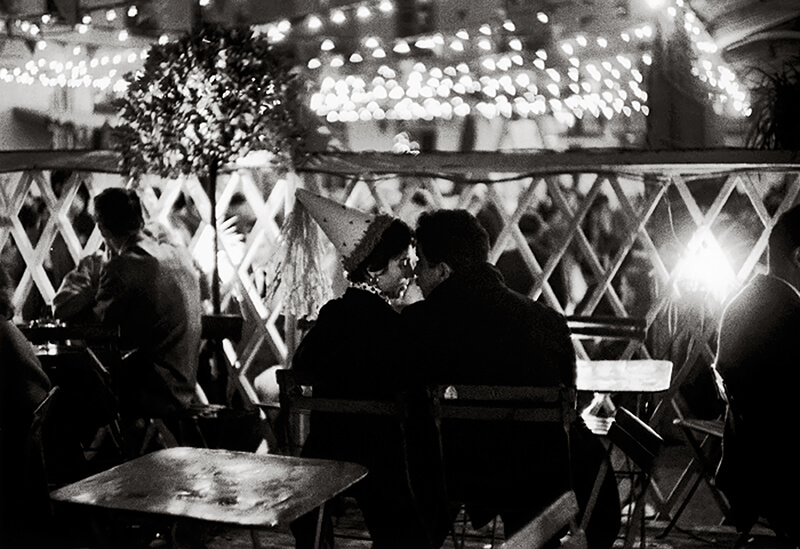 © Sabine Weiss - 14 Juillet, Paris, 1954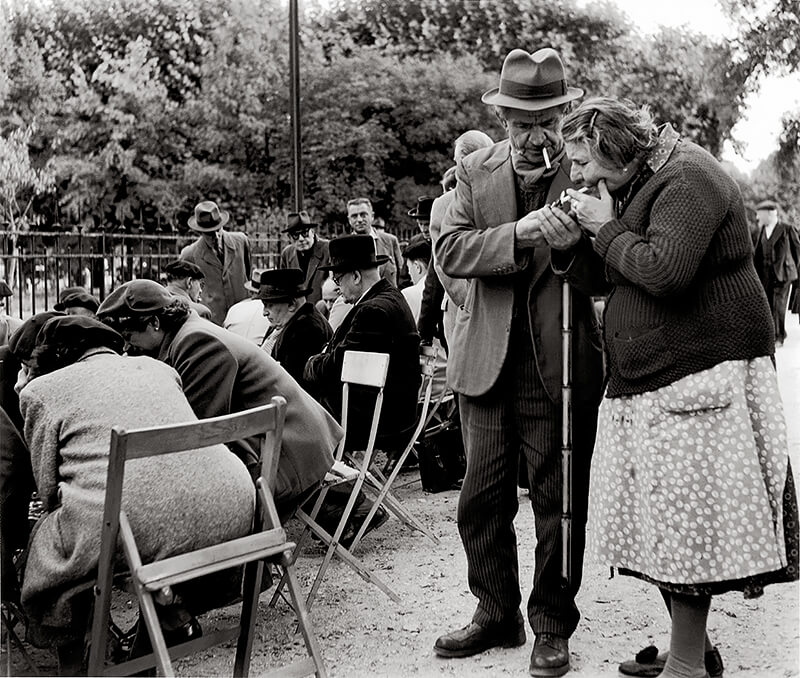 © Sabine Weiss - Jardin des Plantes, Paris, 1952
© Sabine Weiss - L'homme qui court, Paris, 1953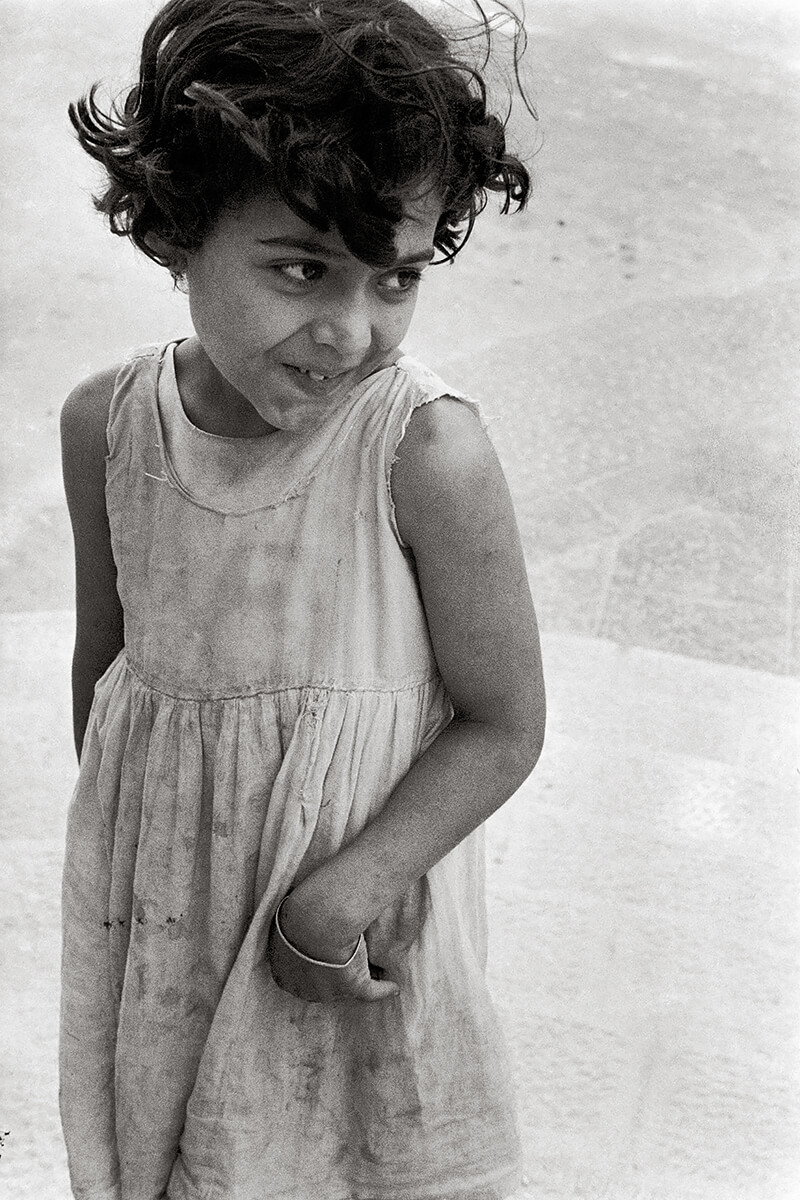 © Sabine Weiss - Malte, 1955