I first met
JP Terlizzi
at the
PhotoLucida
portfolio reviews in 2017. He sat down and I started looking through his pictures of his mother. There was love and there was loss and there was something else in between them. I listened to his story of family and the past and the pain and then what happens when the past is never dealt with and mental illness goes untreated and claims get staked and siblings cease to be on the same side and misunderstanding reigns. I could also simultaneously see his adoration of his mother and his questioning of her and his observations of her and also the challenges that surrounded their family like an encroaching sea.
There was one picture that looked familiar and JP told me why: I had selected it earlier in the year for an exhibition at
A. Smith Gallery
in Johnson City, Texas. Ah, yes, this picture of his mother with her walker and her pink slippers glaring or was she gazing at him? Was it love, was it anger, was it suspicion...what was it in her eyes? Family has always fascinated me, how they influence us and shape us, how we must break with them, but how we can never completely separate ourselves. Blood is blood. Many of JP's series address these ideas around family and ultimately about his personal story.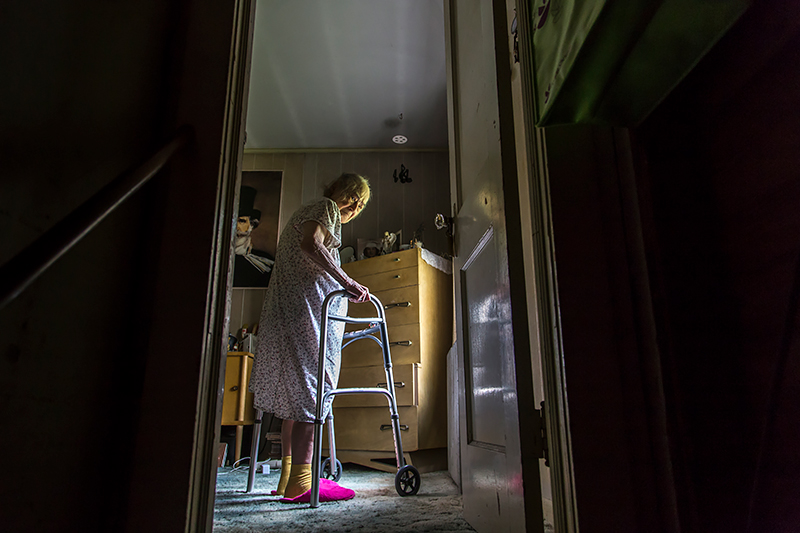 When I was jurying The Creative Portrait show for the
Los Angeles Center for Photography
a few weeks ago, I saw the picture of a woman's black and white portrait being sewn with a thick red yarn. Blood lines? An attempt to catch her in a web? A chance to adorn her. The piece is called Gemini and perhaps the hands are connecting the stars. Or hoping to connect them. This is one of JP's images from his series
Mother
which I had seen at the portfolio reviews.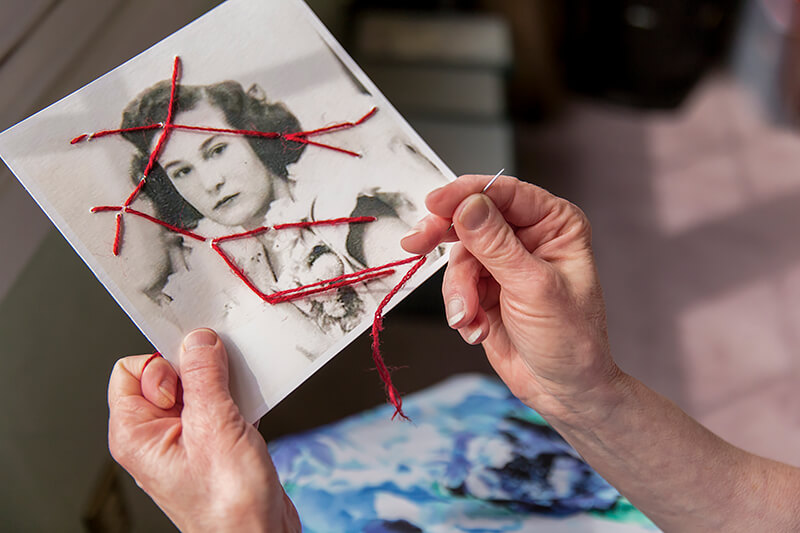 Here is what the artist had to say about this beautiful and difficult project:
The course of a life can be determined by a single, sharp moment; one that is inevitable and ultimately essential. A moment of trauma, setback or challenge reverberates for years to come, daring us to keep moving forward, and shaping our capacity to connect and flourish.
My mother was devastated by my father's infidelity, which led to a bitter divorce that had a profound impact on our family. As I witnessed her life unravel, I thought about strength of character, and began to wonder whether it was an innate quality or a personal choice. How is it that some emerge from the most difficult of moments better and stronger, while others find comfort in solitude, anger, jealousy and despair?
It's been over 45 years since that traumatic event, yet my mother has never fully recovered nor has she felt the need to seek professional help for her mental stability. Instead, I witnessed a woman who thrived on self-pity and detached herself from loved ones. As a result, her extreme actions and behavior were a detriment to the entire family.
Mother explores the emotional and psychological terrain surrounding the ending of relationships and the loss of personal identity. I use photography as a means to interpret and understand my mother's experiences, and piece together a tattered family narrative scarred by emotional trauma. For me, the process was one of personal discovery, but more importantly, it provided closure. A therapeutic process emerged where the feelings of sorrow, disappointment and anger resurfaced, and I was able to tame those feelings through acceptance and forgiveness.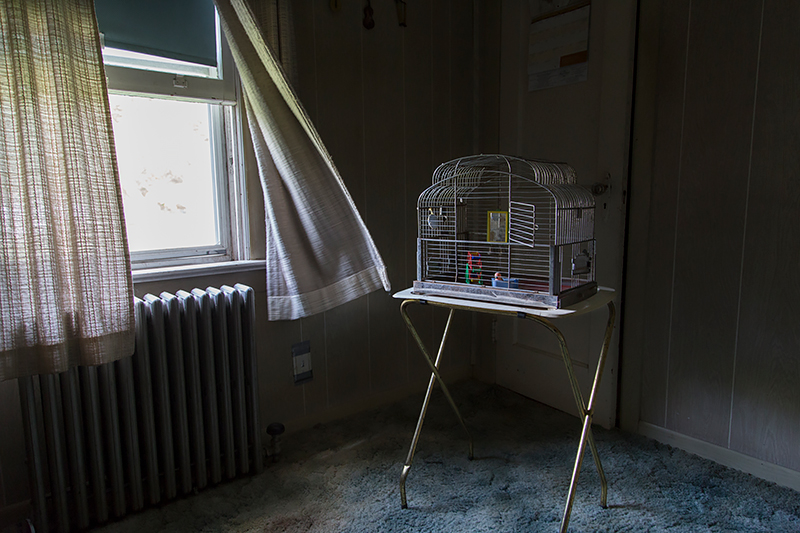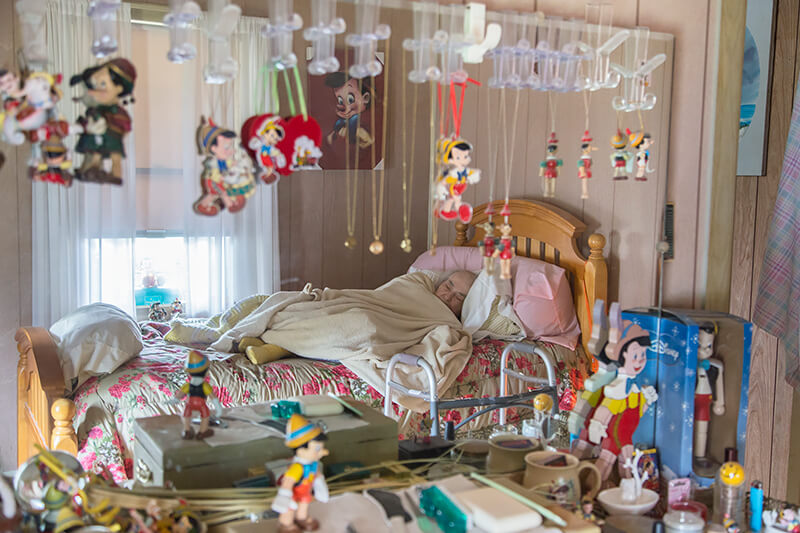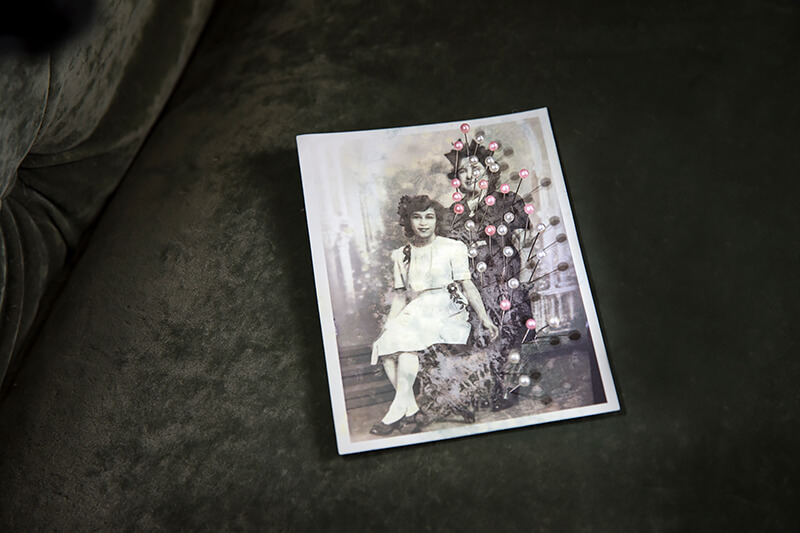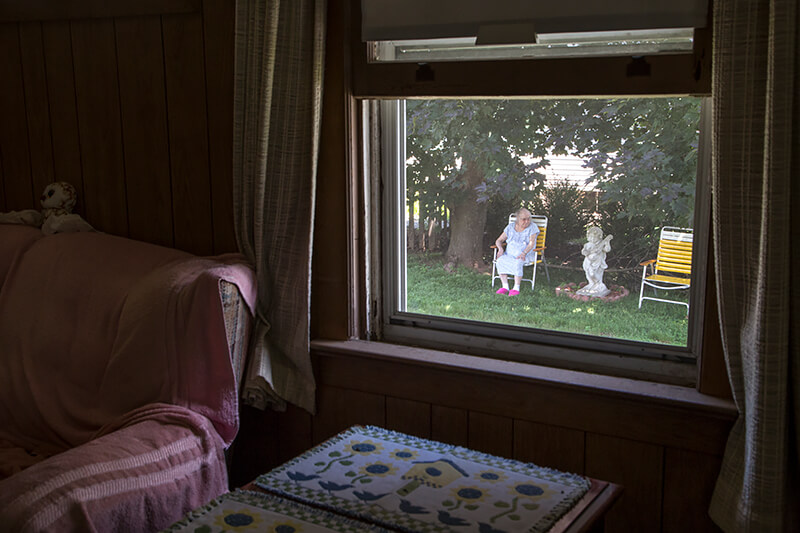 When I jury a competition like The Creative Portrait, the process is blind and I don't know who created the various images. I curated the show, sequencing pictures in my mind, pairing photographs, choosing a wide swath of portraiture and making tough choices about what to have in the exhibition, especially when I can only select 50 out of 1,000. I picked my best of show image, also without knowing who the artist was, a picture unlike most of the other entries. A woman on a high peak, a stormy sky above her, a green valley stretching out before her, the shadows of clouds moving below her, and her identity veiled by her blowing red hair. I think of the film, The Diving Bell and The Butterfly and the scene when the woman is driving the convertible and her mane of red hair is flying as she speeds along, music blaring, the movement of the hair electric and riveting, a memory that is as untouchable as that wild hair. This photograph, the mystery of it, the untouched land, the moment full of hope and something even more intangible. I want to be back in the Rockies or back on the knife's edge of Mount Katahdin in Maine and feel the wind trying to rip me off the ridge. This woman in the frame of this photograph is too powerful though to be blown away. And surprise of surprises, this image was also made by JP Terlizzi, not part of a series, just a moment that he witnessed. An arresting moment.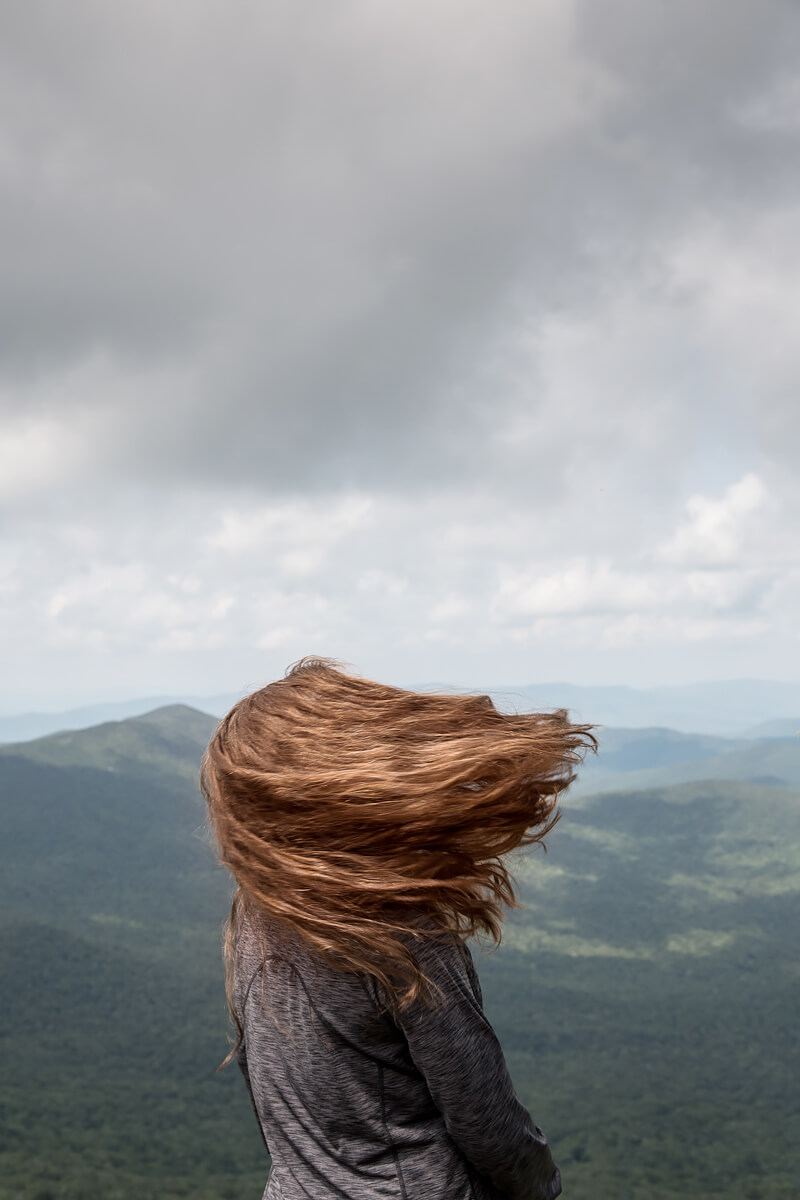 When I further scrolled through the winners of the competition, I saw that JP actually had five images in the show...and none of them looked the same. There are a pair of finely woven circular historical prints of some ancestors. The thread hanging down out of the circles and leading me on to the next one. I was drawn to the design of these with what appears to be a microscope slide full of blood sewn into the works. Without an artist statement, I wasn't exactly sure what I was looking at, but the feel of these exquisite mixed-media pieces captivated me. When I discovered that these were JP Terlizzi's as well, I had to know more. Here is what the artist had to say about Decendants, his most recent series (so recent that you're getting a sneak peek here since it's not on his website yet):
The working title and series Decendants is a new body of work that was developed as a result of not having my own family archive of photos to look back upon. Having been estranged from my own immediate family for over two decades it was important to me to create my own series of family portraits of my distant relatives from images that I obtained from my cousins. Many of the relatives in the series were either deceased before I was born or I never had the opportunity to meet them. I found it meaningful that I somehow preserve my past while incorporating myself and preserving the present. Utilizing a digital composite photograph of the old and the new, I incorporate my own blood specimens on slides and stitched them on the image to create a new family portrait and archive that permanently connects me with my past.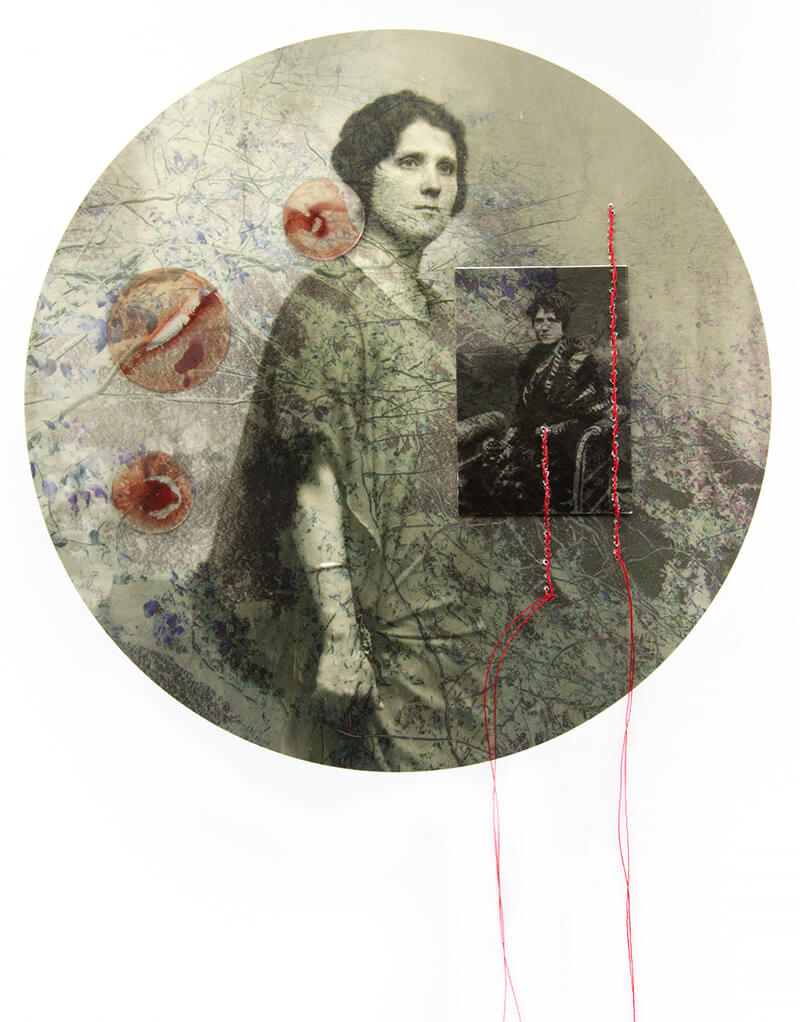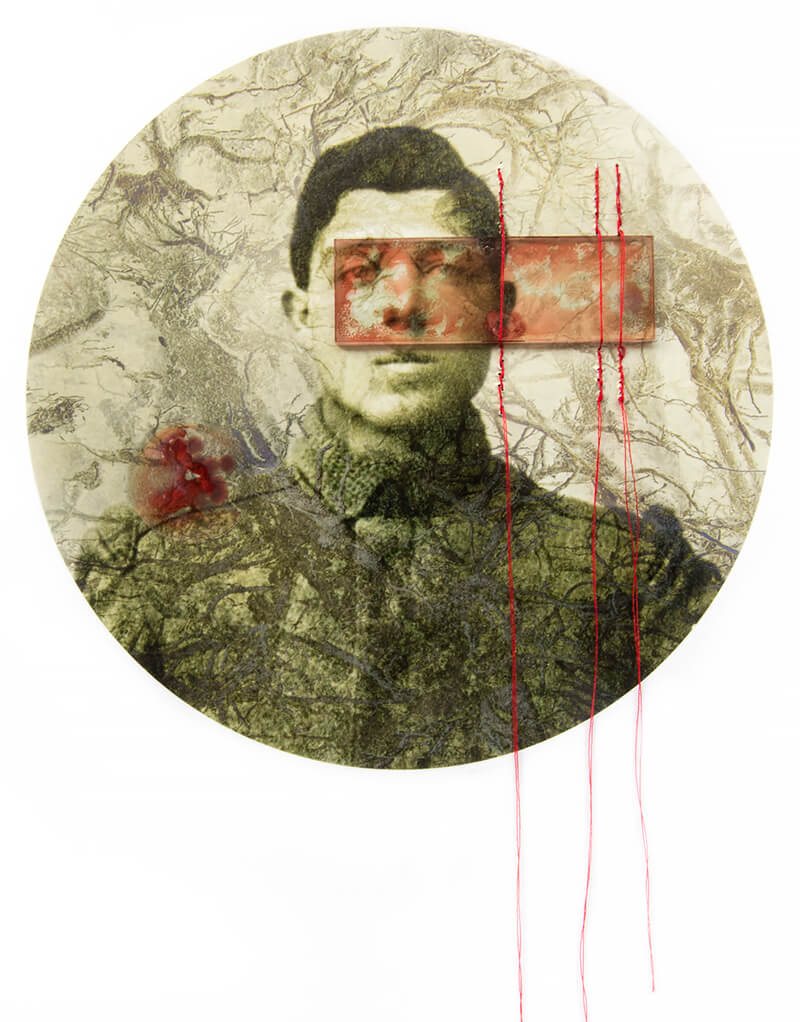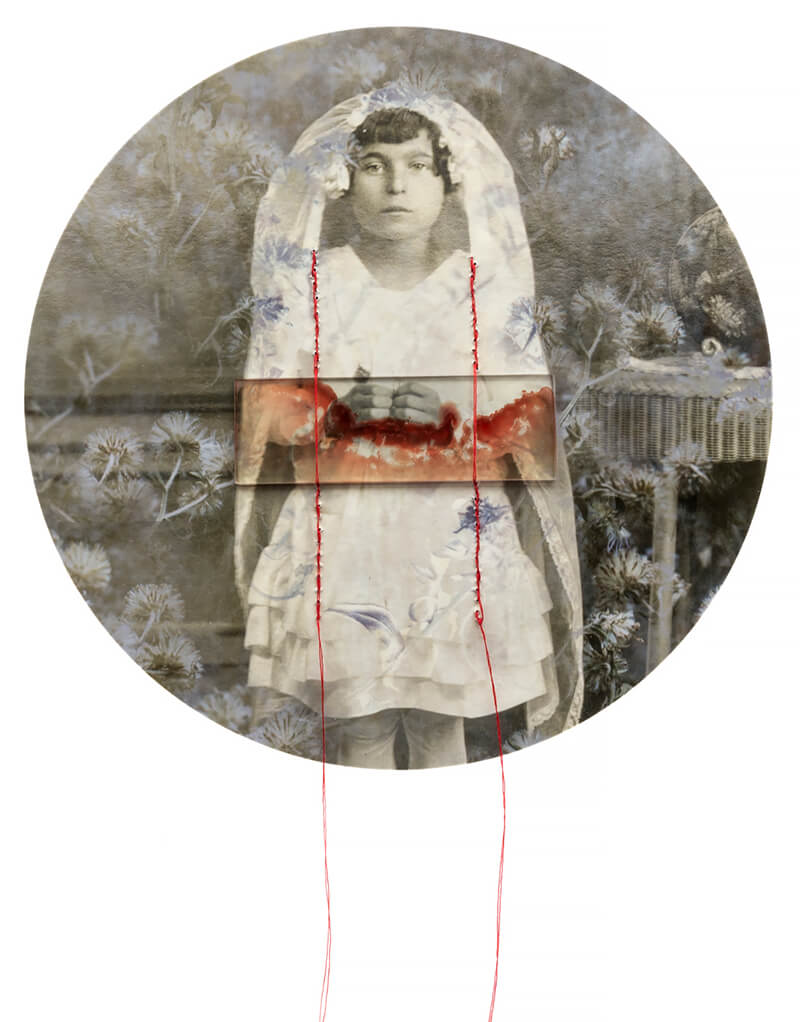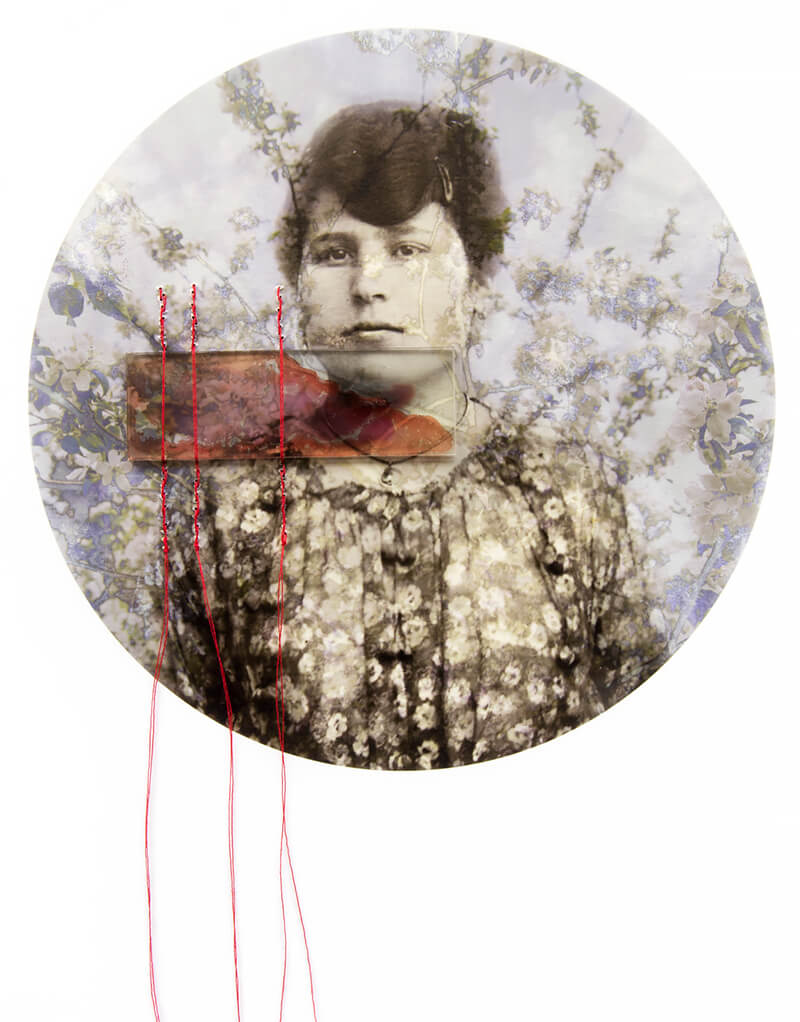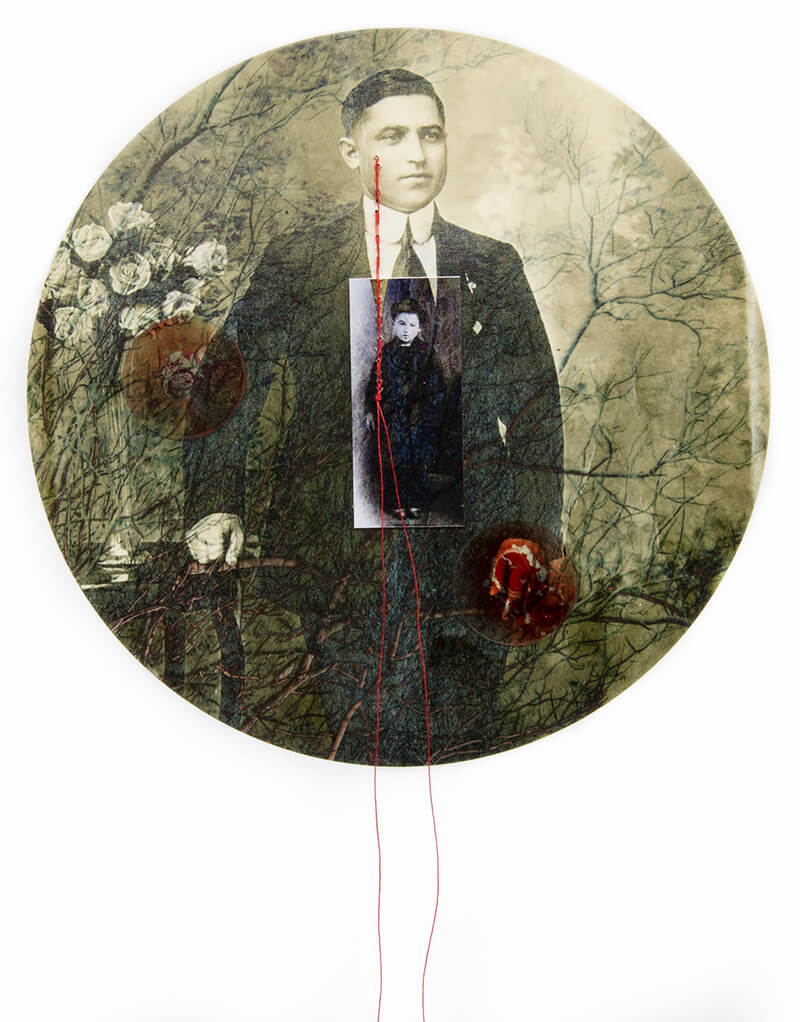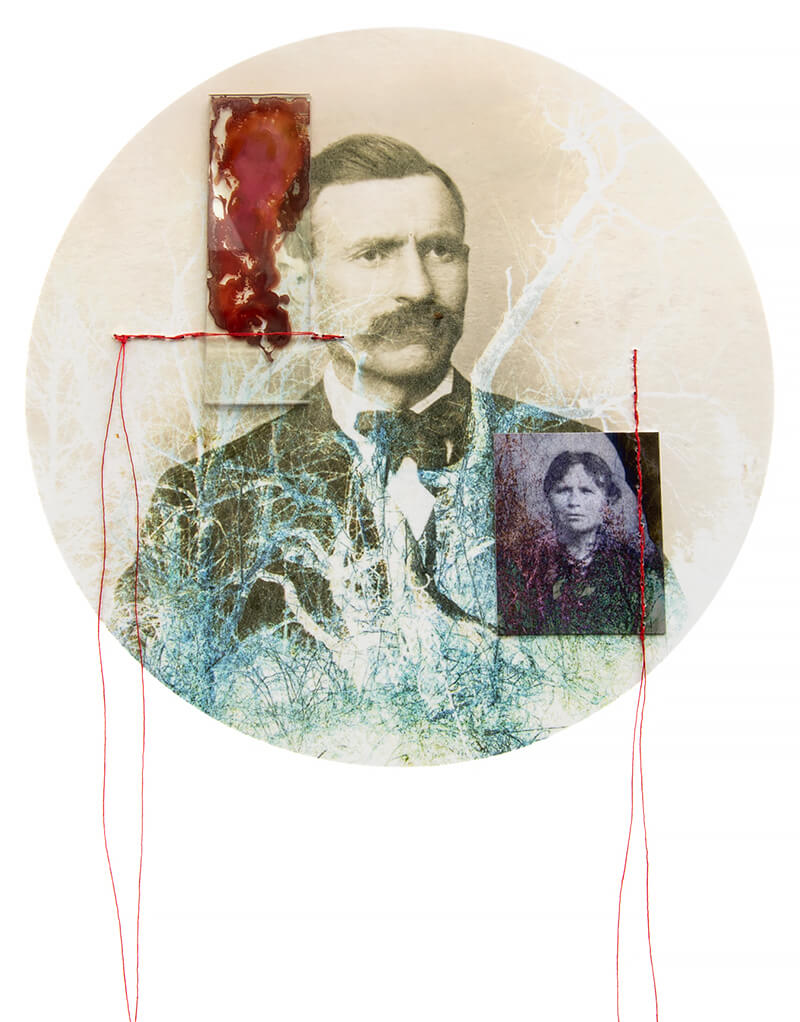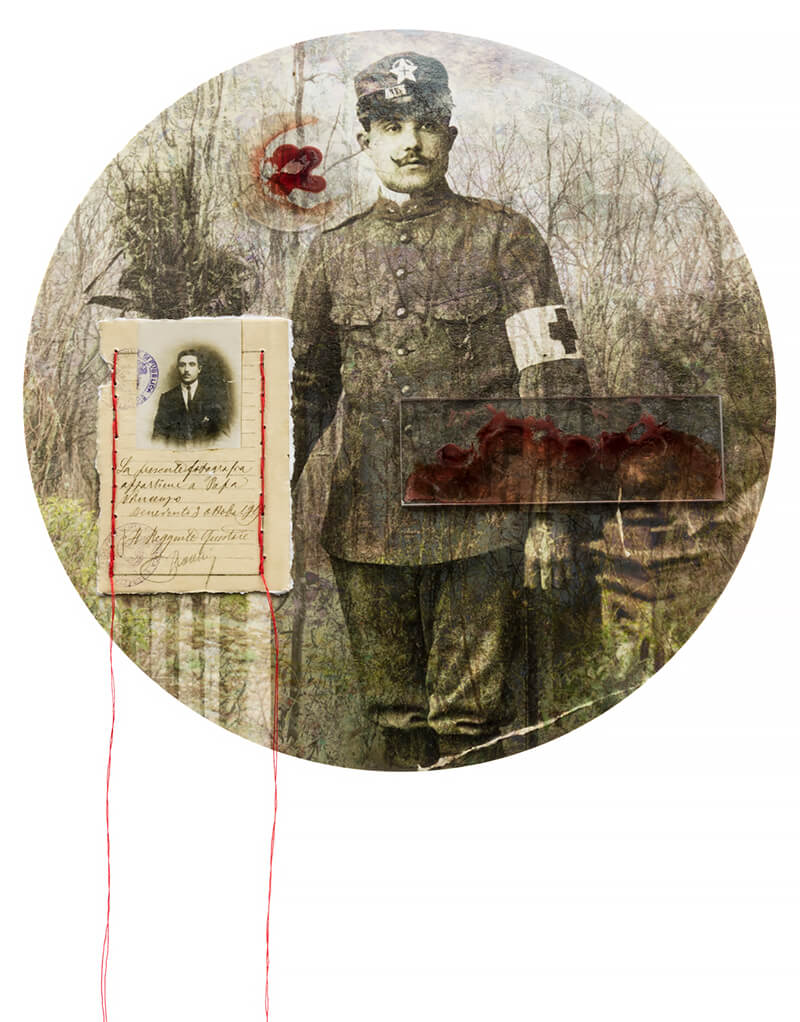 The plot thickens.
And then there is one more photograph in the show that belongs to JP Terlizzi. This I also didn't realize was his until I saw the results. There is an image of a man, seemingly naked, his face pressed up against translucent plastic, his breath perhaps causing condensation to form. It looks as though he has wiped the moisture away with his hand to see out, maybe to get out. Is he trapped? Is he distressed? There is a beauty to this picture which contrasts with the energy and the expression of the figure behind the plastic. I am again enthralled. Finding that this too was one of JP's pictures, I began to realize that the image-maker is in the throes of an artistic explosion, a revolution, a renaissance. I feel like I'm watching someone come into their own as an artist and am honored that I have been invited to be on the scene. This last image, the man struggling, is from JP's project, The Cedars Run Silent.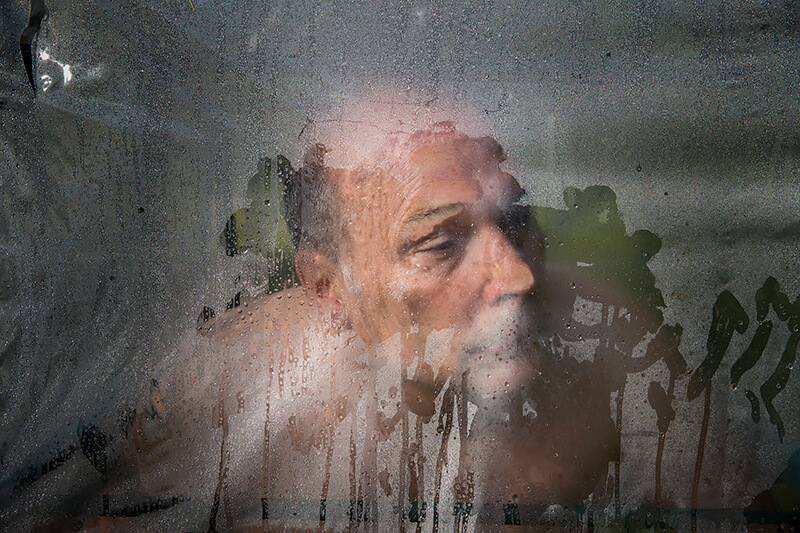 Here is what he had to say about this poignant series:
When I was eight, my parents went through a bitter divorce that had a profound impact on our family and the shaping of my own self-identity. The result of their divorce and the abandonment of my father led to decades of emotional abuse inflicted by my mother. My damaged childhood taught me how to detach myself from the emotional connection one finds in relationships and intimacy. Through the years, I have built walls to veil truths; I have constructed boundaries to control perception and judgment for fear of being abandoned by the significant people that matter most in my adult life.
The Cedars Run Silent is an investigation of self through metaphor. It is a visual narrative that explores the presence of vulnerability, insecurity and loneliness, and the internal struggle to openly accept the deep emotional connection one finds in relationships and intimacy.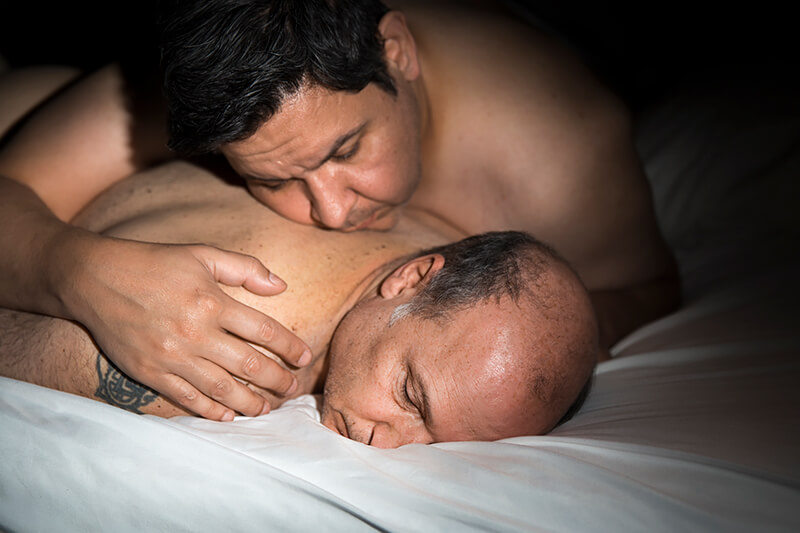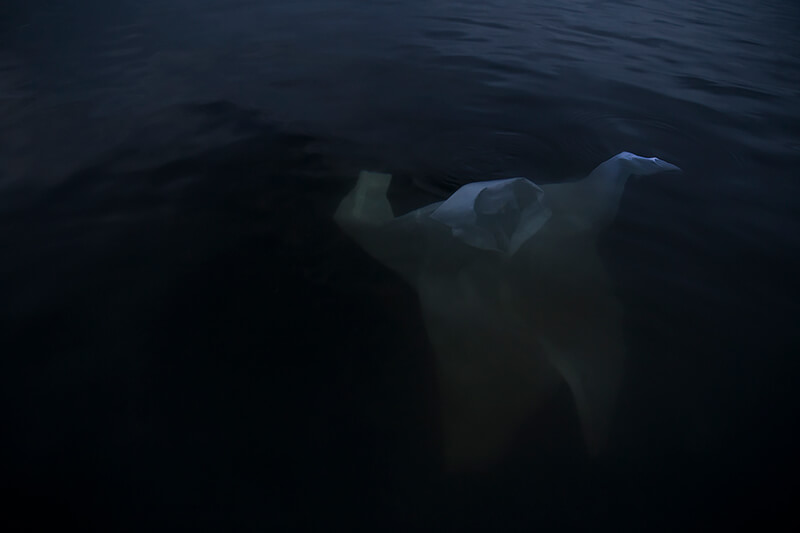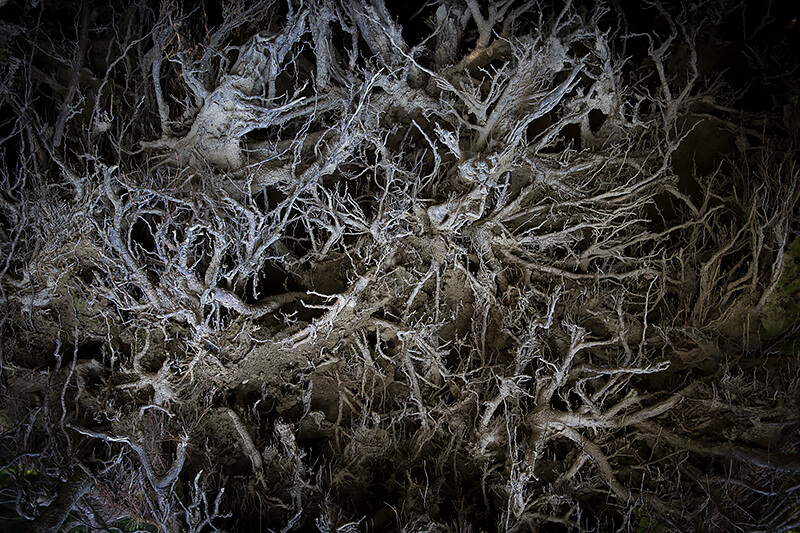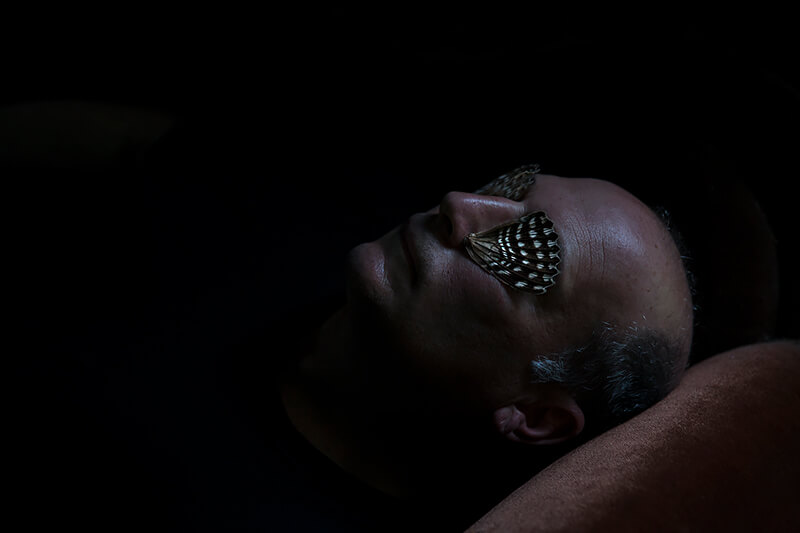 And now it is my turn to be silent. And overwhelmed. And proud.
I am excited to see JP Terlizzi in person in LA next month to congratulate him, not just on his best of show award, but also on his relentless image making.
Stop by the
Los Angeles Center for Photography
on November 10th, 2017, 7-10pm to see The Creative Portrait exhibition and all the winning images of this competition including JP Terlizzi's selections.
Biography
JP Terlizzi is a visual storyteller who uses photography to explore themes of memory, relationship, and identity. Drawing inspiration from his personal experiences he captures moments that convey narratives—whether the story is a framed moment that reveals something about family and home, or a poetic interpretation of a fading reality, the feeling of loss and detachment are recurring themes in his work.
Born and raised in the farmlands of Central New Jersey, JP currently lives in Manhattan. His career spans thirty plus years as creative director for a boutique agency specializing in retail design. He earned a BFA in Communication Design at Kutztown University of Pennsylvania and has studied photography at the International Center of Photography in New York and Maine Media College. His work has been exhibited in the United States and abroad including shows at The Center for Fine Art Photography, Fort Collins, CO, Umbrella Arts Gallery, New York, NY, Soho Photo Gallery, New York, NY, The Griffin Museum, Winchester, MA, Tilt Gallery, Scottsdale, AZ, A Smith Gallery, Johnson City, TX, Project Basho Gallery, Philadelphia, PA, Municipal Heritage Museum, Malaga, Spain, and The Berlin Foto Biennale, Berlin, Germany, among others. He was named a Photolucida 2016 Critical Mass Finalist for his series Mother and was a 2015 Critical Mass Finalist for his series Hunter's Calling which was also selected for the C4FAP Portfolio ShowCase Vol. 9 and ONWARD Compé '16. His work has been featured in PDN, Lenscratch, L'oeil de la Photographie, The Photo Review, F-Stop and Abridged Magazine.