Last week I installed both galleries with works accepted into RayKo's 10th Annual International Juried Plastic Camera Show. And the selecting part was no small feat as there were 5000 entries into the competition. The most we've ever had. This year was special, for more than one reason. Not just the number of entries, which was phenomenal. And not just because it is the 10th anniversary of the show. It could also be the last exhibition at RayKo Photo Center as the owner of the business is moving on after 26 years. So not only did I want to exhibit works by the featured artists from the past nine manifestations of the plastic camera show, but I also wanted it to be a celebration of 10 years of exhibitions of film-based photography and all these artists' commitment to the latent image. Because really, there is something about having to wait to see the results. There is magic inherent in that. And also magic inherent in what these cheap, lo-fi cameras can do. For those of you who don't know what this toy camera business is all about, check out some history on the
Diana
and the
Holga
, both made in Hong Kong initially. These were mass-produced, cheap plastic cameras that were embraced by the art world, or at least by some of us in the art world. The cameras often produce surprising and stunning images with their questionable plastic lenses and rarely light-tight plastic bodies (My plastic cameras are more tape than plastic at this point. Not just being held together with bits of electrical tape and black gaffers tape, but the tape also makes these inexpensive cameras light tight...not that the light leaks don't often make the resulting pictures even more interesting).
Which brings me to the challenge I had after installing the galleries. I was walking around revisiting the 93 images in the exhibition, trying to select the prize winners for the show. There was so much great work, so much pushing of boundaries, so much rule breaking, so many beautiful prints, so many creative uses of the plastic camera. I struggled, but with only one best of show label in my hand, I could only award it to one person. This artist is
Michael Weitzman
, someone whose work I had never seen and who had never submitted to the exhibition before. I kept circling back to his image titled, Giddy Up, a picture of a what appears to be a Jeep on a dusky road with two unevenly powered headlights and a streak of light or illuminated dust trailing behind the vehicle. A small selenium toned gelatin silver print among sometimes massive archival pigment prints, this tiny image had a voluminous voice. There were many photographs in this exhibition that I was seduced by, but this one, from Weitzman's series Morph, kept me returning to its place on the wall to wonder at the narrative behind this scene. This was a still from a movie, a lost clip from M*A*S*H*, an escape into the night, a moment from my early adulthood, a dream, a memory...it could be so many things, and that's why it garnered Weitzman the top honor of the show.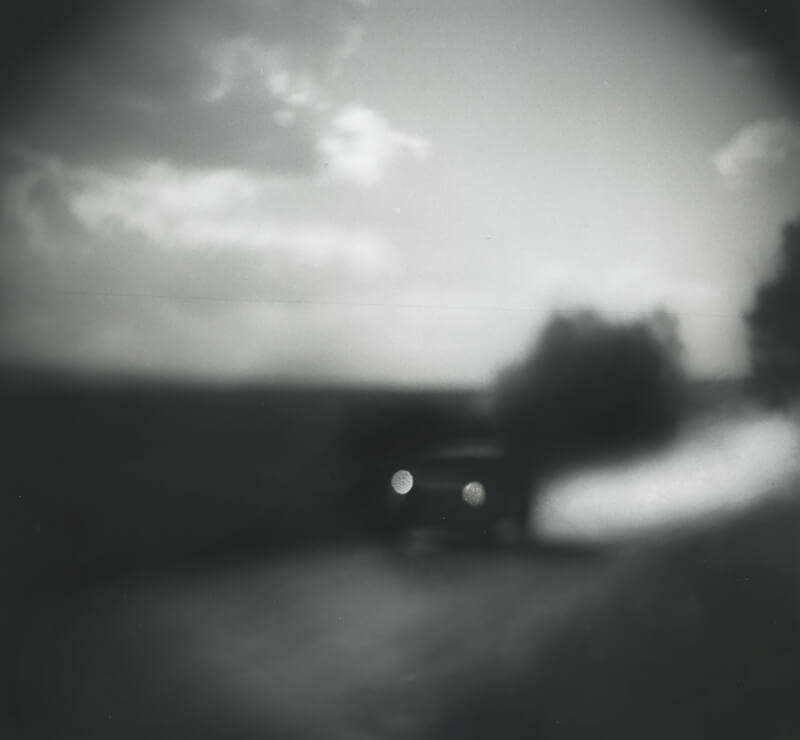 This is what Michael Weitzman, a self-proclaimed ambassador of film, had to say about plastic cameras and his decision to use them as part of his creative process:
The toy camera is a simple recording device with an emphasis on fun and imperfection. It allows me to be deeply absorbed in a far away place and time where creating new scenarios for the overlooked and insignificant becomes possible. An added benefit is the sheer delight of going under the radar. Unencumbered by complexity and multi functions, the imagination is allowed to roam freely creating new narratives or fictitious circumstances. It is this attempt to recreate lost moments, and past itineraries from youth, that fosters inner connection with which to explore identity. In this way, the toy camera is a metaphor for amusement and personal reflection. The aesthetic of chance, fantasy, and transience work harmoniously.
Well-said, Michael, and congratulations! Stay tuned for more winning images from RayKo's 10th Annual International Juried Plastic Camera Show and check out these additional images by our best of show winner!