If Paris is France, then Coney Island, between June and September, is the world.
-- George Tilyou, 1886
This quote is a perfect description of what we see in
Lauren Welles'
photographs of Coney Island. She recently entered a show called With Our Own Eyes that I juried with Judy Walgren, an exhibition of street photography and social documentary work. Out of the nearly 450 photographers who entered the competition, Welles was not only selected to be one of the 35 exhibitors, but she also had every picture that she submitted chosen by us. Oh, and she also got an honorable mention and sold a piece, but that's the icing on the cake. When Judy and I viewed her work, there was a layering and a lyricism to the pictures that we didn't see in many of the other very straightforward street shots. There were moments that can be described as poignant and perfect, like she channeled
Henri Cartier-Bresson
and his decisive moment.
An image that comes immediately to mind is of two women on the beach clad in bikinis sitting in the sand. Behind them walks a woman in full Islamic dress accompanied by a man with a sky full of strange kites (horses and humans and an octopus and a cat?) trailing behind them. There are strings tethering these kites to the picture frame and the dichotomy of the scene is arresting.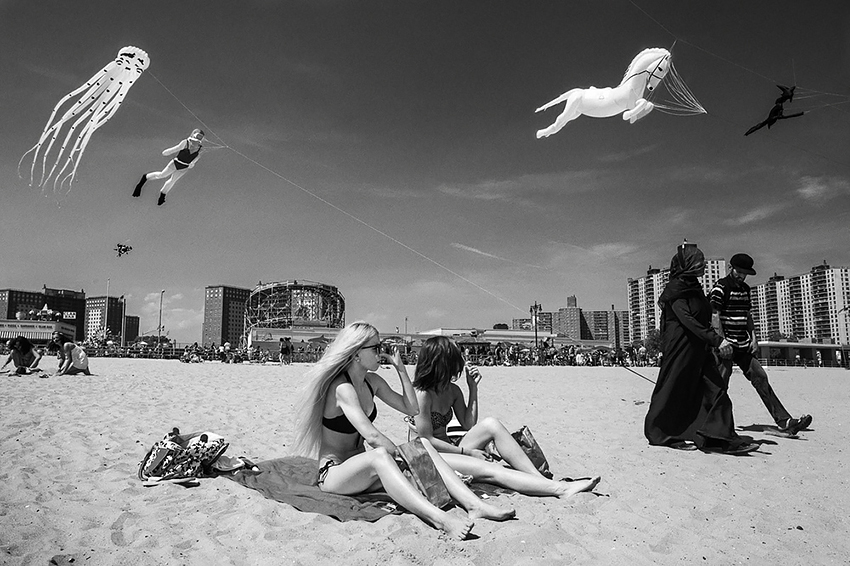 When I installed the show, I paired this image with one of young men seeming to fly, holding onto a pole and defying gravity with their strength.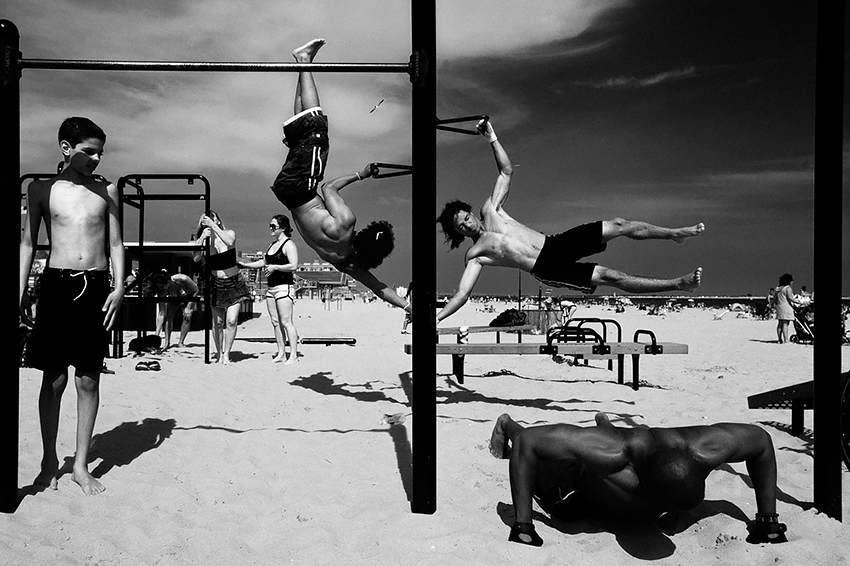 There are others: the photographer from a low vantage point capturing a group of people on a bench, everyone looking at something above the boardwalk except one bold woman who is staring intensely back at the camera. Another image of a pair of women draped in Puerto Rican flags while a couple kisses on the side of the frame. These moments, these possibilities, made it a pleasure to arrange Lauren Welles' images on the wall, each a moment frozen in time of people, of a world of people, brought together in wonderful juxtapositions by her lens and her frame. I'm ecstatic that she put her work before my eyes and also that she showed me a Coney Island that I hadn't experienced (during my years in New York City, I shockingly only went there in the winter!) The artist has this to say about the place,
Despite the incessant predictions of its demise, Coney Island continues to attract visitors of all races, social classes and ethnicities, who, seeking respite from their quotidian stresses and routines, come together and inject the veins of America's Playground with its celebrated joie de vivre.
Lauren Welles captured this beautifully and effortlessly. Brava!
Biography
I am a former attorney who heard the whispers of my passion growing louder and louder, until I finally stopped practicing law to focus full-time on making photographs. Now that I'm unchained from my desk, I have the great fortune of photographing and meeting new people all the time. My aim is to find the story of my subjects, whether it relates to an event, a portrait, a non-profit, a family, or my favorite-life on the streets. My work has been exhibited in various venues including The Fence at Photoville, NYC; the Museum of the City of New York; PhotoLeiden, The Netherlands, Umbrella Arts Gallery, NYC; The Center For Fine Art Photography, Ft. Collins, CO; Arsenal Gallery, Central Park, NYC; Station Independent Projects Gallery, NYC; Ripe Art Gallery, Huntington, NY; and the History Miami Museum. My work has appeared in publications, including PDN Online, Rangefinder Magazine, World Photography Organization, the New York Law Journal, the Phoblographer, Women in Photography and Street Photography Magazine.