We're delighted to reveal the names of the 24 talented photographers who won AAP Magazine #33: Nature. Predominantly women photographers, they come from 11 different countries and 3 continents.
For this new edition of All About Photo Magazine we chose to feature projects that beautifully capture the essence of nature, highlighting the magnificence of landscapes, wildlife, and flora & fauna. Nature photography is a captivating genre that explores and captures the breathtaking beauty of the natural world.
Nature photography not only celebrates the earth's majesty but also serves as a poignant reminder of the importance of conservation and our responsibility to protect our planet for future generations. Behind the camera lens, photographers possess a unique skill to seize the intricate marvels of our natural world, ranging from the towering splendor of mountains to the delicate intricacies of a flower's petal. These images stand as potent ambassadors for our Earth, consistently reminding us of the breathtaking spectacles that grace our daily existence.
In a world often entrapped by the relentless pace of contemporary living, nature photography emerges as a sanctuary, urging us to pause and reflect upon the awe-inspiring landscapes, the diverse ecosystems, and the countless species that have carved their niche on Earth. These visual odysseys into the wilderness transport us to the farthest reaches of the globe, where untouched beauty remains unmarred by human hands. Through the lens of a photographer, we are allowed to partake in the exhilaration of a ride on a boat in Vietnam, discover Ethiopia's Simien Mountains, or the serenity of a sunrise in Patagonia.
Yet, nature photography transcends the realms of visual escapism; it stands as a poignant reminder of our collective duty to safeguard our planet for generations yet to come. Every striking image, whether it showcases the vibrancy of a coral reef or the grandeur of an ancient forest, carries an implicit summons to action. These images articulate the urgency of conserving these irreplaceable treasures before they fade into oblivion. They awaken a profound sense of awe, kindling a desire within us to become more responsible stewards of the environment and fervent advocates for conservation.
In an era marked by the ominous shadows of
climate change
, deforestation, and the relentless loss of habitats, the role of nature photography amplifies in significance. It thrusts environmental challenges into the spotlight, emphasizing the intricate interdependence of all living creatures. When confronted with a photograph depicting critically endangered species or plastic bags choking our coral reef, we cannot remain apathetic. These images impel us to reconsider our choices, diminish our ecological footprint, and champion initiatives that champion sustainability and conservation.
Furthermore, nature photography possesses the unique ability to forge deep emotional connections between individuals and the natural world. It ignites within us a sense of wonder and reverence for the Earth, fostering an enhanced appreciation for the beauty and complexity of our planet. Through this profound connection, we are more inclined to embark on meaningful endeavors to safeguard our environment, be it through active participation in local clean-up initiatives, fervent support for wildlife conservation organizations, or impassioned advocacy for policies that address pressing environmental concerns.
The Winner of AAP Magazine 33 is Thomas Vijayan (Canada) with the image Golden Headed Langur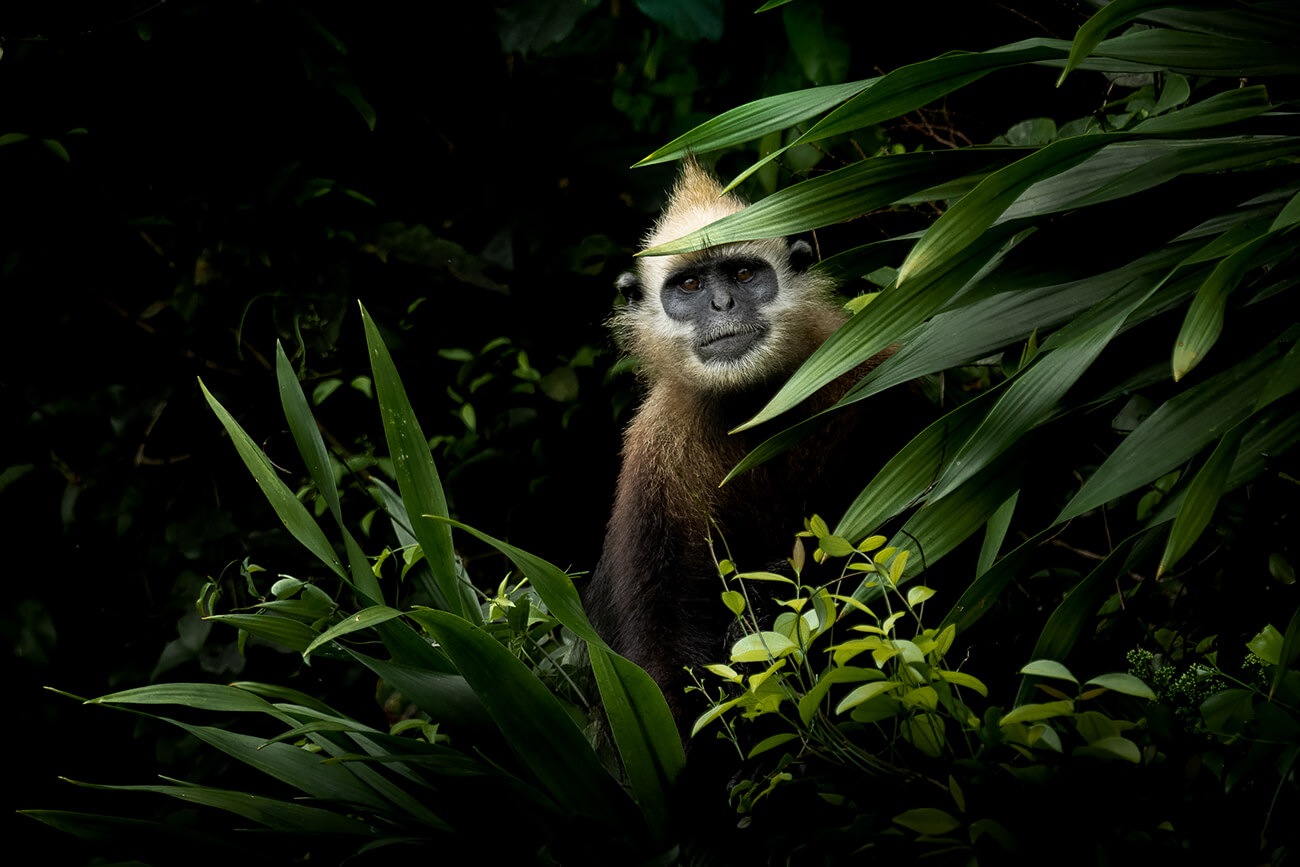 Golden Headed Langur © Thomas Vijayan
I had taken this image while I was riding on a boat in Vietnam. The Cat Ba langur (Trachypithecus poliocephalus), also known as the golden-headed langur, is a critically endangered species of langur endemic to Cát Bà Island, Vietnam. Only 65-67 individuals remaining. Average body length is 20 inches (50 cm), then tails extend another 3 feet (85 cm). Their Infants are born a flamboyant orange and keep their bright coloring until about four months of age, it takes several years for them to fully fade into adult coloration. The species nearly went extinct 20 years ago due to rampant poaching for traditional medicine and hunting for sport.
www.thomasvijayan.com
@thomasvijayan
All about Thomas Vijayan
The Second Place Winner is Teri Figliuzzi (United States) with the series 'Gathering'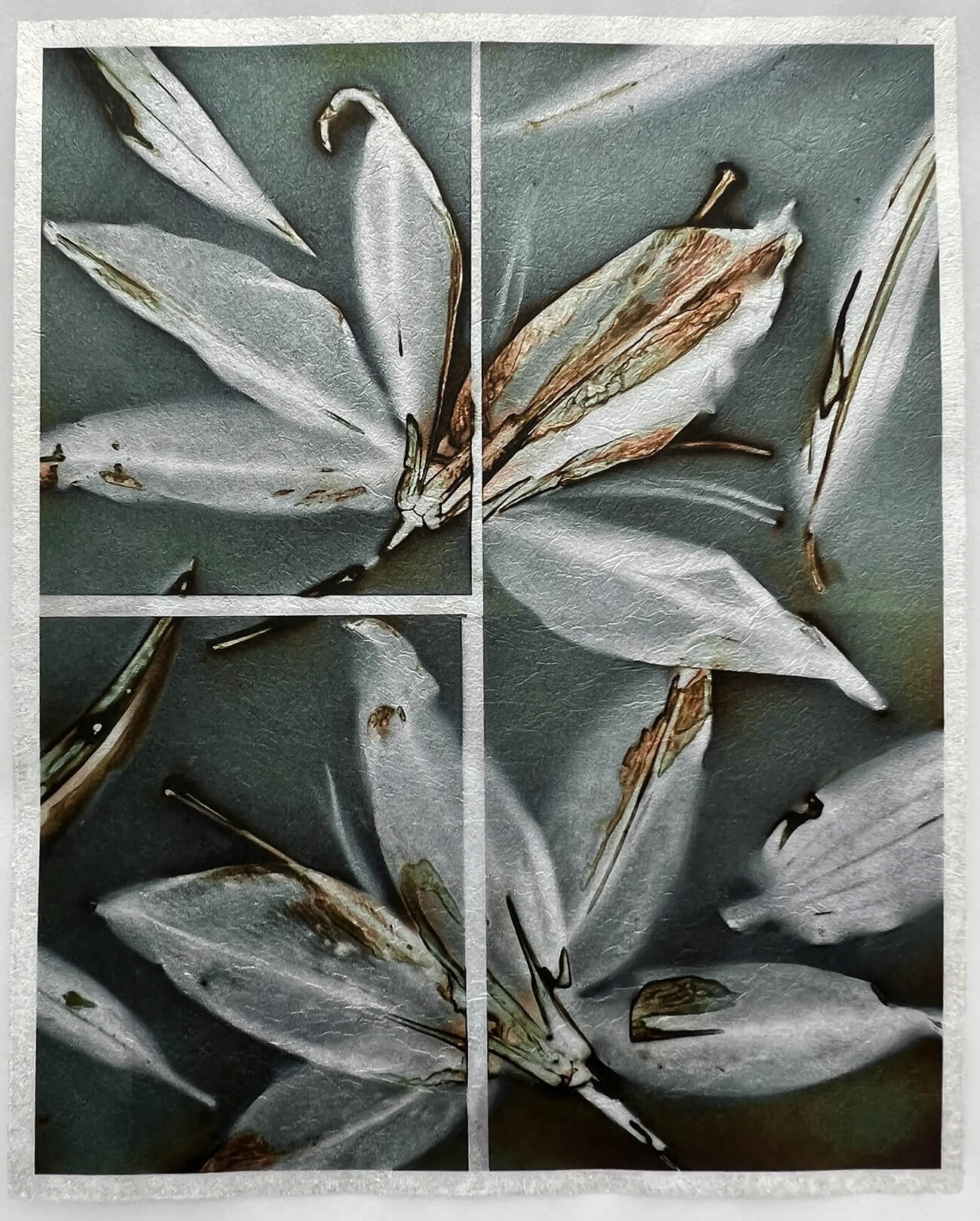 Gathering" is an ongoing series of phytograms using botanicals as the subject matter to bring focus to all stages of life and its fragility, both tangible and ethereal.
www.terifigliuzzi.com
@terifigliuzzi
All about Teri Figliuzzi
The Third Place Winner is Christina Mcfaul (United States) with the series 'Sanctuary in the Wild'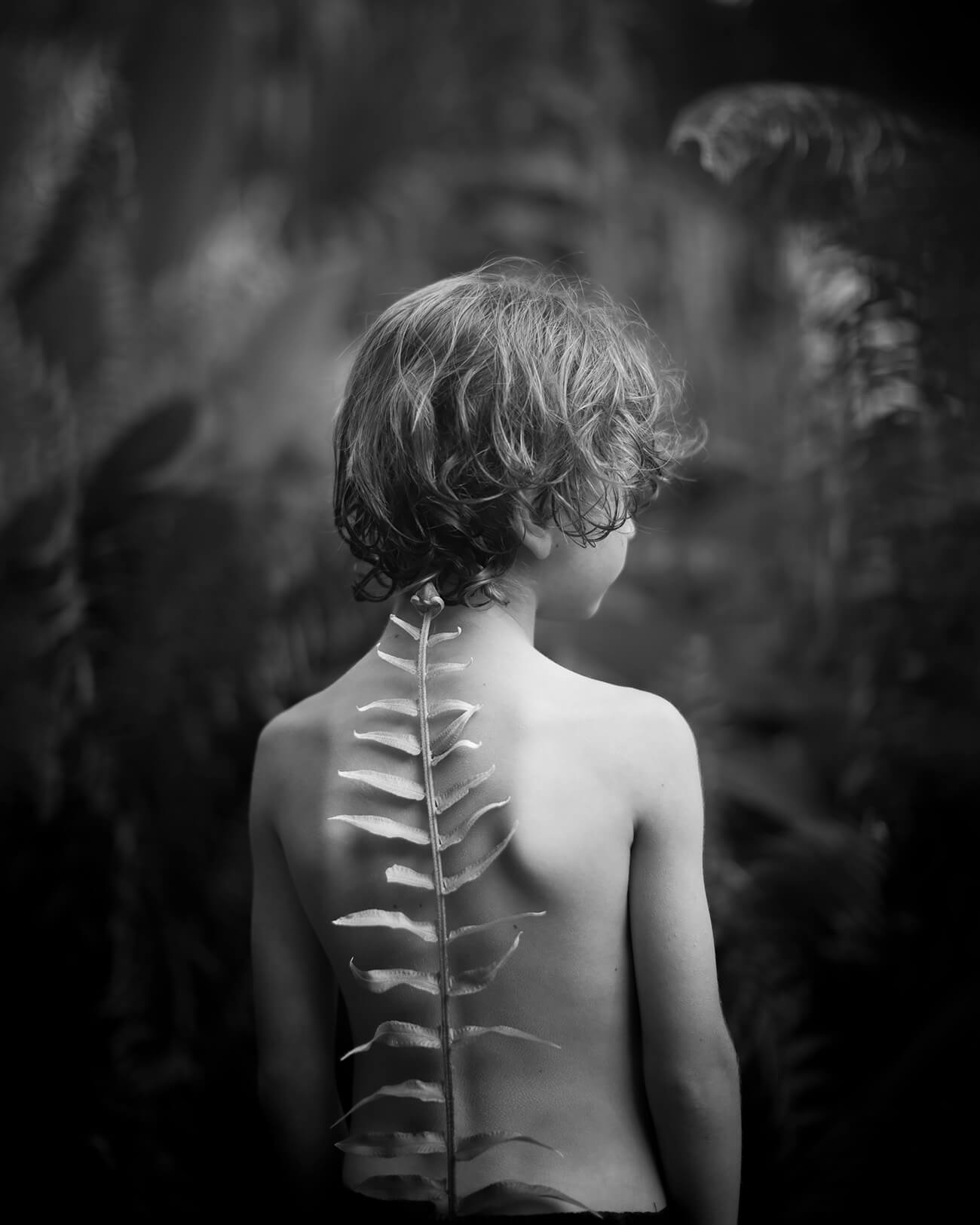 Unfurling © Christina Mcfaul
The earth is dreaming through us, and we must awaken to it. I find sanctuary in wild places that live and breathe here and now – within and without. Discovering the magic and mystery of the wild, is a reminder that we too are wild.
I was raised on a lake nestled in the Santa Monica Mountains, where fences were non-existent and I roamed freely. It is where my bond with nature took root. I wish to convey this sense of wonder and discovery in my portrait, still life, and landscape photography.
www.christinamcfaul.com
@christinas_reflections
All About Christina Mcfaul
Merit Gallery
Diana Bloomfield (United States)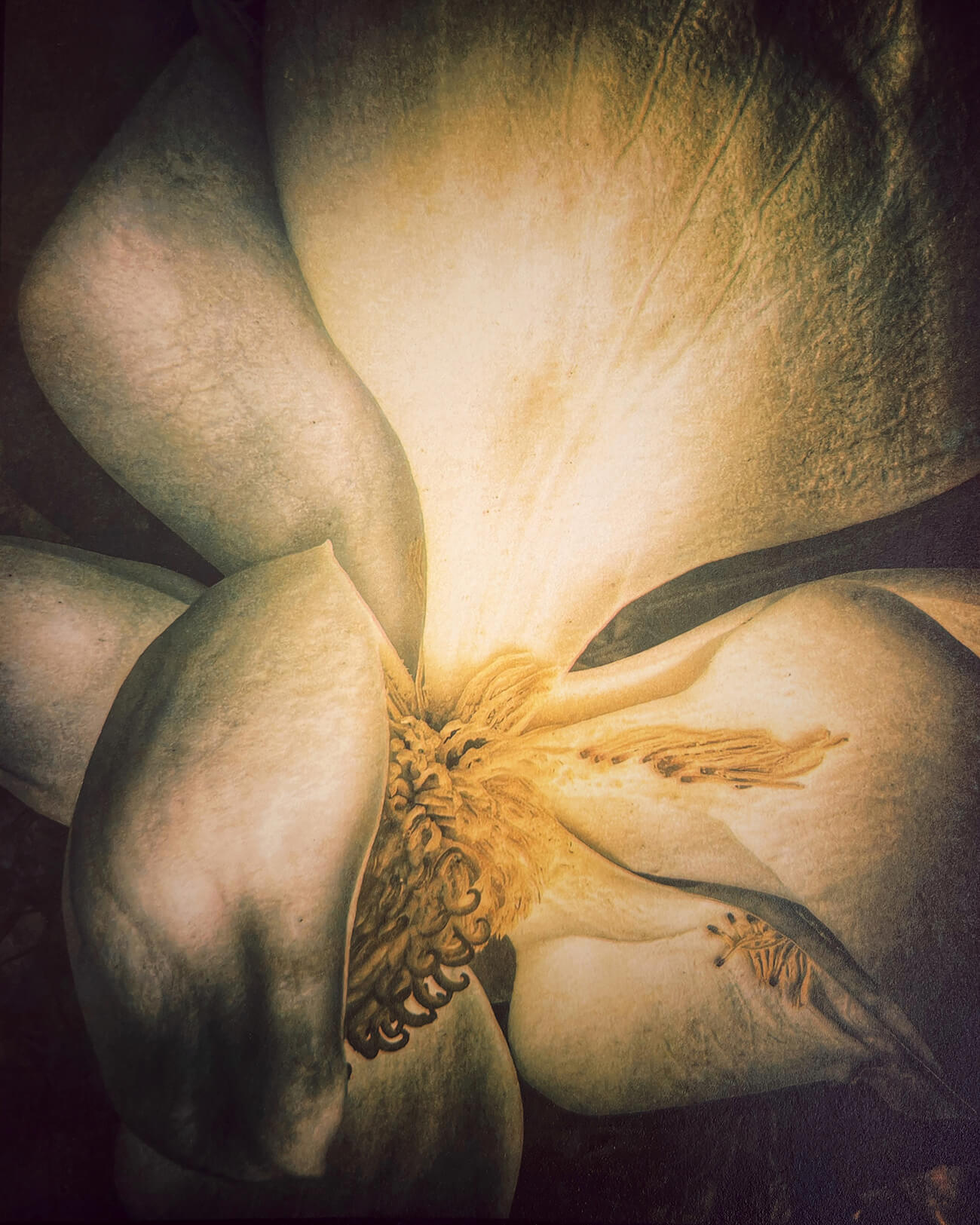 Southern Magnolia 2023 (Tricolor gum bichromate over cyanotype print) from the series 'The Old Garden' © Diana Bloomfield
This image, Southern Magnolia 2023, is a tricolor gum bichromate over cyanotype print. Both the image and print were made this year. It is part of an ongoing series I began in 2018, entitled The Old Garden, which honors my grandmother's Southern urban garden, and the similarities to my own.
Turgay Uzer (Turkey/France)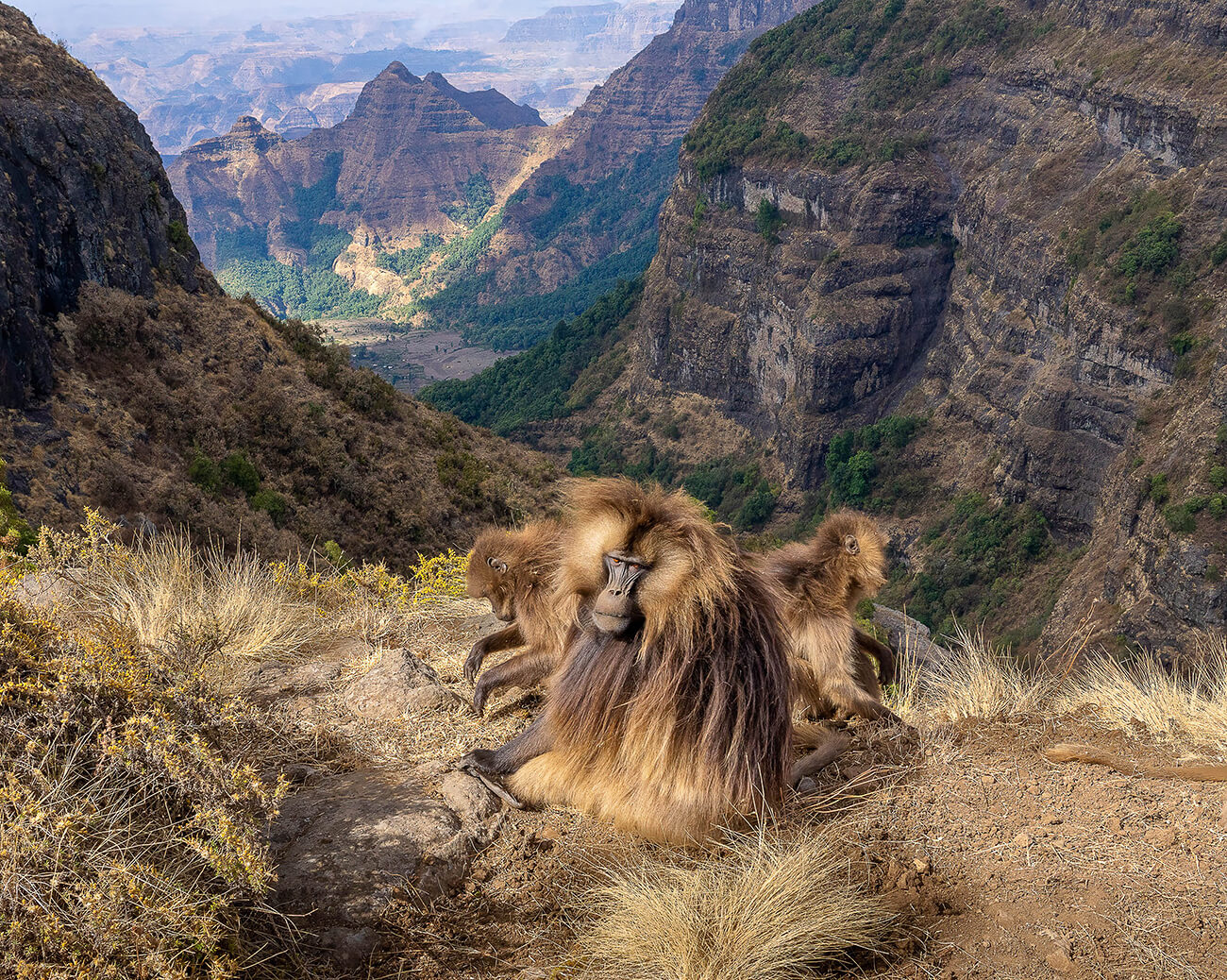 Groom with a View from the series 'Here today, gone tomorrow' © Turgay Uzer
This iconic animal of Ethiopia's Simien Mountains, the gelada monkey (theropithecus gelada), is also known as the Bleeding Heart Monkey. To protect themselves from leopards, they spend the night on tiny ledges on the impossibly steep cliffs of the mountains and climb back on the plateau at daybreak to graze. Which they do with grim determination all day because this grass is not nutritious. They are purely vegetarian.
I started photographing wildlife because I love animals. Little did I realize that in the process I'd be documenting a vanishing world - what's here today may well be gone tomorrow! These days I am trying to keep up with the destruction of wild places and things. It is not easy.
Alexej Sachov (Ukraine)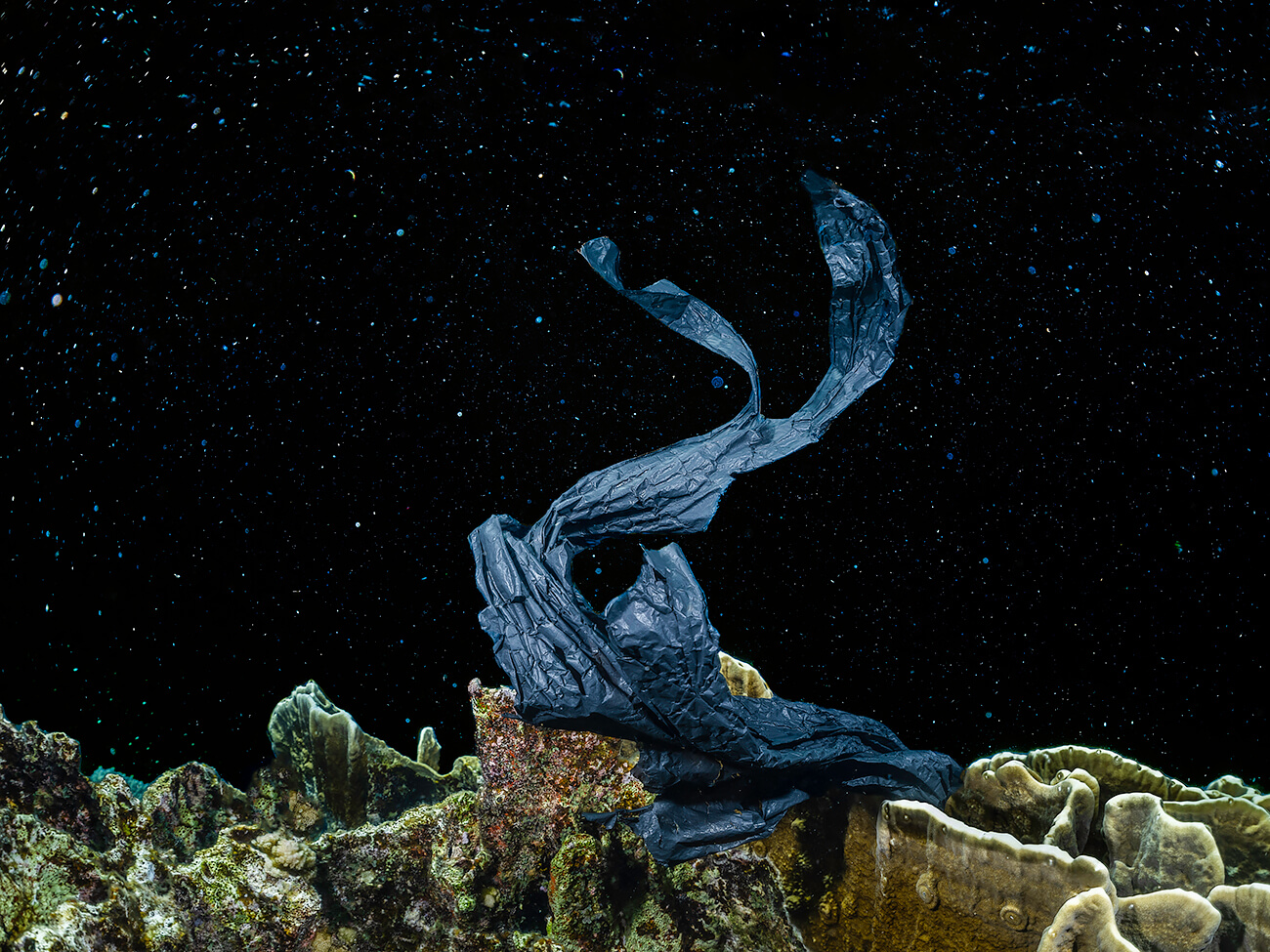 Modern Rabbit Underwater from the series 'New Cosmos Underwater' © Alexej Sachov
Humans replace endangered species with more advanced ones—the plastic-made species will rule the underwater world soon. With this series you dive into an eerie and mysterious underwater universe where small particles and plankton play the role of stars, and plastic species are brought to life by our unrequited attitude towards nature.
Pablo Trilles Farrington (Spain)
Ready to jump from the series 'The hypnotic red-eyed leaf frog' © Pablo Trilles Farrington
The red-eyed tree frog is one of the most popular Central American wildlife due to its distinctive red eyes and blue stripe that colors its sides. In March 2023 I visited Costa Rica with the aim of photographing this beautiful animal. For this I went to the La Fortuna region, in the north of the country and in its rainy jungles I had the opportunity to photograph this male individual. Although they are nocturnal and invest the day to rest, this photograph was taken during the day, when the frog was looking for a better place to rest.
Diane Hemingway (United States)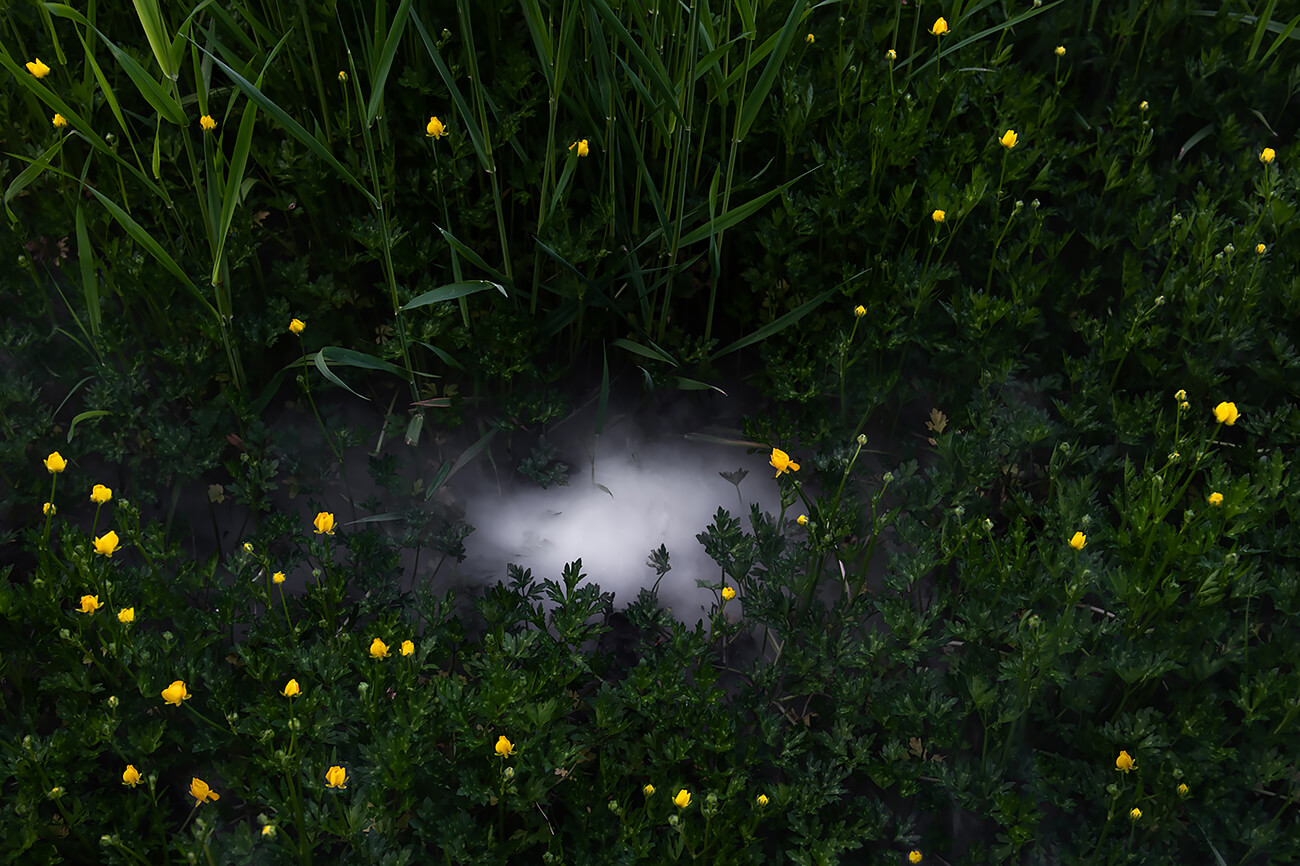 Buttercups from the series 'The Wild Cosmos' © Diane Hemingway
The Wild Cosmos
The photographs in The Wild Cosmos chronicle my interior journey through life and profound loss. Even as an adult, nothing prepared me for when the stars–my mom, dad, and brother–fell from the sky. Seeking solace, I immersed myself in the land and in my art, trusting that my world would right itself. Nature is a portal to survival. Much like the transcendentalists, I believe that it is essential to experience the simplicity and solitude of nature to better understand oneself. My photographs are love letters to places, memories, dreams and family. Each is an invitation to pay.
Olivier Unia (Morocco/France)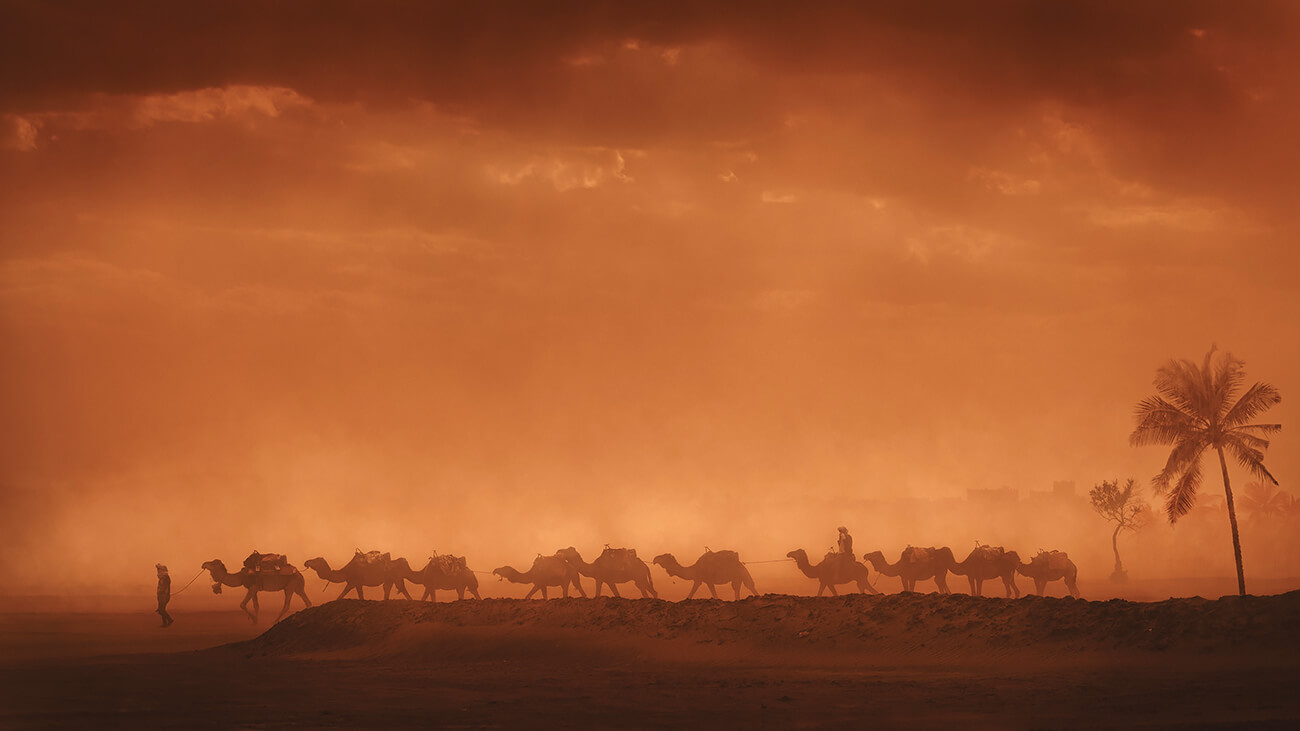 I'm accompanying some friends on a trip to Morocco, where I've been living for 15 years. We're in Merzouga, at the gateway to the Sahara desert, when a storm hits and everyone runs for cover, I have to run and get my camera and for 20 minutes I take advantage of this gift from nature.
All about Olivier Unia
Thaddäus Biberauer (Austria)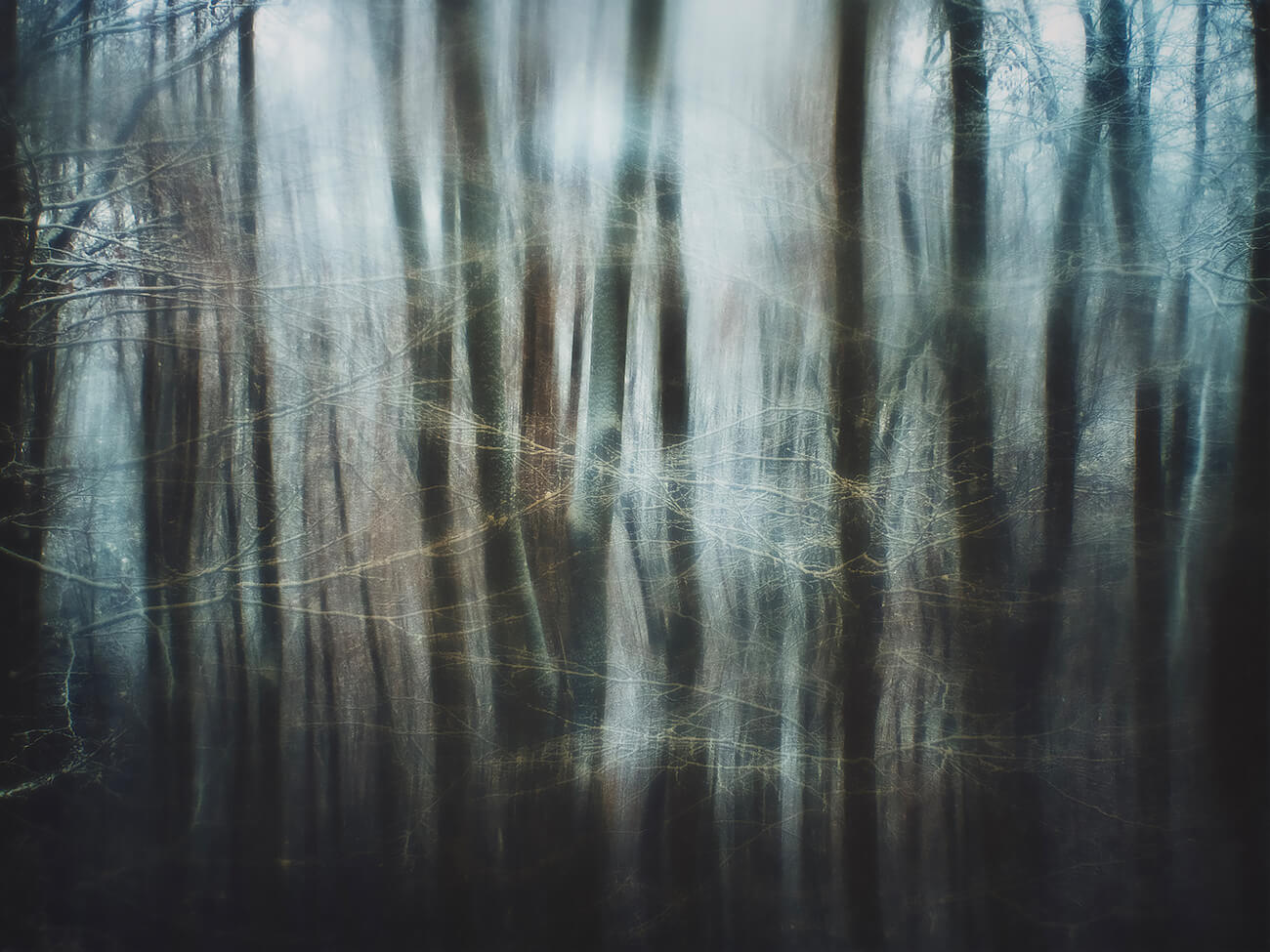 Dream Along from the series 'Nature of Europe' © Thaddäus Biberauer
I'm currently travelling through Europe capturing moments in Nature with different techniques to achieve an emotional dreamlike feel.
All about Thaddäus Biberauer
Paolo Ameli (Italy)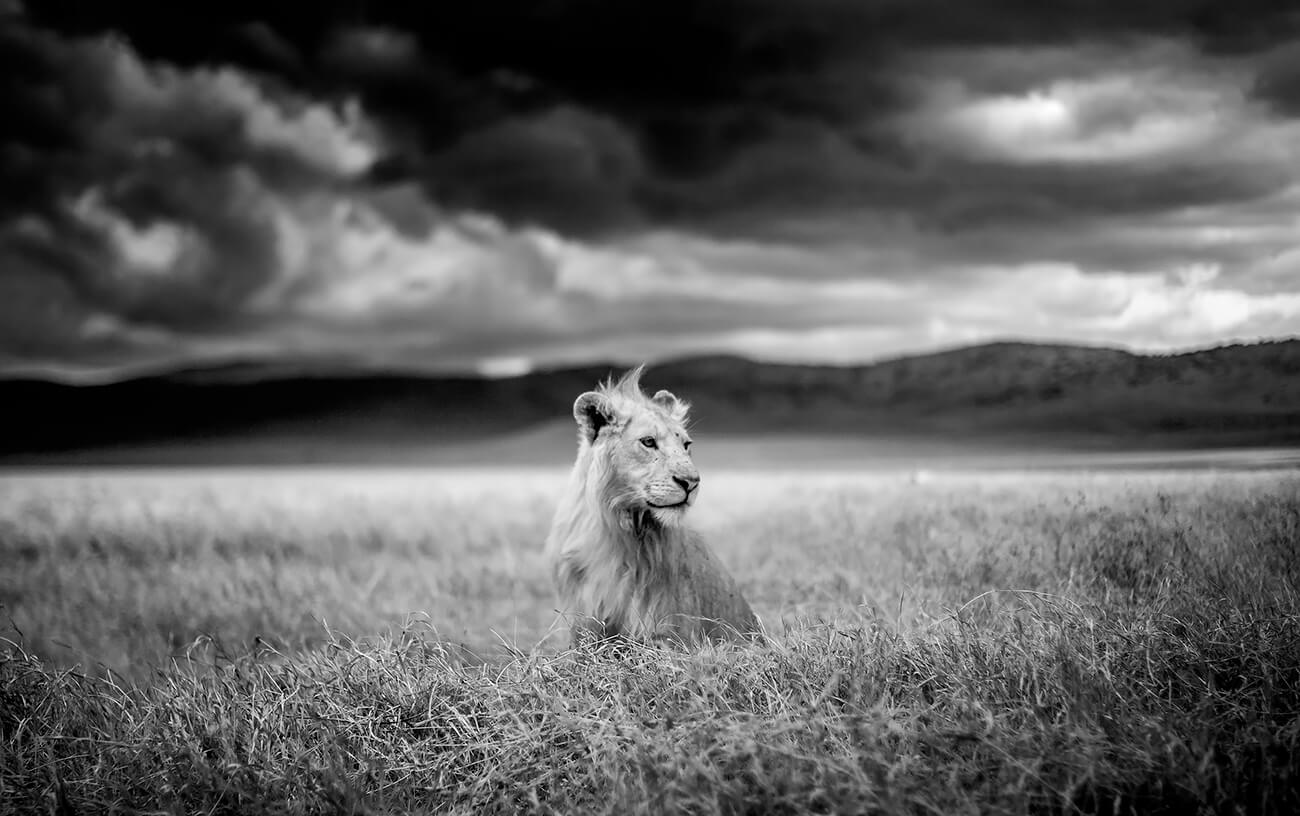 Young Lion, Ngorongoro, Tanzania from the series 'Infrared African Wildlife' © Paolo Ameli
The amazing beauty of African Wildlife in Infrared Black & White
Humanity is increasingly indifferent to the fate of nature on its planet. Man is no longer able to recognize the value of the beauty that surrounds him. Paolo Ameli realizes a project of naturalistic images that draws inspiration from that invisible to the eyes revealed thanks to the infrared technique. His photographs are composed lines that cross the skies and climb fluidly into the contrast of nature, to dig deep and intimate emotions. Rarefied at first glance, they scratch the paper and the eyes. They dream of the moon with their feet firmly planted on earth. There is no space for the superfluous. The ice melts making the song of a soul attentive to what surrounds it sprout, aware of the sacredness of nature. Always, with kindness and respect. Ameli reveals the nerves, the tendons, the majestic skeleton but above all the fluctuating veins of this land where landscapes and animals take on a new, more ethereal and abstract appearance. The technique is functional to the lucid vision of a perfect world where subtraction becomes wealth, giving value to the absolute line, catching motionless wingbeats. His rarefied landscapes grasp the essential with strength and love, overturning the natural world revealing the secret kept in a graphic minimalism. In the hands of Ameli, infrared photography becomes a listening tool, a means of expression and artistic research that uses a spectrum of light imperceptible to the eye to reveal… "what is essential is invisible to the eye".
All about Paolo Ameli
Nathan Rochefort (United States)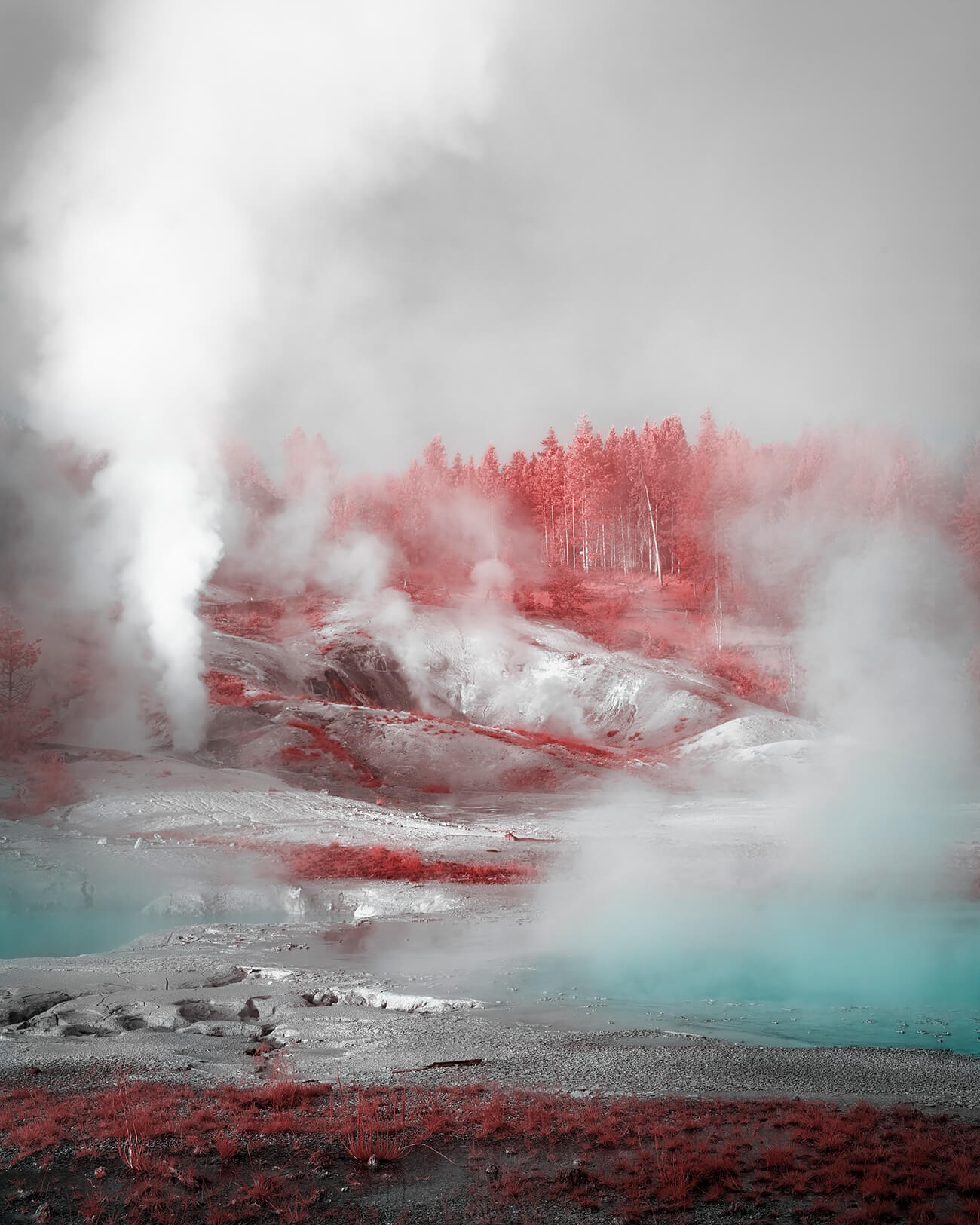 Hydrothermal Basin, Wyoming. 2022 from the series 'American Nature' © Nathan Rochefort
A false-color infrared image of fumaroles in a hydrothermal basin, Norris Geyser Basin at Yellowstone National Park.
Jo Fields (United States)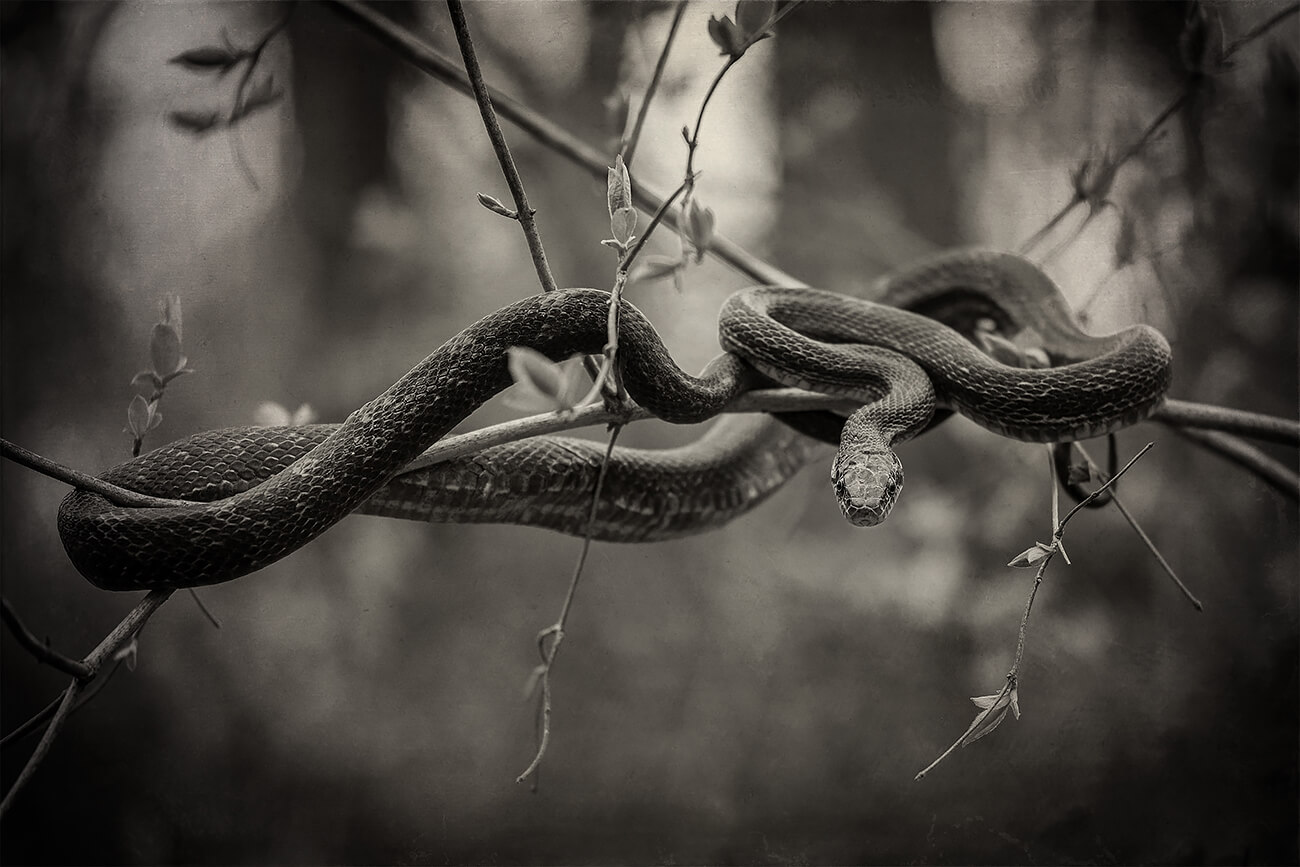 Entwined from the series 'A Chance Encounter' © Jo Fields
A Chance Encounter came about on one of the first warm days of spring. Five snakes had arranged themselves in the trees beside the road where I was walking. Many people walking by shuddered with fear and kept walking by. The snakes were non-venomous and had just come out of hibernation, so I chose curiosity on this day to explore the features and behaviors of these snakes.
All about Jo Fields
Torrance York (United States)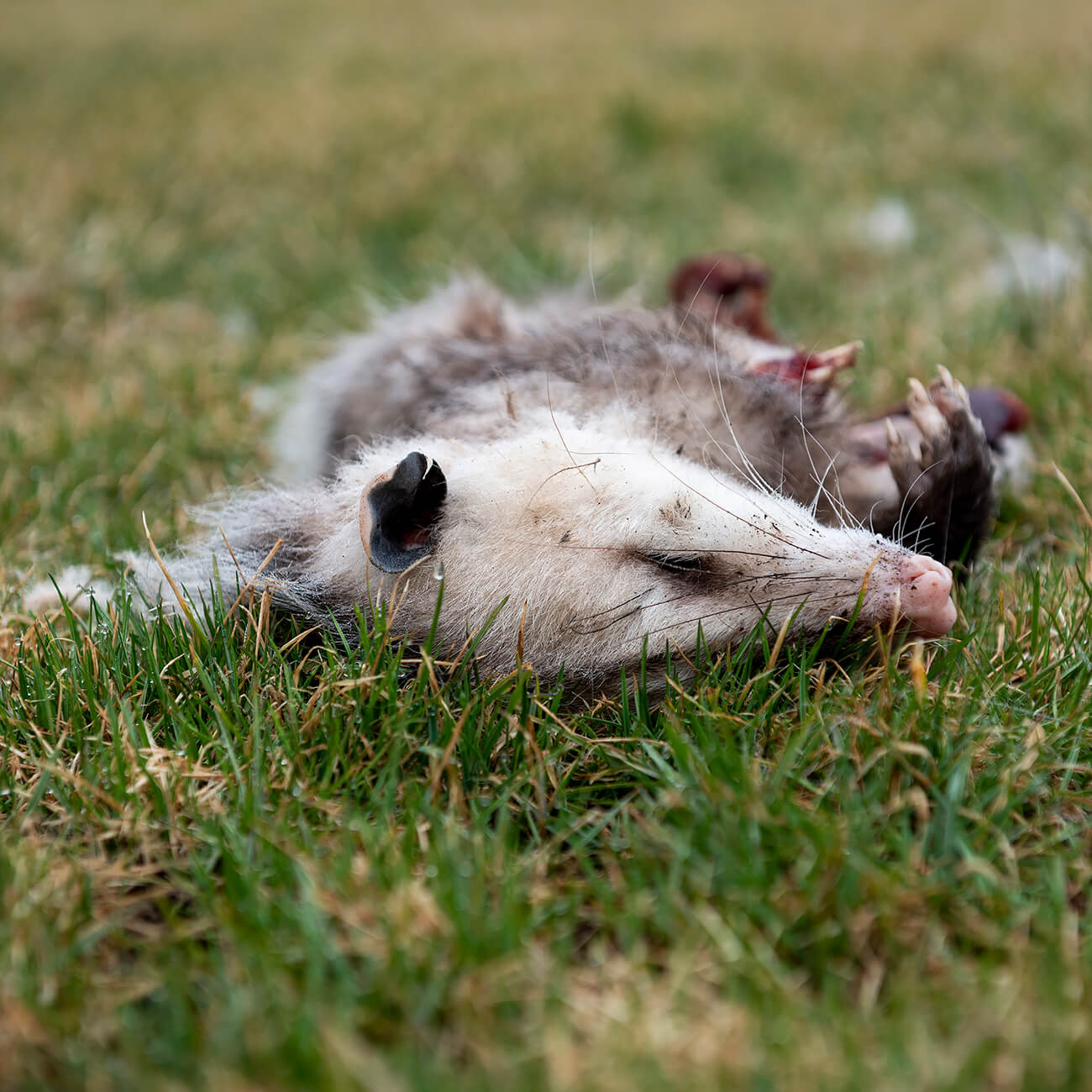 Untitled 6201, 2021 from the series 'Semaphore' © Torrance York
In my series, Semaphore, nature surfaces as fertile ground for the metaphors I seek. I use photography to help me articulate, for myself and others, the physical and emotional changes I experience as a person living with Parkinson's disease. Other subject themes include the body, everyday objects, medical imaging, and light. In Untitled 6201 I connect with the fear and vulnerability Parkinson's forces me to confront.
All about Torrance York
Carmen Villar (Spain)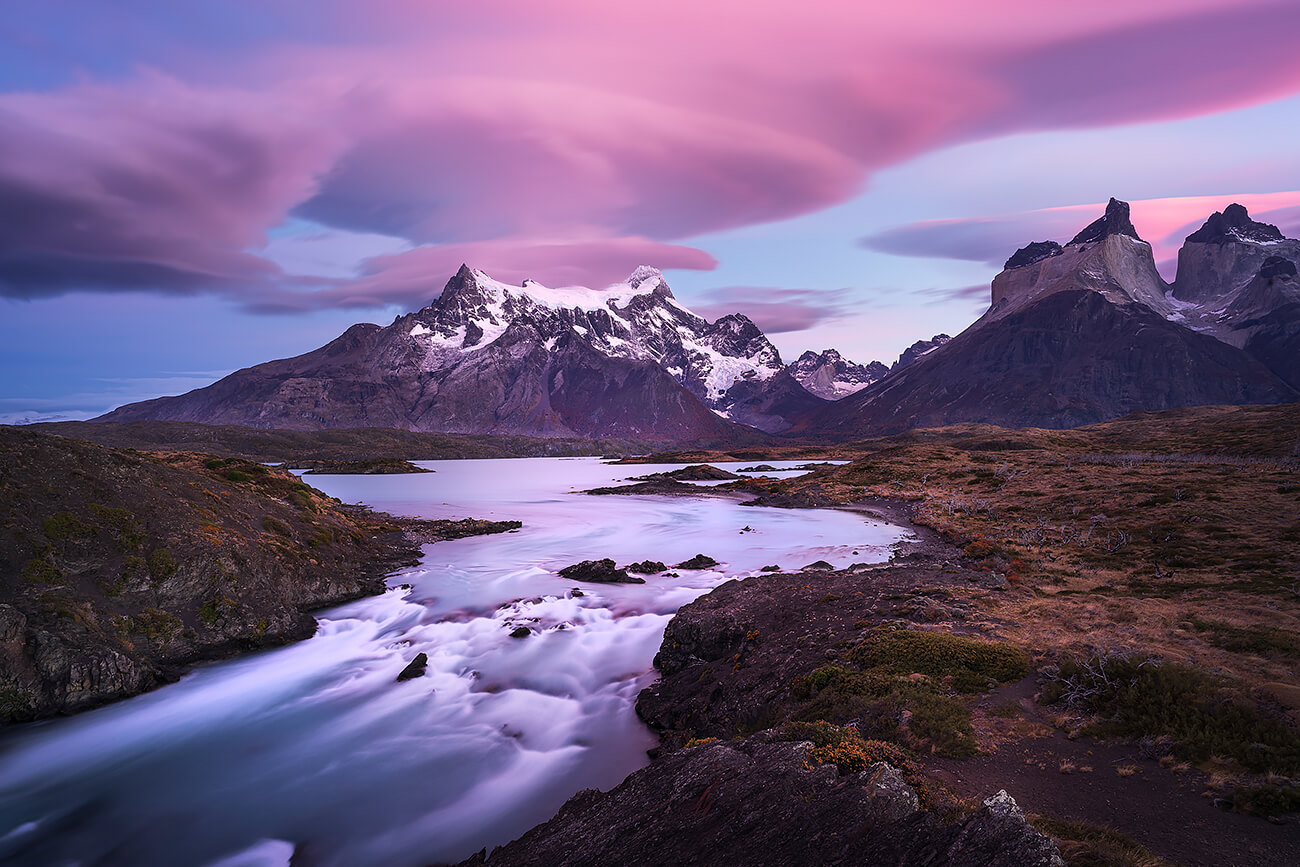 Colourful sunrise in Patagonia © Carmen Villar
Lenticular clouds over Torres del Paine. Before the sun came up, the color of the clouds was simply impressive. With my heart beating strongly, I climbed up some rocks to have a better view and, to my surprise, a spectacular river dyed with the color of the sky, appeared on my left,. Torres del Paine welcomed me!
All about Carmen Villar
Jacqui Turner (United States)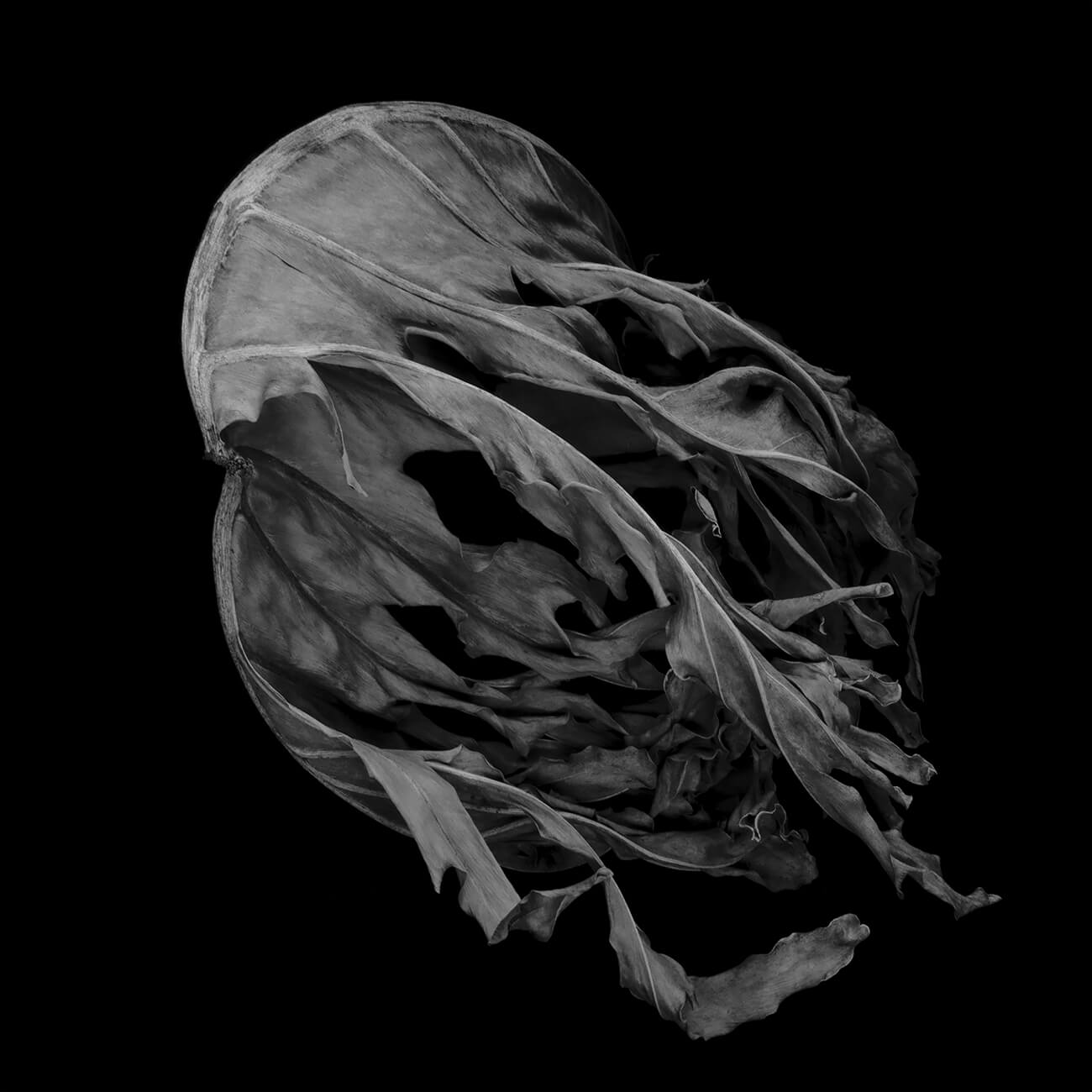 Poetry of a Leaf © Jacqui Turner
My mother recently passed away. During my mourning period I have found myself drawn into dialogue with the leaves of the trees in my backyard as they succumb to the inevitability of time. Lush in bloom, these leaves transform as they begin to decay, shrivel, twist and curl. Complex patterns and textures unique to each leaf emerge. Seemingly invited to pause to find the grace and the fragility within each withered leaf, I feel compelled to contemplate the intricacies of their surfaces, sometimes like skin, sometimes like leather, sometimes like bone and flesh. I seek to highlight a deeper appreciation for the passage of time by capturing the profound beauty that emerges from the cycle of life.
All about Jacqui Turner
Myrtie Cope (United States)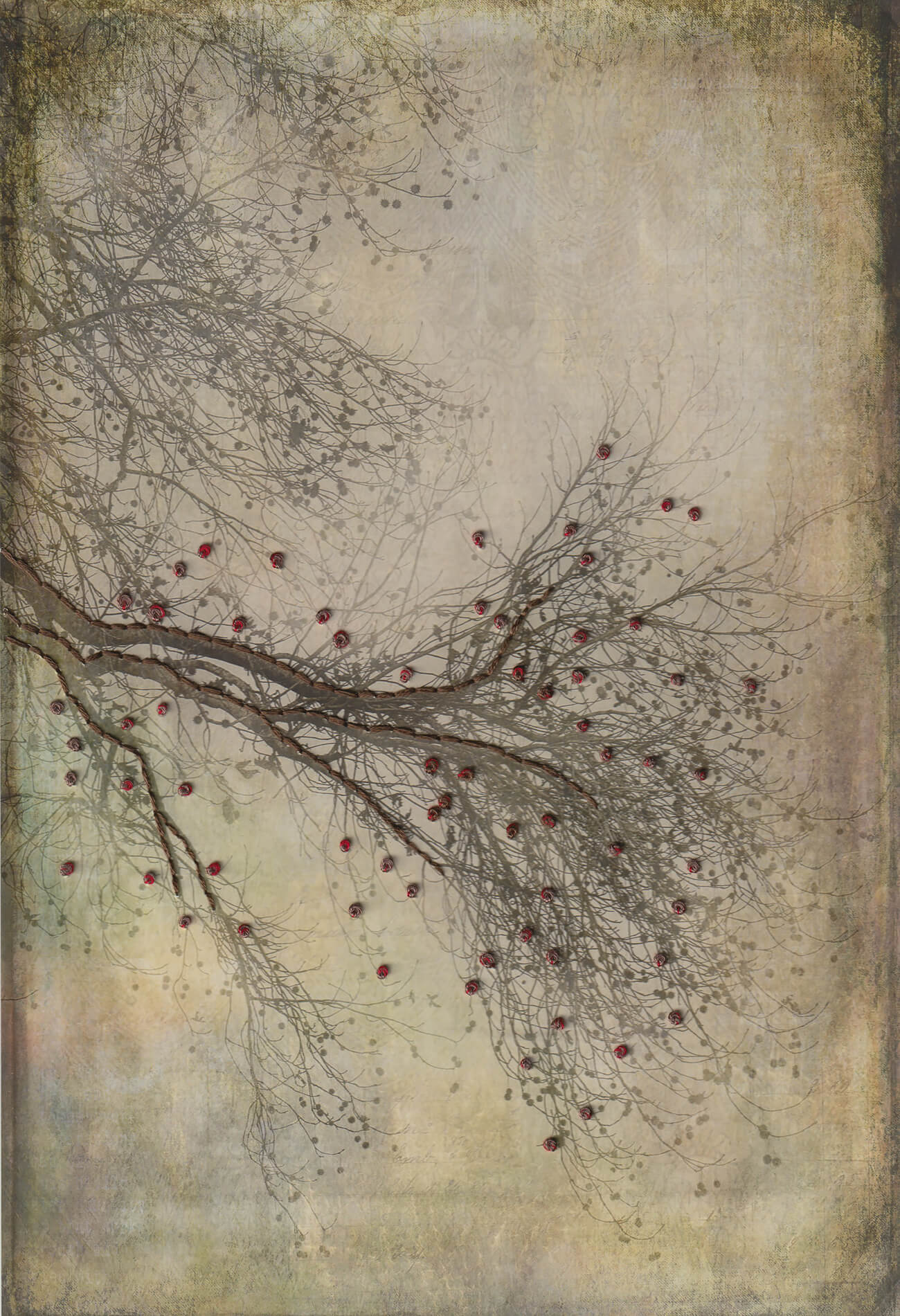 Sweet Gum Embroidered from the series 'Nature Embroidered' © Myrtie Cope
Sepia toned photo of branches of a sweet gum tree with a digital texture applied. French knot embroidery gives the impression of sweet gumballs which are the seeds of the tree. The embroidery adds texture and dimension to the photo.
All about Myrtie Cope
Stéphane Garnavault (Switzerland)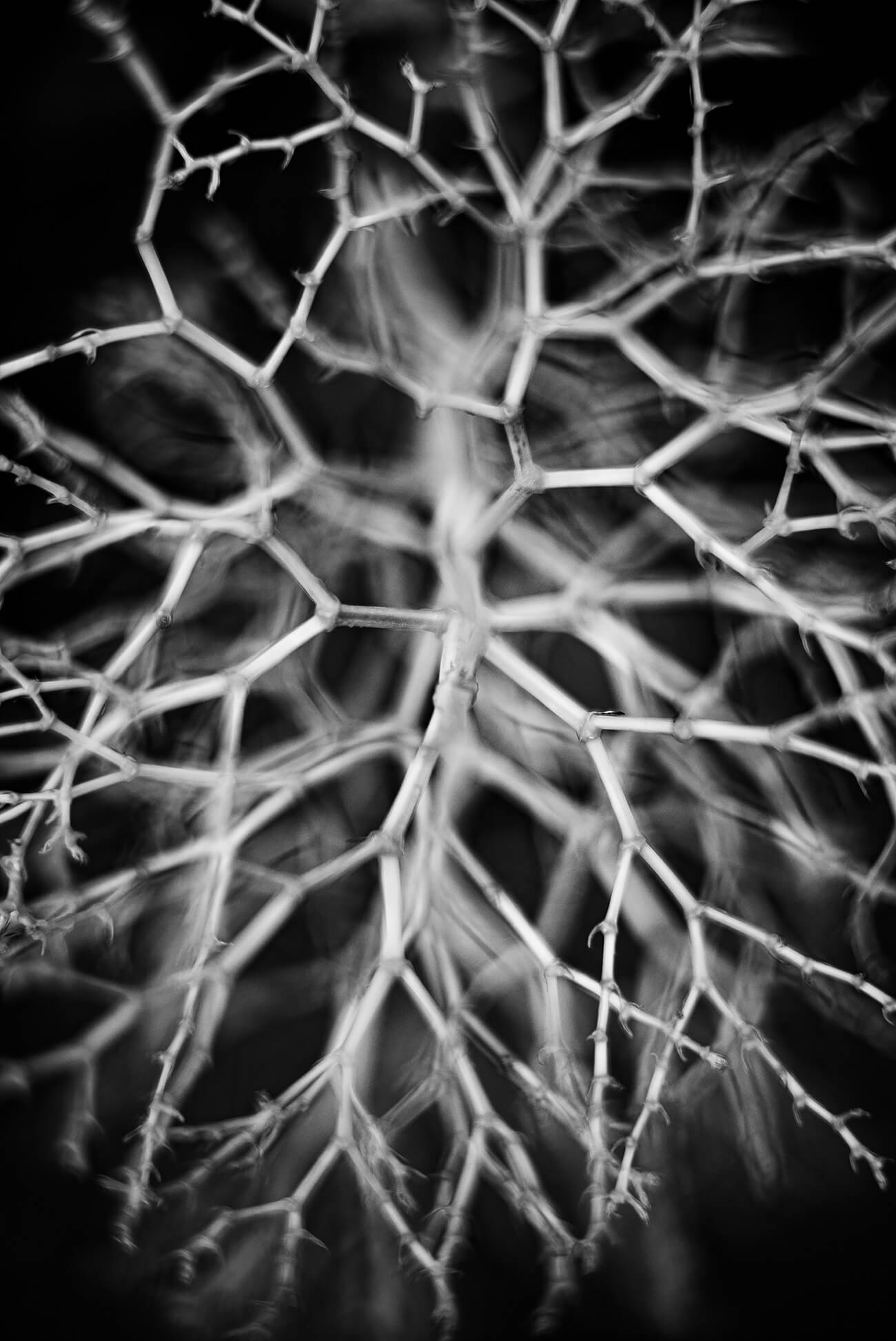 From the inside © Stéphane Garnavault
Stéphane's From the inside series continues his exploration of his connection to the world, building upon the self-discovery journey of Flower Portraits. Shifting his perspective, he looks inward, delving deeper into himself. The series showcases a play of shadows and light, contrasting detailed and blurry elements. With heightened awareness, he embraces abstraction and unleashes his imagination. As a graduate of the École Nationale Supérieure des Arts Décoratifs in Paris, I found my passion blossoming through studies in graphic design, painting, drawing, printmaking, silkscreen, and photography. However, upon receiving my diploma, I suppressed my artist's soul and embarked on a career as a designer. For nearly 25 years, I worked tirelessly, forgetting my initial artistic loves. Swiftly, I achieved success as a designer, thanks to my keen sensitivity. Yet, this success became a bittersweet gift that drained me. Emotions washed over me so intensely that at times, I felt overly attuned to the world around me. Five years ago, a book opened my eyes and shook me to the core. It was a revelation. I realised I needed to respond. Gradually, my artist's heart reawakened. I purchased the camera of my student dreams—a Leica. I started wandering, and it did wonders for my soul. Out in nature, I found my place. The landscapes I traversed became as significant as the landscapes within. I observed the world and delved deep within myself, seeking to translate into images how I perceived my surroundings. My photographic work reveals my distinct sensitivity and attraction to sleek design. My flower portraits, akin to self-portraits, blend blurriness with interplays of light. My urban landscapes capture the sensations of climate catastrophe, depicted in simplified, even abstract compositions.
All about Stéphane Garnavault
Lev L Spiro (United States)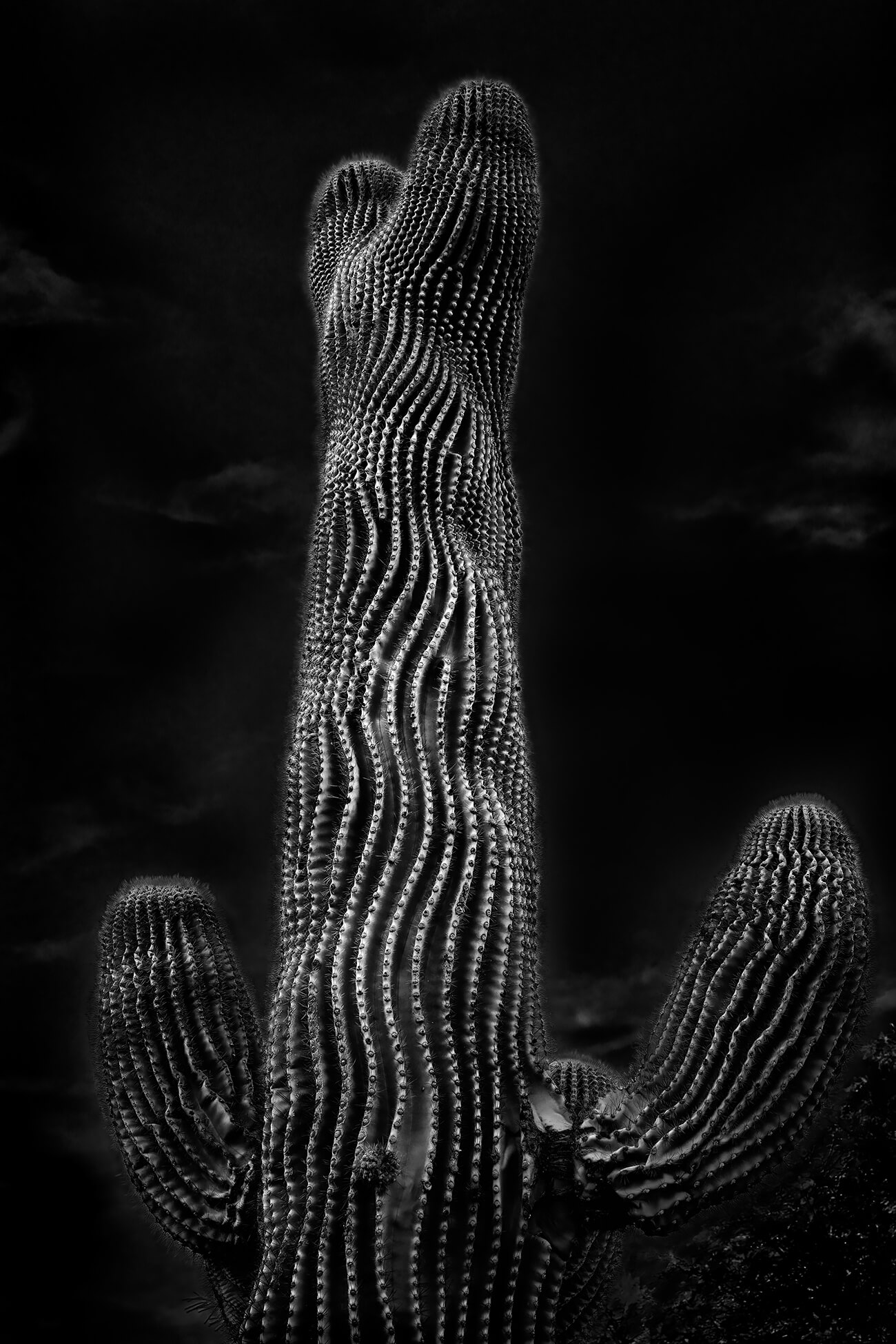 Gucci from the series 'Night Creatures' © Lev L Spiro
Are plants sentient beings? At certain times of day, in certain kinds of light, the plants in my garden seem to uproot and move about freely; seeking out the company of others, exploring their surroundings, making their opinions known. Do they converse? Do they quarrel? I see in them the quest for companionship and the quest for solitude; the longing for meditative space, and the longing for connection. Their innate otherworldliness shines through in these moments, and it's difficult for me to distinguish them from other life forms, both known and not so well known to us - chiefly those inhabiting the ocean depths, and the interstellar reaches of our collective imaginations.
Calli McCaw (United States)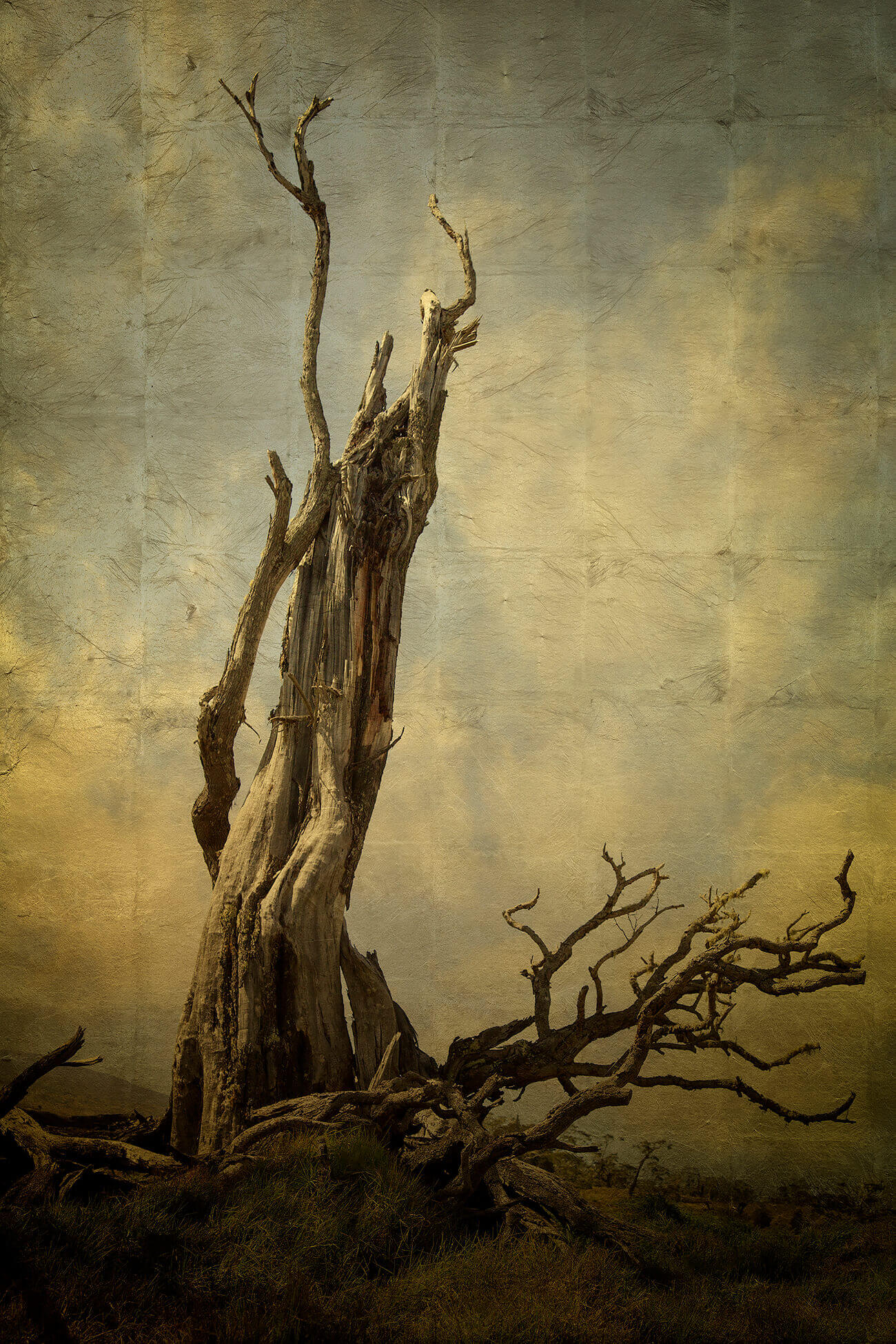 Untitled, from the series 'A Passing' © Calli McCaw
A Passing is a metaphor for a world disinclined to heed the ever-worsening signs of climate change. Each image has been digitally blended with gold leaf.
All about Calli McCaw
Kelly O'Leary (United States)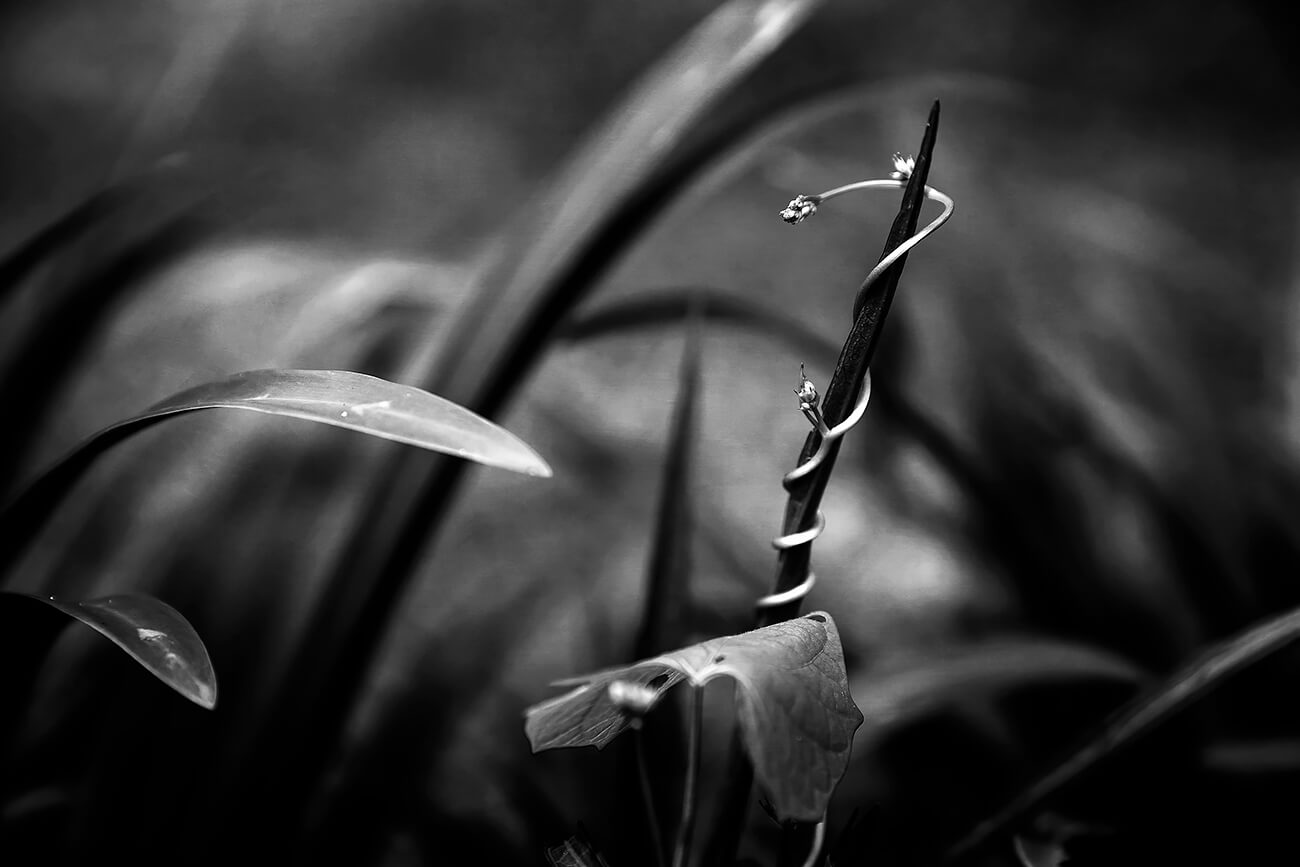 Tendril from the series 'he Ephemeral: Leaf and Stem' © Kelly O'Leary
Nature is truly the most revered of all Artists. A prolific sculptor who's intricate small works possess a tender poetic elegance, a reverie of seductive, delicate forms, at times almost ineffable, this only rivaled by their brevity. My ongoing series The Ephemeral: Leaf and Stem, delves within shadowy places, scouring vast minuscule plains, seeking out the diminutive and obscured in order to document and commune with the transient beauty of these tiny wonders, these clandestine moments hidden in plain sight.
All about Kelly O'Leary
Jean Karotkin (United States)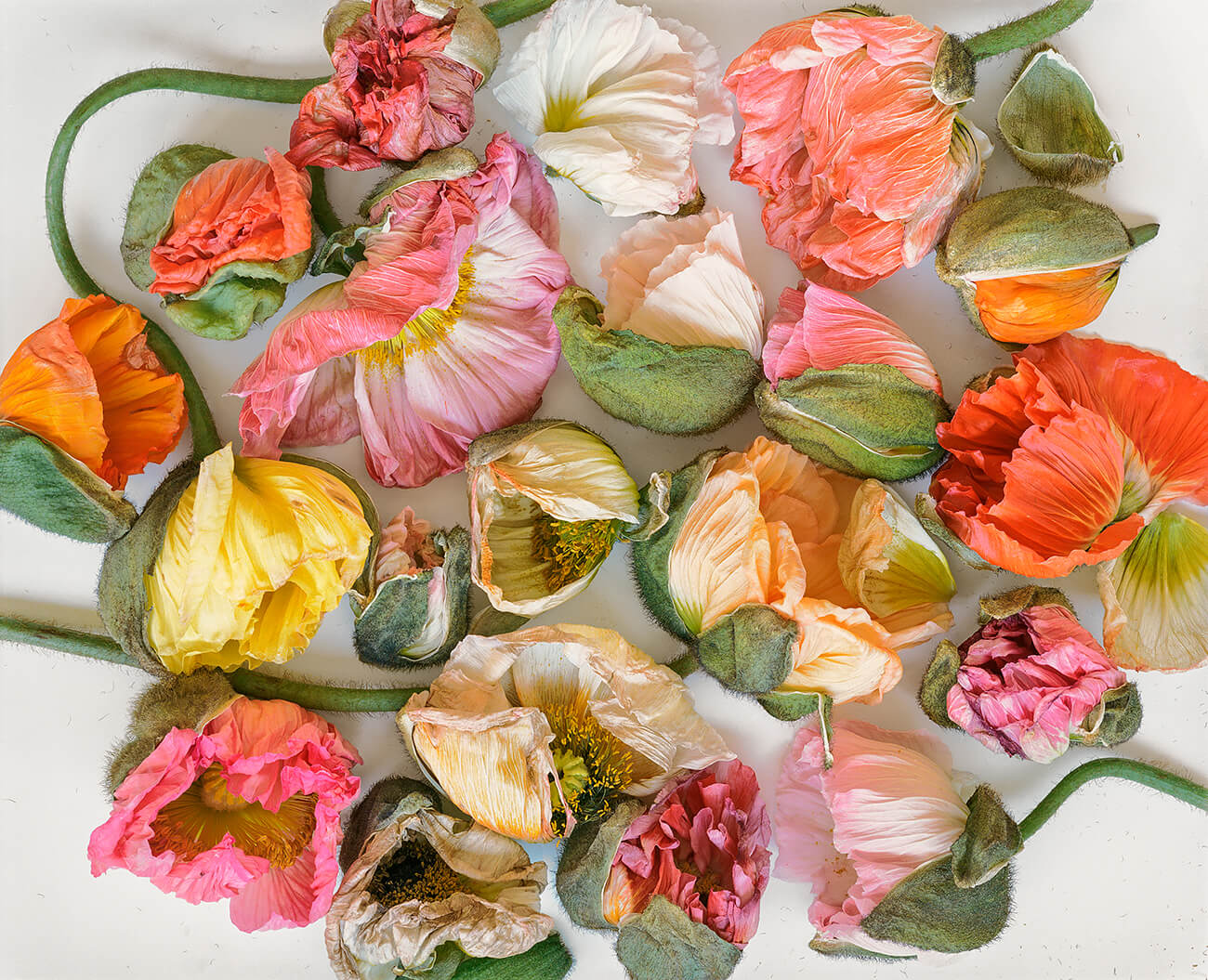 Color Poppies IV from the series 'Gymnopédies' © Jean Karotkin
"Color Poppies IV" is part of Karotkin's ongoing series of botanical portraits, entitled Gymnopédies, which takes its name from a trio of piano compositions by 19th century French composer Erik Satie. Void of connotation, the unusual title freed Satie from stylistic constraints and gifted his audience a new experience of music. Karotkin's Gymnopédies encourage a similar foray in the realm of flower photography, disavowing context and the conventional notion that flowers are most evocative when captured in full bloom.
All about Jean Karotkin
Francisco Gonzalez Camacho (Finland))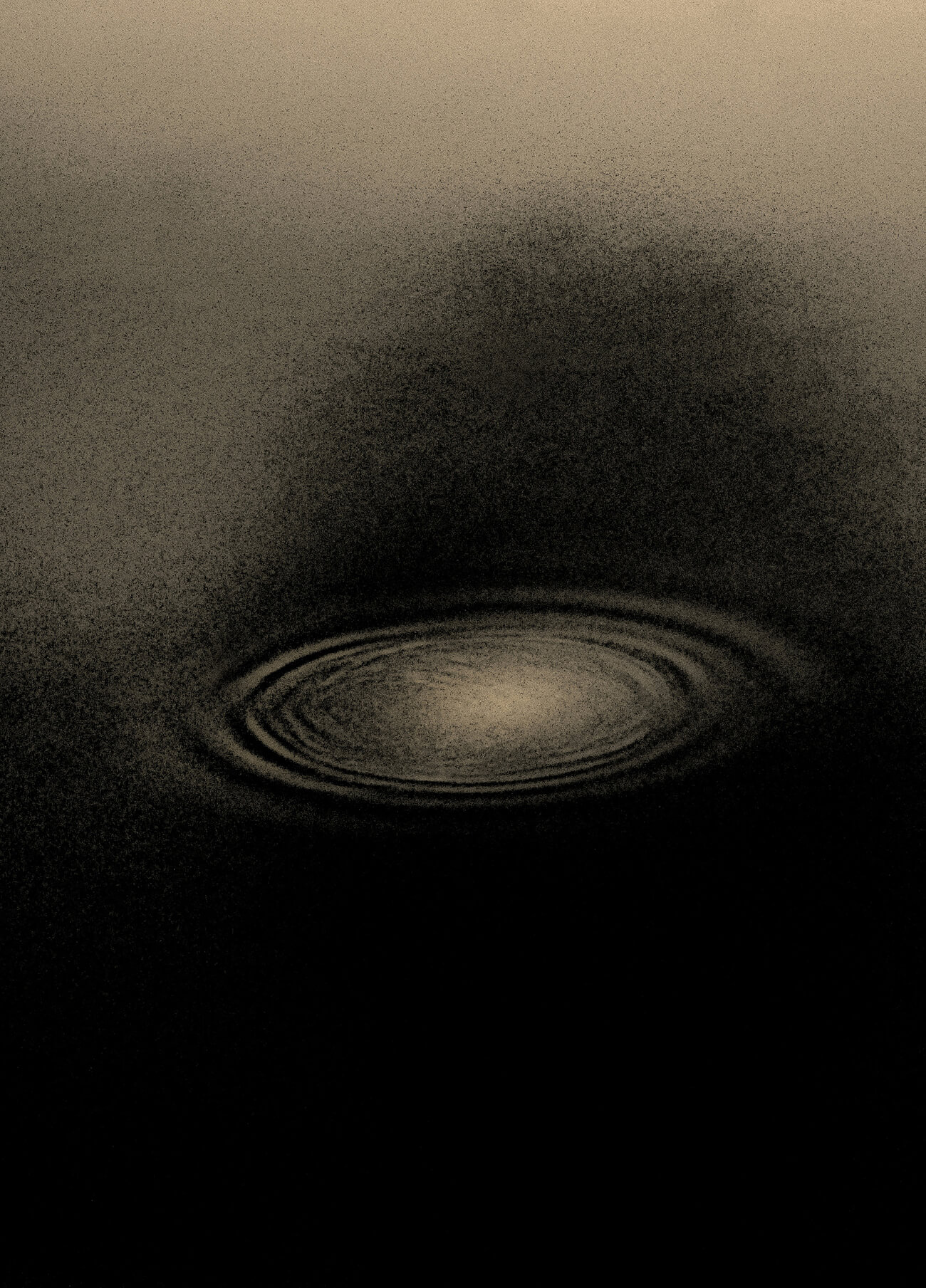 A drop of silence from the series 'Elsewhere' © Francisco Gonzalez Camacho
Elsewhere is an ongoing project developed over the last two years in Finland exploring the idea of displacement with the emerging of nature as a coping strategy and transcendental space. It intertwines elements of poetic narration, references to pictorialism and the use infrared photography. In this work I explore the use of the landscape as a cathartic relief to deal with the feelings of isolation involved in the process of immigrating to a foreign country. The resulting immersion in nature opened a new dialog with the environment, acting as a reminder of our insignificance in the cosmic scale, but also about our connectedness with the landscape, sometimes forgotten. The fleeting moments of magical realism captured in this series aim to condense the fragility of time, to suspend the real world, creating a bridge to a new one.
Gulgun Gunal (France)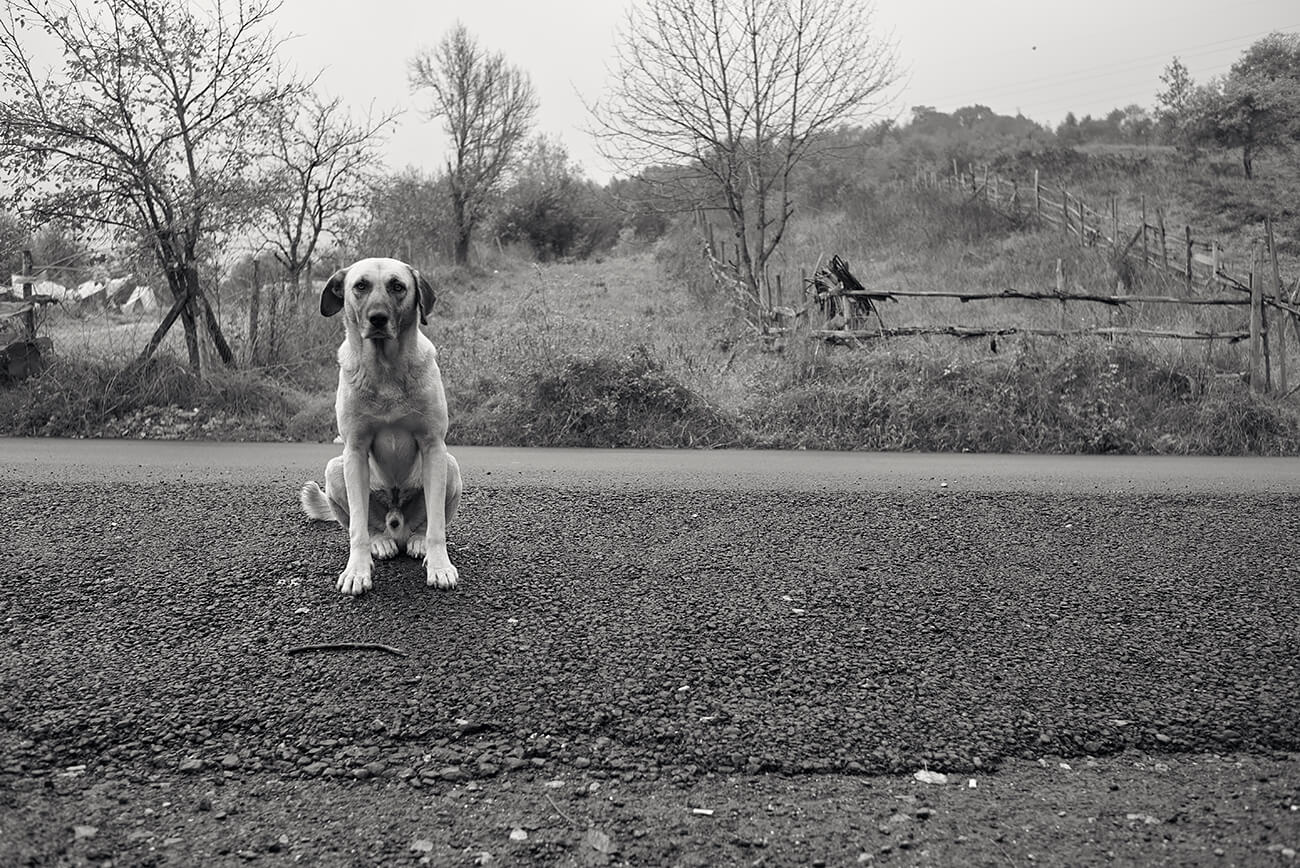 Vigilant from the Dog Vigilance Trilogy © Gulgun Gunal
The journey I embarked upon towards the hidden corners of Sardinia reminded me once again of the delicate balance between humanity and nature. Exploring the secluded expanse surrounded by volcanic rocks in Argentiera, I found myself consumed by an overwhelming sense of tranquility and respect.
Following my silent footsteps, I was greeted by a panorama framed by the volcanic stones, embracing the hues of the sea and the sky. The grandeur of the black and golden rocks laid bare the richness of nature's tapestry and the imprints of time. Towering volcanic formations, each with its unique character, rose like geological sentinels, overseeing the junction of human existence and the natural world. Atop these majestic formations stood two silhouettes, embodying the convergence of the two realms.
In a place where it shouldn't be, an odd piece of wood rested upon the rocks. Furthermore, something resembling a cord or string meandered atop the volcanic stone, blatantly revealing the hand of human intervention.
A significant facet of the nature experience moment lies in its connection to Otherness concerning humans. This sentiment of Otherness can render the nature experience more profound, as it enables individuals to acquire new knowledge, broaden their perspectives, and forge a deeper connection with the natural world.
Does experiencing the diversity of nature shape our perspective on environmental issues?
Through our monthly photo competition and magazine, we are committed to giving emerging and established artists the space and freedom to unleash their creativity and offer photographers the opportunity to share their work with an international audience.
The top 3 winners will be awarded $1,000.
All winners will have their work showcased on All About Photo Winners Gallery, and published in the printed issue of AAP Magazine #33 Nature.