''Memories of the past explain the present to us. Lives torn from their normal existence leave behind memories that are lost. These photos, these fragments of lives destroyed by violence, attracted me and I look for them, because it seems to me that they can tell what was and now no longer is. The thousands of images I have taken of these family and personal photographs found in the rubble, are for me a way of preserving the lost memory of these people. A way to remember that another world was possible.''
– Giulio Piscitelli, photographer
For over a decade FotoEvidence has issued a biennial book award dedicated to work that demonstrates courage and commitment in the pursuit of social and ecological justice. During this year's application process, FotoEvidence received over 5,000 images from over 100 photographers united to tell their first-hand testimony about the Russian invasion of Ukraine and war crimes committed on Ukrainian soil.
Ukraine: A War Crime is about the first year of the war in Ukraine and the many photographers who risked their lives to tell this tragic story. The book is a collection of 366 color and black and white photographs and witness accounts by 93 photojournalists from 29 countries meticulously chosen from thousands of submissions by award-winning photo editor Sarah Leen. The sheer size of this publication allows a wide swath of perspectives that expose the experience and effects of the Russian military assault on Ukraine. The images and reportages contributed by these brave photographers and citizens who covered the conflict and humanitarian catastrophe reveal not only the indiscriminate violence and displacement of millions of people, but also their first-hand experience working in a war zone.
Ukraine: A War Crime is a monumental achievement that will serve as a powerful tool for mobilization, legal prosecution, and an historical document for future generations. The book delves deep beneath the mainstream news to tell intimate stories of survivors and witnesses to atrocities, as these photojournalists were often the first to enter and document the liberated villages. The book covers images from all aspects of the war from across Ukraine to draw a sweeping account of the senseless destruction and its terrible toll on the civilian population.
Published in Ukrainian and English, the book will be unveiled at The Rencontres d'Arles in July 2023, and released world-wide in September 2023.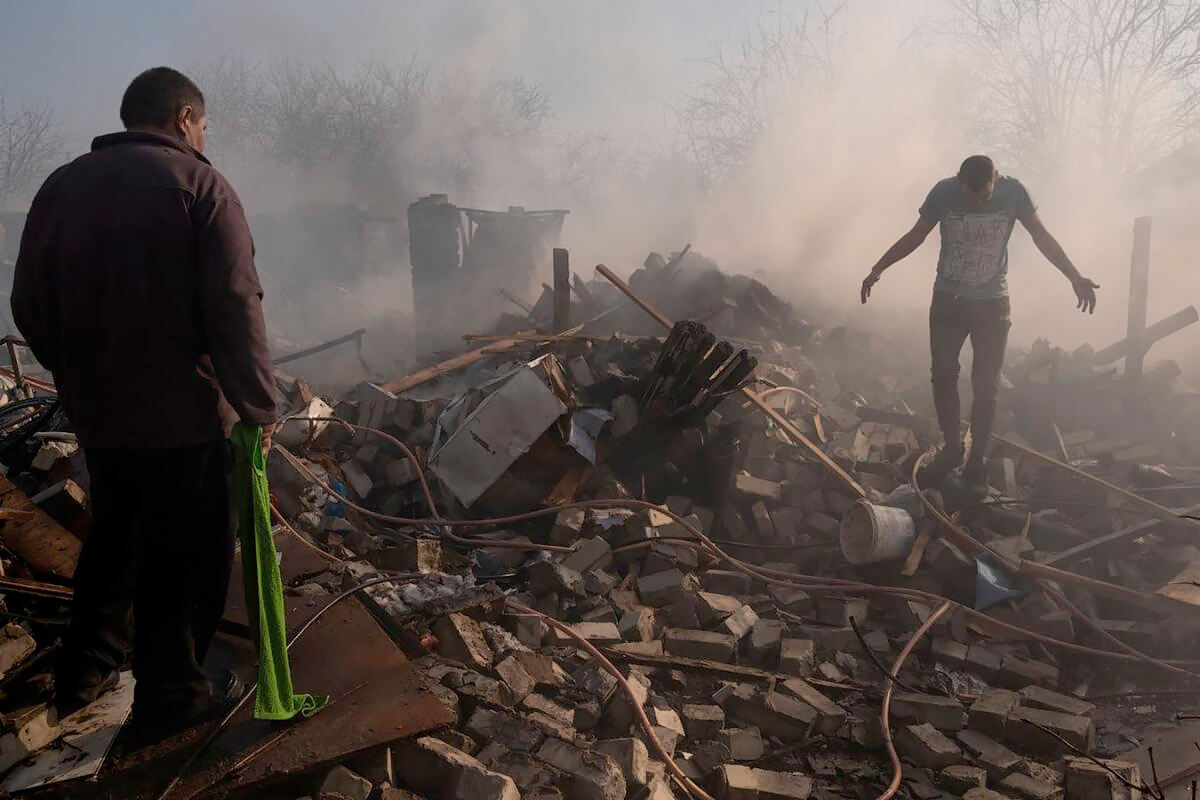 Kharkiv, March 24, 2022. Two men walk through the rubble of their house, destroyed by a Russian missile, in the Saltivkaresidential district of Kharkiv. The district has been heavily damaged as a zone of contact between the Ukrainian and Russian armies. © Giulio Piscitelli, Kharkiv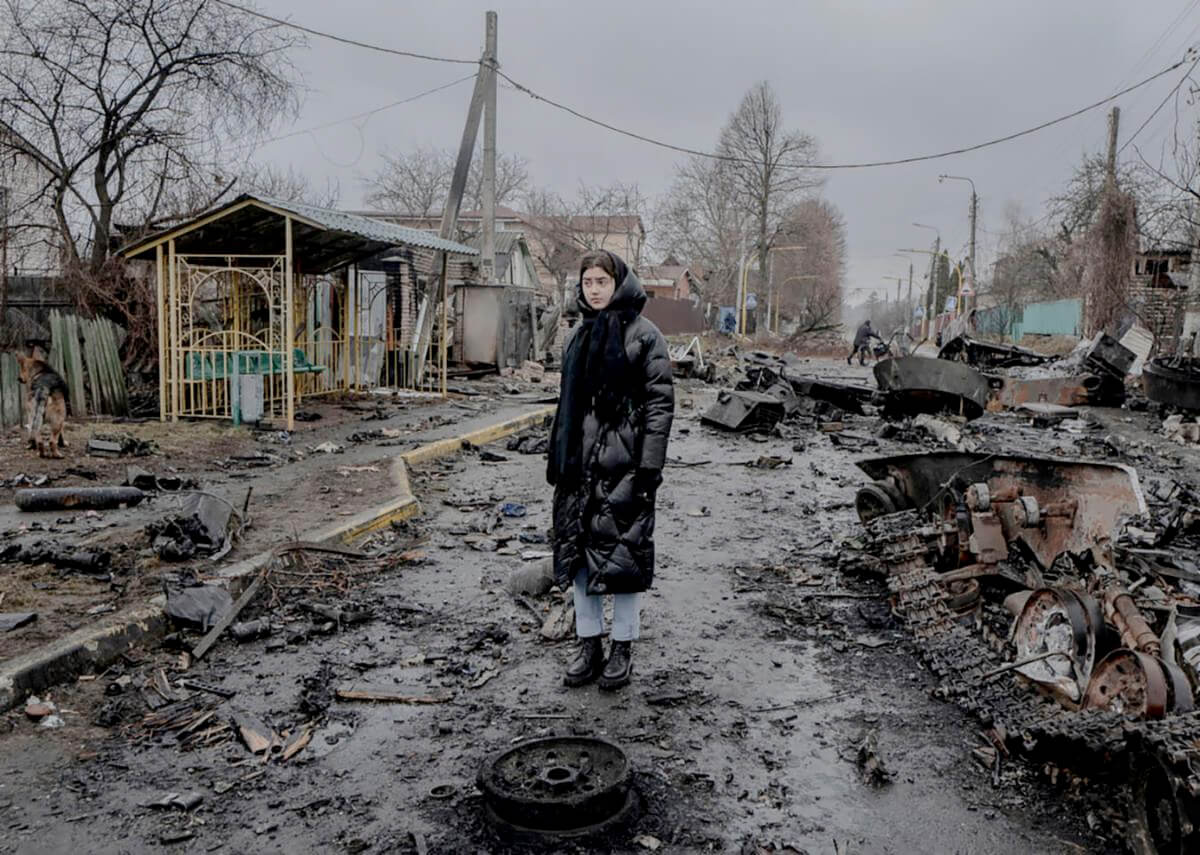 Bucha, March 2, 2022. A Ukrainian woman looks atthe damage done bydrone strikes conducted by the Ukrainian army against a column of Russian armor two day before on February 27, 2022 © Rafael Yaghobzadeh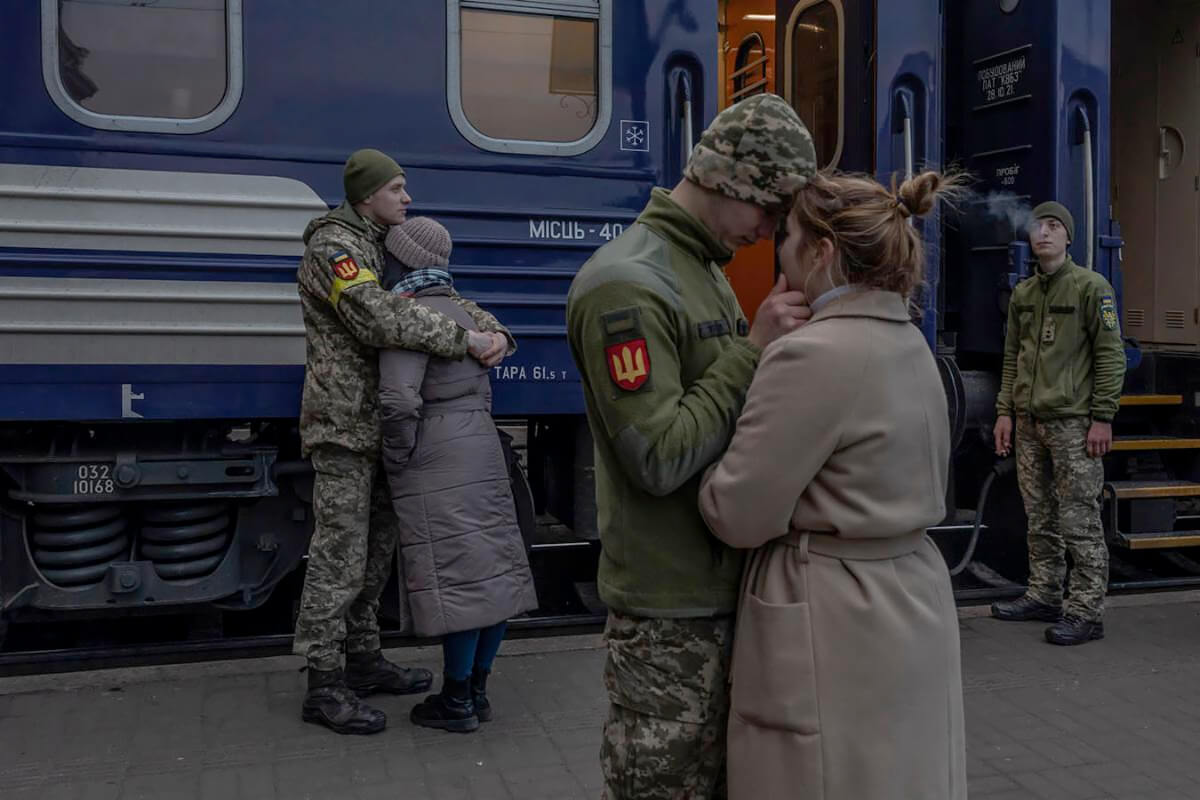 Lviv, March 9, 2022. Alina and Victor and other soldiers were giving one last goodbye to their partners before heading to the frontline of the war. © John Stanmeyer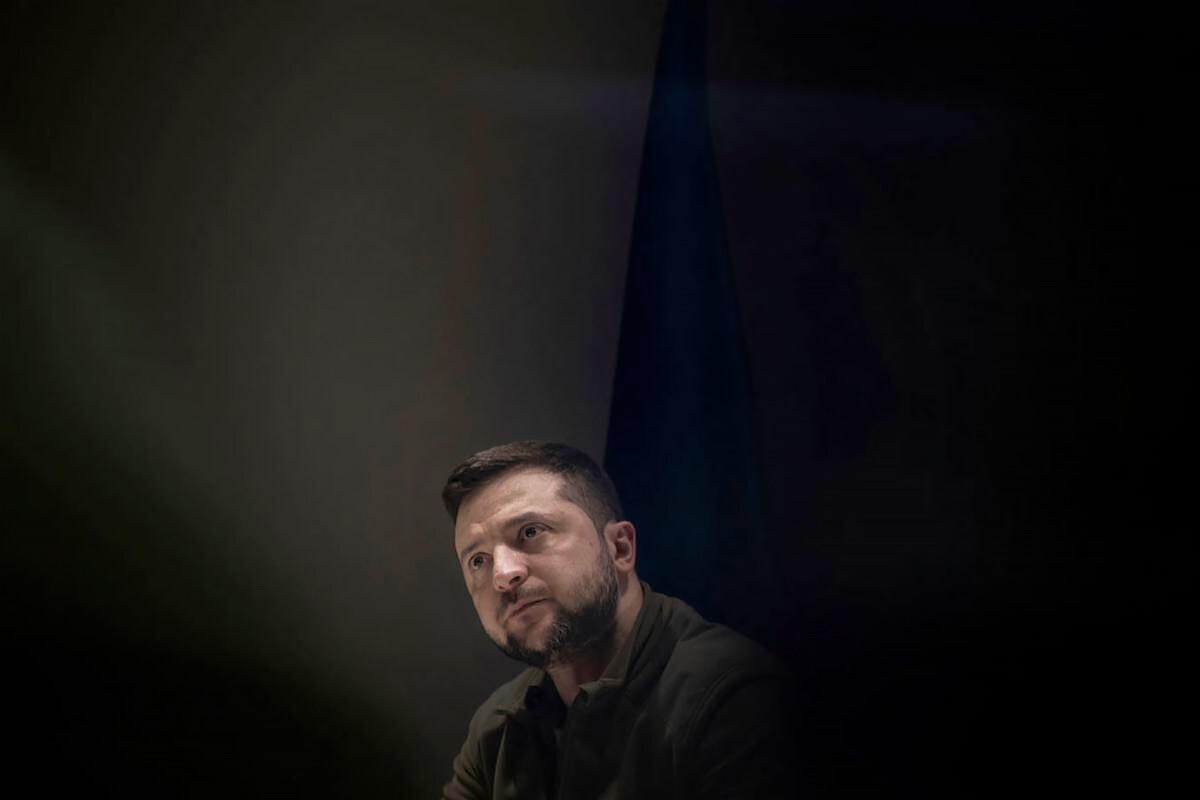 Kyiv, March 25, 2022.Volodymyr Zelensky, president of Ukraine, in his bunker where he runs the government during thewar with Russia© Ron Haviv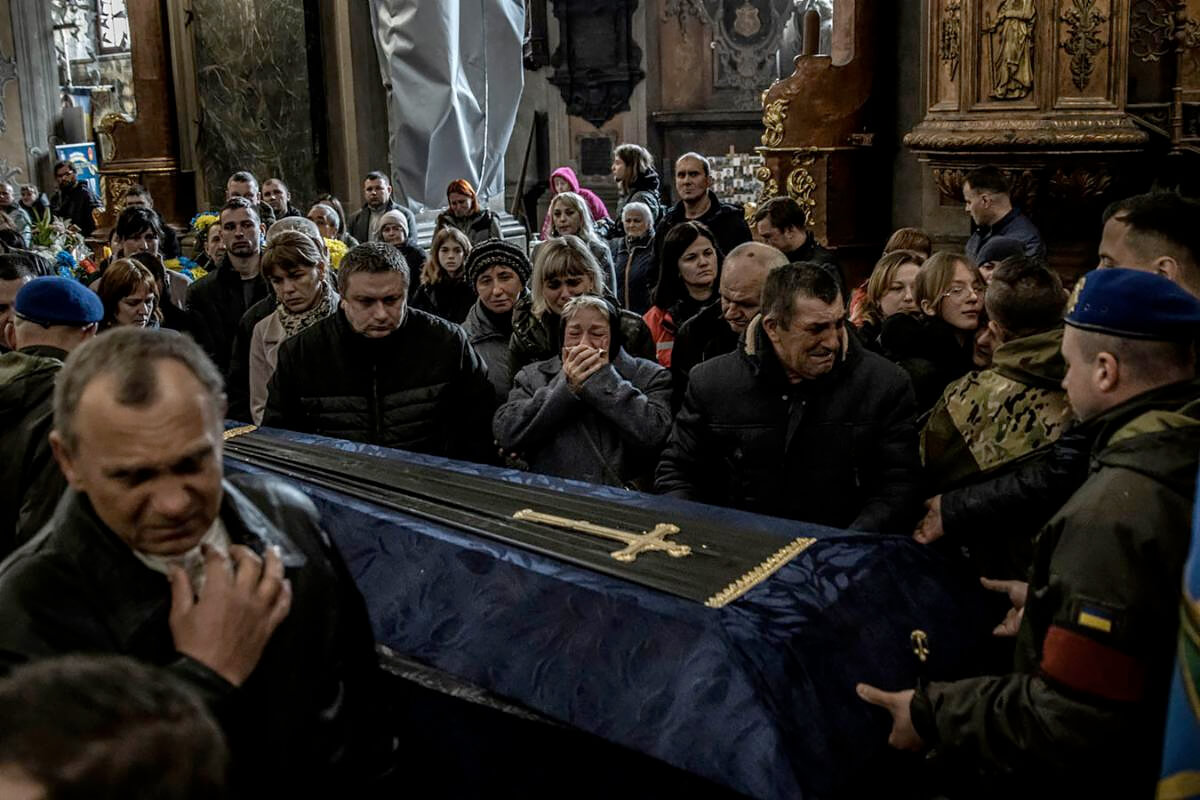 Lviv, April 21, 2022. Nadiya Datsko and Volodimir Datsko grieve over the coffin of their son, Ian Datsko, 38, who died fighting in the Donetsk Region,during his funeral at Saints Peter and Paul Garrison Church.© Finbarr O'Reilly
Excerpts from photographers' writings:
Volodymyr Demchenko
wrote the book's introduction, and he reflects on the importance of documentation to provide a form of evidence, a truth of the atrocities that perpetrators deny. He writes, Now, with visual documentation, it is much more difficult, if at all possible, to hide crimes and social catastrophes. Documentation cannot prevent the suffering of the victims, but at least it gives a chance for the truth to be established, which means that the crimes will be revealed.
Heidi Levine
, who writes for The Washington Post, ends her commentary with, As a veteran photojournalist who has covered decades of conflicts and wars, I struggle to find the words to express how horrified we all are by what is happening in Ukraine and the suffering people have endured. Each day, I ask myself how this can be in Europe in 2022? Each time I return to Bucha, it feels as though I am again at the gateway of hell and uncovering another layer of Russian atrocity.
J.B. Russell
, a Paris-based American photographer, notes the value of Ukraine: A War Crime in providing a level of 'truth' unfiltered by the editorial process of mainstream media. Some of the images I made are difficult to look at, nearly impossible to publish in the mainstream media, but they depict the atrocious reality that I witnessed. In an era of propaganda, gaslighting, fake news and partisan reporting I needed to document evidence of this criminal war whose perpetrators need to be held accountable.
John Stanmeyer
, one of the founders of the VII photo agency, shares that at one point he questioned his presence there. He writes, All wars are senseless, and the invasion of Ukraine is no exception. Wars not only uproot life, but also love, joy and hope. Where there was life, love, security, family, happiness, and humanity, now there is only hate, tragedy, sorrow, orphans, ruins, and loneliness. Now death haunts the places where there used to be life. I look into the effects of war through still-life images.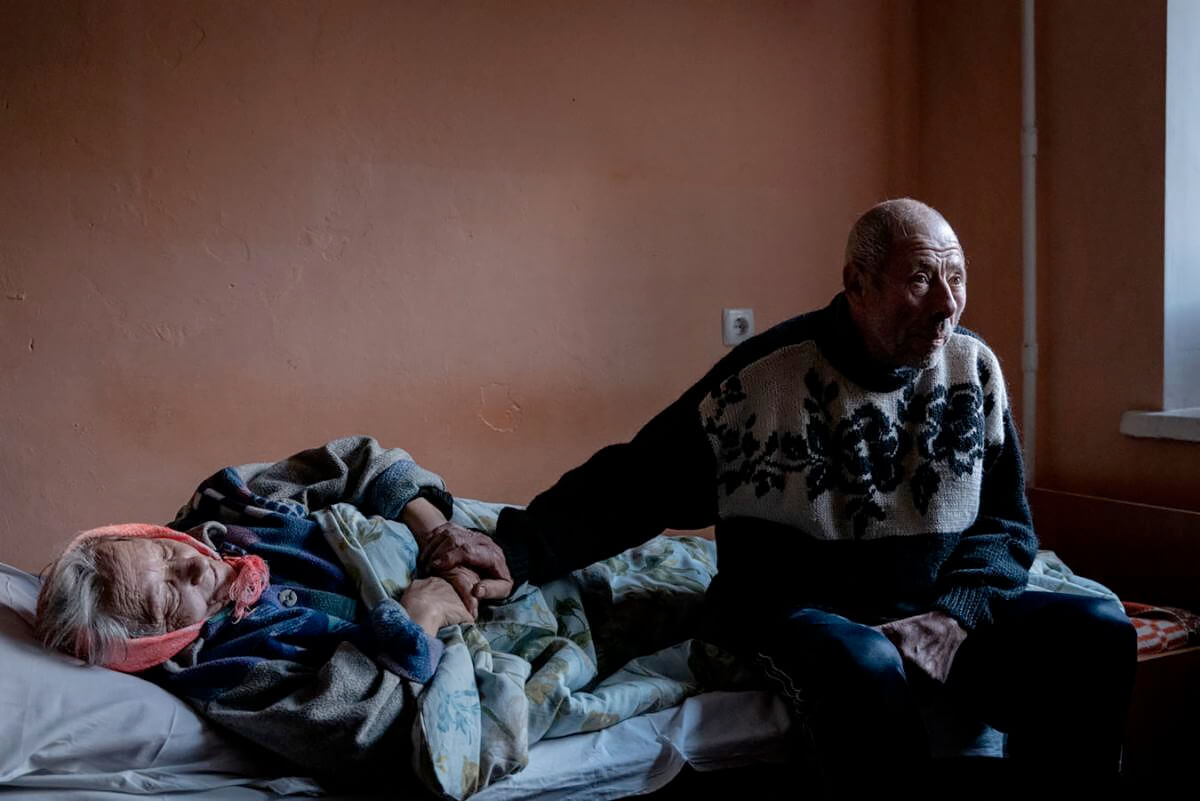 Kharkiv, September 25,2022.Husband and wife Leonid (right), 71, and Valentyna (left), 70, are seen in a temporary housingfacility for internally displaced persons. Leonid and Valentyna fled Kupiansk days earlier as the town has become the front-line between Ukrainian and Russian forces, forcing residents to endure near constant shelling, and cutting them off from water, gas,and electricity. © Nicole Tung
About FotoEvidence:
FotoEvidence was founded in 2010 by Svetlana Bachevanova and David Stuart to continue the tradition of using photography to draw attention to human rights violations, injustice, oppression, and assaults on human dignity wherever they may occur. Since its beginning in 2011, FotoEvidence has published 37 outstanding in-depth projects on human rights by individual photojournalists. The war in Ukraine called for a new approach: instead of providing an opportunity for just one photographer, we felt the need to draw the photojournalism community together in a collective action to document Russia's invasion, the destruction of war, Russia's indiscriminate, criminal violence and the power of Ukrainian identity and resistance. For more information and to reserve your signed copy, go here.
The Contributors:
Photographs and personal essays: Celestino Arce, Juan Arredondo, Oscar B. Castillo, Aggelos Barai, Jerome Barbosa, Daniel Berehulak, Vince Bevan, Cristopher Rogel Blanquet, Laura Boushnak, Eric Bouvet, Maryna Brodovska, Paula Bronstein, Fabio Bucciarelli, Daniel Carde, Rui Caria, Juan Carlos, Dmytro Chaika, Narciso Contreras, Stephen Dupont,Yurko Dyachyshyn , Timothy Fadek, Diego Fedele, Javier Fergo, Oleksii Furman, Gaelle Girbes, Bogdan Gulyay, Amnon Gutman, David Guttenfelder, Carol Guzy, Ron Haviv, Brendan Hoffman, Scott Hopkins, Serhii Hudak , J. Daniel Hud, Svet Jacqueline, Patryk Jaracz, Edward Kaprov, Liam Kennedy, Pete Kiehart, Ziv Koren, Dima Kornilov, Serhii Korovayny, Dmytro Kozatskyi, Dmytro Kupriyan, Antoni Lallican, Maks Levin, Heidi Levine, Andoni Lubaki, Darrin Zammit Lupi, André Luís Alves, Evgeniy Maloletka, Sasha Maslov, Chris McGrath, Gabriele Micalizzi, Justyna Mielnikiewicz, Ioana Moldovan, Jonathan Moore, Olena Morozova, Katerina Moskalyuk, Christopher Nunn, Christopher Occhicone, Finbarr O'Reilly, Cheney Orr, Mykhaylo Palinchak, Oksana Parafeniuk, Marion Péhée, Hector Quintanar, Nikos Pilos, Giulio Piscitelli, Serghii Poznanski, Diego Radamés, Espen Rasmussen, Vyacheslav Ratynsky, Warren Richardson, J.B. Russell, Rui Duarte Silva, Diego Ibarra Sanchez, Wolfgang Shwan, Byron Smith, Alina Smutko, Maranie Staab, John Stanmeyer, Matej Sulc, Adrienne Surprenant, Joseph Sywenkyj, Nicole Tung, Eddy van Wessel, Laetitia Vancon, Tainui Kewish Wihongi, Rafael Yaghobzadeh, Stas Yurchenko.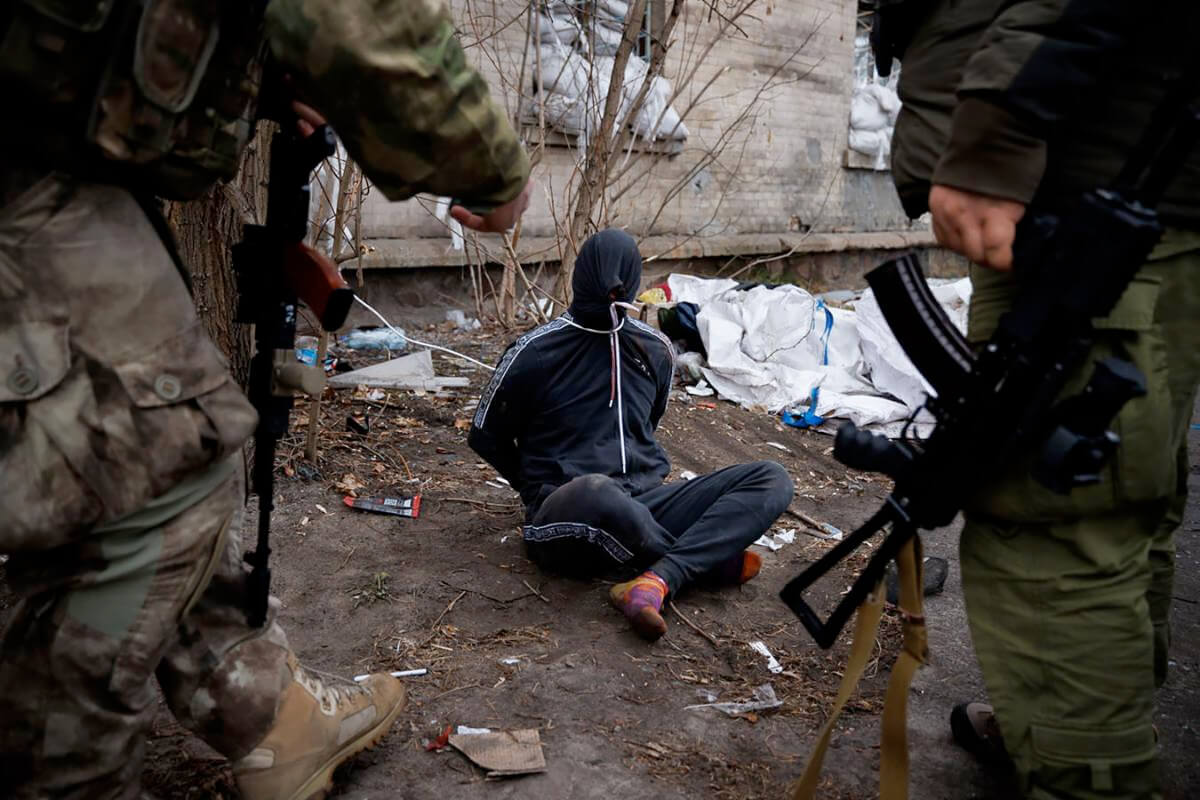 Irpin, March 30, 2022. Soldiers from Special Commando Unit 112 with a Russian spy. The spy,who was allegedly in possessionof a fake Israeli passport was living in Irpin months before the Russian invasion. Under interrogation he confessed his name is Alexei, from Saint Petersburg, married with a child, and working for the Wagner Group.© Ziv Koren