The Vienna-based
SUPERSENSE
, a manufactory for analog sensations, is now making 20x24 Polaroid photography available to a worldwide audience. So far, access to this legendary form of large format instant photography has been place-bound to accomplished experts such as at the 20x24 Studio in NYC, the 20x24 Studio West in San Francisco or Jan Hnizdo in Prague.
At the click of a mouse everybody can now expose personal, digital images with the legendary 20x24 camera. Customers simply send their digital photographs to SUPERSENSE, where one of the seven worldwide available 20x24 camera giants is located. Through a hand-build tool invented by Henny Waanders, a former Polaroid camera developer, the SUPERSENSE 20x24 experts expose digital images from an iPad Mini's retina display through the 20x24 camera onto 20x24 film. Not being a digital print-service but a unique analog exposure-service on instant film, the results depend on a highly complex chemical reaction, being neither predictable nor reproducible.
As the only place on earth SUPERSENSE transforms digital images into real high quality 20x24 instant photographs. Upon appointment, customers can even watch the transformation of their digital photos via the SUPERSENSE livestream. A 20x24 Online Exposure costs EUR 250,-. A smaller large film format of 8x10 is also being offered as an Online Exposure and costs EUR 30,-. 20x24 photos are shipped from Vienna in an art edition roll, 8x10 photos in a handmade 8x10 folder.
ABOUT SUPERSENSE
SUPERSENSE is a warm and sparkling home for everything analog and a cabinet of wonder. Aiming to touch, confuse and inspire its visitors, this unique place offers a marketplace for carefully picked products and inventions from the best hand crafters, researchers and visionaries from all over the world. It's a bar, a vinyl recording studio, an analog photo studio, a letterpress printery and a comibination of finest analog things.
The lush interior arises from the Venetian Palazzo that houses SUPERSENSE. This unique historic landmark was built in 1898 by Maximilian Haas with the help of architect Carl Caufal. With the caring guidance from Yvonne and Robin (Voldaan Design) SUPERSENSE carefully converted the fondly renovated (2006-2013), gold plated, ground floor into a magic cabinet of wonders which opened in 2013.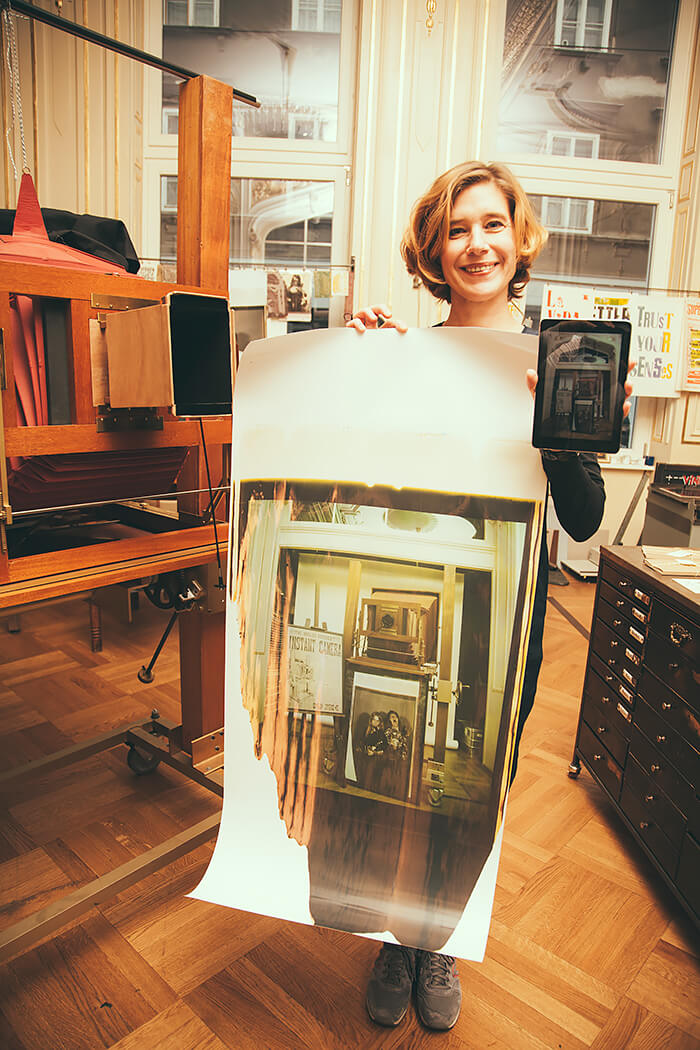 ABOUT FLORIAN KAPS
Florian Kaps got his senses hooked on "the real things in 2001 when he first dived into the magic of analog photography as leading manager of the Lomographic Society. Being attracted by the exercise of running into the opposite direction since his childhood, he reacted to the digital revolution by founding The Impossible Project in 2009, keeping Polaroid photography alive.
The opening of SUPERSENSE in 2014 with his partners Nina Ugrinovich and Andreas Eduard Hoeller made another one of Florian's dreams come true - a perfect analog delicatessen store, dedicated to analog things with an authentic story and passionate artisans behind. With lots of care and love Florian is now sourcing, selecting and presenting analog treasures that touch all senses.