Eric Bonjour has over 25 years of experience as an entrepreneur in France and the USA. His last company, American Center.com, Inc., was sold to private investors in 2016. Since then, Eric has been investing as a business angel in the Silicon Valley while building his personal art collection of contemporary art. After obtaining the Art, Law and Business master's degree at Christie's Education in 2020, he founded ART.co to fill the secondary market gap. We asked him a few questions about his new powerful tool for Art Collectors.
All About Photo: Can you present ART.co and tell us how you did come up with that idea?
We like to think that ART.co is the most accurate existing tool to help art collectors and art lovers manage their collections and make educated decisions when buying and selling art.
By Using ART.co, you are able to get a detailed price history and a market valuation of over 700,000 artists as well as past and current public prices of over 7 millions artworks.
As a collector, I have often found it difficult to fully trust the price tags set by art dealers while purchasing mid prices pieces through galleries and art fairs since I had no easily accessible source to get information about my favorite artists and double-check market value.
Such reliable websites already exist for home buyers, car buyers and others but not for art collectors. So we decided to create ART.co.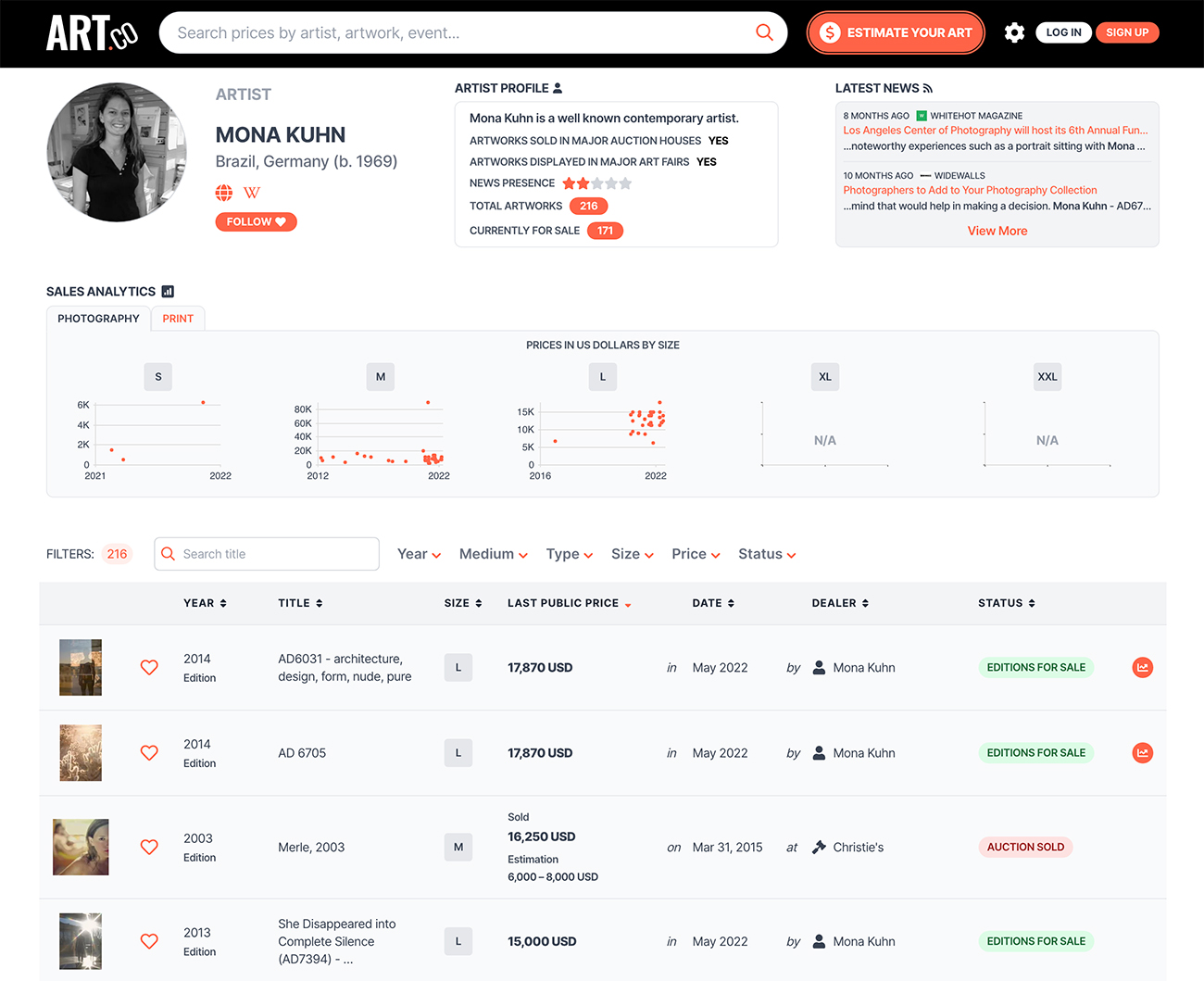 Could you explain why ART.co is different from the other websites dedicated to art, artists and collectors?
Apart from a few subscription-based auction results websites, such as Artnet, there are no service, app or platform offering a comprehensive recap of artwork prices, whether they have been offered by galleries, in art fairs or at public auctions.
ART.co allows you to look through artwork prices for a selected artist filtered by medium, sizing price range or creation date. ART.co also allows you to compare the current market value of pieces from your own collection to other similar works. You can personalize the outcome and follow specific artists' sale results in your personalized account. Let me add that ART.co is a free service, making it a powerful, user-friendly, and indispensable tool.
How can ART.co be a powerful tool for photographers and photo collectors?
ART.co is collecting and gathering prices for all artists and artworks alike. Photographers and photo collectors who want to estimate the current value of a photograph they own will be able to get a fair estimate of current market pricing.
Collectors and enthusiasts will also get all the listings of photographs of their favorite photographers currently offered for sale by art dealers or at art fairs and make educated decisions to grow their collections.
Anything else you would like to add?
The goal of the ART.co team is to bring transparency and fluidity to the art market as we believe that this lack of clarity prevents the art market from furthermore expanding its audience and reach. . We hope collectors and art lovers will embrace our mission and adopt ART.co as a true companion in their journey in the art world.