Country: United States | Born: 1902 - Died: 1984

American photographer and environmentalist known for his black and white photographs of the American West in Sierra Nevada and in Yosemite National Park.

Ansel Easton Adams was born in 1902 in an upper-class family. His family migrated from Ireland in the early 1700s. He was the only child of Charles and Olive Adams. His paternal grandfather founded a successful lumber business, which was later run by Ansel's father. His mother's family came from Baltimore. His maternal grandfather had a successful Freight-Hauling business, but squandered his wealth in numerous investment ventures. His nose was broken and scared during the San Francisco earthquake of 1906 as an aftershock threw him up against a wall. After the death of his grandfather the family business was hit by the bank crisis of 1907 and by 1912, his family's standard of living had been dearly impacted.

Ansel was a hyperactive child prone to sickness. After being expelled from several schools due to his restlessness, at age 12, his father decided to tutor him at home with the help of professors and Ansel's aunt.

He soon became interested in music and started learning the piano, but all changed when aged 14, his aunt gave him a copy of "In the Heart of the Sierras". The photographs by Georges Fiske were a revelation and Ansel persuaded his parents to visit Yosemite National Park during the following vacations. Equiped with a Kodak Box Brownie n°1, Ansel Adams first visited Yosemite National Park in 1916. Amazed by the site and the light, he returned to Yosemite National Park the following year with better cameras and a tripod. He will return regularly to Yosemite National Park where he will even meet his future wife, Virginia Best. At age 17, Adams joined the Sierra Club, a wildlife preservation group. He will remain a convinced environmentalist and a member of the Sierra Club his entire life. His work will promote the goals of the Sierra Club and bring environmental issues to light. In 1932, Adams founded the group f/64 with photographer friend Edward Weston, to promote their independent and modernist vision of photography. It is with Fred Archer that Adams will develop the Zone System (1939-40), a technique which allows photographers to define the proper exposure on negatives and adjust the contrasts on the prints. The depth and clarity of Ansel Adam's photographs illustrate this technique. Initially, despite their size and weight, Ansel Adams used large format cameras as they offered a high resolution and a sharp image.

The timeless photographs and the striking visual beauty clearly characterize Ansel Adams' photographs. In 1952, he was also one of the founders of Aperture magazine. He died in 1984 from a cardio Vascular disease. Shortly after his death in 1984, the Minarets Wilderness in the Inyo National Forest was renamed the Ansel Adams Wilderness. In 1985, a peak in Sierra Nevada, was named Mount Ansel Adams. He was survived by his wife, two children and 5 grand children.
Galleries:
Website: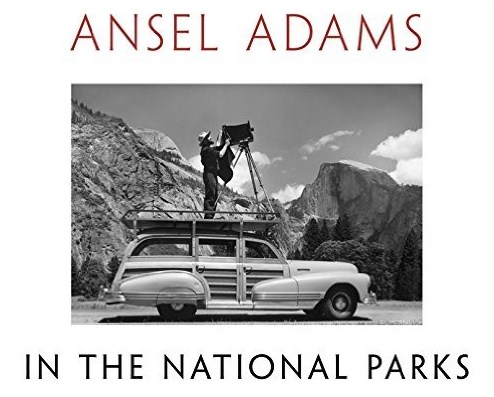 Author: Ansel Adams
Publisher: Little, Brown and Company
Year: 2010 - Pages: 344
With more than two hundred photographs - many rarely seen and some never before published - this is the most comprehensive collection of Ansel Adams' photographs of America's national parks and wilderness areas. For many people, Yosemite, Yellowstone, Glacier National Park, and other iconic American wildlands exist in the mind's eye as Ansel Adams photographs. The legendary photographer explored more than forty national parks in his lifetime, producing some of the most indelible images of the natural world ever made. One of the twentieth century's most ardent champions of the park and wilderness systems, Adams also helped preserve additional natural areas and protect existing ones through his photographs, essays, and letter-writing campaigns.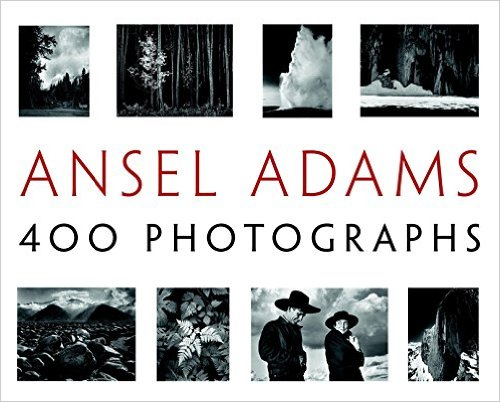 Author: Ansel Adams, Andrea G Stillman
Publisher: Little, Brown & Company
Year: 2007 - Pages: 440
Ansel Adams: 400 Photographs presents the full spectrum of Adams' work in a single volume for the first time, offering the largest available compilation from his legendary photographic career. The photographs are arranged chronologically into five major periods, from his first photographs made in Yosemite and the High Sierra in 1916 to his work in the National Parks in the 1940s up to his last important photographs from the 1960s. An introduction and brief essays on selected images provide information aboutAdams' life, document the evolution of his technique, and give voice to his artistic vision.