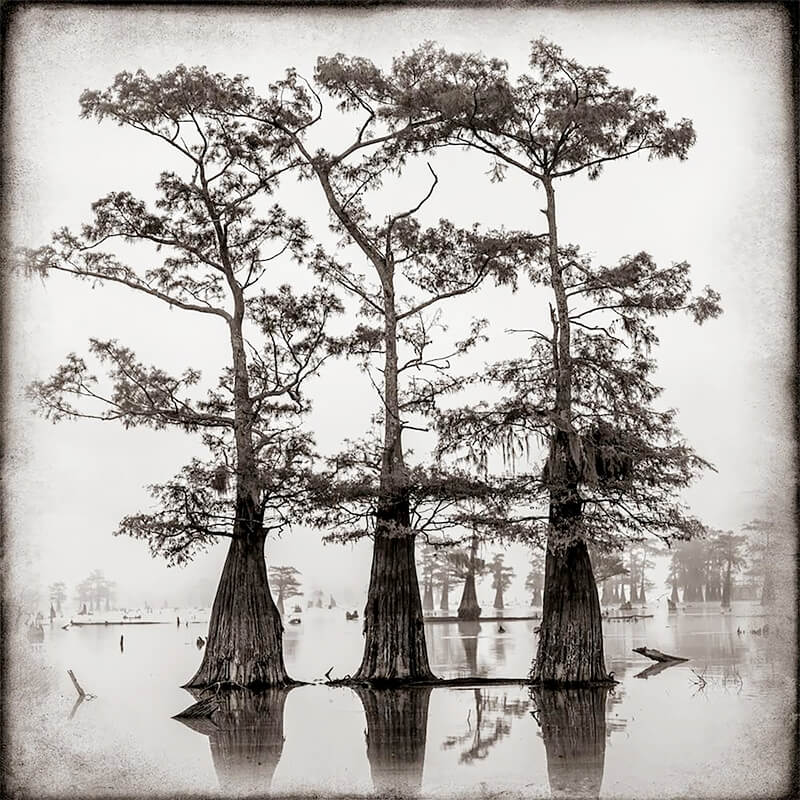 150 Manufacturing St., Ste 203
Dallas, TX 75207
PDNB Gallery is proud to announce two solo shows by gallery artists: Keith Carter & Earlie Hudnall, Jr. Keith Carter's show is in conjunction with the release of his new book, Ghostlight. Earlie Hudnall's show will be a small exhibition in celebration of his recent Lifetime Achievement award given by the Art League, Houston.

Keith Carter (b. 1948, Madison, Wisconsin) In Keith's companion book essay, Sunday Morning, he writes, "The Big Thicket has always been a place of swamp ghosts, spirits, legends, contrarians, peckerwoods, and outlaws: over one hundred thirteen thousand acres of dense tangled forests, angry water moccasins, and amber waterways-known the world over as a biological wonderland."

For those not familiar with this impressive National Preserve, let Keith introduce you. His document approaches the mystical wetlands, a terrain that he visits often, with heightened senses. As an artist, Keith immerses himself in the environment and becomes close to his subjects: the trees, birds, vegetation and yes, the spirit of this magical, ecological treasure called the Big Thicket.

Ghostlight is one of many books published featuring Keith's photographic journeys. It all started in 1988 with, From Uncertain to Blue, a document he and his wife, Patricia, created, traveling to small towns in Texas with odd names. Some of Keith's most successful books, The Blue Man, Mojo, and Bones, informed us of the culture of Southeast Texas, where he has lived most of his life. He has broadened his sphere, photographing around the world, but he has come back to his homeland and dedicated this series, Ghostlight, to loved ones that have passed.

Keith has been creating inspiring imagery for over fifty years. His photographs can be found in many major museum collections including the Amon Carter Museum, the Dallas Museum of Art, J. Paul Getty Museum, the Museum of Fine Arts Houston, George Eastman House, the Art Institute of Chicago, and the Smithsonian American Art Museum. Special collections include Elton John, Michelle & Barack Obama, Diane Keaton, and Horton Foote, who wrote a forward in Keith's first book.

*There will be a Book Signing scheduled later, upon the release of Ghostlight. Published by the University of Texas Press.