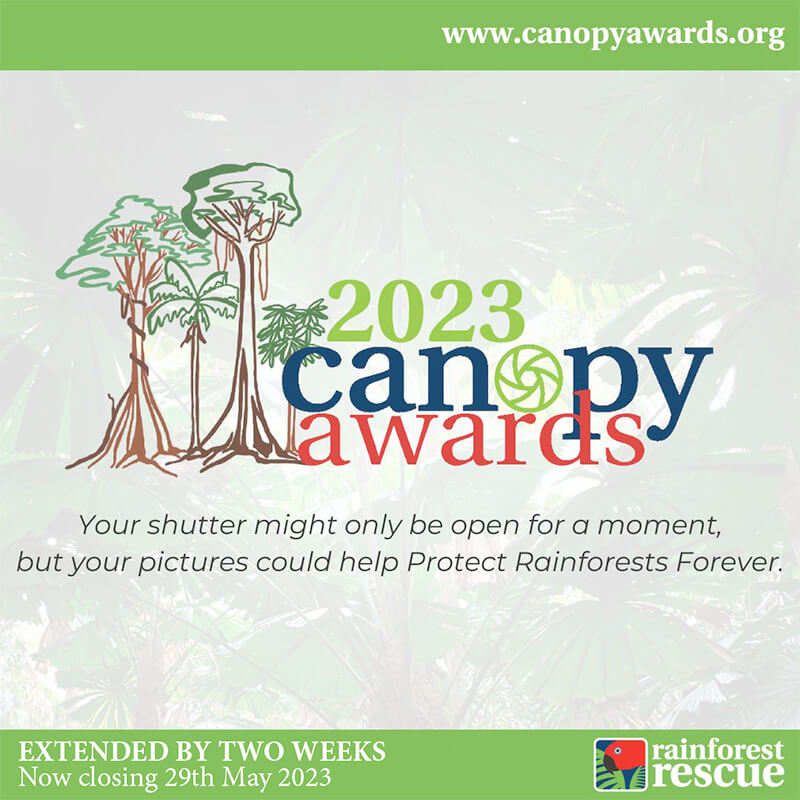 Entry Fees:
$25 AUD per image
We are excited to inform you that the Rainforest Rescue Canopy Awards photo competition has been extended by two weeks. This means that you now have more time to submit your entries and showcase your unique creative perspectives of our rainforests.

With each entry received, you're contributing to the protection of 1 square meter of rainforest forever. Not only that, but there are fantastic prizes to be won.

Enter up to six images in any of the three categories below.
Habitats: Landscapes and scenes captured within or of the Rainforest.
Characters: Wildlife captured within or on the margins of the Rainforest.
Hidden Gems: Plants, details, and abstractions captured within or of the Rainforest.

Grand Prize is valued at AUD$2,500 and includes:
Five days of luxurious accommodation in the heart of the breathtaking Daintree Rainforest at Daintree Secrets.
An unforgettable experience exploring the Mossman Gorge, guided by the knowledgeable and friendly team at Mossman Gorge Cultural Centre.
A one-hour eco-cruise along the Daintree River, where you'll marvel at the stunning wildlife and beautiful scenery while on board the eco-friendly Solar Whisper.

Category Prize valued at AUD $495, and includes a voucher from F-Stop for $375 for purchasing high quality camera bags and accessories, as well as a stylish and durable Will & Bear hat valued at AUD$120.

Best of the Wet Tropics special prize – The winning photograph is chosen from a pool of entries shot in Queensland's Wet Tropics World Heritage Area. The winner will receive a voucher from F-stop worth $375, which can be used to purchase high-quality camera bags and accessories. Additionally, they will receive a stylish and durable Will & Bear hat valued at $120, perfect for exploring the great outdoors.

People's Choice Award is determined by the most popular photo as selected by public opinion. The lucky winner will receive a fantastic prize package from our sponsors, including a sleek and stylish set of sunglasses worth $150 from The Sunglass Fix, a cozy and beautifully designed rug worth $150 from Wandering Folk In addition to other exciting prizes, the winner will also receive a beautiful print valued at $100 from "The Scenic Route" collection, designed by the talented Australian artist, Victoria McGrane. Each piece is infused with intricate and nostalgic designs that are intentionally imperfect, making them truly unique and charming.