'Turning Points' Magnum's Square Print Sale, in collaboration with The Everyday Projects, runs from Monday, April 6, 9AM EST to Sunday, 12 April, 6PM EST, 2020. Signed or estate- stamped, museum-quality, 6x6 prints from over 100 visual artists will exceptionally be available for $100, for 7 days only, from
magnumphotos.com/shop
.
Please note that, during the period of the Square Print Sale, Magnum photographers will be donating 50% of their profits from this Square Print Sale to MSF's (Médecins Sans Frontières) COVID-19 emergency response.
Médecins Sans Frontières
(MSF) is an international, independent, medical humanitarian organisation that delivers emergency aid to people affected by conflict, epidemics, natural disasters and exclusion from healthcare. There will be a link for more information on Magnum shop.
Over 100 signed or estate-stamped, museum-quality 6x6 prints by Magnum and The Everyday Projects' photographers for $100. Available for one week only.
Turning Points, the April 2020 Square Print Sale in collaboration with The Everyday Projects, brings together a selection of over 100 images by international visual artists. The participating photographers look over their personal archives in search of images relating to, or capturing events that changed the course of history, society, a life, or a practice.
This sale represents the first collaboration between Magnum Photos – the world's longest running photographic and artistic co-operative – and The Everyday Projects, a global network that began as Everyday Africa in 2012. Everyday Africa set out to challenge the media driven stereotypes that affect the continent by featuring images of everyday life made by a community of contributing photographers that live or work extensively on the continent. The viral success of this first iteration of the project led to an expanding international movement with like-minded storytellers worldwide creating their own @Everyday feeds on Instagram, using photography to combat cliché, promote local norms, and celebrate global commonalities.
On the sale's theme the co-founders of The Everyday Projects, Austin Merrill and Peter DiCampo explained, ''Turning Points is the ideal theme for our first collaboration with Magnum Photos. The Everyday Projects was born of a desire to use photography to encourage people to change the way they think about the world. The Square Print Sale is an opportunity for our photographers to showcase that effort, bringing stories they care about to a new and wide audience.''
Turning points can occur on a scale that spans at extremes; the global or national, and the most personal of moments. Photographers by their trade and disposition are often well placed to record events that shape the course of history, yet the nature of artistic practice means that changes within their own craft and outlook are also reflected in the images they make.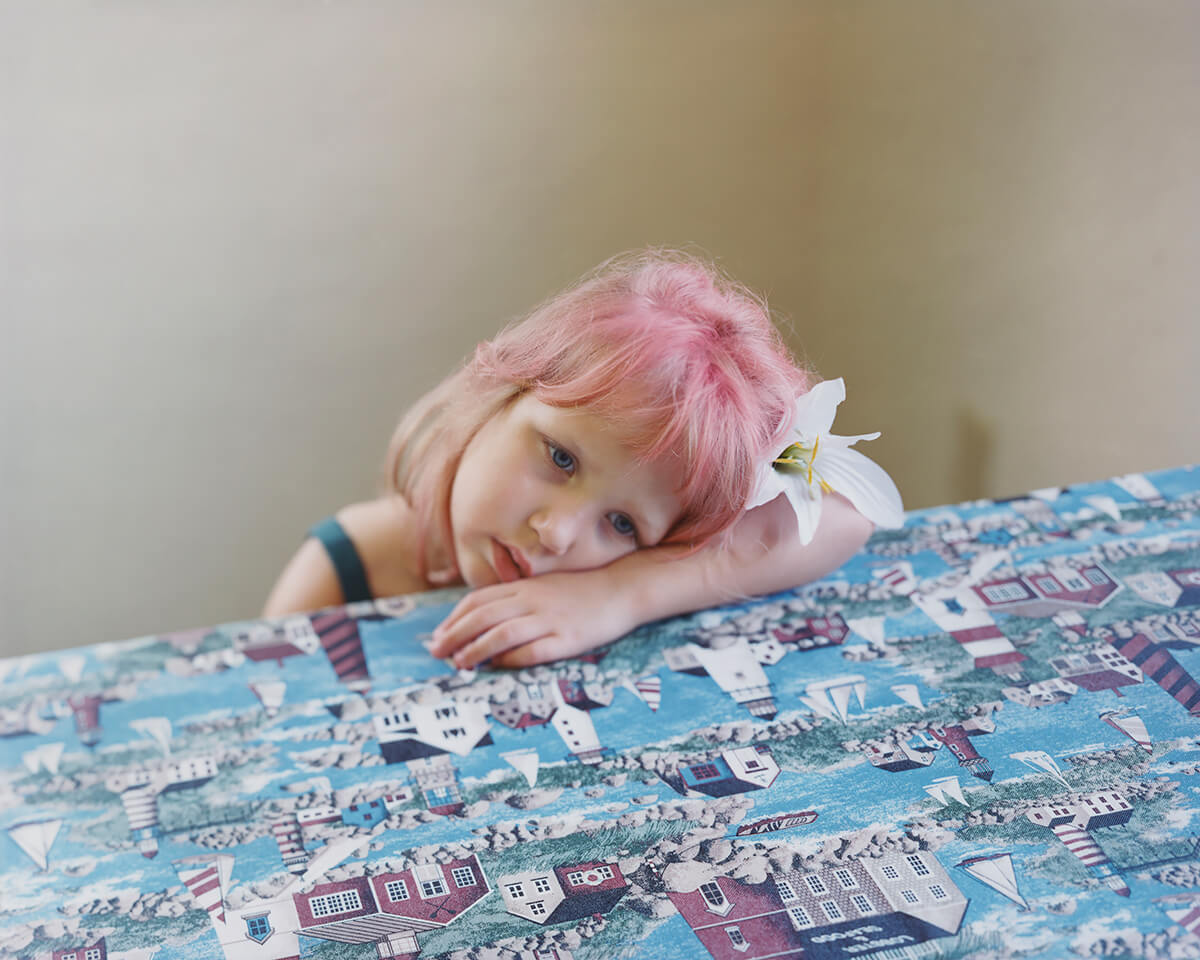 © Alec Soth / Magnum Photos
In 2004 I shot one of my first traveling editorial assignments in Tallahassee, Florida. I photographed a second-rate celebrity for an equally unimpressive magazine. My photographs were terrible. After the shoot I went to a local diner to drown my sorrows in fried chicken. When I walked in the door I saw a beautiful young girl falling asleep at her table. This was the moment I learned that the ability to choose my own subject was essential to my creative success. The picture I made that day became one of my all-time favorites." -Alec Soth
Alec Soth's submission marks an epiphany of sorts, the moment he learned ''that the ability to choose my own subject was essential to my creative success. ''Danny Lyon's chosen photograph was part of his seminal project, The Bikeriders. Lyon recalls the life-changing response to the work from Hugh Edwards, then the curator at the Art Institute of Chicago, Magnum Photos Square Print Sale, in collaboration with The Everyday Projects – Turning Points who suggested the images should be produced as a book alongside texts by the likes of William Burroughs. Cristina de Middel's collaboration with Senegalese designer Selly Raby Kane opened a new chapter in her project on the universality of humankind. For others, these pivotal moments come later in life – as is the case with Herbert List's image, taken late in his career on his first ever roll of 35mm film, revitalizing his love for street-photography.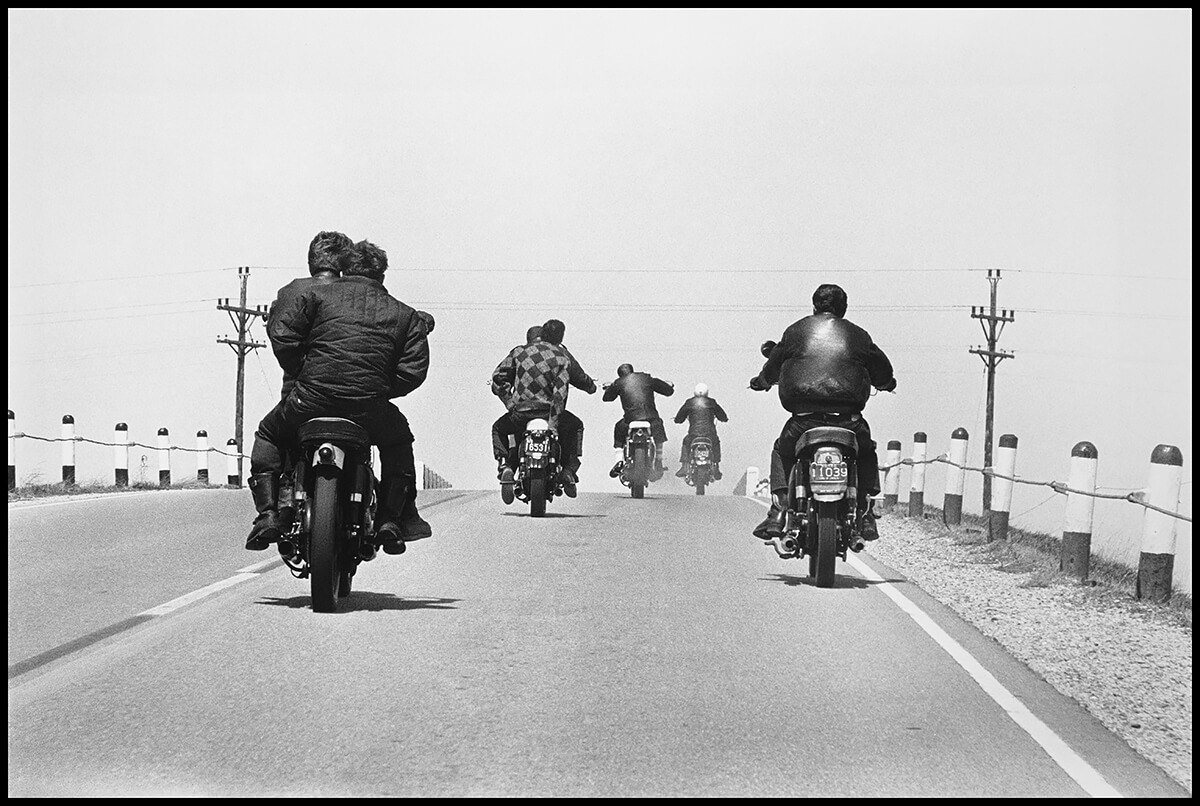 Route 12, Wisconsin, 1963 © Danny Lyon/ Magnum Photos
Skip Richheimer and I, both bikeriders, both photographers, were heading out of town to the scrambles at Elkhorn Wisconsin, Skip driving a VW Beetle. Five bikeriders approached us from behind, I'm sure heading to the races at Elkhorn as they passed around the car, like a swarm of bees. The bikers reached an overpass, lifting them up off the ground as they rose up before us. One of the bikers leaning to the side to speed past another. The great body language of motorcycles. That spring I showed the pictures I made at Elkhorn to Hugh Edwards, then curator at the Art Institute of Chicago. On May 8, 1963, he sent me a letter. "How I wish I had some influence in the world so that there might be a book of them, with a glorifying text by someone like William Burroughs, James Jones or John Dos Passos, the reproductions done by a great firm like Conzett and Huber in Zurich or Pizzi in Milan." Three of the greatest living writers and the two greatest reproduction houses in the world. I was twenty-one. The letter changed my life forever. -Danny Lyon
Sometimes images that capture seeming pivotal events change or develop over time. Newsha Tavakolian's photograph of Iran's shrinking Lake Urmia seemed, at the time of making, an image of a doomed landmark soon to vanish, yet rains over the last year have given the body of water renewed life. Moises Saman's image, taken in Afghanistan in 2010, represents to him ''a turning point in understanding the inability of America's war effort to bring peace and stability'' to the nation. Wissam Nassar's work focuses upon finding and capturing moments of reprieve in the precarious, see-sawing lives of fellow residents Gaza, where the effects of conflict can irrevocably change whole families' lives and situations without warning.
Bedminster, Bristol, England, GB. 1995. © Martin Parr/ Magnum Photos
Technical developments or hands-on experiments also offer fresh avenues for image-making, as was the case for Martin Parr's making use of ring flash combined with a macro lens in the mid 90s, and Elliott Landy when he decided to photograph Bob Dylan using infrared film. Taken in 2015, Malin Fezehai's chosen image, of an Eritrean wedding, was the first iPhone photograph to ever receive a World Press Photo Award, making the photographer realize that, you can make do with what you have, and it's what you are seeing in front of you that matters.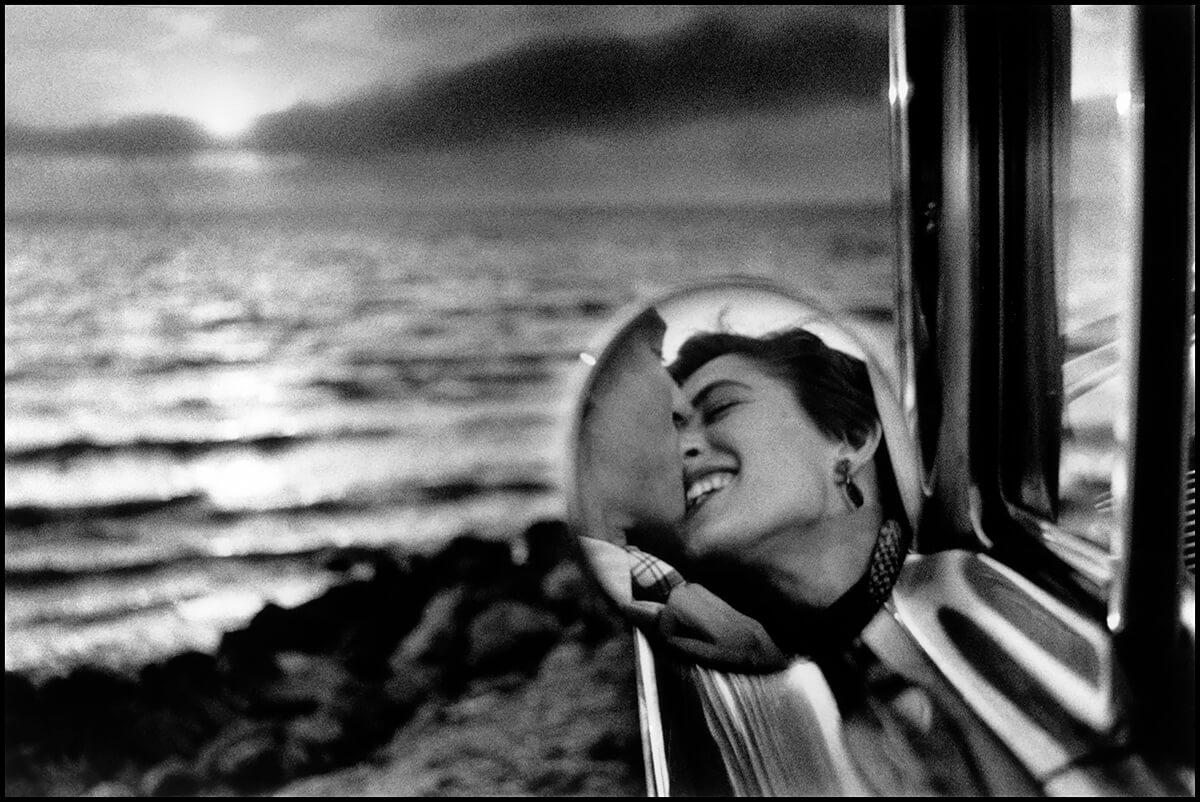 California, USA. 1956. © Elliot Erwitt / Magnum Photos
"In life's saddest winter moments, when you've been under a cloud for weeks, suddenly a glimpse of something wonderful can change the whole complexion of things, your entire feeling."-Elliot Erwitt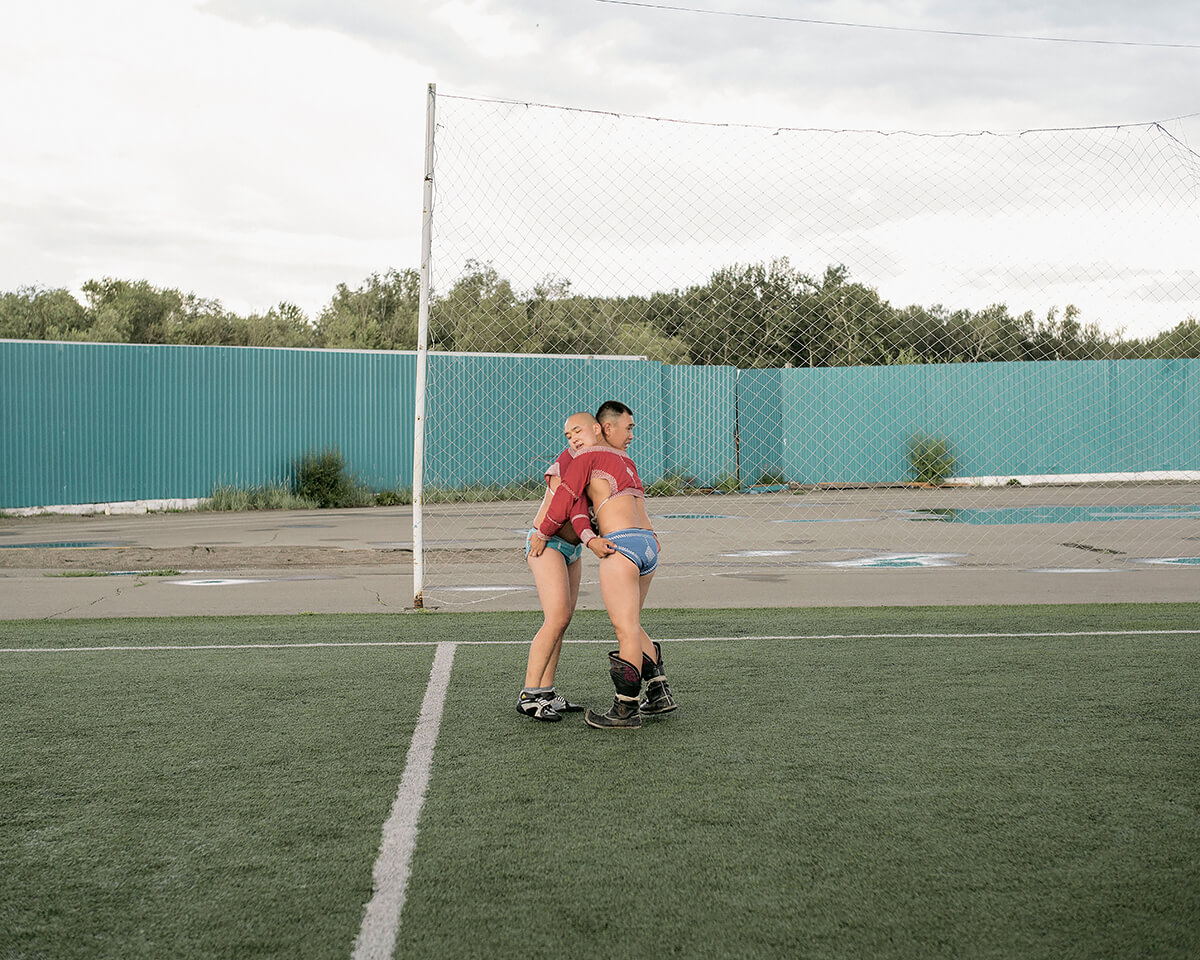 Yenisei River. Kyzyl, Russia. 2018 © Nanna Heitmann/ Magnum Photos
"For less than a second two athletes stand close to one another. Their eyes are closed, their heads lean on each other's shoulders, as if they are embracing each other peacefully. I tried to capture this scene in the moment before the fight with all its tearing and throwing each other back and forth started. This photograph shows two figures training in khuresh, a type of wrestling and the national sport of the Tuva Republic, a partially recognized state in southern Siberia. The people of Tuva create sagas and legends about their favorite athletes, ascribing supernatural qualities to them.- Nanna Heitmann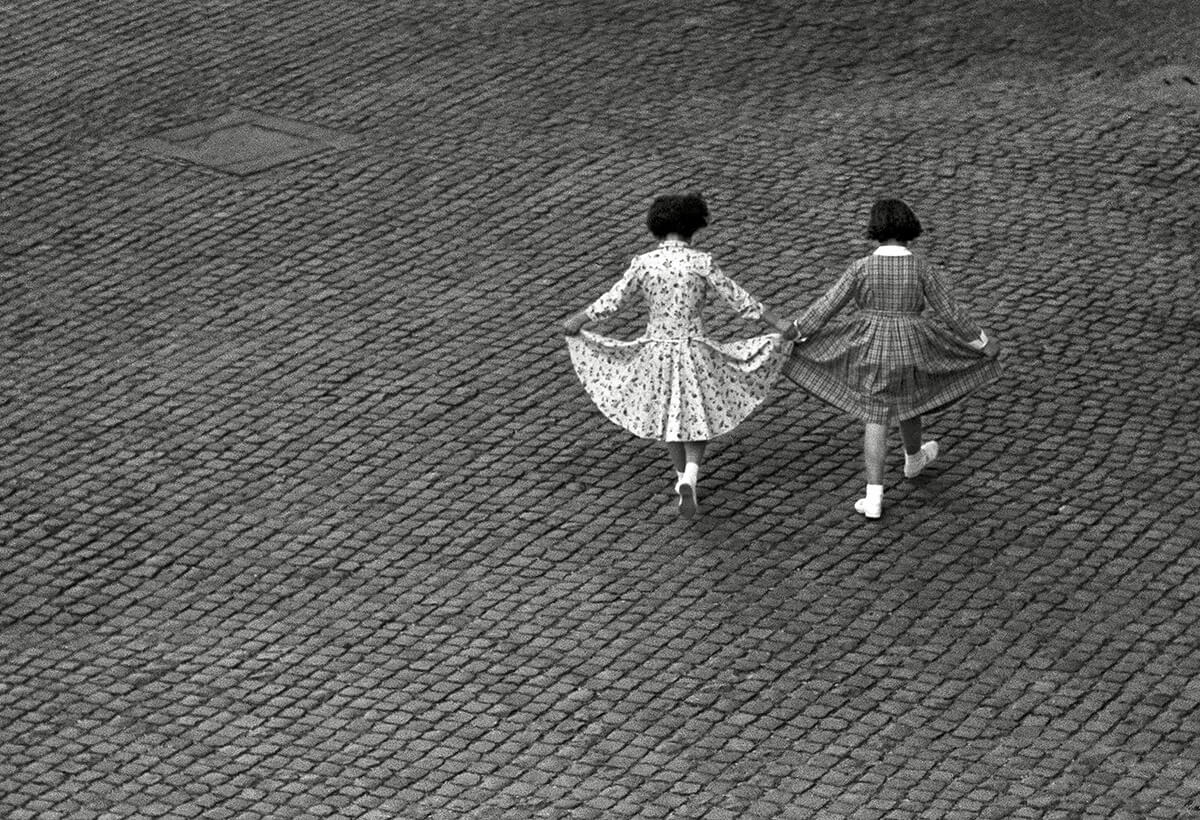 View From a Window: Dance of the Dresses. Trastevere, Rome.1953. © Herbert List / Magnum Photos
"Herbert List injured his foot in 1953 while visiting friend and fellow photographer Max Scheler in Rome. He could not leave the apartment for some time, so Scheler left him his Leica with telephoto lens to play around with, while he himself was away on an assignment. It was equipment which List had not used previously. The series View From a Window, including the image Dance of the Dresses, was born of the first two rolls of 35mm film List shot in his life. This encounter with 35mm was a turning point toward a more spontaneous style, and revitalised List's love for street-photography late in his career."- Peer-Olaf Richter, Herbert List Estate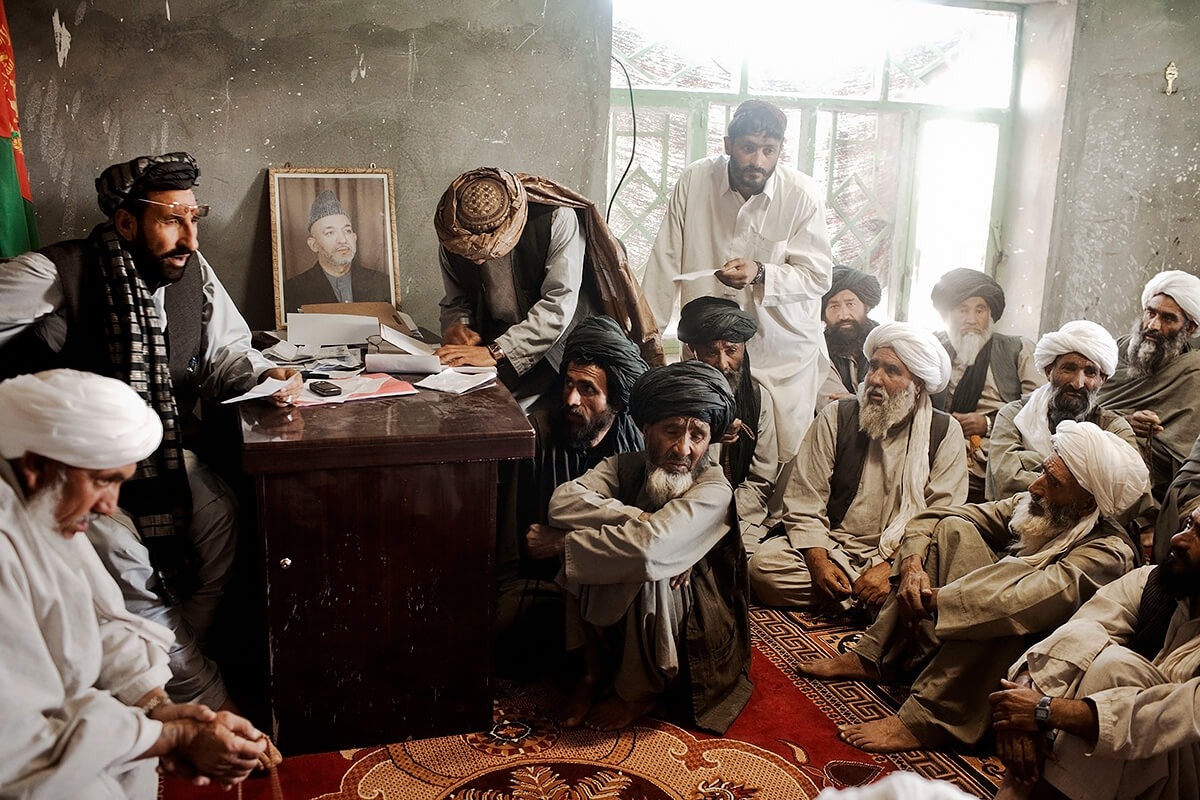 © Moises Saman / Magnum Photos
Marja's newly appointed district chief Hagi Zahir (far top left) meets with local elders in Marja's district center, days after US Marines fought an intense battle against the Taliban who had been in control of the area for years. Marja, Helmand Province, Afghanistan. March 2010 . 'This is one of the last photographs that I took in Afghanistan after spending ten years covering what is now America's longest war. In this photograph, a new American-installed district chief was meeting with local elders for the first time after the Marines had taken the area from the Taliban. Another ten years of war have passed since then, but to me, this moment from 2010 represents a turning point in understanding the inability of America's war effort to bring peace and stability to Afghanistan.' - Moises Saman