I communicate with the world by creating visual narratives of composited photographs, often illuminating that in-between moment in time. It is how I explore dreams deferred, connections to prior generations, the natural world and our place within it. Making art is my psychological release, my obsession and my salvation.
- Fran Forman
By integrating her contemporary photography with historical periods and settings from around the world,
Fran Forman
's photo-paintings conjure up a world of illusion drawn from the artist's formidable bag of tricks -- her massive photographic archive from which she pulls groupings of images to create new, multi-layered narratives. Upon closer inspection, what at first appears ordinary suggests an underlying tension and an aura of mystery. Expressed in the diffused colors of twilight and chiaroscuro, Forman's images blur the boundaries between photography, late Renaissance painting, and film noir.
In The Rest Between Two Notes (Unicorn Publishing, March 31, 2020), Fran Forman explores those liminal and in-between moments -- of coming and leaving, innocence and experience, shadow and light, night and day, absence and connection, loss and longing, and not quite the past and not yet the future. Portals, both real and metaphorical, frequent her layered, complex and dreamlike images often populated by women and girls and the occasional male figure and animal.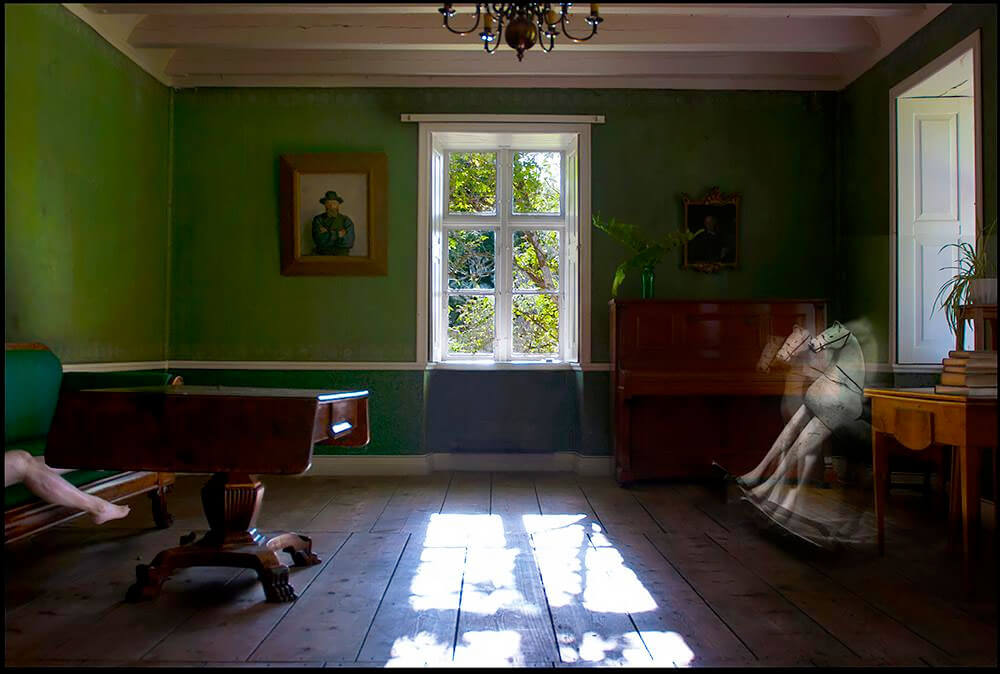 Rocking Horse © Fran Forman
Forman finds inspiration in Caravaggio's light intensive portraits, Edward Hopper's use of light and shadow, the surrealism of Duane Michaels, the constructed tableaux of Gregory Crewdson, and cinematographers who employ light and shadow to increase tension, such as Michael Haneke, Errol Morris, and Dario Argento. Brandishing her stylus like a paint brush, she draws, paints and manipulates fragments and shards of photographs, trying to make images that are beautiful, mysterious, and revealing of secrets. It is her hope that her work will spark a conversation with the viewer who can come to their own conclusion about how a story ends.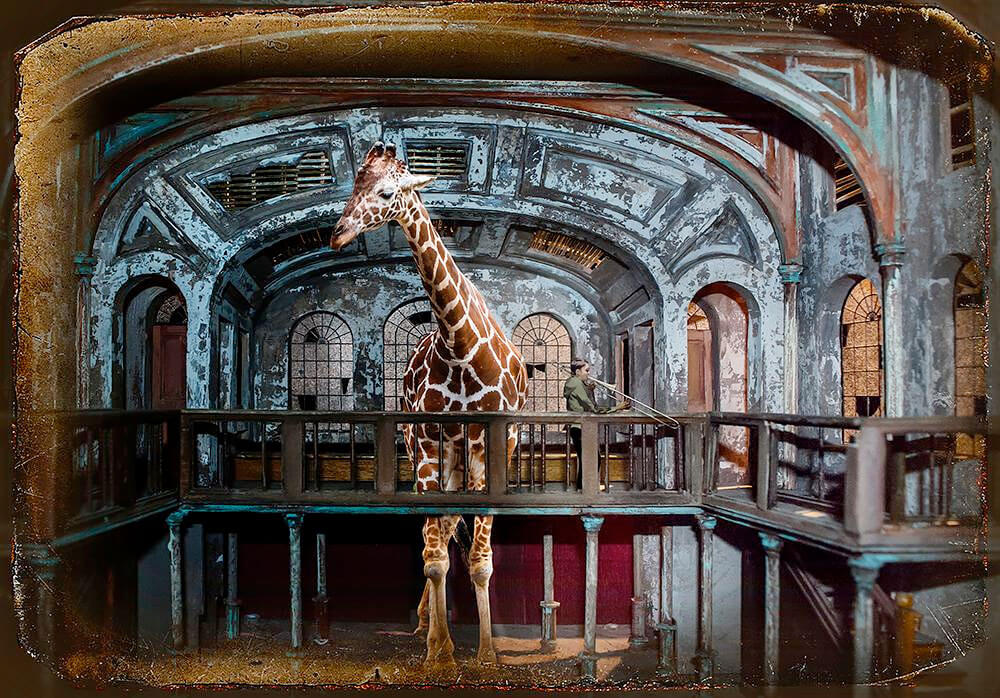 Requiem for the Giraffe © Fran Forman
In her introduction to the book, Paula Tognarelli writes: Through metaphor, references to art and social history, classical mythology, as well as her empathic heart, Fran articulates themes of freedom, migration, and the concept of hope. Her characters are transported from one dimension to another, whether it be in time, place, or circumstance. Some characters are culled from the animal kingdom, the pages of literature, and even the museum wall. The bird cage, for example, shows itself in many of Forman's images as if she is in conversation with her muse, René Magritte.
Forman's work is recognized for imbuing harmonious compositions and for her artful use of color, light, and shadow. Here images elicit emotions of desire, vulnerability, and a desperate longing for connections. Included with many of the images are texts submitted by thirty-three writers, poets, visual artists and others. Each person brings a specific frame of reference to an image, all reflecting who they are as individuals, and their words appear adjacent to their selected image.
Door to the Sea © Fran Forman
About Fran Forman
Fran Forman
's photo-paintings are in the permanent collections of The Boston Museum of Fine Arts, The Smithsonian National Air and Space Museum (NASM, Washington, DC), the Museum of Fine Arts, Houston, The Grace Museum, Abilene, The Sunnhordland Museum, Norway, the Conner Collection at The University of Texas, and the North Down Museum, Northern Ireland. Escape Artist: The Art of Fran Forman, was published by Schiffer Books in 2014 and has won several prizes including a Best Photo-Book by Elizabeth Avedon. Fran has mounted many solo exhibitions, including at The Fox Talbot Museum, Lacock Abbey, England, The Massachusetts State House, The Griffin Museum of Photography, AfterImage Gallery (Dallas), the University of North Dakota, Galeria Photo/Graphica (Mexico), and the Pucker Gallery (Boston), as well as numerous group shows. Born in Baltimore, Maryland, Fran studied art and sociology as an undergraduate at Brandeis University and then received an MSW, working for several years with heroin addicts. She earned an MFA from Boston University in graphic design, but spent most of her grad school years experimenting in the darkroom. She is represented by Pucker Gallery (Boston), Afterimage Gallery (Dallas), Susan Spiritus Gallery (Newport Beach, CA), and Galeria Photo/Graphica (San Miguel de Allende, Mexico).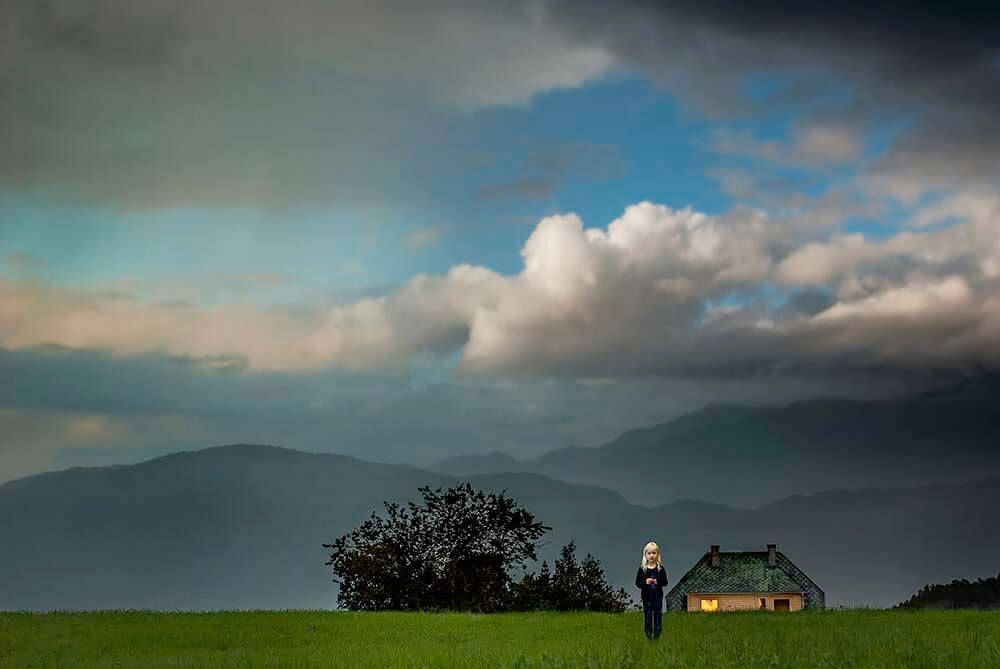 After the Rains © Fran Forman
About the Contributor
Paula Tognarelli is the Executive Director and Curator of the internationally renowned Griffin Museum of Photography. She has juried and curated exhibitions internationally, is a regular participant in national and local portfolio reviews, has been a panelist and featured speaker at photography events and conferences worldwide. She is a past member of the Xerox Technical Advisory Board. She is on the advisory committee for the New England School of Photography and the Arnold Newman Portrait Prize facilitated by Maine Media Workshops.