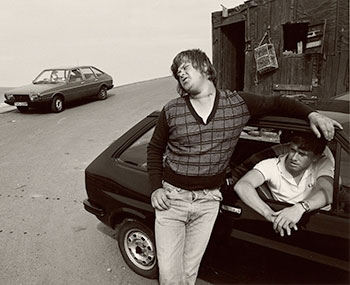 The J. Paul Getty Museum announced today the acquisition of 49 photographs by documentary photographer Chris Killip (British, born 1946). Combined with one photograph already in the collection, the Museum now owns the complete set of 50 images found in Killip's landmark book In Flagrante (Secker & Warburg, 1988). This gives the Getty the most significant group of vintage Killip prints in an American institution. The acquisition was made possible through the collective assistance of the Getty Museum Photographs Council, along with individual contributions from several members that allowed the Museum to purchase the complete body of Killip's work.

Made between 1973 and 1985, Killip's photographs document the social landscape of Northern England during the economic downturn that plagued the region. The images primarily feature working-class people and areas affected by the deindustrialization of Britain, and subjects range from derelict landscapes and council estates to parades and benefit concerts organized around the miners' strikes of 1984. The scenes evoke the social tensions and economic upheaval of the period in British history known as the Thatcher era, named after Margaret Thatcher, Prime Minister of the United Kingdom from 1979-1990. The photographs were compiled and reproduced in In Flagrante, considered by the artist to be a distinct and highly personal project.

Chris Killip's work offers an intimate and highly personal portrayal of the social impact of England's industrial decline in the politically fraught years of Thatcher's fight against the unions, says Timothy Potts, director of the J. Paul Getty Museum. This acquisition greatly expands our holdings of Killip's most important work, as well as strengthening the Department's collection of postwar documentary photographs from the 1970s and 1980s. Our holdings of Killip will now have an important place beside those of Bill Brandt, Josef Koudelka, Martin Parr, and Graham Smith.

Killip is considered one of the most influential documentary photographers of the postwar generation. Born and raised on the Isle of Man, he has made a career of documenting the people of Great Britain and the environments in which they live. As a result of his intensive approach, which frequently involves his immersion in the communities he photographs, Killip often forms strong relationships with his subjects and achieves an unparalleled intimacy in his work.

Killip's work has been exhibited internationally, and in 2012 the Museum Folkwang in Essen organized a retrospective which traveled to Le Bal in Paris and the Reina Sofia in Madrid. Publications released during the last fifteen years include Pirelli Work (2006), Here Comes Everybody (2009), Seacoal (2011), and arbeit/work (2012).