A dramatic image of African elephants and baboons could bring $70,000 or more when it crosses the block in Heritage Auctions' Photographs Auction Oct. 4 in New York.
Peter Beard Untitled (Elephants and Baboons under Kilimanjaro), 1984 (estimate: $30,000-50,000) is a spectacular and massive (80 inches wide by 29 inches high) black and white image by the American photographer whose photographs of Africa and African animals have been widely exhibited and admired for more than half a century. While working at Tsavo National Park in Kenya after he graduated from Yale University, Beard photographed and documented the demise of 35,000 elephants and other wildlife, which became the inspiration for and subject of his first book, The End of the Game. He became so invested in the journey of African wildlife that he ended up acquiring property in Southern Kenya. Beard's works have appeared in exhibits at prestigious venues like the International Center of Photography in New York and the Centre National de la Photographie in Paris, and in galleries and private collections around the world. The image is signed in ink mount verso.

This is an extraordinary image by a man who really immersed himself and dedicated his life to studying these beautiful animals, Heritage Auctions Rare Photographs Director Nigel Russell said. It is a stunning image that can be a centerpiece in any collection.
Lillian Bassman Across the Restaurant at Le Grand Vefour, Barbara Mullen, Harper's Bazaar, Paris, 1949 (estimate: $25,000-35,000) is a striking image which measures 33-3/4 by 29-1/4 inches, from the former fashion photographer. The daughter of immigrants from Ukraine (then Russia), Bassman studied under legendary Russian photographer
Alexey Brodovitch
, at which point she started shooting many of her images, including the one offered here, in black and white.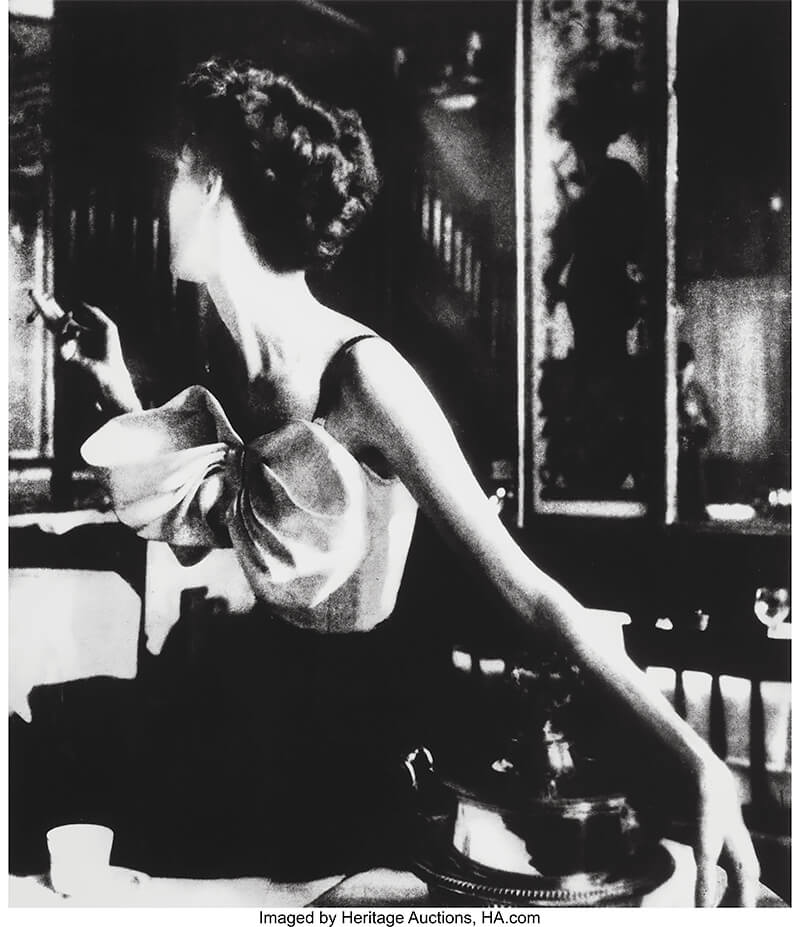 From one of the most celebrated landscape photographers of all time comes Ansel Adams Moonrise, Hernandez, New Mexico, 1941 ($20,000-30,000) a black-and-white image shot late in the afternoon Nov. 1, 1941, from the shoulder of Highway 84/US285 in Hernandez, New Mexico. The photo shows the moon rising in a dark sky over a collection of small homes, a church and a graveyard, with snow-covered mountains in the background. Of particular note is the way in which Adams captured the dark sky over a late moment of sunlight spotlighting the crosses in the graveyard and the buildings. The image is signed in pencil mount recto, and is titled in ink in the photographer's stamp mount verso.
Thomas Ruff Substrate (suite of 4), 2001 ($20,000-30,000) includes a quartet of digital pigment prints – titled Substrat 1 III, Substrat 2 I, Substrat 2 II and Substrat 6 II – each of which is signed and editioned '4/45' in ink in the photographer's label adhered mount verso. The German photographer has been described as a master of edited and reimagined images.
Albert Watson Jack Nicholson, New York City, 1998 ($20,000-30,000) is a mash-up of 16 images of the Hollywood star blowing smoke rings. One of just 10 made, the digital pigment print, which measures 13-5/8 inches high by 38-3/4 inches wide, is signed, titled, dated and editioned '6/10' in ink mount verso.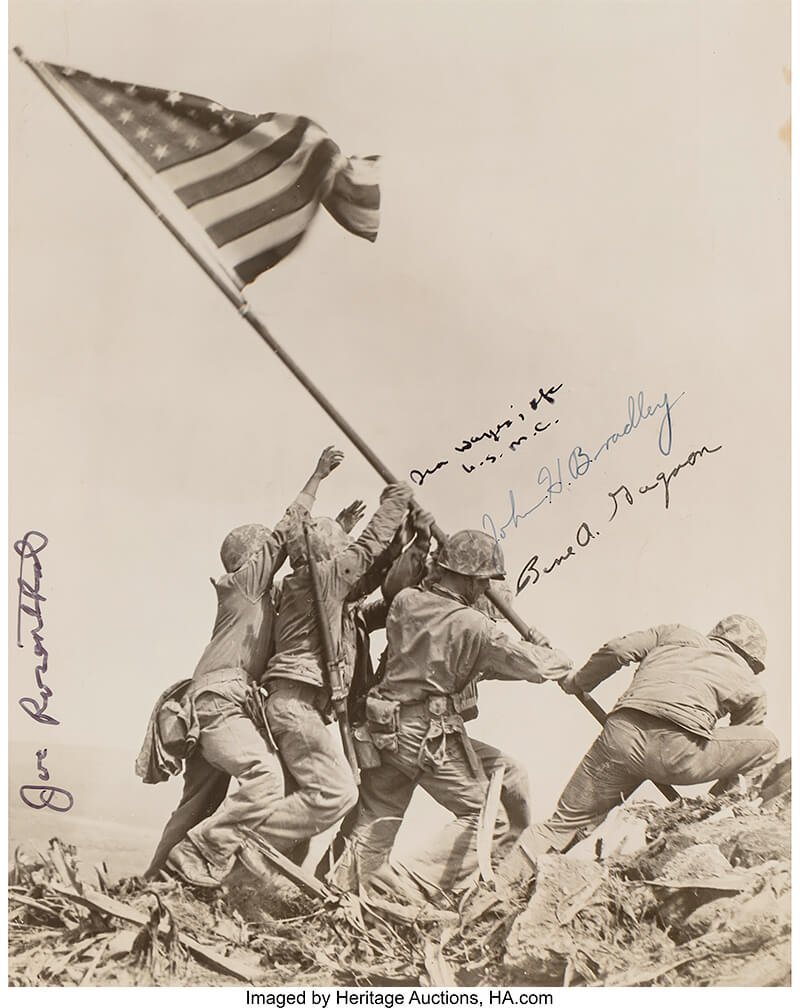 Joe Rosenthal Raising the Flag on Mt. Surbachi, Iwo Jima, 1945 ($15,000-25,000) is a print of the Pulitzer Prize-winning photo of one of the most well-known images in American military history. The basis for the United States Marine Corps War Memorial (Iwo Jima Memorial) in Arlington, Virginia, just across the Potomac River from Washington, D.C., it is believed to be one of the originals from the first printing when Rosenthal sent his film back to the naval ship lying off Iwo Jima in 1944. It was acquired by Felix de Weldon, the sculptor who was commissioned to create the Iwo Jima Memorial near the end of World War II. de Weldon had the three survivors of the battle, John Bradley, Rene Gagnon and Ira Hayes, come to Washington to pose for him, so he could sketch their faces for the statue. While in D.C., they all signed his print, despite the fact that they didn't get along with each other. It also is signed by Rosenthal, the photographer.
The auction also includes a dozen lots from an extremely rare reprinting of Edward Sheriff Curtis's The North American Indian portfolios, a project Curtis started with the hope of completing 500 sets, each featuring 723 large-format photogravures in 20 portfolios and 20 text volumes. From 1900 until 1930, the project wore on Curtis, costing him his business, his family and finally his health. About 300 sets ultimately were printed, with only about 272 finished and sold. After he went bankrupt, the remaining photogravures and copper plates were sold in 1935 to Boston rare book dealer Charles Lauriat. Emiliano Sorini was approached in 1966 was approached about printing the first 12 portfolios from the original plates in Lauriat's possession to complete the sets. This printing of the sets was done on a paper with a woven texture, earning the Tweedweave moniker among collectors. Some of the top Tweedweave portfolios in the sale include, but are not limited to:
- Edward Sheriff Curtis The North American Indian, Portfolio 1 (Complete with 39 works), 1903-1907 (estimate: $5,000-7,000)
- Edward Sheriff Curtis The North American Indian, Portfolio 3 (Complete with 36 works), 1905-1908 (estimate: $5,000-7,000)
- Edward Sheriff Curtis The North American Indian, Portfolio 4 (Complete with 36 works), 1905-1908 (estimate: $5,000-7,000)
Also included in the sale is a group of four groups of photographs of boxers, including: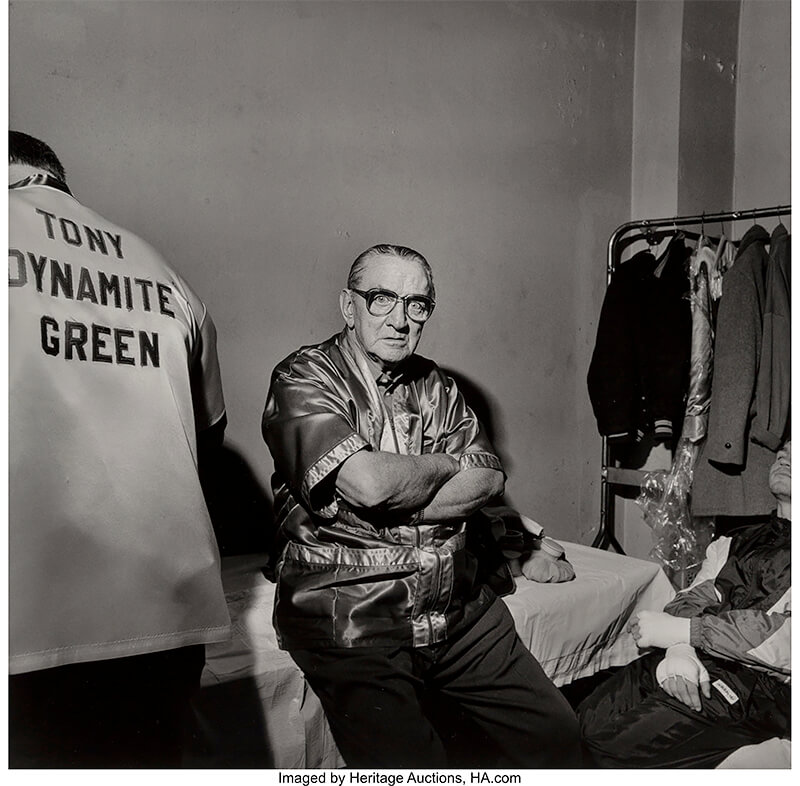 - The Boxing Portfolio (Complete portfolio with 25 works), 1989-1996 (estimate: $8,000-12,000)
- Various Artists (20th Century) A Group of Nine Daily News Boxing Press Photographs (9 works), 1950-1967 (estimate: $2,000-3,000)
Nine lots by legendary artist and photographer Andy Warhol are featured in the sale, including:
- Andy Warhol Boy George (estimate: $3,000-5,000)
- Andy Warhol Michael Douglas, Yoko Ono, Andy Warhol, Jann Wenner, circa 1980 (estimate: $3,000-5,000)
- Andy Warhol Wayne Gretzky, 1984 (estimate: $3,000-5,000)
Other top lots include, but are not limited to:
- Alfred Eisenstaedt Children at a Puppet Theatre, Paris, 1963 (estimate: $15,000-25,000)
- Ansel Adams Mount Williamson, East Side of the Sierra, California, 1944 (estimate: $15,000-25,000)
- Peter Beard Gardeners of Eden (Baboons, impalas and elephants under Kilimanjaro), 1984
- Peter Beard Ken's rock, Driftwood Cove (Sculptor Ken Hiratsuka creating drifted coral in the sea at Montauk), 2004 (estimate: $7,000-10,000)
Heritage Auctions is the largest fine art and collectibles auction house founded in the United States, and the world's largest collectibles auctioneer. Heritage maintains offices in New York, Dallas, Beverly Hills, San Francisco, Chicago, Palm Beach, London, Paris, Geneva, Amsterdam and Hong Kong.
The Internet's most popular auction-house website, HA.com, has over one million registered bidder-members and searchable free archives of four million past auction records with prices realized, descriptions and enlargeable photos. Reproduction rights routinely granted to media for photo credit.