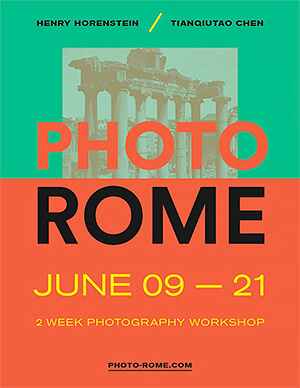 Photo Rome June 9-21, 2019
PHOTO ROME is a two-week workshop focusing on improving your photography skills, honing your personal vision, and learning a bit about Roman history and culture along the way. This workshop is for anyone who takes photography seriously - whether using cellphone cameras, DSLRs / mirrorless models, or old-school film.

This workshop mixes regular field trips with critiques and instruction using the first-rate facilities of Temple University Rome. The photography portion of the workshop is taught by Henry Horenstein and Tianqiutao Chen with art historians Cornelia Lauf and Ezio Genovesi as guides to the culture and history of this amazing city.

The goal is for each student to produce his/her/their own focused body of work during the two weeks. Emphasis will be given to developing a better understanding of specific issues or simply matters of interests, which will be tailored to individual student's needs and concerns.

In addition to developing and completing a singular project, we will also discuss promoting and distributing work, further educational options (workshops, graduate study, etc.), legal issues (copyright, model releases, etc.), grants, crowdsourcing, and other funding opportunities.

Several field trips and class lectures emphasize Italian cultural/artistic traditions and are led by notable art historians based in Rome, Cornelia Lauf and Ezio Genovesi. Students will see the history of art, close-up and in real time, not only in books and slides. A special treat will be an all-day trip to Assisi, hosted by Assisi native Genovesi.

The workshop ends with the production of a digital book edited and designed by the students.