Alex Poots, Artistic Director and CEO of The Shed, announced today that the new nonprofit cultural organization dedicated to commissioning, developing, and presenting original works of art, across all disciplines, for all audiences, will launch its opening season on April 5, 2019. New York City's new arts center, designed for 21st-century artists and audiences, will present world premiere works in the performing arts, visual arts, and popular culture in its innovative, movable building when it opens its doors to the public on Manhattan's west side. Poots also announced the honorary naming of The Shed's building and two of its major spaces in recognition of visionary supporters of the project, four additional artistic commissions for the first half of the opening season, and information about operating hours and tickets.
We have built a home where established and emerging artists working in all disciplines can create new work in ways that we cannot even imagine, said Poots. Beginning on April 5, 2019, The Shed's community of neighbors, New Yorkers, and visitors from around the world will come together to experience the widest range of art forms in spaces that can accommodate artists' most inventive and ambitious ideas.
In recognition of the transformative vision and leadership of Michael R. Bloomberg, The Shed's building, located on West 30th Street between 10th and 11th Avenues, has been named The Bloomberg Building. Chairman of The Shed's Board of Directors Daniel L. Doctoroff said, Nearly 15 years ago, Mayor Mike Bloomberg had the vision to embark on a complete transformation of Manhattan's west side, and he had the foresight to know the Hudson Yards area needed a cultural anchor to ensure a vibrant and accessible future. The Shed is key to that vision, opening this April with an inaugural season that celebrates and showcases local and international creativity across all disciplines. In honor of Mike Bloomberg's extraordinary leadership in nurturing the project, The Shed's Board of Directors is proud to name our remarkable home The Bloomberg Building.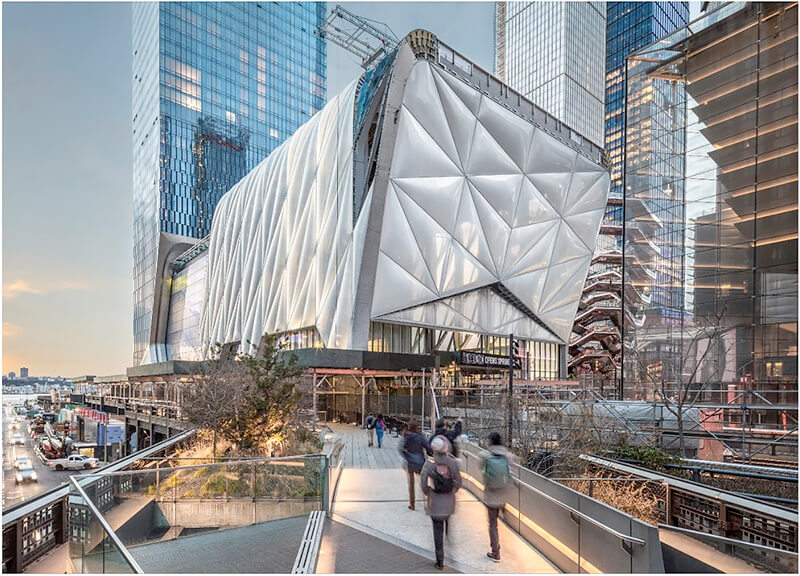 The Shed also announced a gift of $27.5 million from Jonathan M. Tisch, Vice Chairman of its Board of Directors, and his wife, Lizzie Tisch. Their generous gift supports the building's construction and includes a $10 million challenge grant to a newly formed Commissioning Fund, an initiative to support the creation of new work at The Shed. In their honor, two major spaces on the building's top level—a 9,500-square-foot skylit event and artist rehearsal space, and a lab for artistic development and experimentation—have been named The Lizzie and Jonathan Tisch Skylights and The Tisch Lab.
Lizzie and I are proud to support the construction of this exceptional building, while also providing Alex and his outstanding team the resources necessary to commission artists from around the world to create the most ambitious and risk-taking work possible, said Jonathan Tisch. He has put together a spectacular program, and our intention is to challenge others to join us to support an effort that is not only worthwhile but tremendously exciting and important for New York City and beyond.
I am awestruck by the generosity and commitment of the Tisches, added Doctoroff. Not only are they preeminent philanthropists but, most importantly, their forward-thinking leadership seeks to imagine a cultural institution that brings wide-ranging audiences and creative voices together under one roof.
To date, The Shed has raised $488 million toward its capital campaign goal of $550 million, which includes building costs, organizational start-up expenses, and a newly formed Commissioning Fund, an initiative to support the creation of new work at The Shed.
Building Update
Designed by Diller Scofidio + Renfro, Lead Architect, and Rockwell Group, Collaborating Architect, The Shed's Bloomberg Building is an innovative 200,000-square-foot (18,500 m2) structure that can physically transform to support artists' most ambitious ideas. The Shed's eight-level base building includes two expansive, column-free galleries totaling 25,000 square feet (2,340 m2) of museum-quality space; a 500-seat theater that can be subdivided into more intimate spaces; and on the top floor, The Tisch Skylights for events and artist rehearsals, and The Tisch Lab for artist development. A movable outer shell can double the building's footprint when deployed over the adjoining plaza to create The McCourt, a 17,000-square-foot (1,600 m²) light-, sound-, and temperature-controlled space for large-scale performances, installations, and events. Named in recognition of entrepreneur, philanthropist, and Shed board member Frank H. McCourt, Jr., and his family, The McCourt is The Shed's most iconic space and can accommodate audiences ranging from 1,250 seated to over 2,000 standing. When the space is not needed, the movable shell can nest over the base building, opening The Plaza for outdoor use and programming.
The movable shell travels on a double-wheel track based on gantry crane technology commonly found in shipping ports and railway systems. A rack-and-pinion drive moves the shell forward and back on four single-axle and two double-axle bogie wheels that measure six feet in diameter; the deployment of the shell takes approximately five minutes. The exposed steel diagrid frame of the movable shell is clad in translucent pillows of durable and lightweight Teflon-based polymer, called ethylene tetrafluoroethylene (ETFE). With the thermal properties of insulating glass at a fraction of the weight, the translucent ETFE allows light to pass through and can withstand hurricane-force winds. Measuring almost 70 feet (21 meters) in length in some areas, The Shed's ETFE panels are some of the largest ever produced.
Construction of The Shed is nearly complete. The final phase will include installation of metal cladding and related architectural finishes at the escalators and corridor areas; placement of polished concrete topping slabs on all base building floors; installation of paving stones that will form Lawrence Weiner's site-specific artwork IN FRONT OF ITSELF in The Shed's Plaza; installation of The McCourt's theatrical shades; and completion of the building's mechanical systems. The Shed is pursuing a LEED certification from the U.S. Green Building Council, which is expected in early 2019.
About The Shed
Opening on April 5, 2019, on Manhattan's west side where the High Line meets Hudson Yards, The Shed commissions original works of art, across all disciplines, for all audiences. From hip hop to classical music, painting and sculpture to literature, film to theater and dance, The Shed brings together leading and emerging artists and thinkers from all disciplines under one roof. The Shed's home, The Bloomberg Building, is a remarkable movable structure designed by Diller Scofidio + Renfro, Lead Architect, and Rockwell Group, Collaborating Architect, that physically transforms to support artists' most ambitious ideas. Committed to nurturing artistic invention and bringing creative experiences to the broadest possible audiences, The Shed is a 21st-century space of and for New York City.