Dorrie McVeigh is a very talented Portrait, Fashion and Fine Art Photographer that we discovered when she submitted her work to AAP Magazine #5 Colors. We asked her a few questions about her life and work.
All About Photo: Tell us about your first introduction to photography. What drew you into this world?
Dorrie McVeigh
: I come from a large family of artists and so from a young age, self expression and creativity were encouraged and valued. The first artist that really touched me was Edward Hopper, my mother's favourite artist, and I connected immediately with his images that seemed to me almost like photographs. His ability to permeate every day scenes with so much tension; a unique and hard to pin down sense of isolation or loneliness spoke to me and I fell in love with his work. As a child we were often going to exhibitions and it was always photography that touched and inspired me the most.
In our home we had books on Edward Curtis, Richard Avedon, Cartier Bresson, and Diane Arbus to name a few. I spent hours sifting through these books and I have no doubt they all played a part in influencing my work.
I remember seeing a show by the war photographer Don Mcullin and being stunned by the power of his images. That they contained both intense darkness and also beauty inspired me. At school, I specialised in English and Classics and was fascinated by the tragedies of Sophocles, Euripdes and those of Shakespeare. They introduced me to the idea of there being essential flaws in life and that our struggle as humans to transcend these flaws are at the heart of beauty, and of our creativity and intelligence. Later I remember visiting a show in East London by Nan Goldin and finding similar themes, her ability to document the intimate struggles in the lives of her friends were incredibly powerful.
AAP: Do you remember your first shot? What was it?
Dorrie McVeigh
: I don't remember my first shot but I do know that my first true encounter with taking photographs or more importantly wanting to actively capture the world around me was in India in 1998. I had just finished a University degree in Comparative religion where I specialised in Hinduism and I was filled with a passionate interest in religions and how these define or separate us as human beings. I left on my second major trip to India to visit the Kumba Mela, a Hindu festival in Uttar Pradesh. I travelled alone for almost six months in India and three of these months were spent at the Kumba Mela in Haridwar. Looking back, it was as if every event in my life had led me to this moment and it was during this unique experience that I fell madly and deeply in love with photography. I hardly put down my camera for a minute during those 6 months in India going through endless rolls of cheap film that I bought in road side stands and developed in small town photo labs.
AAP: Where did you study photography?
Dorrie McVeigh
: I returned from India at the end of 1998. I was 23 years old, dirty, culture shocked and determined that I wanted to be a photographer. I immediately enrolled in what was then called The London College of Printing in Farringdon in London where I learned to use a darkroom, studied the history of photography and brushed shoulders the future stars in the London photography scene. However, perhaps due to the raw and seminal experience I had just had in India, I found photography school to be dry, competitive and uninspiring. For several years following my graduation from LCP, I was essentially confused and derailed by the experience. I decided to throw myself into web design and for several years I worked in this field. I continued to take photographs and it was in this period that I started photographing through the windows of my car and other vehicles. With this new style of taking photographs, my love of photography returned and I learnt that in order to be an honest photographer, I needed to be free and not contained by the analytical approach that I had experienced in photography school.
AAP: What was the best piece of advice you were given starting out?
Dorrie McVeigh
: It was on my won that I worked out that the most important advice that I wish I had been given would be to not worry too much about the technical side when starting out but concentrate on what you see and what you want to capture. At the start of my career, the single most detrimental aspect of photography for me was the intimidating, often macho attitude that it all about technique, equipment and terminology.
I was sometimes crippled by nerves entering photography stores or studios for fear that that I would be revealed as a fraud; not a real photographer if I didn't know the correct term or have the right lingo. Photography can sometimes feel like a man's world and it has been very important for me to overcome my self doubts and realise that there is no right or wrong way to do things when we are in the creative domain. In fact I believe that it is often in breaking the rules that truly great work is born.
AAP: Do you have a mentor or role model?
Dorrie McVeigh
: My mother and my sisters. The women in my life are truly inspiring…
AAP: Do you consider yourself an European? an American? What has each culture given/taught you?
Dorrie McVeigh
: I consider myself to be both. My parents are both American and so without doubt they have transmitted their americanisms to us kids. Confidence, positivity, fearlessness and a big fridge was unique to my family! All my friends always wanted to hang out at my house growing up in London, as my parents were so forthcoming, so friendly and just seemed to embody everything that made America great back in the golden era of the 80's. However, whenever I visited relatives back in New York, I realised that I was not in fact as American as I thought and that growing up in Britain had shaped and formed me. There was something more subtle or perhaps contained in my siblings and my behaviour when thrown together with our American family. Our cousins seemed a little too loud, too brash and I couldn't work out what they really felt as their endless enthusiasm seemed to render them slightly homogenous. I would then return to the UK and find my European compatriots equally lacking; too rigid, too repressed and a little too quiet. I am now married to a Frenchman and my kids are equally displaced, having been born in the Uk, they now live in Marseille. I have realised that in order to gain something in life, you must always except that there will be some loss and my acceptance of this has been liberating. Both my childhood and those of my children have been enriched by travel and migration but at the cost of sometimes feeling slightly adrift, unrooted and different.
AAP: How do you prepare for your projects? Do you picture beforehand in your mind the images you take?
Dorrie McVeigh
: Yes, I find that whether it be for a client or for a personal project, my most important preparation is visual brainstorming and I always push myself to think out of the box and to try to think big; no idea should be too great or impossible. I have also learnt over time that my greatest visual breakthroughs have been when I am in movement, so I tend to plan my visual brainstorming for when I am driving home from my studio, on the metro or on the train... something about being in movement frees up my mind. When I am feeling creatively blocked, I also find that poetry or literature can really help to free up ideas and I sometimes link poetry to my work as I feel the two go hand in hand.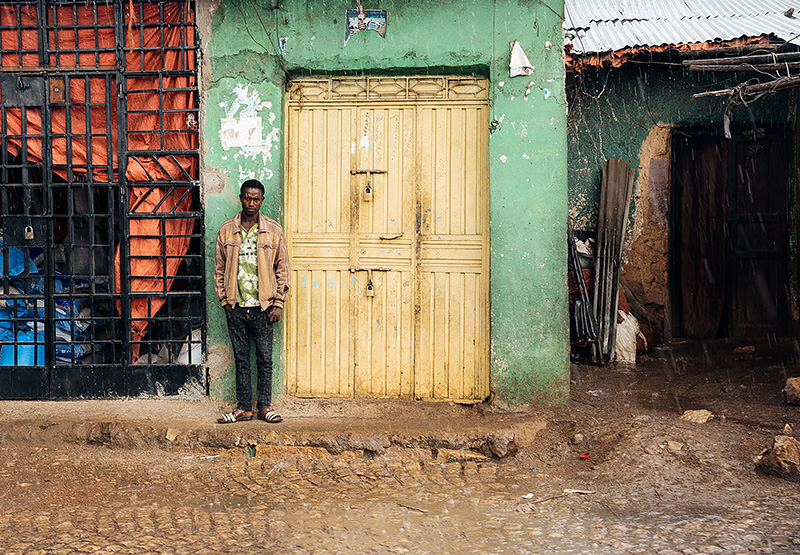 AAP: What inspires your unique storytelling?
Dorrie McVeigh
: I seems to always seek to create a narrative in a series of photographs. I think that my love of reading has influenced my style and so when creating a series I search for a thread that leads us through the beginning, middle and end. I always loved creative writing and so I guess this urge to create a narrative calls to me equally in my photography.
AAP: Your work ranges from portraiture to fashion to street photography, how do you define yourself as a photographer?
Dorrie McVeigh
: This is something I am working on. I am aware that in today's competitive world it is important to have a defined style and visual identity in order to stand out. However, personally I struggle to limit myself as it is diversity that stimulates me. I like movement and travel in order to feel alive, so my photography is similar and I like to constantly try new ideas and styles so as not to not stagnate. Last year I made a series of architectural photos that were very bright, clean and minimalist that I exhibited in Marseille. This was at the time a real departure from a series of very nostalgic and emotional landscape photographs that I was preparing for Arles and I realised that the architectural photos were like a form of detox for me. I needed to make them in order to find a balance in my creativity and it was the difference between the two bodies of work that helped me to see more clearly.
AAP: Regarding the project Addis to Harar why did you decide to take pictures from your car? Did you ever stop along the way?
Dorrie McVeigh
: When we touched down in Dire Dawa, a small airport a few kilometres from Harar and caught a taxi to Harar, I knew within minutes that I wanted to photograph our whole trip via the windows of the vehicules we took along the way. There is something about looking out through the frame of the window that renders the images more interesting to me. We stopped regularly on the 8 hour trip between Harar and Addis to drink tea, eat in road side cafés and hang out with the locals. My husband and I both share a love for the road, chatting with people and trying to learn the language of the places we go. Ethiopians are incredibly friendly, warm and fun and so all our stops along the way were the highlights of our trip. This was not however the first time by any means that I took photographs from my car. My mother lives in the wilds of Exmoor in South West England, and most weekends we would travel 4 hours from London down to Devon in order to get a break form the city. During these trips, I would always photograph the things I saw along the way capturing fleeting moments, moving landscapes and the changing light along the way. I became the expert in panning, a style of photography that I absolutely love as the images seems to reverberate with nostalgia; there is something about capturing a single moment in the losing battle of chasing time that I find powerful.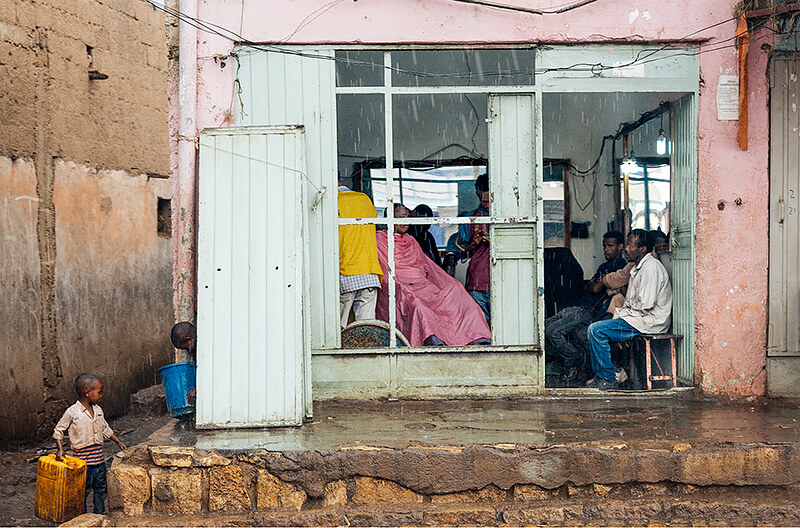 AAP: Did you go to Ethiopia for this specific project or did it come up along the way?
Dorrie McVeigh
: We went to Ethiopia because both my husband and I have always wanted to go, although i knew that would be a great opportunity to make new work.
AAP: It is part of a long-term body of work, do you plan to go back? To travel in different countries?
Dorrie McVeigh
: Yes, this is an ongoing series of work and I would eventually like to publish a photography book around this theme. I do not think it has to be solely limited to Africa, as I have explored the same theme in Morocco, Romania, Sri Lanka and Europe. I think it could be broadened to be a series that show a vision of my travels as a photographer. I would love to go to Georgia next, but I also have a real desire to return to the US and do a road trip out west to discover the country where I was born.
AAP: What makes the difference between a good image and an iconic image?
Dorrie McVeigh
: I think it is about the connection you have with the subject. In terms of portraiture, it is about trying to capture that moment when your subject connects to you emotionally and this can take time and patience. We know it when we see it in the eyes, it is a little like falling in love with your subject; when a tenderness is captured. Similarly when I am not photographing people, I try to search for something deeper in the subject. When I am out photographing architecture or the street, I listen to music and depending on the music I see my surroundings differently, I find this really helps me to connect.
AAP: Is it important for you to be recognized as a woman photographer?
Dorrie McVeigh
: Not particularly, although I do appreciate that it is more rare to find female photographers as I think it is always good to surprise people and open their horizons. In the end I just want to keep exploring through photography, it is more about the richness of the journey than reaching any final destination or sense of success.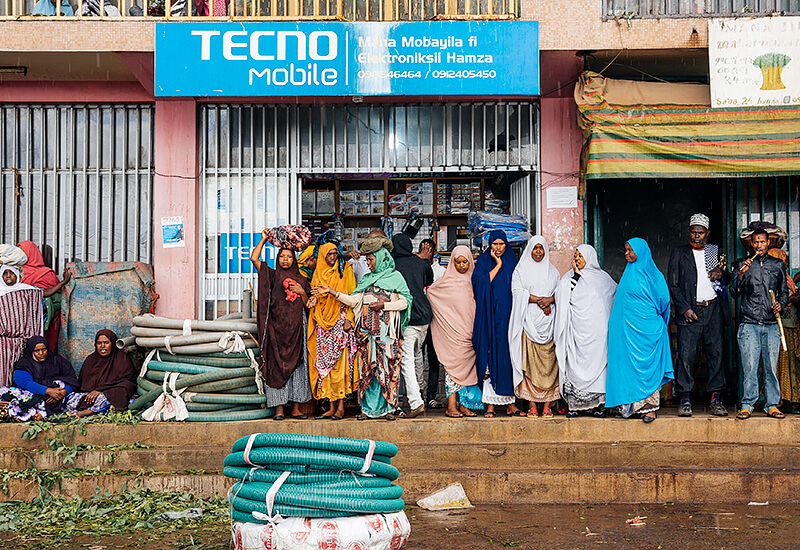 AAP: Why do you work only in color?
Dorrie McVeigh
: It is strange, as I hadn't realised that I do now work predominantly in colour. In the early days, when I used film, I pretty much worked uniquely in black and white, my favourite film being Ilford FP4 and HP5 . I didn't feel comfortable using coloured film and I was naturally pulled towards black and white photography. However, during my course at the London College of Printing, I was pushed to experiment with colour and I remember finding it very challenging. I struggled at first as I couldn't work out how to make all these new nuances work for me. At some point however, through experimentation, I discovered cross processing and went through long period of buying Kodak Elitechrome slide film and processing it as negatives to create intensely blue skies and golden skin tones. There was something in the high contrast of this process that was reminiscent of black and white photography and it helped me to bridge the gap. I took one of my favourite series of photographs during this period (they are still hanging on our living room wall) and that was the start of discovering and loving working in colour. I guess, as is so often the case in life, once we battle with something and then learn to love it, the love is deeper and so it goes with coloured photography. I still love black and white photography and will no doubt create work in the future that is in black and white.
AAP: What equipment do you use?
Dorrie McVeigh
: Nikon D810
50mm 1.4 lens.
70 - 200 2.8 G Nikon lens
Nikon 24 - 120 1.4 G
Nikon 16 - 35mm
Elinchrom D-lite RX4 lights
Gravity backdrops
AAP: Do you spend a lot of time editing your work?
Dorrie McVeigh
: I spend a lot of time organising my work into themes and depending on the job, I can spend a lot of time in post production. For example for fashion photography, I often am asked to do a lot of retouching in photoshop but I always try to keep the retouches as natural as possible. I love experimenting with filters whether it be on camera of in post production and I am not afraid to admit that I have used photoshop for certain works. I think that photography is like art and I don't believe that one should restrict themselves from experimenting.. In the past, I would have long meetings with my printer discussing where to dodge or burn to improve an image and so I see no issue with post production in photoshop. In the end if an image is overly retouched it always shows and it is the artist and viewer's choice whether they like that or not.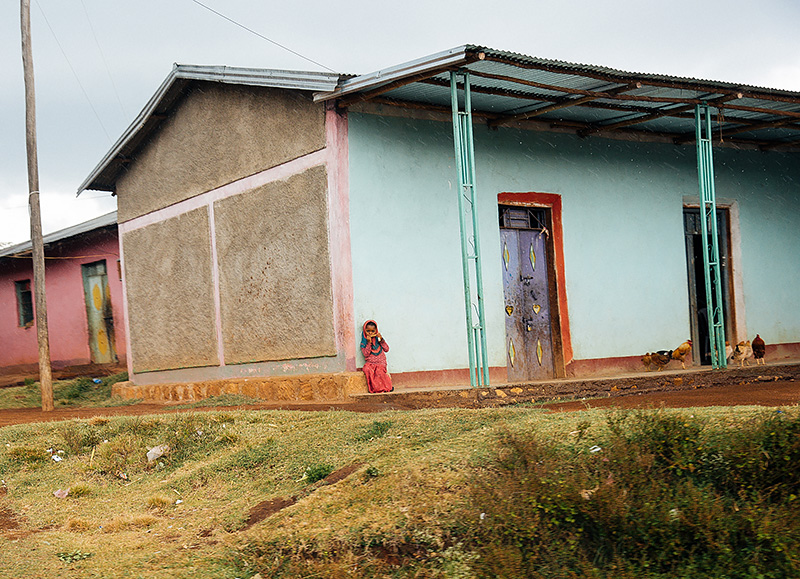 AAP: What compliment touched you the most or what do you think is your biggest accomplishment?
Dorrie McVeigh
: I remember during a solo show I had in Sri Lanka during the two years that we lived in Galle, I was approached by a guy who had lived out in Lanka for years. He told me that I had captured Sri Lanka in a way that he had always found impossible to describe - that I had touched on something beyond words that for him embodied the country that he loved. This was definitely one of the greatest compliments I have had to date as it perfectly describes what I seek to achieve in my photography. However, every time that somebody comes to me and says that my work has touched them, it's as if I am being told for the first time. Nothing beats having your work appreciated.
AAP: What mistake should a young photographer avoid?
Dorrie McVeigh
: Thinking too hard about what others want and not following what you want. It is easy to get lost or blinded by the overwhelming shadow of other people's opinions.
AAP: Your best memory as a photographer?
Dorrie McVeigh
: Photographing the Kumba Mela in India; this was without doubt the most extraordinary moment in my life. I was asked to join the procession of the hundreds of thousands of naked Sadhus as they walked to the banks of the Ganges to bathe. They were all covered in ash and their energy was breathtaking. I was with a Jamaican friend from London and at one point he turned to me and said that his knees were trembling so badly that he thought he might collapse and I told him that I felt the same. In front of us was one naked sadhu on a huge black stallion that kept rearing up in fear of the immense crowds. He rode that horse like he was born to ride despite being completely naked. I still have that photograph on my bedroom wall at home.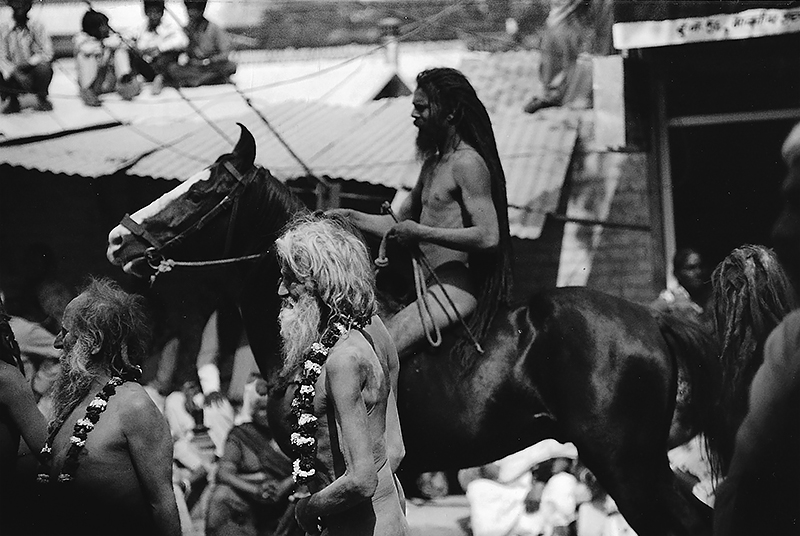 AAP: Your worst souvenir as a photographer?
Dorrie McVeigh
: The moment I realised that I had mistakenly erased an entire job off my memory card and I had to tell the client….I will never do that again!
AAP: Favorite(s) photographer(s)?
Dorrie McVeigh
: Diane Arbus, Germaine Krull, Sally Mann, Nan Goldin, Don Mccullin, Sergio Larrain
AAP: What are your upcoming projects?
Dorrie McVeigh
: I am about to start a series on refugees in Marseille where I will be working closely with a local association. The project will look at Marseille as a port, the ebb and flow of us as humans and will question the idea of the European dream. I want to create a conceptual body of work and I will be work with different photographic techniques.
AAP: If you weren't a Photographer, what would you be doing?
Dorrie McVeigh
: I can' think of anything I would rather be doing. Photography has given me a chance to be an explorer, a visual treasure-hunter, and I am so grateful to have been given the opportunity to follow this career.
AAP: Anything else you would like to add?
Dorrie McVeigh
: If I can find the time, then I am always interested in collaborations and connecting with other photographers, so if you are a photographer or in a different carrer and have an idea for an interesting project then feel free to be in touch.