LIVE & SILENT AUCTION DURING THE GALA:
It's always a delight to insert Art to an event. I have chosen great Photographers who have accepted to propose one piece from their body of work to the Auction of the Alliance Française. I am deeply grateful, thank you to them.
Beatrice Chassepot, Art Consultant
LIVE AUCTION: Anna Carey
Anna Carey
is an Australian-born artist whose ancestors were born in France. Her work overlaps photography, model-making, film and drawing. Through memory and imagination, she creates fictive architectural spaces based on familiar iconic architecture which she photographs.
Two works from the Stardust series have been recently acquired by the Los Angeles County Museum of Art (LACMA)
It is amazing how Anna Carey's fictive decors recreate to the perfection anyone's souvenir of the place shown
Beatrice Chassepot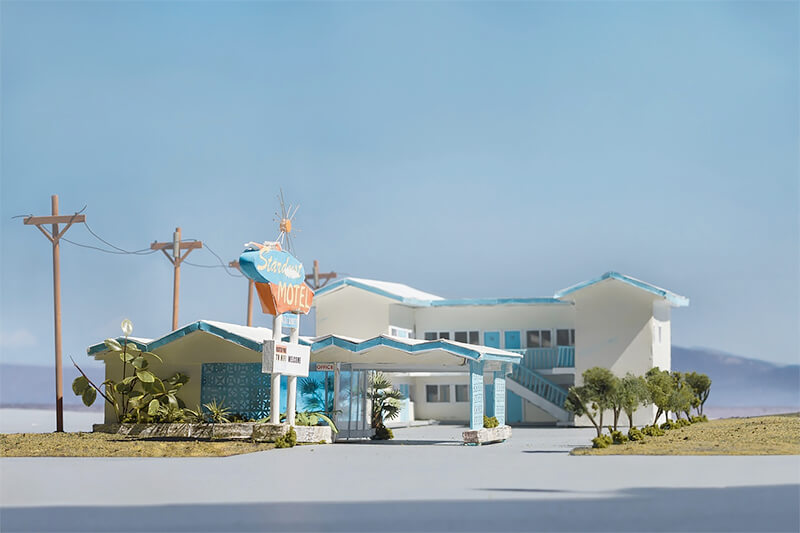 © Anna Carey, 666 East Foothill Boulevard, Azusa...then - 2015 - (70 x 105cm) 27.55 x 41.33 - Giclee print mounted on foam board
SILENT AUCTION:

Kristin Bedford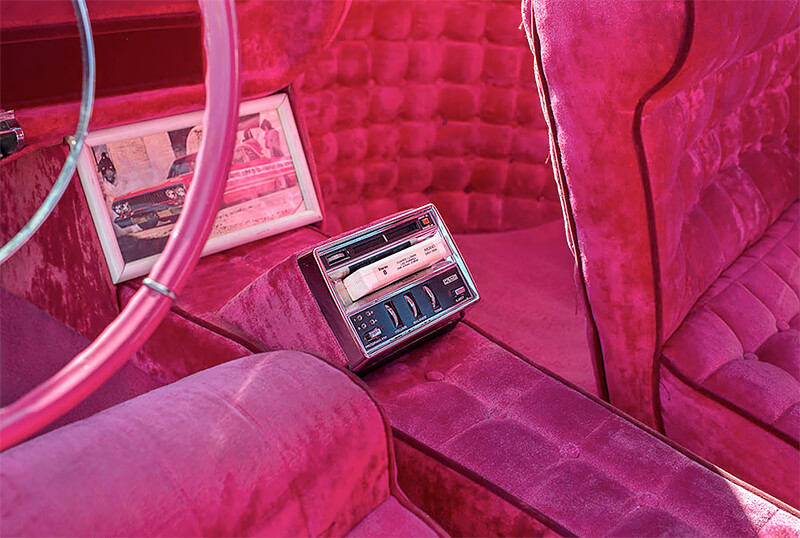 © Kristin Bedford, 6Gypsy Pink from the Cruise Night Series, Lowriding in Los Angeles Pigmented Archival Print - 13 x 19 Total Size: 15 x 21 - 2018 - Framed
Born and raised in Washington, DC,
Bedford
resides in Los Angeles and works on photography projects throughout the U.S. Kristin Bedford is a photographer who focuses on long-term visual studies of where we live - the streets we walk down, the places we worship in, the homes we create, and the spaces between them all. Her subjects have included religious movements, street culture in numerous urban centers, the modern day legacy of historic African American communities, and Chicano lowrider car culture.
Bedford's work has been featured in The New York Times, Esquire, The Huffington Post and Slate. Her photographs are part of the permanent collection at the Archive of Documentary Arts at Duke University and are included in numerous private collections. Bedford has had solo exhibitions at the Daylight Project Space, The Brehm Center, and the Allen Gallery at Duke University. She has given talks about her work at Pop-Up Magazine, Parsons The New School of Design, Emerson College, the Los Angeles Visionary Association, and NPR's Which Way L.A.
Kristin Bedford has a unique approach to Photography. She aims to capture the very essence of a situation or an individual to show it in a way no one would have imagined.
Beatrice Chassepot
Dai Ito

© Dai Ito, 6Tinker Taylor Soldier Spy, Short #1 - 2017 Photographs, Pigment Print, Pictorico Soft Gloss Paper - 4 X 12x 7.575 - Unframed
Dai Ito
is a Japan-based conceptual Photographer who lived for quite a while in Los Angeles and also France with whom he continues to build strong professional relationships:
2017
7e Rendez-Vous Image, Photo Festival, Strasbourg
Extramuros, Group Show, Marseille
Alter Image, 1st Place, Strasbourg
2018
8e Rendez-Vous Image, Photo Festival Strasbourg
2019
Neko Project, curated by Sophie Cavaliero, Paris and e cities in EU.
The concept for my work, 'Tinker Taylor Soldier Spy' is inspired by the novel of the same name, written by John le Carré in 1974. First, I wrote my original story which was inspired by the novel and film, then I made the following story with the series of photographs. The idea of my story came from my imagination.
Dai Ito
Dai Ito builds amazing stories that are intriguing enough to set the base of a good thriller. Dai shows a rare quality of black and white images with large range of tone of greys and blacks...
Beatrice Chassepot
Izumi Tanaka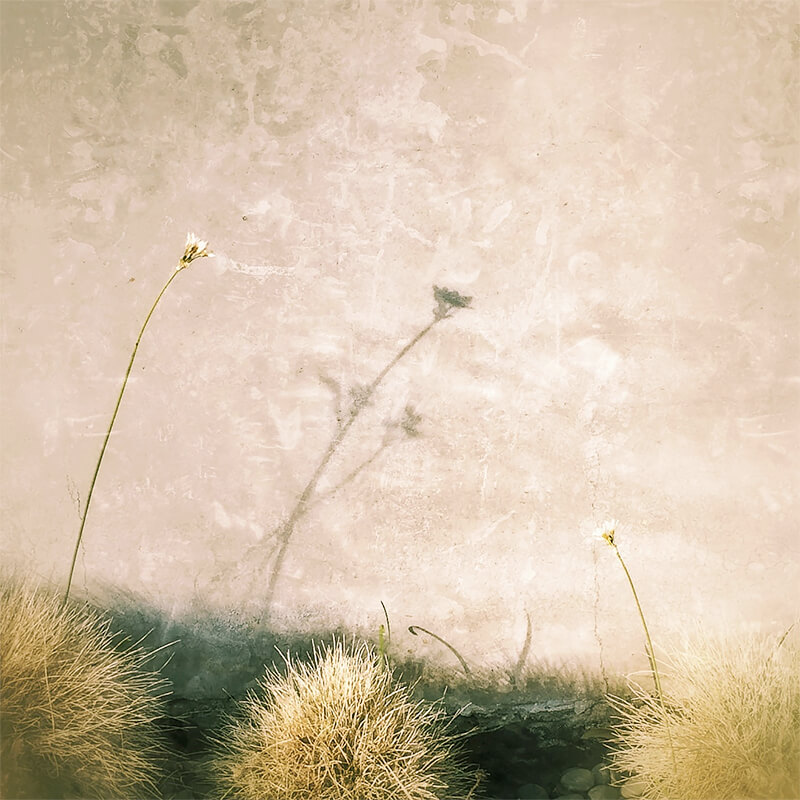 © Izumi Tanaka, HAIKU 14 from URBAN HAIKU series by Izumi Tanaka - 2014 - 23 x 23- Edition 1/15 - Unframed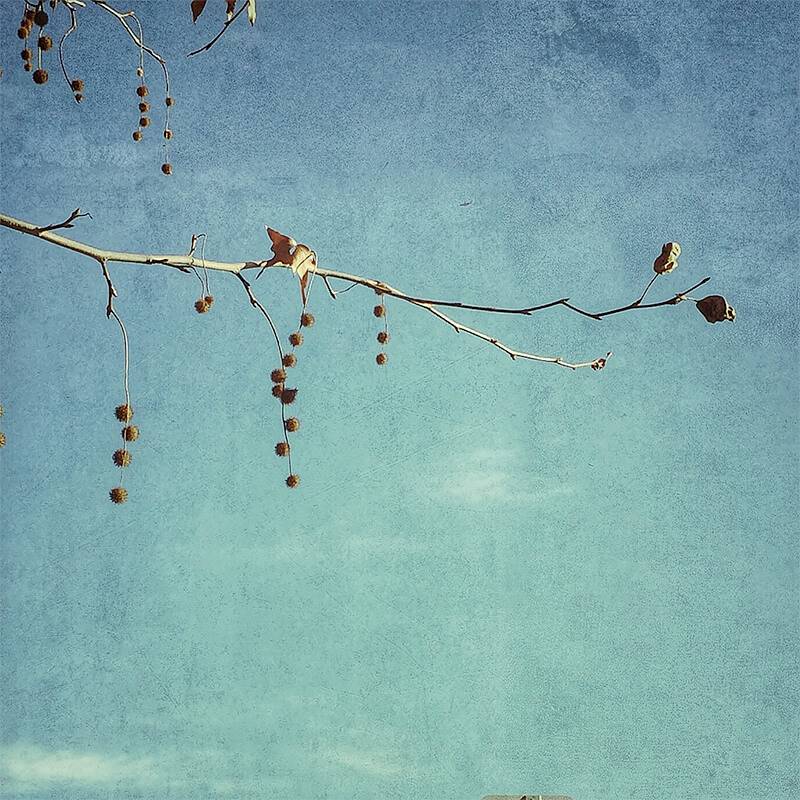 © Izumi Tanaka, HAIKU 2 from URBAN HAIKU series by Izumi Tanaka - 2014 - 23 x 23- Edition 1/15 - Unframed
Born in Yokohama/Japan, LA-based Photographer
Izumi Tanaka
discovered THE magic as a little girl influenced by her father and grandfather's passion for photography. She's been taking pictures in one way or the other ever since.
The two photographs below belong to the Urban Haiku series: In the frantically spinning world I pause and cut squares out of my sight as my rations of tranquility amidst chaos. They become my refuge, a space to provide momentary solace...
This is amazing how Izumi was able to render that minimalism imposed by the Haiku: a HAIKU is a Japanese verse, written in 17 syllables divided into 3 lines of 5, 7, and 5 syllables, and employing highly evocative allusions and comparisons, often on the subject of nature or one of the seasons.
Beatrice Chassepot