Archisable
is a photographic project of sand architecture imagined by Tina Dassault, author and curator, and directed by
Michel Tréhet
, photographer.
Since 2016, Tina Dassault has invited architects to build ephemeral architectures on a beach on the Normandy Coast in France.
Michel Tréhet photographs the ephemeral architectures.
A single constraint, Architects should work directly with the sand, neither glue nor cement. No tools except buckets, shovels, molds, rakes
No imposed theme, just the freedom of imagination.
The exhibition brought together all of Michel Tréhet's photographs of ephemeral architectures in 2018 at the Cité de l'Architecture in Paris France. It will be on view in 2020 at the new Library Alexis de Tocqueville in Caen en 2020.
The project is the subject of a book edited by the art editor Xavier Barral, released in April 2018 that you can purchase:
HERE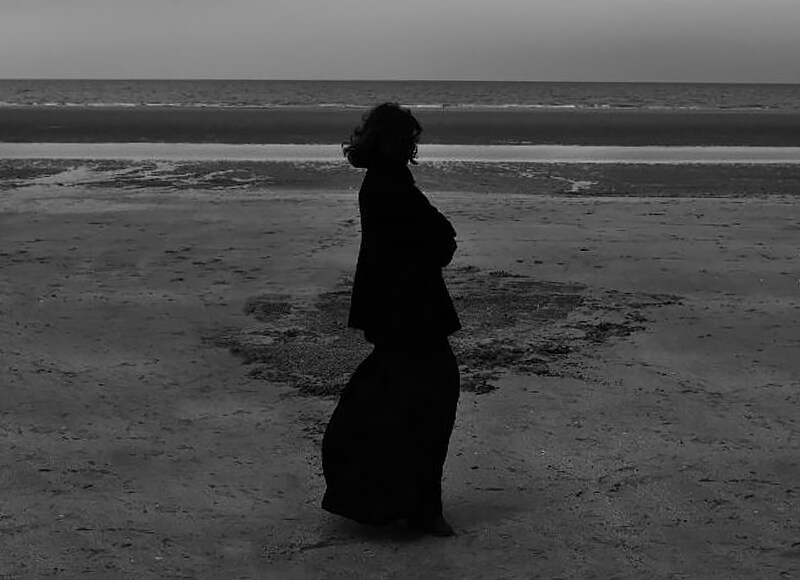 ARCHISABLE birth of a project by Tina Dassault
Kneeling on the sand the silver haired man fulfills the dream of the amazed child: four crenellated towers, a large wall, a ditch where water does not take long to rise. Sky sea sand.
The desire to capture an image, then others, in closer and closer shots. The tight composition erases the beach landscape. Disappearance apparition. The focus, the close-up, the birds eye view or low angle penetrate virgin worlds like an explorer. The loss of scale springs up the grandiose and gives birth to the barely visible. The detail provides its secret and its truth. Emotion and vertigo of voids, of forms and possibilities.
It's composition that highlights the eventuality of a murder in Michelangelo Antonioni's cult movie: a photographer develops an apparently insignificant photograph taken in a park and by successive enlargements, brings to light the elements of a crime scene. Intuition, manipulation, spell of shadows and light, staging, truth will arise through cropping, chemistry and photographic development. This is a Blow-Up, which means a bloodless coup, anger until an explosion, and in photography, by analogy and contamination, enlargement...
In his latest book, Roland Barthes pinpoints the inherently explosive nature of the photographic eye, and tells the anecdote of Kertész photographs, newly arrived in New York in 1937, rejeted by Life Magazine on the grounds that his images spoke too much. Crime of speech for crime of sight. Barthes wrote in La chambre claire: Ultimately, Photography is subversive not when it frightens, repeals, or even stigmatizes, but when it is pensive, when it thinks.
Whereas every grain of sand invents itself an existence of powder, snow, crystal or rock, depending of shots and composition, roughness, texture, or smooth rectitude... While the walls, the cavities, the gorges draw lines of force, the work, enlarged, explosive and thoughtful, shapes itself through the lens...
The project is here, dual work, beautiful pact between mobile and immobile, frozen and aspiring, ephemeral and permanent. At the edge of the water, between heaven and earth, the eye of a photographer, architect's hands.
Shovels, trowels, rakes, buckets, Archisable is born. A story of vision, a story of sand, a story of wind and water, Archisable will not be a story of castles...
Tina Dassault
(Text translated from the original French version)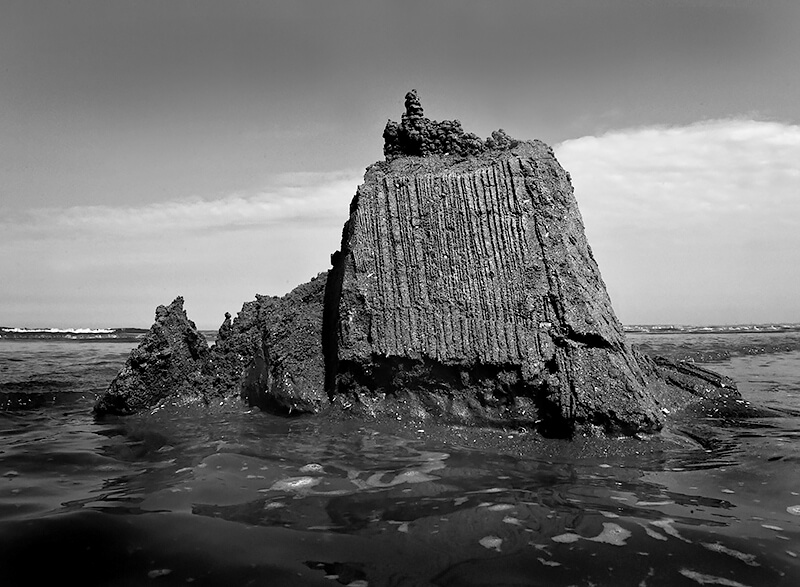 Project by Anna Heringer, Photo Michel Trehet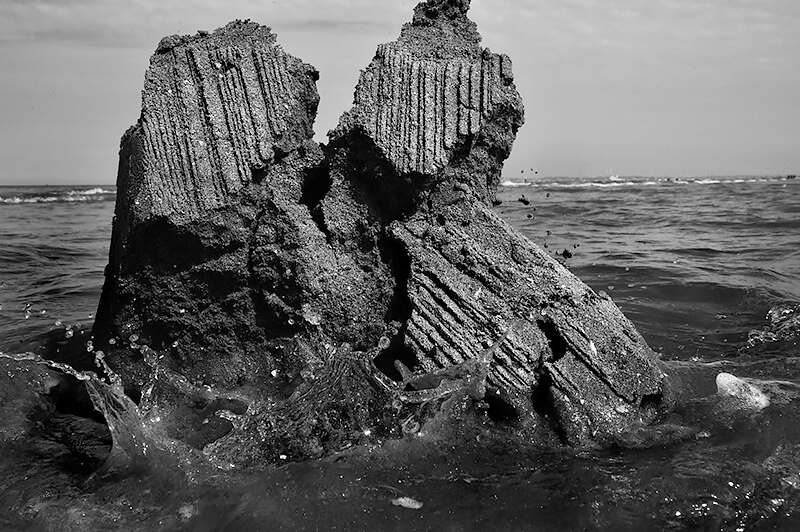 Project by Anna Heringer, Photo Michel Trehet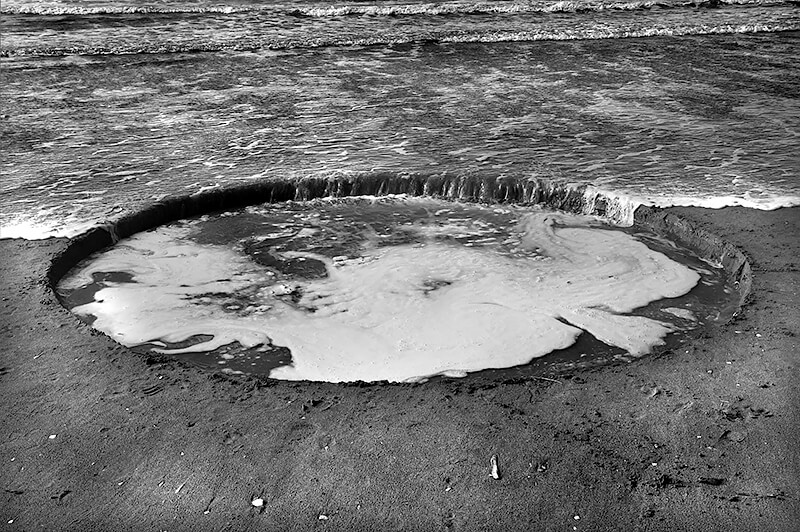 Project by Bernard Vaudeville, Photo Michel Trehet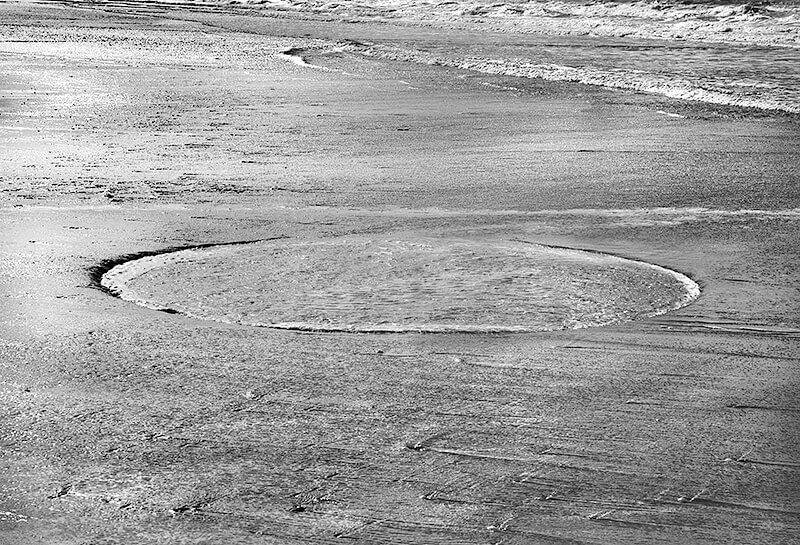 Project by Bernard Vaudeville, Photo Michel Trehet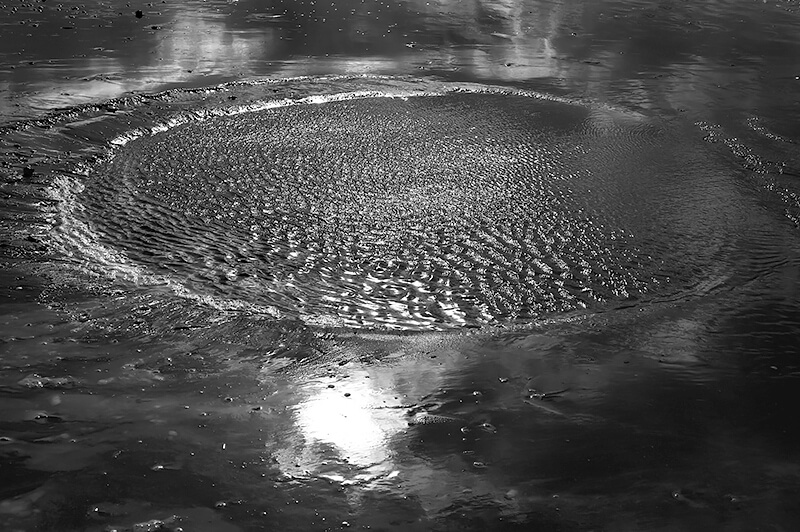 Project by Bernard Vaudeville, Photo Michel Trehet
ARCHISABLE by Tina Dassault
Sand is a highly friable material, when architecture defies centuries.
Sand keeps nothing, when a building keeps everything; one is memory, the other forgets.
Asking architects to design with sand faces an impossible challenge. Photographing their creations is to make the ephemeral eternal.
Sand, magical material of childhood, becomes in their hands a modeling clay. But clay dries, when sand crumbles.
Building with sand is a strange game where architects face the inexorable.
Appearing playful, ARCHISABLE is an eminently poetic project as much as a daring challenge, a major confrontation of humans and nature. The beach is an arena, an antique theatre for a titanic fight where the sea always wins.
Architects forget their habits and computers to reconnect with the immemorial gestures of builders. Kneeling in the wind, sand runs between their fingers. They delimit their territory with shovels and trowels, evaluate the solidity, trace, dig, mold. They give a form and a life to an idea.
The fight is uneven and gorgeous. Each story has an end : engorgement, sinking and dilution are magic moments. Architects have measured the exact victory of the water, anticipated its rush. Water follows the dreamed path.
Submersion is accomplished but the defeat is only temporary. The idea will be recorded. ARCHISABLE is not only the dream of architects, it is a dream for humanity.
-- Tina Dassault
Project by Brendane MacFarlane, Photo Michel Trehet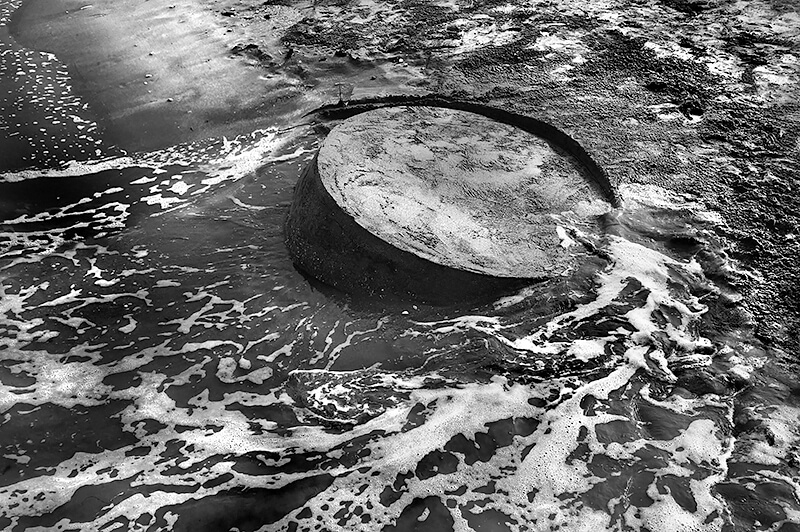 Project by Corrine Vezzoni, Photo Michel Trehet
Project by Corrine Vezzoni, Photo Michel Trehet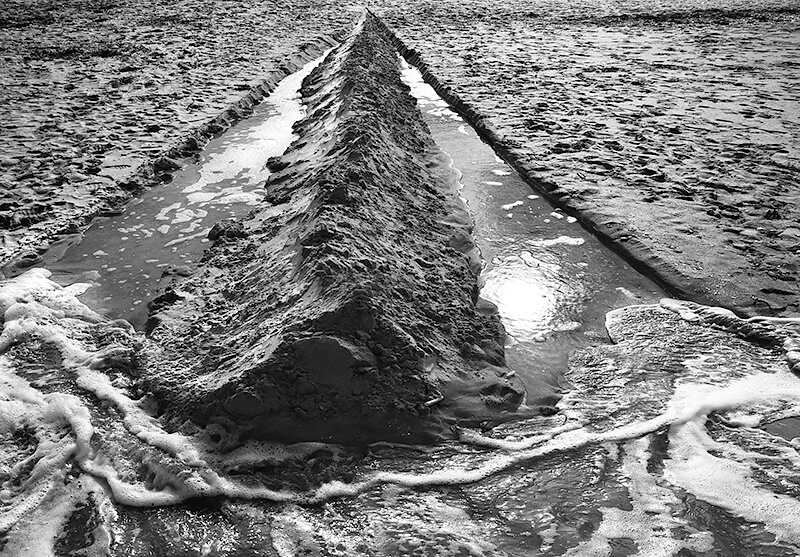 Project by Didi Pei, Photo Michel Trehet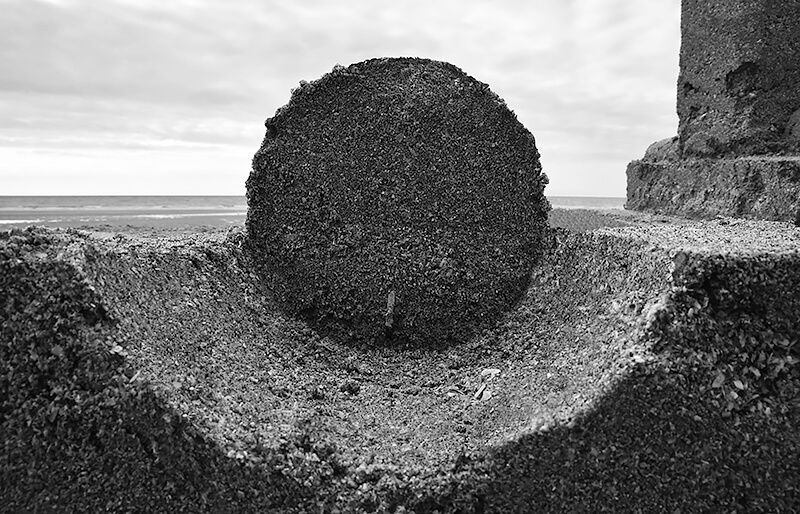 Project by Dominique Chatelet, Photo Michel Trehet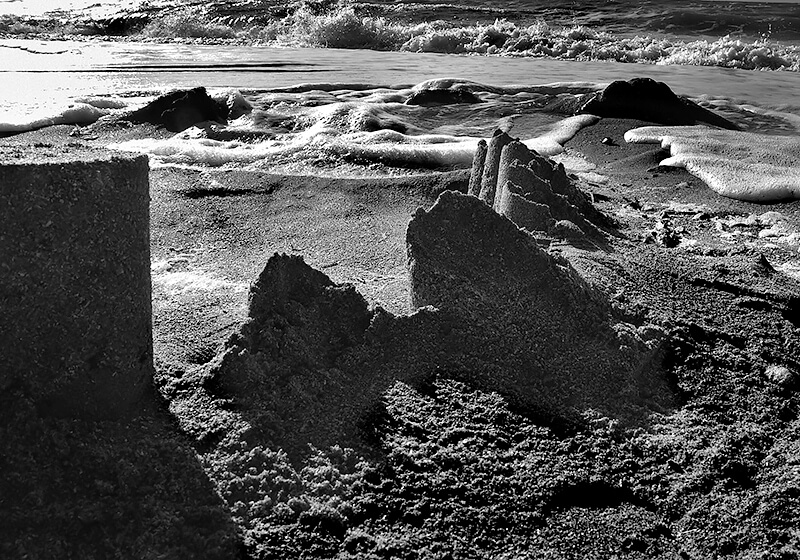 Project by Dominique Chatelet, Photo Michel Trehet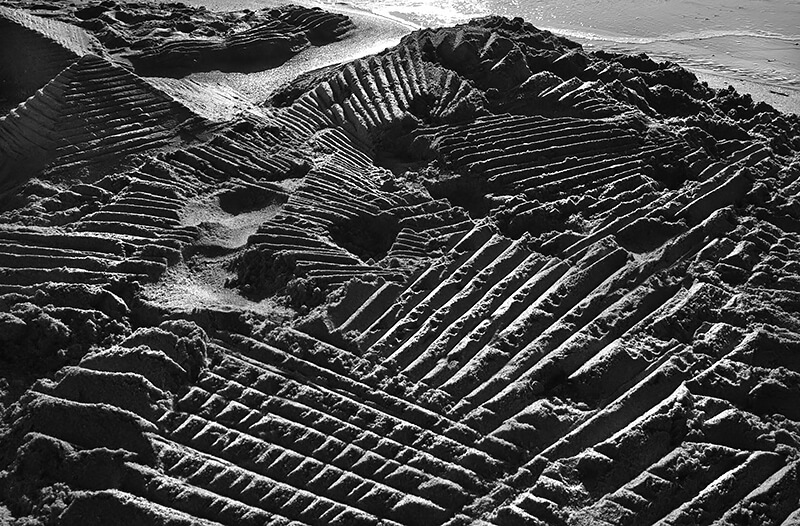 Project by Dominique Chatelet, Photo Michel Trehet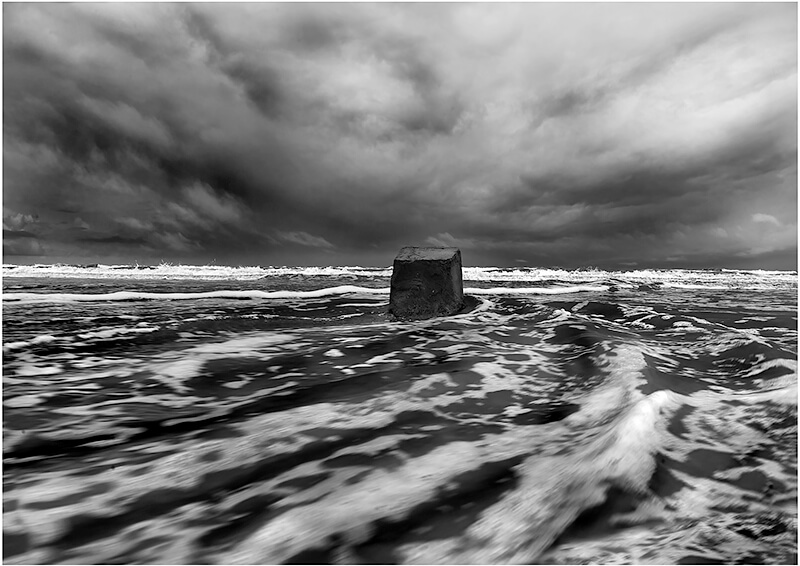 Project by Frederic Druot, Photo Michel Trehet
Project by Frederic Druot, Photo Michel Trehet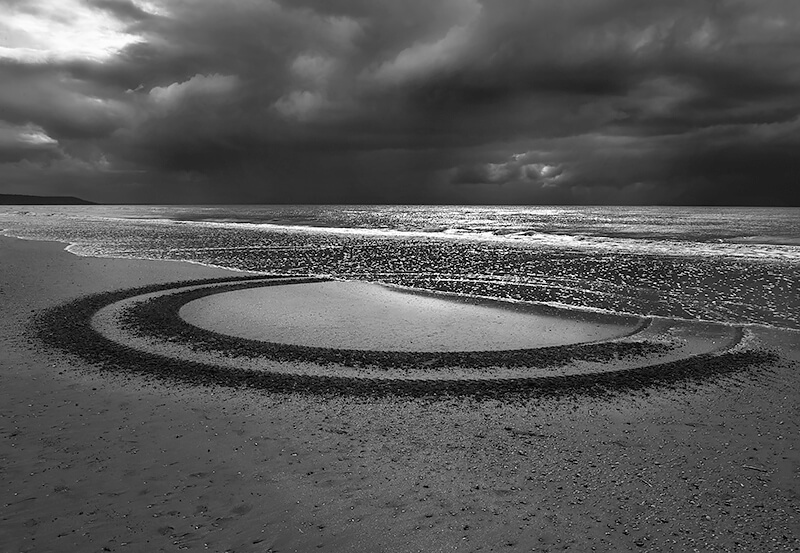 Project by Marc Barani, Photo Michel Trehet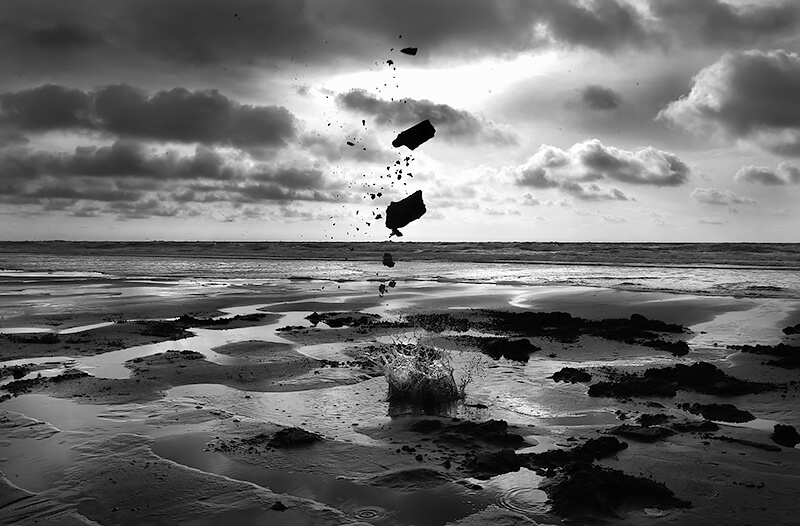 Project by Paul Andreu, Photo Michel Trehet