Thirteen military veterans who suffer from post-traumatic stress disorder (PTSD) have shared their stories with New York-based artist Susan J. Barron. Barron created large-scale mixed-media portraits of the veterans that she will present in her new solo show, Depicting the Invisible, at HG Contemporary between November 9 - November 26, 2018.
A private gallery reception for the participating veterans will take place on Veterans Day (November 12, 2018.) Barron will be selling a book of the portrait series—the proceeds from which will benefit organizations that support veterans' causes. The exhibition will also toast Services for the Underserved, an organization that supports veterans in their struggles with PTSD and mental health and has graciously voiced their enthusiasm for this exhibition.
Barron's work shines a spotlight on thirteen American veterans who have survived the trauma of war or terrorism. The artist's oversized black-and-white photographic portraits are painted with the subjects' stories in their own words.
The elegance of the images contrasts with the brutality of the narratives depicted. As they stare unflinchingly at the camera, the subjects are both vulnerable and headstrong. One work depicts Corporal Burke with his dog as he recounts the horrors of war:
When I got back from Iraq, I'd have this one recurring nightmare—I had to watch my buddy die.
He notes that he was united with his service dog after his second suicide attempt. In another work, Sergeant Carter sits in a wheelchair and reflects:
I'm paralyzed from the neck down for the rest of my life. I spent 16 months in a VA hospital, and I saw that it could be so much worse.
In the portrait of Sergeant Trotter the story of her rape by a star soldier captures the intersection of military sexual assault and the #MeToo movement.
Barron's intent is not to deify the veterans but to illuminate their experiences and to initiate a conversation around the sensitive issue of PTSD.
Twenty-two veterans commit suicide every day in our country,
says Barron.
The invisible wounds of war are just as devastating as the visible ones. My mission is to bring awareness to the PTSD epidemic and to provide a platform for veterans to share their stories.
In an interactive work, A Table for the Fallen, visitors are invited to sit at a table for one and to create a personal tribute to a fallen soldier whom they wish to honor. Each participant will be filmed ultimately composing a video piece.
© Susan J. Barron - Josh & Emma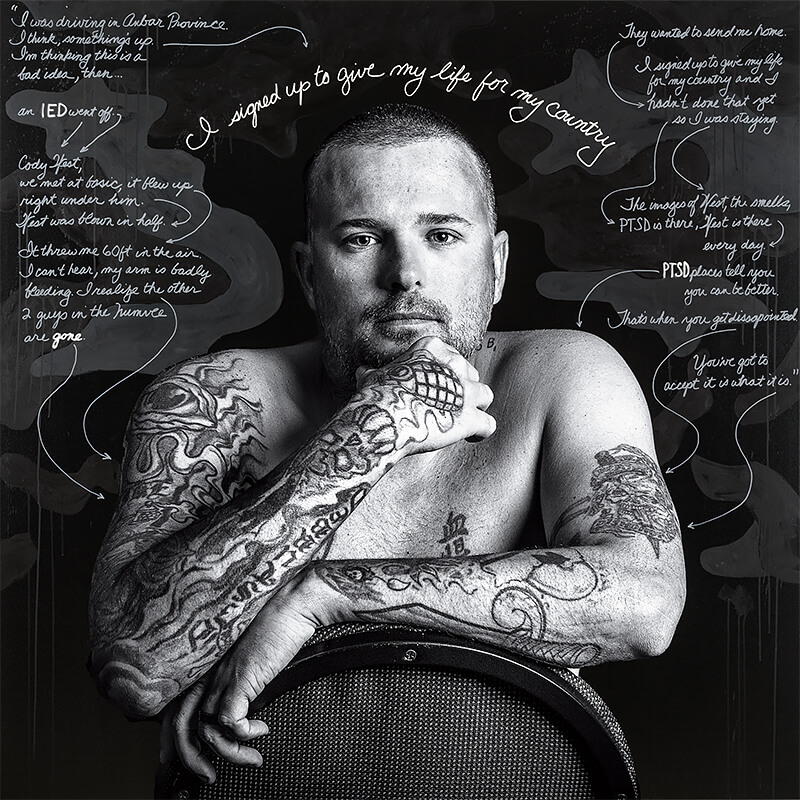 All About Susan J. Barron
Susan J. Barron is a nationally recognized and internationally collected artist. Her paintings, both figurative and politically motivated, have been shown in galleries from San Francisco to New York. Ms. Barron has had solo shows throughout the United States, including New York City's Caelum Gallery, the Kevin Butler Gallery in Massachusetts, the First Frontier Collage Society in Texas, and the Lark Creek Gallery in California. Her work has been featured on Fox 5 News, New York One, The New York Daily News, and Metro.
After a diverse career in advertising, marketing and branding, Ms. Barron founded The Pencil Promise in 2009 following a trip to Cambodia that changed her life. Witnessing firsthand the barriers to education that children in the third world face, she was inspired to create a company that would help make education available for children in need. With Ms. Barron as CEO, the company brought work programs and school supplies to Cambodia, Laos, Kenya, India, and Cuba through 2017.
A graduate of Boston University, Ms. Barron studied art at the Art Institute of San Francisco and Yale School for the Arts.
For more information on the artist, please visit her website
SusanJBarron.com
.
Press Preview:
November 7, 2018, 6-8pm
Public Opening:
November 9, 2018, 6-9pm
Location:
HG Contemporary New York
527 West 23rd Street
New York, NY 10011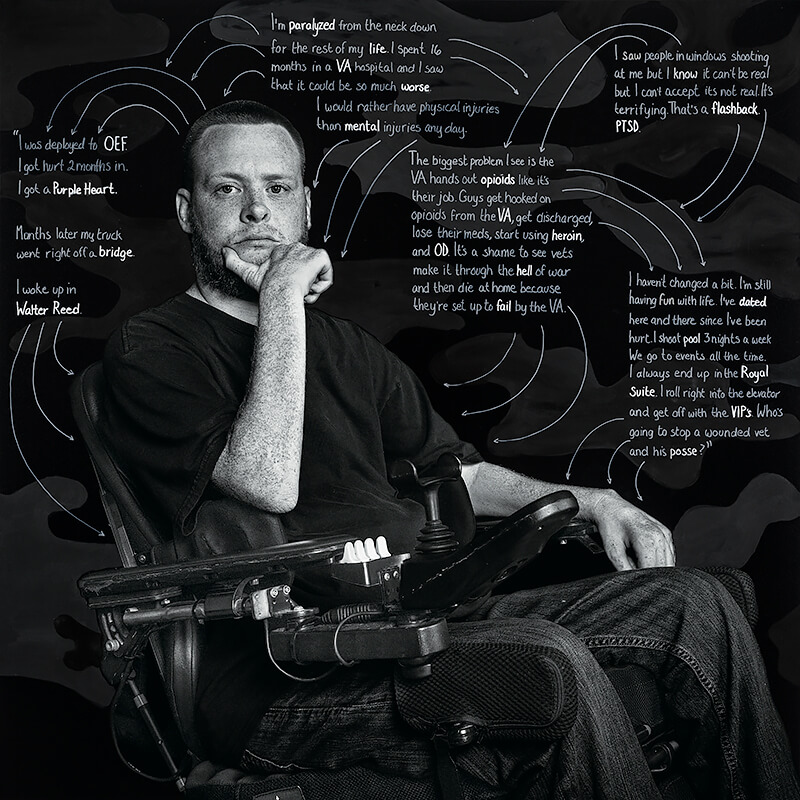 © Susan J. Barron - Rusty