I first saw
Shannon Johnstone
's photographs when I was jurying
PhotoLucida's Critical Mass
back in 2010. RayKo Photo Center happened to be hosting the traveling Critical Mass Top 50 exhibition and it was a year in which the images ranged from triumphant to beautiful to majestic to heartbreaking to challenging. In this selection of predominantly photojournalistic work, there was one picture of a pile of what appeared to be sleeping cats. A very large pile. I remembered seeing this image in the larger body of work submitted to the competition. Apparently, many of the 220 jurors were affected by this series of pictures...so much so, that here were the euthanized cats in a freezer in the Top 50 exhibition. It was at once sublime and horrific. As gallery director at the photo center, I watched people viewing the show and everyone stopped and stared at Johnstone's photograph. Each image had a text panel, so that the audience could learn about Johnstone's series, Breeding Ignorance and understand the implications behind her work. Here is her statement about the project and what drove her to make it:
With this work, I explore the tragedy of the massive overpopulation of cats and dogs in my community. In North Carolina, every year over 250,000 dogs and cats have to be euthanized because there is no place to put them. That is almost 700 every day, which I find shocking and heartbreaking. Although heroic efforts are made daily by animal control officers, shelter employees, veterinarians, and volunteers, they are faced with a Sisyphean task. These photographs explore the animals and aftermath of this epidemic, focusing on what remains when there are no regulations on breeding, spaying or neutering.
After adopting two dogs, I wondered why dogs are purchased at all, and began volunteering at a state-owned animal control facility. I was stunned to learn they receive over 8,000 animals annually, but can only hold 275 animals at a time. This results in thousands of euthanasias at this facility alone. Equally stunning, I learned many potential owners oppose the 100% sterilization policy. After months of volunteering and listening, I decided to respond photographically.
On my first visit to photograph the euthanasias, the lead veterinarian pulled me aside saying she had one rule—if I needed to cry, I had to leave the building. She explained the need for professionalism, and that crying was not allowed. Alternatively she offered, You leave here, then you cry, and you love the animals you have. That is what I do. That is what we all do. Another vet offered, The tragedy is not that we euthanize animals. The tragedy is that we HAVE to euthanize. There is no alternative. With this in mind, I decided the project should focus on the animals and the aftermath—but not the workers, whose identities I purposefully blocked. I hope these photographs call attention to the tragic epidemic of animal overpopulation, and illuminate what happens when we don't spay and neuter our cats and dogs.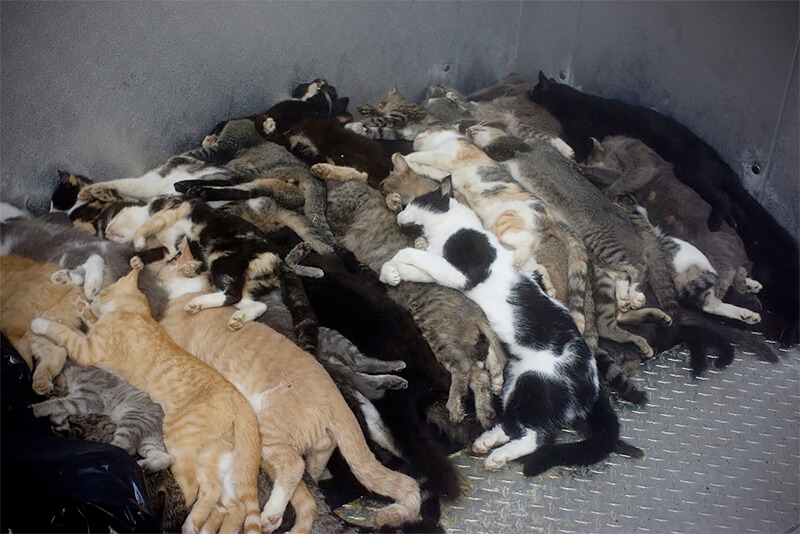 Now it's seven years later and I'm jurying Critical Mass again. I see the intense photojournalism and the manipulated images and the dramatic landscapes and the portraits and the interiors...and then I see cyanotypes that look like they're images of a solar eclipse or a star dying. They seem to be exploding. I look more closely and I can see dust and fragments and then I think perhaps they are made with gun powder. I then see Shannon Johnstone's name and think of those images of euthanized animals from 2010 that are burned into my cerebral cortex. I have to read her artist statement to discover that indeed, she is still pursuing the same passions and still asking us to look at the evidence:
The nitrogen in our DNA, the calcium in our teeth, the iron in our blood, the carbon in our apple pies were made in the interiors of collapsing stars. We are made of starstuff.
Carl Sagan, Cosmos
I made these cyanotypes with the ashes of euthanized homeless animals from an animal shelter's crematorium. These animals died with nobody to mourn their passing, except maybe a few overwhelmed shelter workers.
I hope these images serve as a memorial to these animals, who were nobody and nothing. Turned to dust and returned to the cosmos, they become everyone and everything. Just as we all will someday.
For the past decade I have been working with homeless pets and exploring ways to visualize the tragedy of animal overpopulation. Up until now, I have used traditional lens-based photography. For this new work, I was inspired by artists who use simplicity, pulchritude, and heartbreak as their tools. Artists such as Chris Jordan, Michal Rovner, and Felix Gonzalez-Torres, who draw you in with beauty, but then hit you in the gut with sadness.
Using my own breath and fingers to manipulate the ashes, I work the ashes into celestial configurations while the sun exposes the cyanotype turning the negative space Prussian blue. With these images, I hope to mourn the passing of thousands of our forgotten companions, and remind us that we are all connected and headed for the same fate: reduced to dust and returned to the stars.
Johnstone's unique cyanotypes range in size, though those featured here are small at 8x10 (for those of you who don't know what a cyanotype is, it's a contact printing process from the 1840s. Click here to learn more). These new images were all made in 2017 and Johnstone actually has some mural-sized cyanotypes that are 5'x7' that I can only imagine as the cosmos and as celestial skies. I think of her continuing to use the power of art and photography to educate us and to make us aware, this time using subtlety and beauty instead of traditional documentary photography.