I was jurying the Black & White show for the
Center for Fine Art Photography
and noting as I whittled the images down to 50 that maybe a theme was emerging. Not maybe, but definitely. Something a bit ominous and surreal. Don't get me wrong: in a show about black and white photography, there are the sublime moments and the heartbreakingly beautiful moments and the silver tones that made us all stay in the darkroom longer than we should have.
But in this show, there are other moments that appear out of the blacker than black nights or the shrouded misty landscape. There is one picture of a pair of legs on the beach in the darkness. Just the lower half of a body splayed out on the sand in the dusk, the sea just visible in the background. The legs are illuminated by a flash or headlights or some other artificial source. I have trouble determining if something bad has happened to the person who's legs these are or if she has just been captured by the photographer in an odd moment. I decide this image must be in the exhibition since I stay with it so long, trying to decipher its meaning and intent.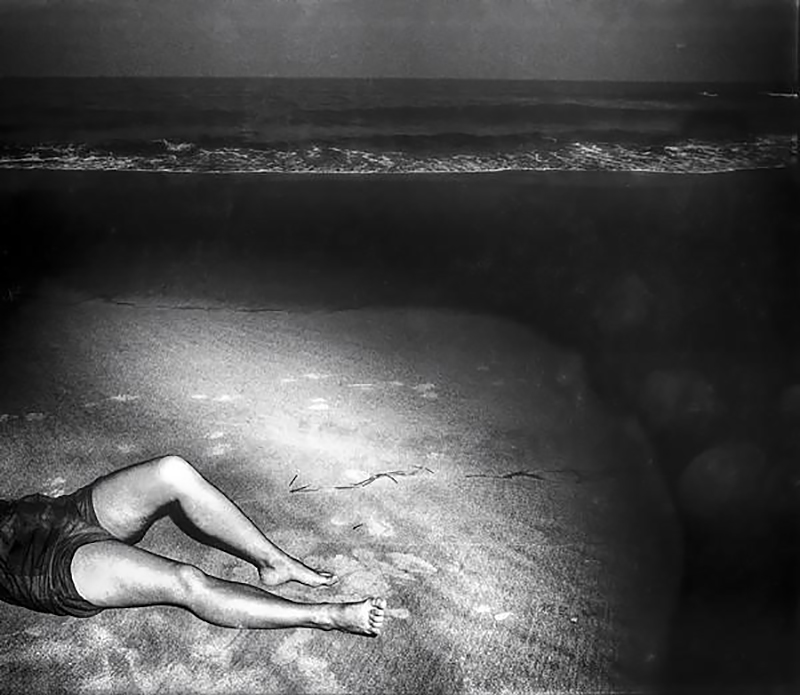 Not even a month later I was at my reviewer table at
PhotoLucida
, one of the great portfolio reviews in North America, and a gentleman sat down with a box of black and white photographs that happened to be printed down low. When I say down low, I mean the tonal scale. It's like when I saw
Roy DeCarava's
show at the
Amon Carter Museum
twenty-odd years ago and the prints were dark and beautiful, his figures stepping out of deep black shadows into the grey light of day. Nothing white. Perfection, really. And here, in this portfolio in Portland, as I flipped through portentous images (photographs of a truck frozen in ice so thick, it is anchored to the ground with the weight of its burden, another of a human shadow projected onto a brick wall, the shadow foreboding enough to make me look over my shoulder, another of an underground chamber in a field that you could fall into if you weren't watching your footsteps…especially at night…and all these pictures are at night or at that moment when the last light disappears), but here, I was being led into the darkness…here, as I flipped through these prints, I saw the legs on the beach. This was the photographer? Yes, this was him,
C.J. Pressma
, and his project Evidence which is ongoing and clearly gripping. It isn't often that I'm simultaneously surprised and thrilled, but this work, the mystery of it, his way of shooting that puts his viewer on edge, this, this was great.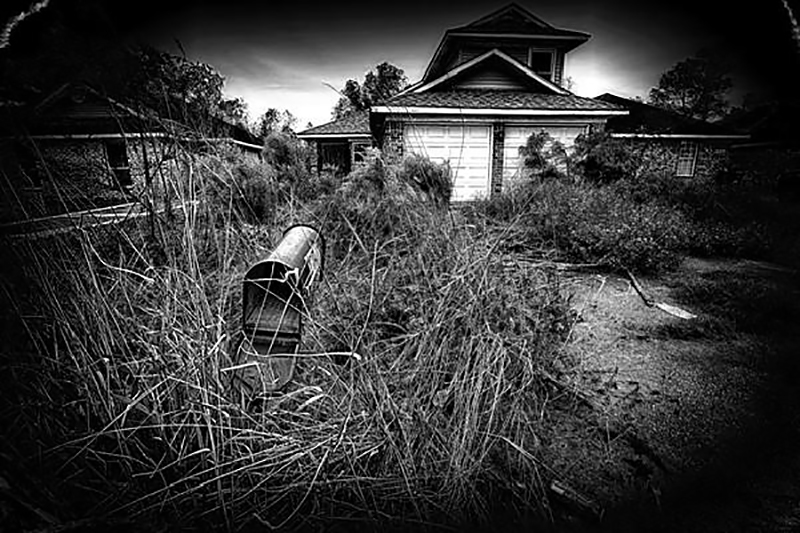 Here is what Pressma said about his influences for his photography:
In 1972 I was watching the Fellini film, Roma, and was captivated by splashes of light involving sparks from a street car at night. That scene with its dark nature and surreal quality motivated me to emulate a specific photographic style. It seems strange to me (almost absurd) that such a momentary scene became a motivation for an entire body of work that is interwoven throughout my artistic career. I call these images Evidence and Inhabitants. They are the evidence of places and people I have never been able to fully remember, but manifest themselves in the photographs I make.
I usually capture these pictures in abandoned places and of Inhabitants who might have or may still be living there. I search for the Evidence of humans where no humans currently reside. I am like an archaeologist sifting through a once inhabited location trying to imagine/portray what these people and places were like.
That decides it. I'm going to dive back into Fellini and not just stop at 8 ½ and La Strada (two of my personal favorites). I need to know about this scene that has captivated C.J. Pressma and driven him to create these images that are not just cinematic, but haunting.
If you happen to be anywhere near Fort Collins, Colorado between now and August 19, 2017, Pressma's photograph of the legs (which I recently learned is titled, Honeymoon on the Beach, adding even more intrigue to the image) will be on view at the Center for Fine Art Photography in their summer exhibition,
Black & White.
The closing reception is August 18th, 6-8pm. I'll be there and hope C.J. will be too with new additions to Evidence for me to witness.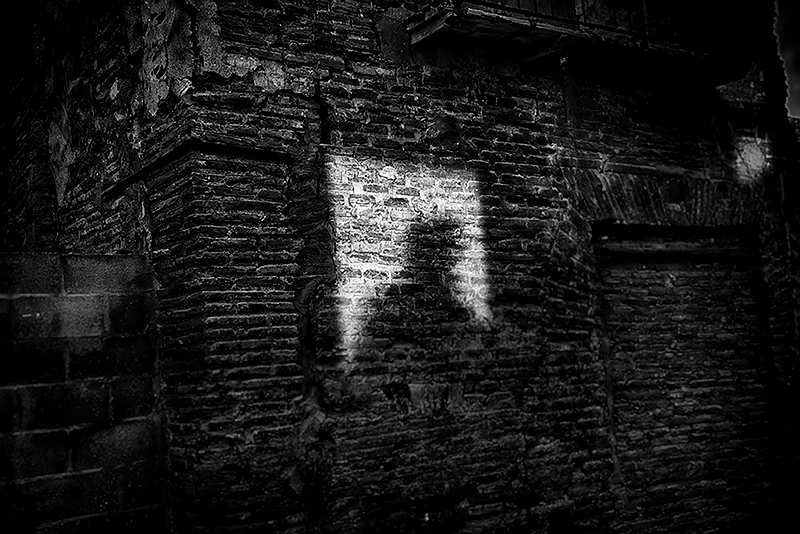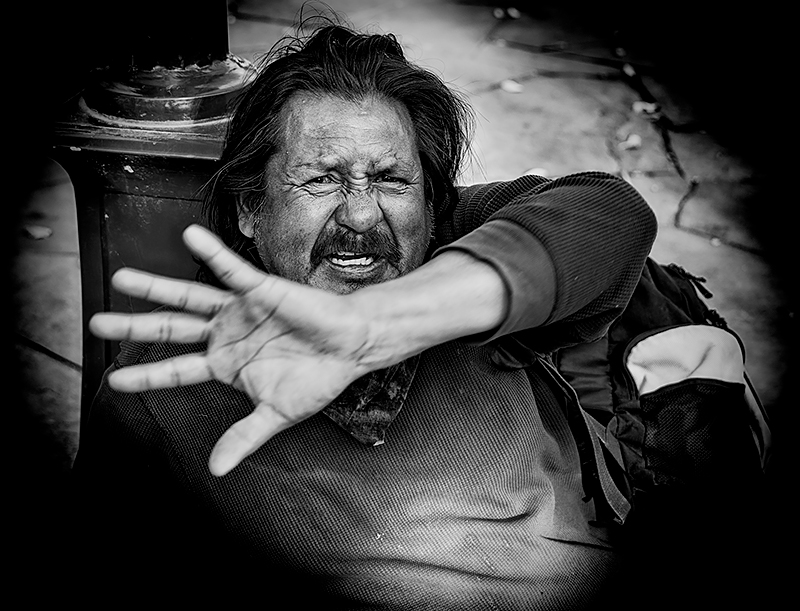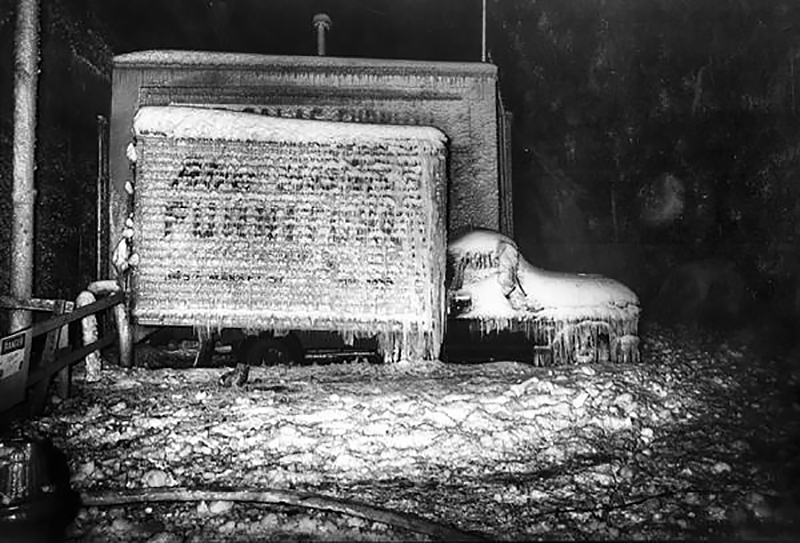 Biography
C.J. Pressma is a graduate of Antioch College and holds an M.F.A. in Photography from Indiana University. He studied as a special graduate student with Minor White at the Massachusetts Institute of Technology and with Henry Holmes Smith at Indiana University.
In 1970, he founded the Center for Photographic Studies – an alternative school of creative photography. The Center provided a full-time learning experience for those seeking to explore photography as creative expression. Its two galleries provided monthly photographic exhibits featuring the works of local, regional, and internationally acclaimed photographic artists including Ansel Adams and Minor White.
In 1978, he was awarded a National Endowment Fellowship in Photography.
In 1979, Pressma embarked on a career as a multimedia producer and marketing communications specialist. In 1984, his seven-part series Witness to the Holocaust, was released in the U.S. and Canada where it remains in distribution today. One of the first productions to use survivor interviews as the exclusive content to tell the story of the Holocaust, Witness to the Holocaust has received numerous national awards.
In December 2001, Pressma was awarded an Al Smith Fellowship by the Kentucky Arts council.
Also In 2001 Pressma was selected as one of 84 artists worldwide for the landmark exhibition Digital Printmaking Now at the Brooklyn Museum of Art. Pressma's career includes numerous solo and group exhibitions in the United States, Canada, and Ireland. His work is included in the collections of the Speed Art Museum, The University of Louisville's Photographic Archive, and the National Gallery of Canada.