I'm at the halfway point, somewhere in the middle of the alphabet, somewhere around portfolio #400 in the jurying process for Issue 12 of
Aint-Bad Magazine
, and here is a surprise. A great surprise. Twins. Many sets of them. Maybe all of us are a little obsessed with identical twins (or a lot obsessed, like me). I had friends with identical twins: so identical their own parents couldn't tell them apart. I thought it would be great to teach them to finish each other's sentences and to answer for one another, but they already did that instinctively. They didn't need me to teach them any tricks. They already switched t-shirts and took tests for each other too. They had it down. I looked for them in Kathryn Allen Hurni's series of photographs titled, House of Surprises, but they haven't made it to Twinsburg, Ohio. Not yet. They're too young to have drivers' licenses, which is probably why their parents' hair isn't grey...
I saw Kathryn's pictures and was thrilled to learn about this festival and celebration and also to see her wonderful photographs on the subject of twins. Many years ago (I hesitate to say decades...even though it is more than twenty years ago now), I assisted Mary Ellen Mark and was always in awe of how when asked how she got a picture, she would reply, I just go in shooting. She was a master and also someone you couldn't say no to. I sense from Kathryn Allen Hurni's pictures, that she held some conversations with the subjects of her portraits and then raised her camera.
Here is what the artist had to say about her project:
Throughout every stage of photography exists the act of encountering. As a photographer, I'm confronted by my vision, or particular desire to photograph a specific subject amongst a crowd. I'm confronted by obfuscation; am I capturing the subject's truth or mine- does it matter? In many ways, the act of engaging with photography is like stepping in front of a mirror and encountering some version of the self. And I wonder how it is to have a physical reflection of the self with a twin: some person that is within and apart.

This ongoing series documents the annual twins festival in Twinsburg, OH; the same fair that Mary Ellen Mark attended while producing her body of work, Twins.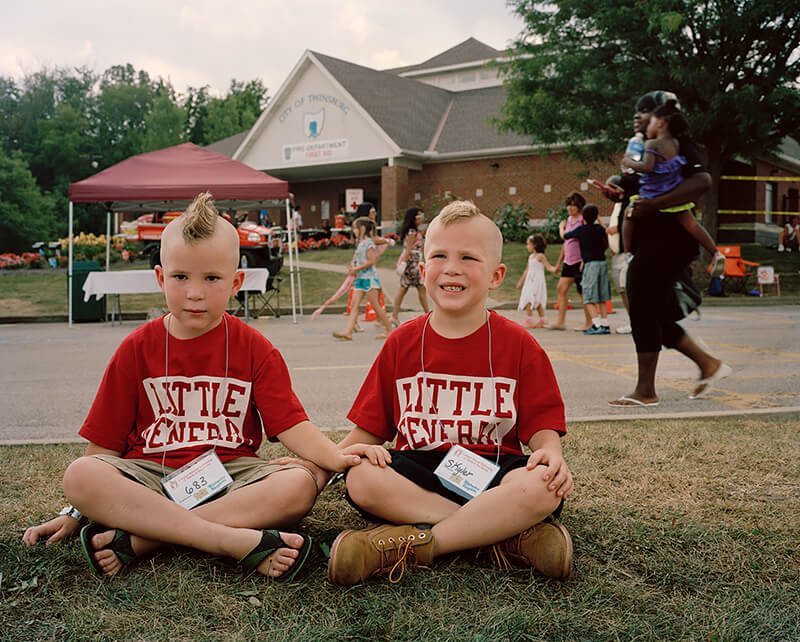 Biography
Kathryn Allen Hurni, born in 1984, attended New York University's Tisch School of the Arts where she obtained a B.F.A. in Photography. Since graduating in 2006 her work has been shown in several exhibitions in collaboration with Aperture Gallery, Manifest Gallery, and The Center for Fine Art Photography. She had her first solo show at Penn State University in 2015, where she delivered an artist talk to the BFA students and teachers. Her work has appeared in numerous publications including T Magazine, DETAILS, WSJ, and W Magazine. Hurni currently divides her time between her fine art practice and her commercial work as a freelance lifestyle photographer and retoucher. Hurni is based in Brooklyn, NYC.