We have our dreams because without them we could not bear the truth.
-- Erich Maria Remarque
Maybe it's this: the silver chill of the cold, bleak winters of my childhood that lasted for months and months on end. Maybe that's what made me stop and stare at this particular image of a small valley, an indentation in the land, covered with the thinnest layer of snow, barely covering the ground underneath.
The grassy earth strewn with discarded tires and there, in the midst of that odd landscape ringed by tower block apartment buildings, are two tiny men walking through the stark terrain.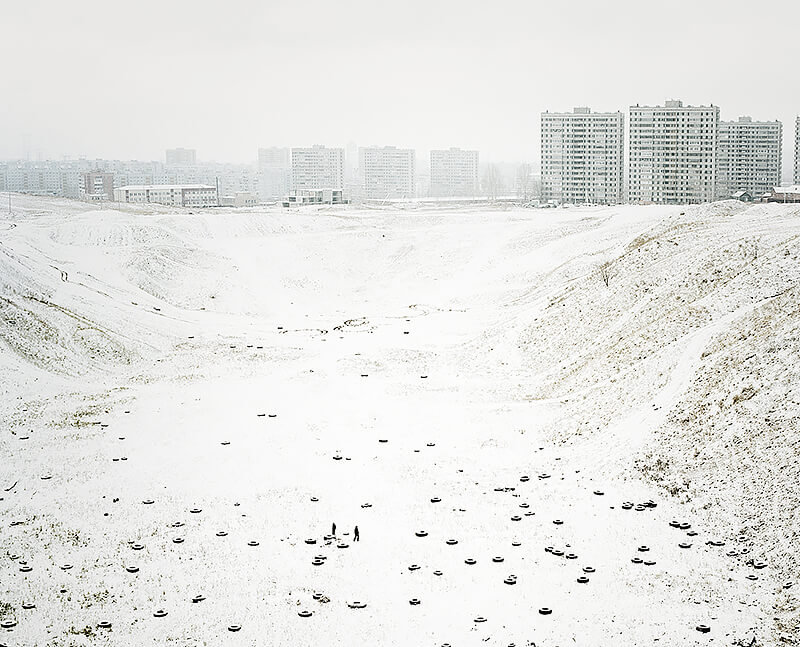 What was this barren place with no trees, I mean, not a tree in sight, and all those tires, no other rubbish, just a valley of tires? And who were those men and what are they looking for down there?
Misha Petrov had me with this image and the mystery of place. Thanks to
Photolucida's Critical Mass
, I was introduced to Petrov's project, Rocket Man and also to Alexey, the man featured in this photo essay. Here's what the artist had to say about this series:
This is a story about a man named Alexey. He is a self-educated inventor. He had a childhood dream to become a pilot, but due to poor eyesight he did not pass the commission in flight school. Alexey is 29, and he lives in the industrial part of Tolyatti city, which is a major center of the Russian car industry. Now he tries to adapt his childhood dreams to the real conditions of the unfriendly space he is living. His dreams about sky are incarnated in some strange inventions. One of them is a land rocket.

I met Alexey a year ago during one of the bikers' parties where he tried to ride on his rocket the first time. It was a very unsuccessful attempt because he almost burned down. It struck me deeply, but it does not reduce the inventor's resoluteness and creativity.

Since then, I have been keeping an eye on the inventor and his strange rocket. He has no family of his own nor a girlfriend, so he spends a lot of time in his underground workshop. There is not any serious calculation, drawing or plot of the jet engine, and construction as a whole. Most rocket components he has consist of findings at scrap-metal dumps. However, Alexey is currently the only person in the entire Old World which has ridden a similar vehicle.

I devote this series to all the crazy romantics who don't want to be reconciled with their surrounding reality. They create new extraordinary worlds, and sacrifice so much only for a dream.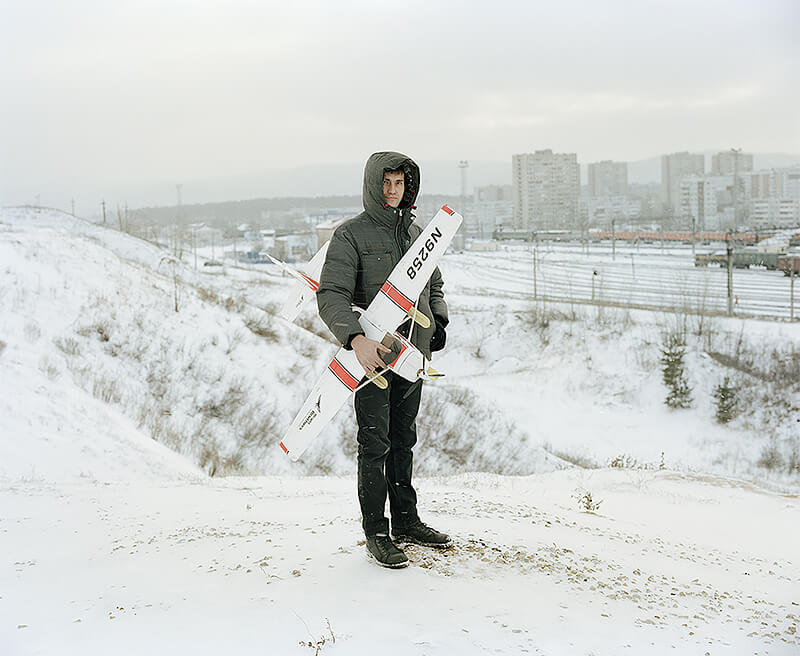 Biography
Misha Petrov was born in 1980, in USSR (present day Russia). He got his Ph.D. in engineering in 2006. So, he worked as a scientist till 2012, but his life changed dramatically.
Today Petrov is a photographer. He basically works with documentary and portrait photography. He devotes a lot of attention to specific visuality in terms of lightning, colors, movement, etc.
Also he is interested in photography as a contemporary art. He is going to explore issues of the medium in his next project. He is inspired by the paintings of Andrew Wyeth and the lyrics of Joseph Brodsky.