The first time I saw
Horia Manolache
's work was when he was a graduate student at the
Academy of Art University
. Prior to pursuing his Photography MFA he had a very sleek, very beautiful portfolio of chairs. Yes, they were beautifully lit and beautifully photographed, his years of studio photography clearly shining through these wonderful color images. It was the second piece of the diptych that made me pause. The other half was a portrait of a person that the artist imagined the chair would like if that chair were human.
Where did this idea come from? This project started in 2013 when Horia Manolache was at a workshop with Alessandra Sanguinetti. She sent Manolache to document an upholstery shop and to take a portrait with the owner of that place. To quote the artist,
The portrait was awful but an idea was born after seeing a white chair with a broken arm. What if this chair would be a woman? What age would she be? I wrote this idea down and I went back to my country of Romania. After one year I returned to San Francisco and I started to put everything together. I did the portraits of the chairs first...I looked at each print and I began to write the kind of person they inspired. It was like the creation of a character for a movie, a process that I think I enjoyed most in constructing this series...
Well, Horia Manolache's creativity is being rewarded. He has a solo show opening on September 8th at
Corden Potts Gallery
in San Francisco. The gallery is re-opening on the fourth floor of the 49 Geary Building at a time when many galleries in this city are closing their doors due to drastically rising rents. If you're anywhere near the San Francisco Bay Area on the 8th, stop by and celebrate Corden Potts' return as well as Horia Manolache's exhibition.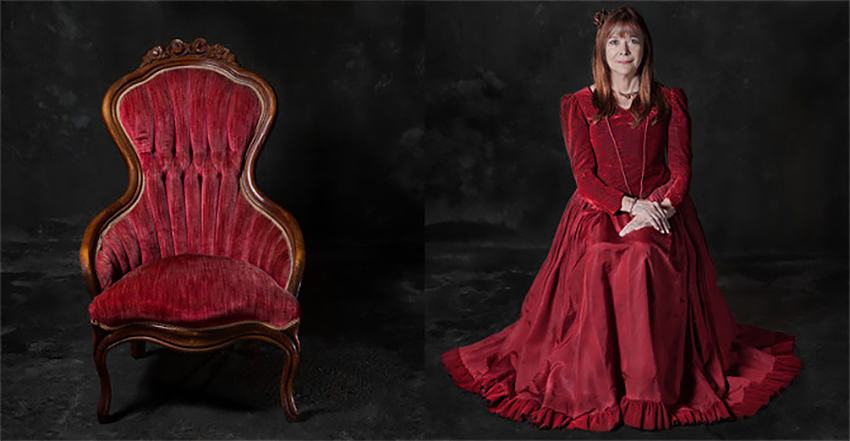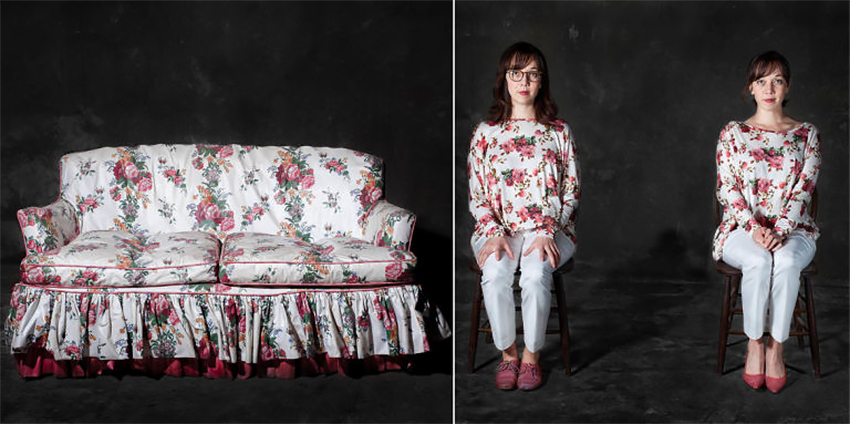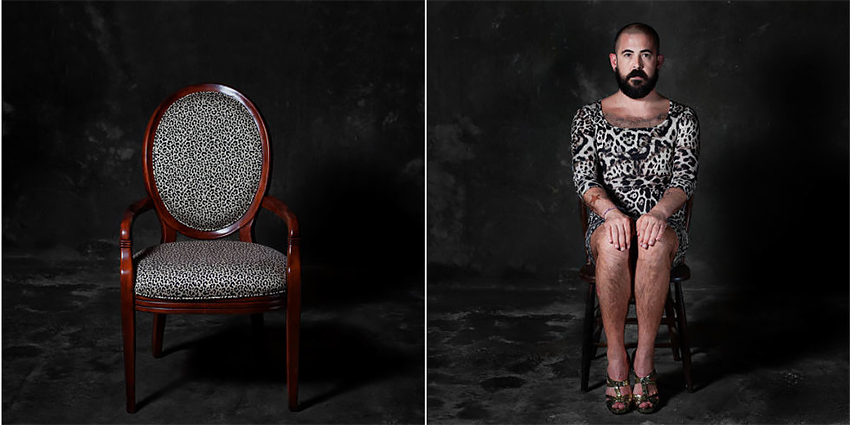 This artist has been nothing but prolific since finishing his MFA in photography. He actually has embarked on a number of series, one of which he is in the process of producing as a book. This project,
The Prince and The Pauper,
has been getting a lot of positive critical feedback as it focuses on one of the major problems in many American cities: homelessness. Horia Manolache's approach is different than anything I've ever seen though.
Again, he has brought his subjects into the studio and lit them perfectly, but that is not the point of these images. Manolache has actually taken the time to also talk with each of these individuals and asked them what their dreams were. What they imagined they would be. What they imagined they would do in their lives. The results are surprising and beautiful and truly moving.
The photographer had many influences for this work, from Rembrandt Van Rijn to Edward Weston to Jim Goldberg. It was actually a viewing of Goldberg's Rich and Poor exhibited at
Pier 24
that made him realize a few things. To quote Manolache: Seeing the contrast between the photographs and the words that Goldberg's subjects wrote on the prints made me realize that a photograph cannot tell the truth or at least not the whole truth, it just gives the photographer's 'truth.' As a consequence, for my project I started to record the stories of the people I photographed; I began to have a personal dialogue with them that gave me the context that I needed and also one that could not be found in the portraits alone.
Currently, Horia Manolache is raising money to publish a book of The Prince and The Pauper, a book about those of us that are less fortunate: the homeless people as they are and as they dreamed of being. The goal of his project is to show these individuals in a different way than we would normally view them or interact with them. Manolache hopes this book will help others to reflect on the homelessness problem.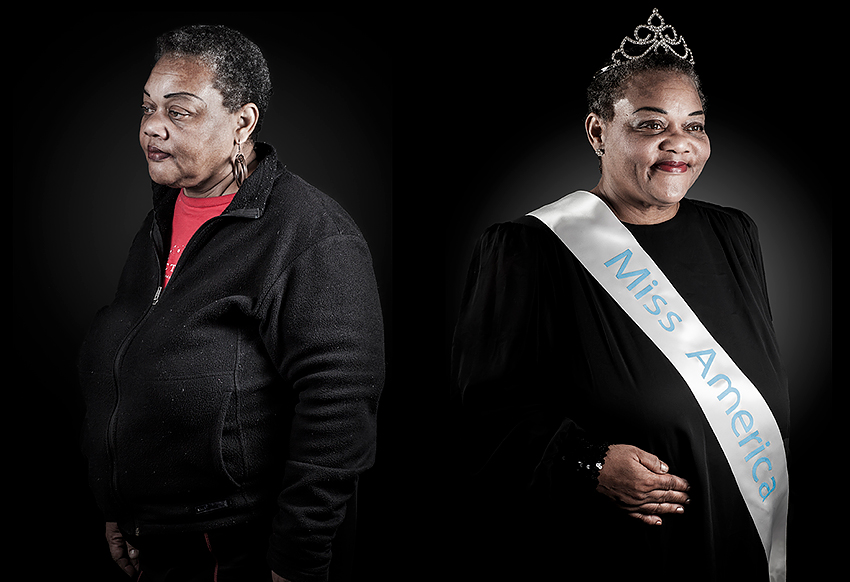 Tammy - Model
Tammy is a star on Height Street in San Francisco. If she can't bring a smile on your face, then nobody will. Her biggest pain is that her grandmother and her first husband took the kids away from her.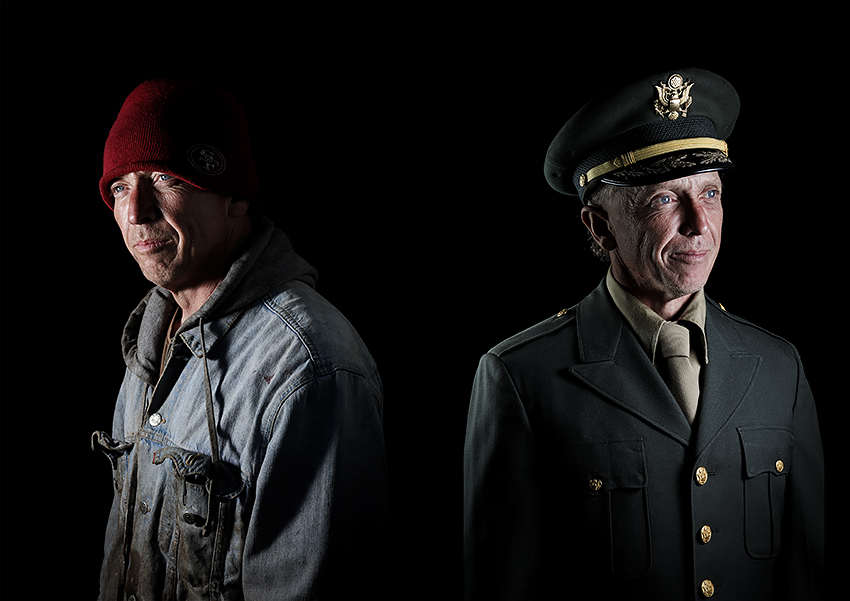 Frank - Army officer
I met Frank in Hunterspoint, San Francisco. He lived in a self-made trailer along with his wife and her dog. A big concern for him was that the police will take his house. He says he was raised with a butler but drugs brought him here. He was working in constructions when I met him, we had to photograph him on the street and on a building site. His wife wished to be a ballerina but because she was overweight, she felt uncomfortable to pose for this project. Frank is one of the kindest people I've ever met.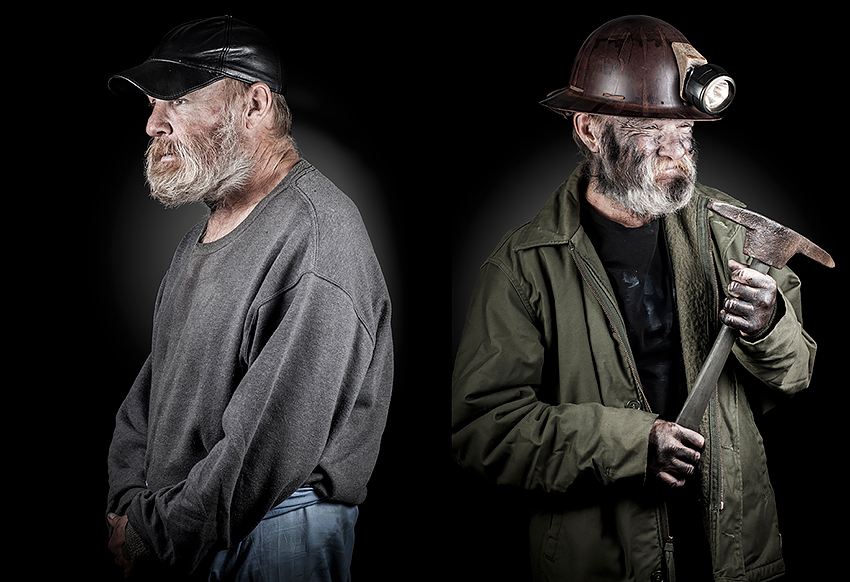 Max - Coal Miner
Max is a Vietnam and Gulf war veteran. He'd been serving the army for 43 years. He says that when he returned he gave up everything and went on the streets. He has now problems with alcohol and he barely walks because of the health problems. He traveled a lot. A regret that he has is that he doesn't speak with his daughter anymore.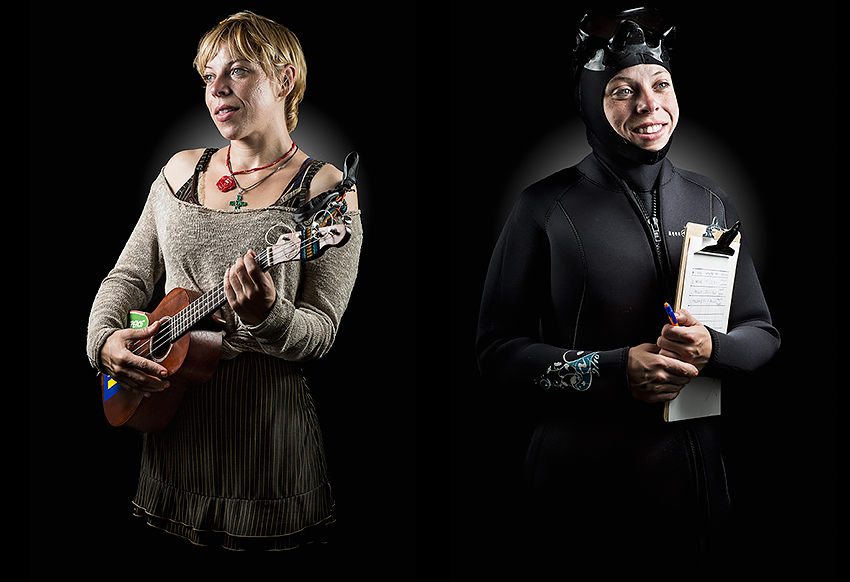 Honey - Marine Biologist
Honey run away from home because of her violent husband. She had a car in which she slept but it broke and the police took it so she had to sleep in the park. She learned how to play ukulele by herself and she knows how to sing with spoons. She is called Honey because of her sweet voice. She had her first performance in the hotel where I photographed her.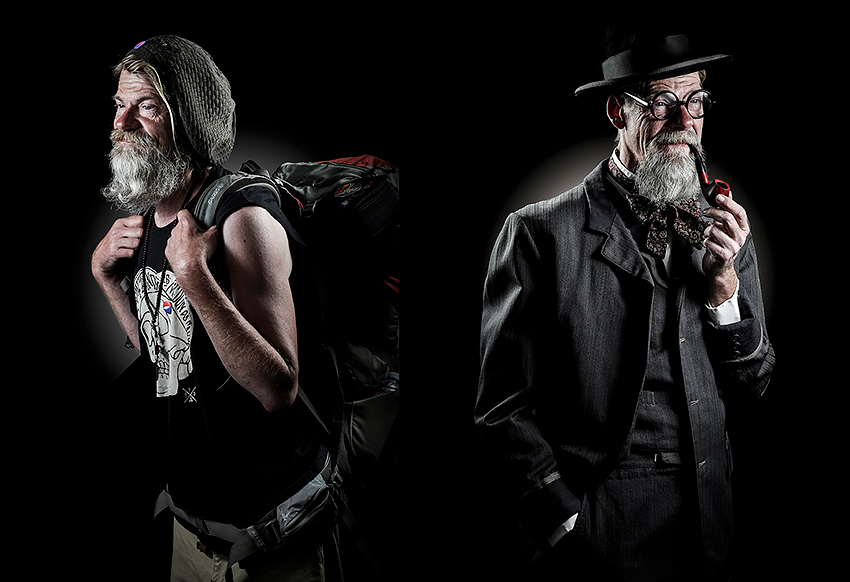 Bill - Philosopher
Bill had to run away from the state he was living. The reason he had to leave seems unjust but his alternative was jail. He wished to send these photos to his mother because she has Alzheimer and in this way she will recognize him when he will be back.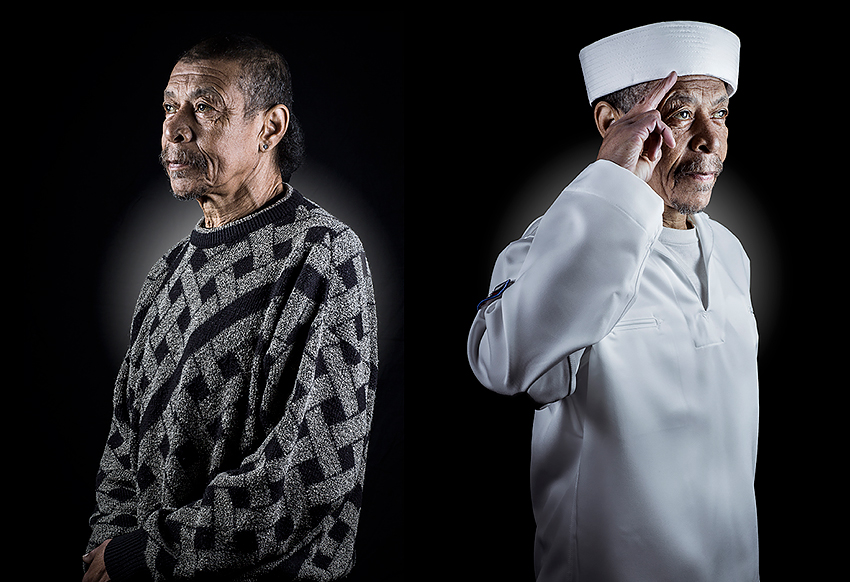 Henry - Navy Officer
Henry is a former drug and alcohol addict. He is selling news papers now for an organisation that takes care of the homeless people. He is from Mississippi, at a point in his life he had to choose between his mother and father and that marked him.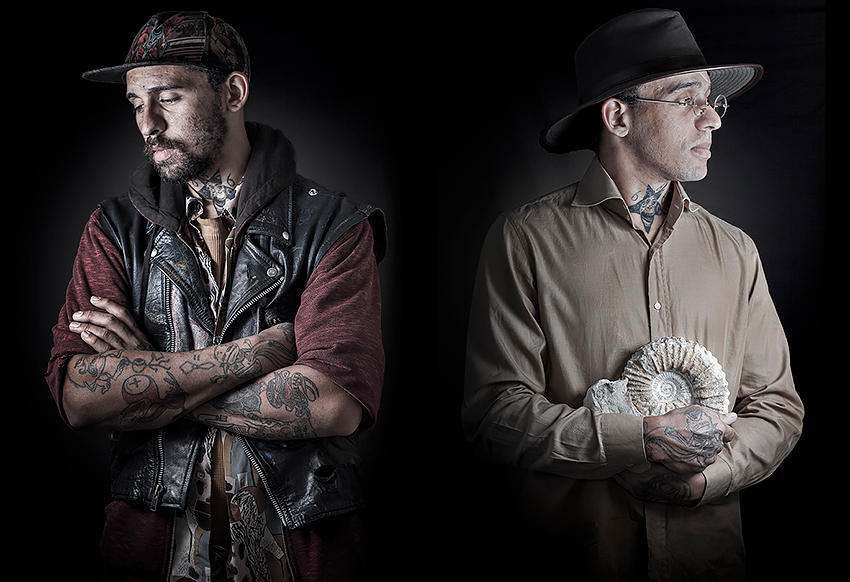 Mike - Paleontologist
Mike was the first to be in this project. He comes from Ohio, he had to run from there because he used to smoke weed and the police caught him so he was arrested. He is now rebuilding his life, he has a place to stay and he started to work, thanks to an organisation from San Francisco.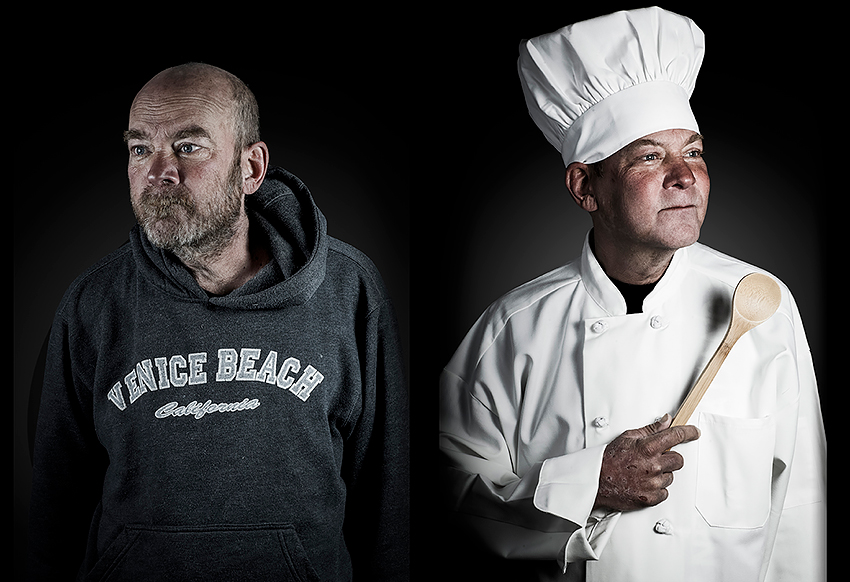 Pops - Chef
Pops was in Vietnam war also. He was an engineer, he started to do drugs and he lost his job. He was addicted for 12 years and he was in a rehab clinic. Unfortunately, he is now an alcoholic.br>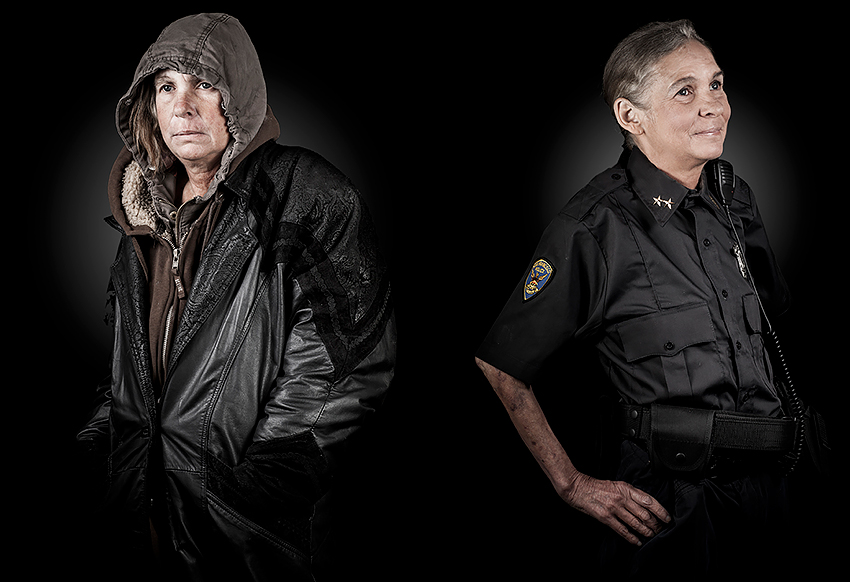 Jennifer - Police Officer
Jennifer from the McCloud family. She came from Ireland along with her husband but somewhere in the way they got divorced. She is very shy when she is sober.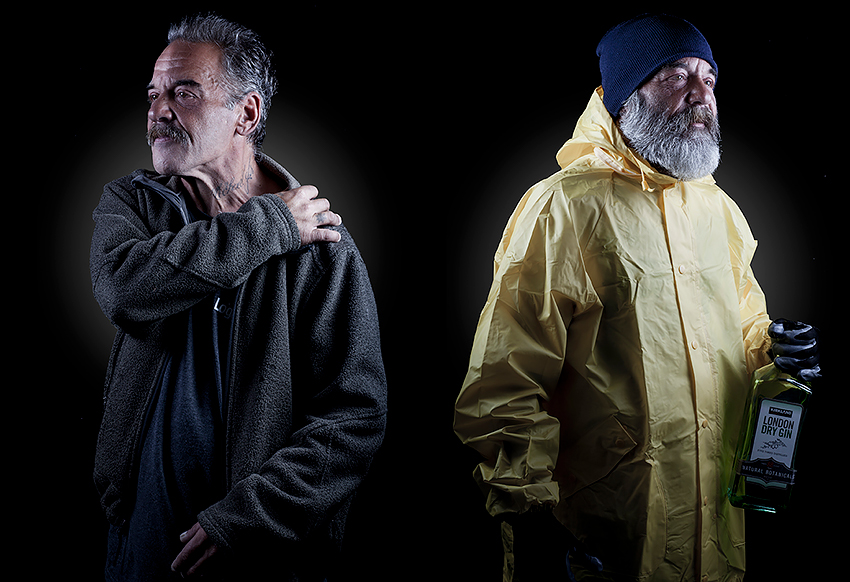 Michael - Sailor
I met Michael twice, first we couldn't do the photo shoot and he was really angry. I met him again after several months and he seemed reconciled with himself. In this photo he shows me the tattoo with his son's name and he tells me that he misses him. He lost his mom, his job and his house in two days.
Biography
Prior to earning his Photography MFA at the Academy of Art University in San Francisco, I earned my degree in filmmaking in Romania. I was the Book Proposal Category winner at Prix de la Photographie Paris in 2014 as well as an honourable mention winner in RayKo Photo Center's Perimeter of the World exhibition the same year. I also won first place in the IPA awards for editorial portraits, was nominated for the Felix Shoeller Award, exhibited at Streit House Space, 4x5 Gallery, Espace Beaurepaire, Magasin de Jouets Galerie, Arles Photo Festival, and was featured in Rangefinder Magazine, Forbes Life, Forbes Up, Lenscratch, Fotorelevance and others. I was selected as one of Forbes 30 under 30 (Romania) and was also nominated for PDN's 30 in 2016 with the project The Prince and The Pauper.