I first met
Jason Reblando
at the
Maine Photographic Workshops
(now the Maine Media Workshops) in 2003. He was my student in a 7-week intensive portfolio class (and when I say intense, I mean intense). Jason was lucky (he might be able to laugh about this now) to be enrolled with a passionate group of photographers, ones who would often sneak out of their beds before dawn to get first crack at the light and the possibility of making the best photograph in the class. They were collectively a documentary group, roaming far and wide across the state of Maine, turning up subcultures I didn't know existed, hitting the streets of small towns and bigger cities, embedding themselves with locals and lobstermen and junior NRA sharp shooters, climbing on top of cars with Hasselblad cameras during demolition derbies, following the traveling circus and going to every county fair and every small town event statewide. The entire group was relentless, challenging each other every moment of every day. My god, I thought, I can stop teaching now because there will never be another group like this. And I was right.
Each of those students went on to great things, including Jason Reblando. Not long after the program in Maine ended, he pursued his MFA in photography at
Columbia College Chicago
and there began his work on public housing in Chicago. I had the honor of exhibiting his
Lathrop Homes
series at RayKo Photo Center back in 2008; he might have been in his first year of graduate school then. This project is an examination of race, space and nature amidst the unending and uneven development of urban environments. Through these photographs, Reblando explored the complexities between the utopian aspiration of urban planners and the social realities of public housing. These images are from the Julia C. Lathrop Homes, a public housing complex on the north side of Chicago, built as a result of the New Deal and designed in the spirit of the English Garden City movement. Reblando's beautiful color images, photographed with medium and large format cameras and film, are moving and respectful, the rich color palette sometimes in stark contrast to the realities of the living spaces. They are powerful photographs that reconsider the residents, the landscape and the notion of public housing that has otherwise been marginalized.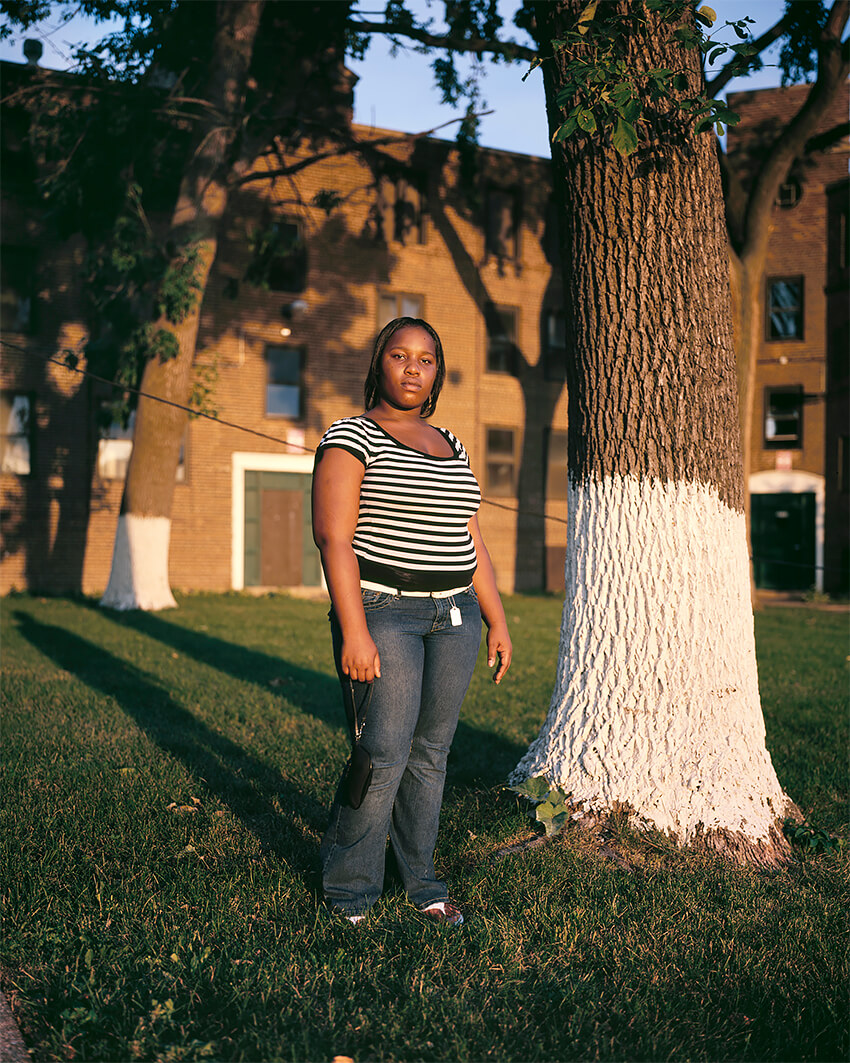 Currently selections from Lathrop Homes is on view at
Filter Space
in Chicago as part of Aint-Bad Metropolis: Chicago. In collaboration with Aint-Bad, the featured artists presented in the exhibition
Aint-Bad Metropolis: Chicago
are also included in the Chicago portion of Issue No.11 of
Aint–Bad Magazine.
A closing reception and publication launch party will be held on
Friday, September 9th, 6-9pm.
Copies of the publication will be available for purchase, as well as other books and publications from Aint-Bad.
This undertaking would lead him to other investigative and documentary projects that would take him even further afield than his home city of Chicago. I was lucky enough to not just see the following body of work, the exhibition of Reblando's
New Deal Utopias
at the
City Gallery in the Historic Water Tower in Chicago
, but I also got to hear the artist eloquently present and describe the work:
New Deal Utopias explores one of the most ambitious but overlooked federal programs in American history. During the Great Depression, the U.S. government constructed three planned communities - Greenbelt, Maryland; Greenhills, Ohio; and Greendale, Wisconsin - to resettle displaced farmers and poor urban dwellers. These Greenbelt Towns embodied the hope that American citizens would meet the challenges of the Great Depression in a spirit of cooperation, not individualism. The planners from the Resettlement Administration hoped it would not only transform the people who resided in these new communities, but also hoped to remake the landscape of American cities, as inspired by Sir Ebenezer Howard's Garden City principles. Howard, a British urban reformer in the late 19th century, envisioned cities where nature would be part of everyday life, and residents would have the social and economic advantages of living in a community with each other.
Today we are again struggling through tough economic times and the politics and divisions that produced the Greenbelt towns still prevail. The photographs engage with contemporary conversations about the history and future of urbanism, politics and place, and landscape and the built environment. Eighty years after their founding, the Greenbelt Towns still inspire visits from urban planners from around the world. New Deal Utopias explores how we continue to grapple with the complexities of housing, nature, and government in contemporary life.
New Deal Utopias is currently on view at Pictura Gallery in Bloomington, Indiana, as part of the
New Americana show
.
And then the next thing I knew, Jason was in The Philippines on a
Fulbright Fellowship
pursuing yet another documentary project (I hope he is staying in contact with the rest of his classmates from Maine to let them know that although he might not have woken up before them in the pre-dawn light every day, he is still a contender). This latest work,
Home and Away,
is personal as well as universal in its scope:
As a child of Filipino immigrants, I have had a long-abiding and deeply held interest in what makes people move from one place to another. Last year, I followed my curiosity as a Fulbright Scholar to the Philippines to photograph various aspects of the Filipino diaspora. As families left behind in the Philippines wait for remittances from abroad, I attempt to navigate the complex physical and social landscapes fraught with longing, like the phantom pain that comes from a missing limb. I aim to create a complex portrait of a country whose identity is always shimmering between home and abroad, dependent upon a population that is perpetually absent.

I have chosen to exhibit images from this project on commercial tarpaulin. All across the Philippines, people's faces are emblazoned across tarpaulin banners to announce their notable accolades, ranging from kindergarten graduations to political victories. Old banners are often repurposed to upholster seats and roofs of tricycles, a popular means of paid transport in the form of a covered motorcycle and sidecar. By displaying my images on this material, my intent is to allude to these displays and elevate everyday landscapes and people to imagery filled with accomplishment, reclamation, and longing.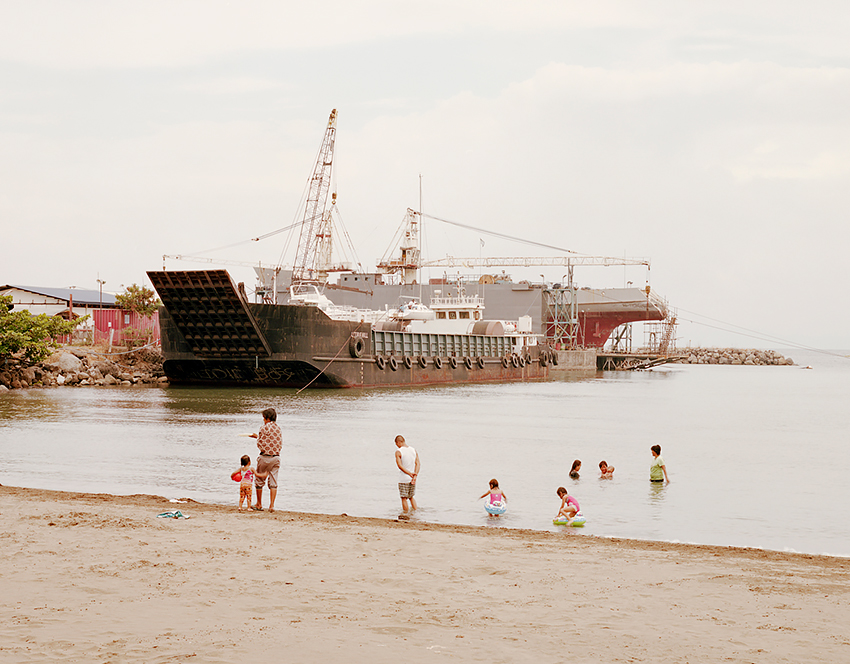 © Jason Reblando - Cargo ship, Subic Bay
As with all of Reblando's work, Home and Away is a potent series of photographs that leaves us to wonder about the human condition and the journey of life. While Reblando continues to get grants and residencies and awards, I watch and wait for his next project that will not only visually stir me, but also intellectually challenge me and take me outside of myself to the plight of others and the stories of humanity. Jason Reblando's hard work and dedication has paid off; he's become a mature visionary with an eye most photographers would envy. I'm proud to call him one of my students and look forward to following his path and seeing where his passions lead him next.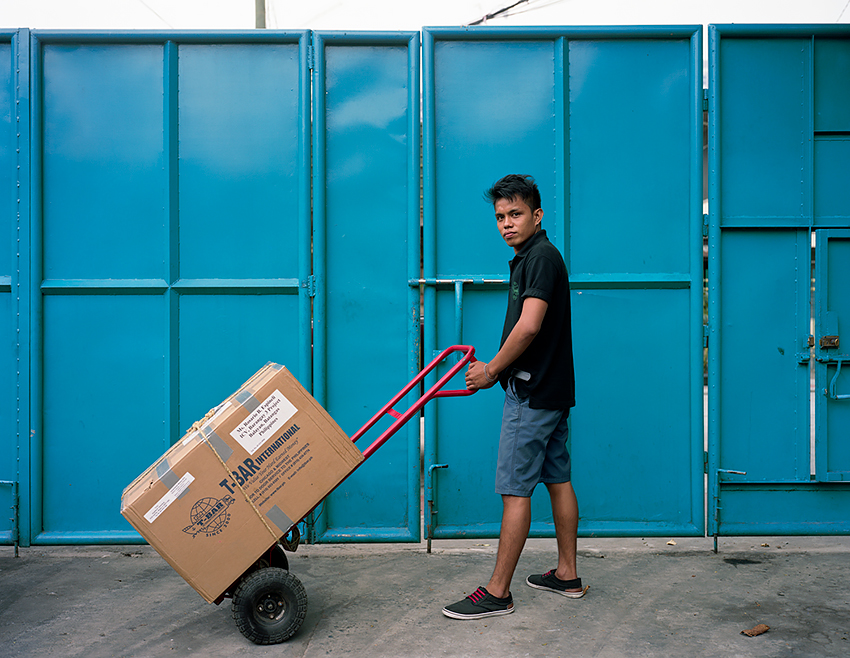 © Jason Reblando - Man with Balikbayan Box, Quezon City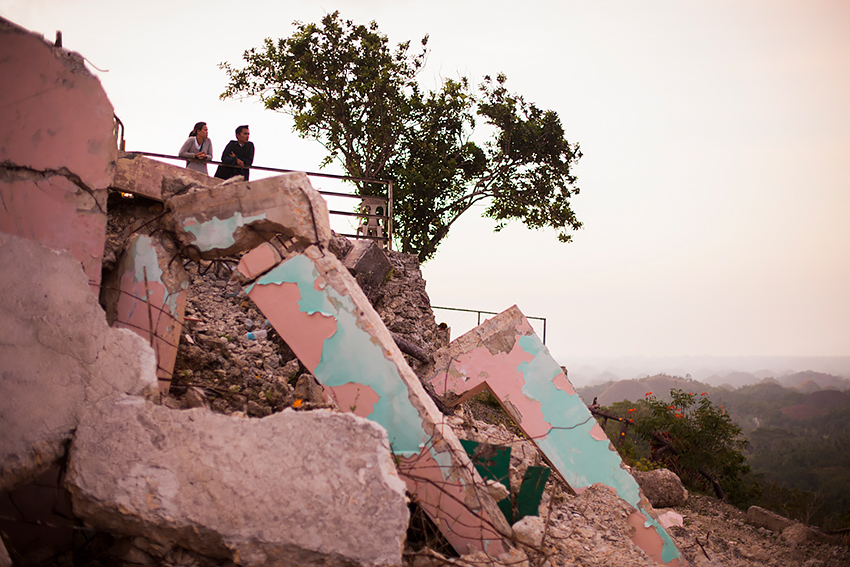 © Jason Reblando - Vista, Bohol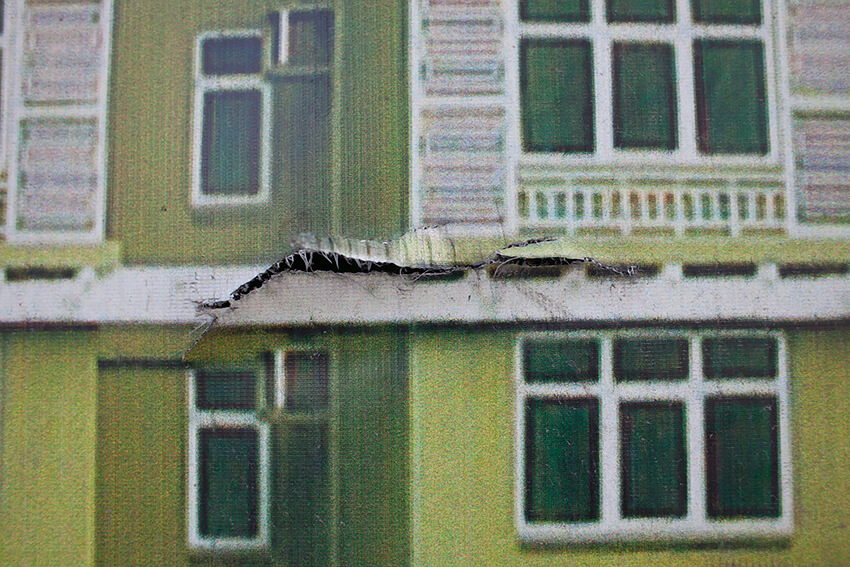 © Jason Reblando - Condo Tarpaulin, Bonifacio Global City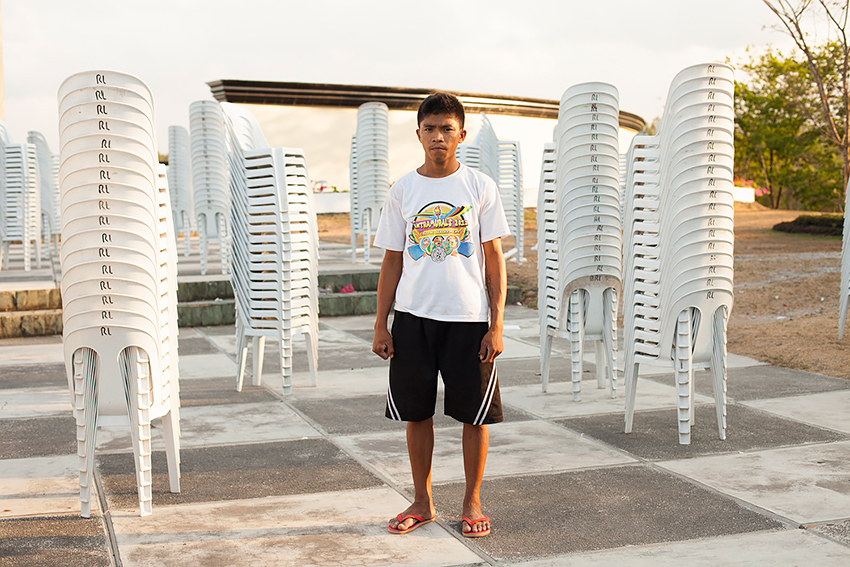 © Jason Reblando - Man with Chairs, Capas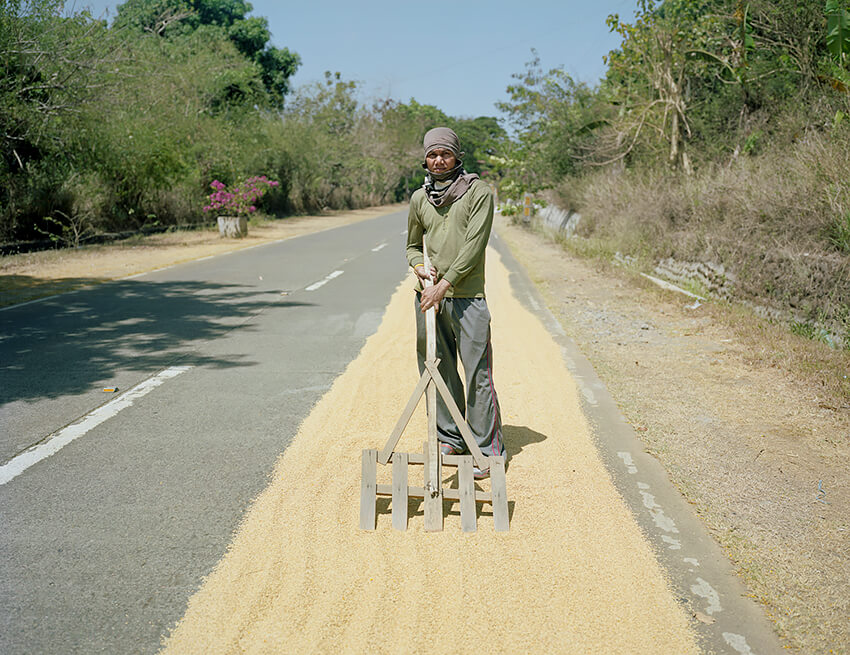 © Jason Reblando - Man Drying Rice, Bataan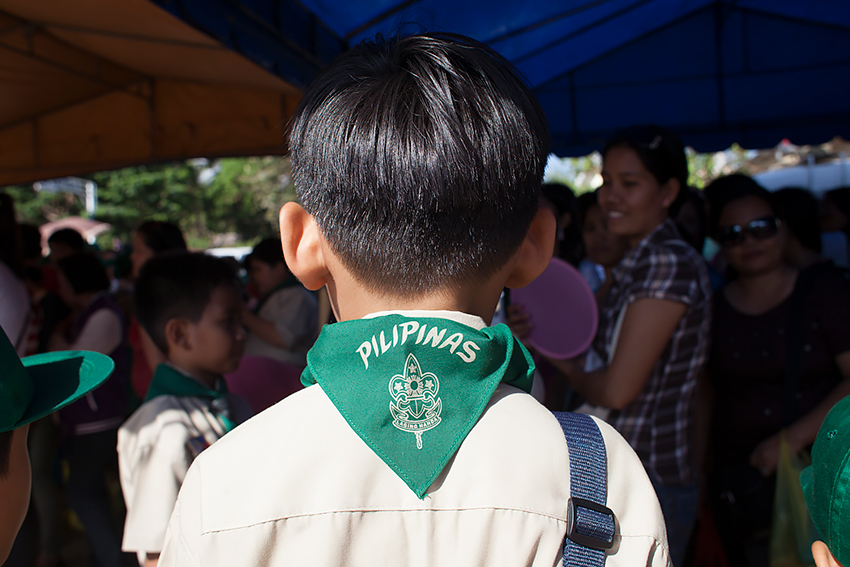 © Jason Reblando - Philippine Scout, Bataan
Biography
Jason Reblando is an artist and photographer based in Chicago and Bloomington, Illinois. He received his MFA in Photography from Columbia College Chicago, and a BA in Sociology from Boston College. He is the recipient of a U.S. Fulbright Scholar grant and an Illinois Arts Council Artist Fellowship Award. He has served as a grant panelist for the National Endowment for the Arts and the City of Chicago Department of Cultural Affairs Community Arts Assistance Program. His work has been published in the New York Times, Camera Austria, Slate, Bloomberg Businessweek, Real Simple, Chicago Magazine, and the Chicago Tribune. His photographs are part of the collections in the Milwaukee Art Museum, the Midwest Photographers Project of the Museum of Contemporary Photography, and the Philadelphia Museum of Art. He teaches photography at Illinois State University.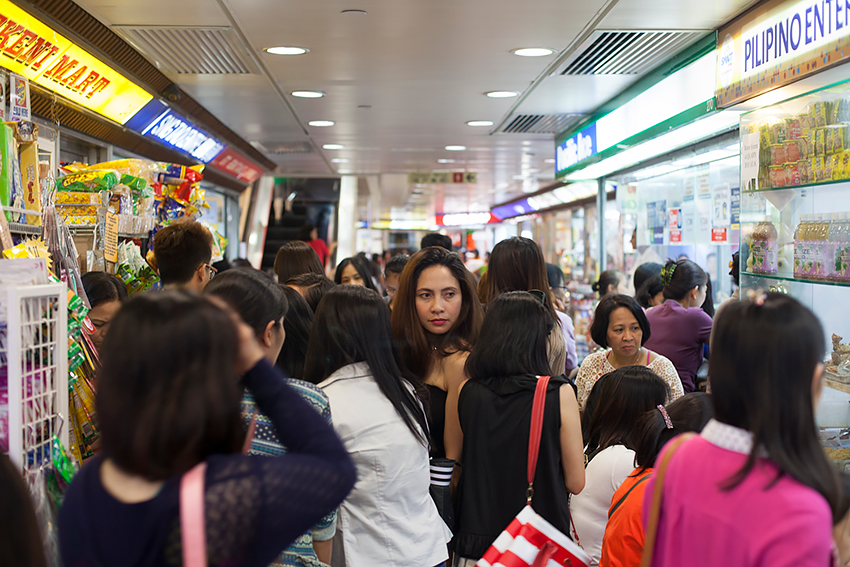 © Jason Reblando - Little Manila, Hong Kong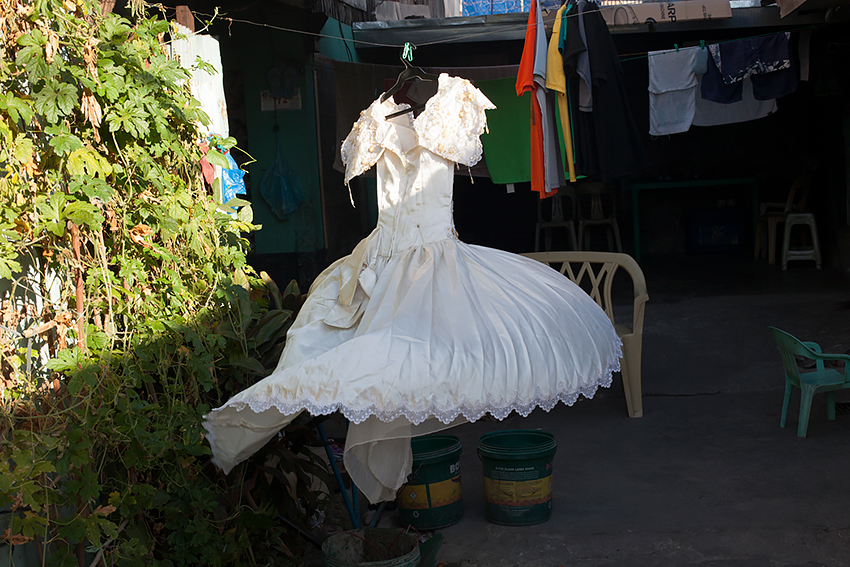 © Jason Reblando - Empty Dress, Bataan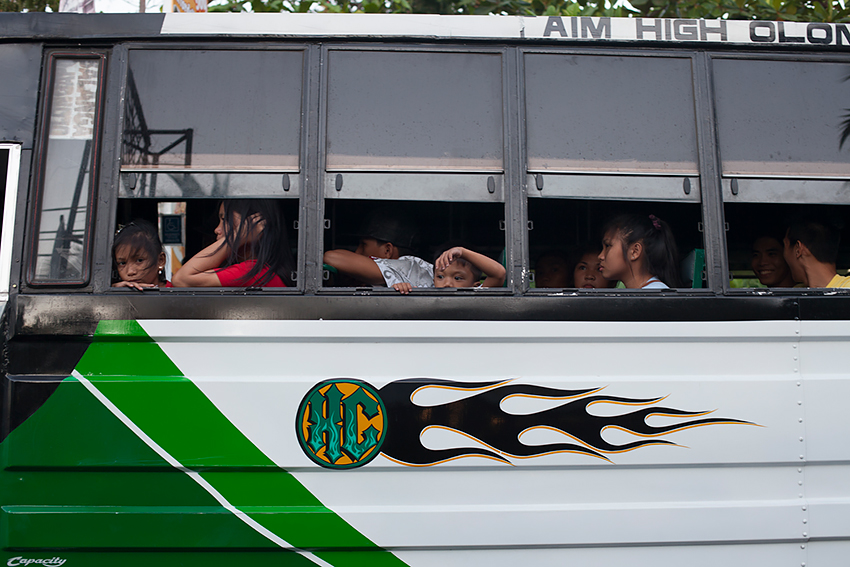 © Jason Reblando - Bus, Bataan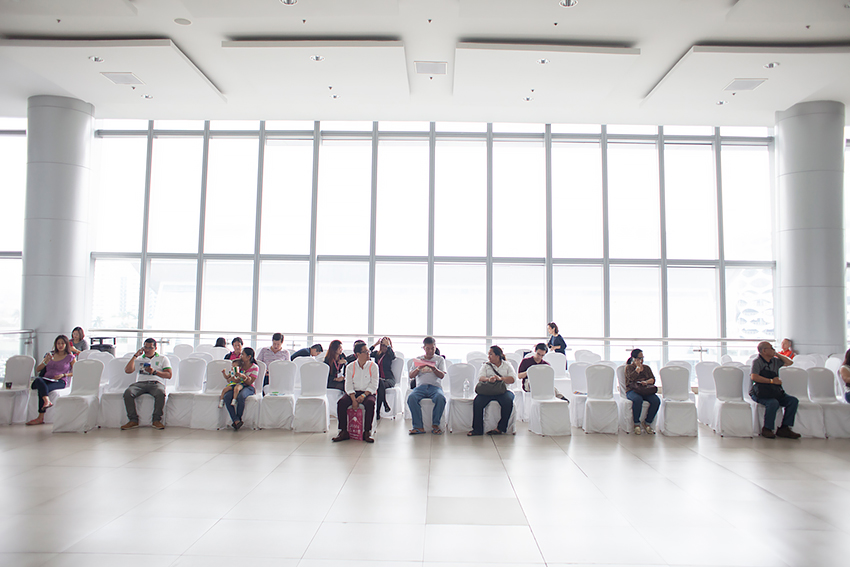 © Jason Reblando - Mall of Asia, Manila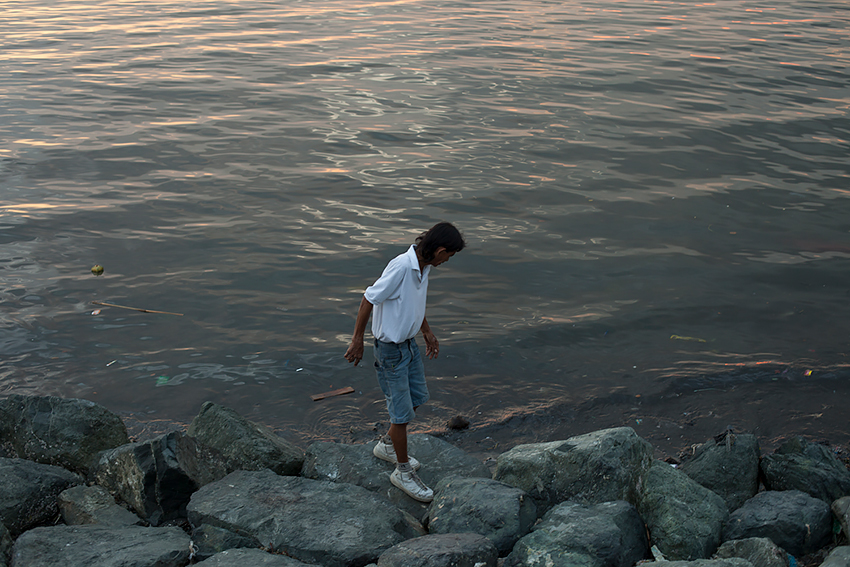 © Jason Reblando - Man on Rocks, Manila Bay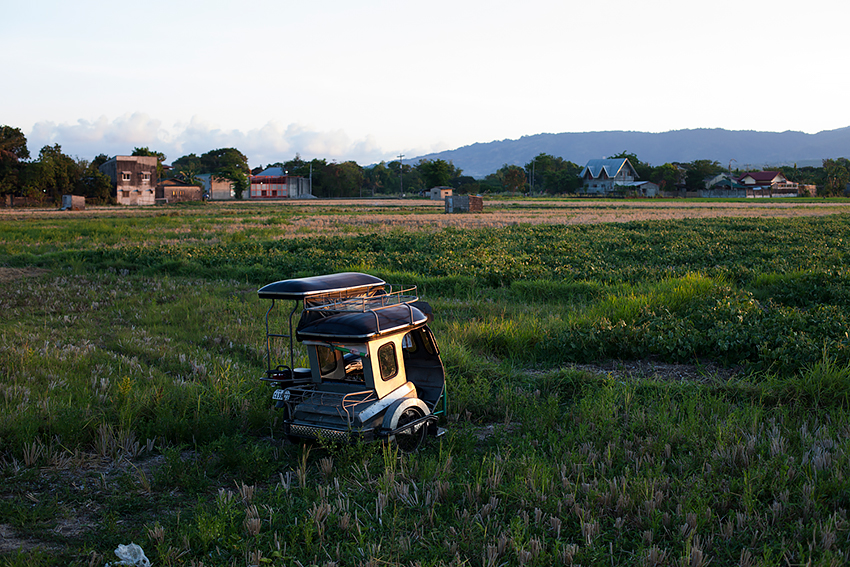 © Jason Reblando - Jeepney, Bataan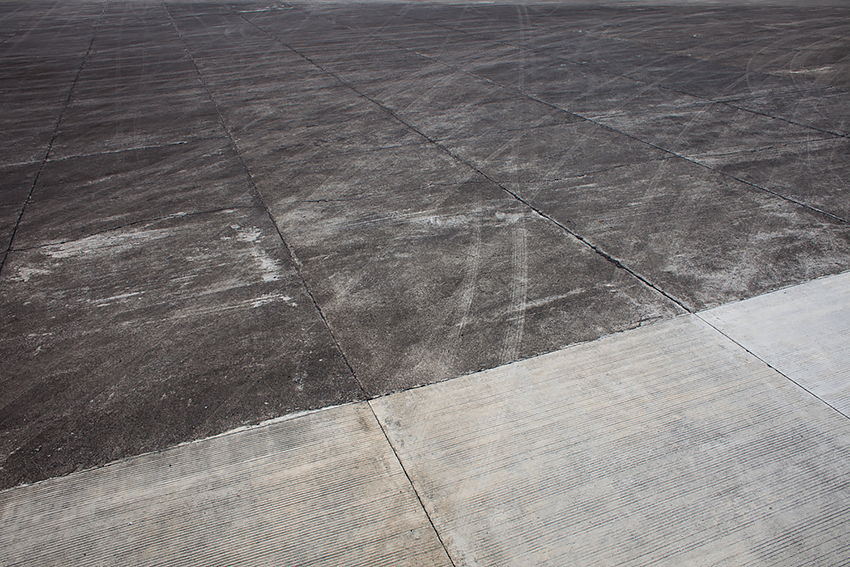 © Jason Reblando - Runway, Manila