I first met
Mimi Youn
when I was invited to the Seoul International Photo Festival back in 2011. Mimi was assisting with the festival and also acting as my translator part of the time. I noted that she carried a small box with her and on my last day, I asked to see what was inside. Here was a surprise. Tucked inside was a stack of meticulously carved, cut, scored, and manipulated Polaroids. Each with writing or drawings or actual 3 dimensionally raised words or figures rising up from the emulsion. I was stunned not just by the beauty of these unique objects, but also by the visceral response I felt to each one. So much anguish and emotion emanated from each one. I looked at the quiet girl sitting across from me and thought how all this talent was brimming under the surface. I felt honored to be holding these precious and potent works in my hands.
Honored and moved. When I returned to the United States, I built a show around these Polaroids, titled One-of-a-Kind. Including artists from the San Francisco Bay Area (Chris McCaw, Klea McKenna, Meghann Riepenhoff, and Diane Pierce) to Los Angeles-based artists Laura Parker and Alexandra Bellisimo, and the daring Chris Colville (Works of Fire), Saul Robbins from New York and Ian Van Coller, originally from South Africa. The show was a huge success with Mimi's Polaroids at the entrance to the exhibition. Visitors were drawn into the work, not just because of their intimate size, but because of their personal nature. Personal and yet resonating to all.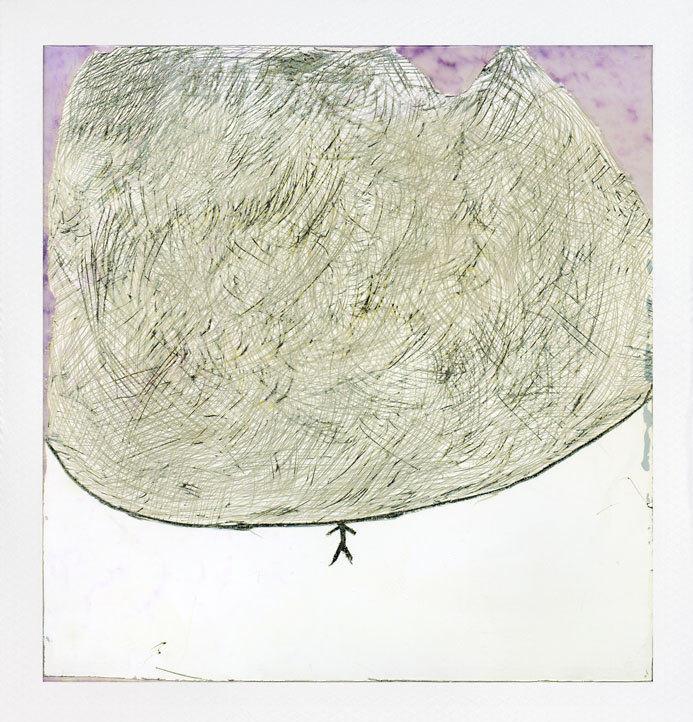 When asked to speak about these Polaroids, Mimi had this to say:
To me, life is so vague. I have had lots of ambiguous questions every moment in my life, and I try to respond to this ambiguity in my artwork. I am interested in works that contain an artist's real life story. To me, the truth shown in emotion is more important than the truth shown in reality.

My artistic practice began with photographs. I was fascinated with the power of photographs - recording everything with light and the accumulation of time.

But, I felt there were limitations to expressing my thoughts, emotions, and ideas as typical photographs. In my work, I use a Polaroid camera. After I take a picture, I cut text into the surface of the Polaroid. Most of the pictures I take look ambiguous and vague because of intentional overexposure; however, marks cut from the photographs look paradoxically strong and painful. Before fixing the image on the surface of Polaroid, during the developing process, I usually alter the surface: bending, shaking or scratching a knife against the surface, so the emulsion under the surface spreads. I focus more on my actions during developing rather than the results of the image.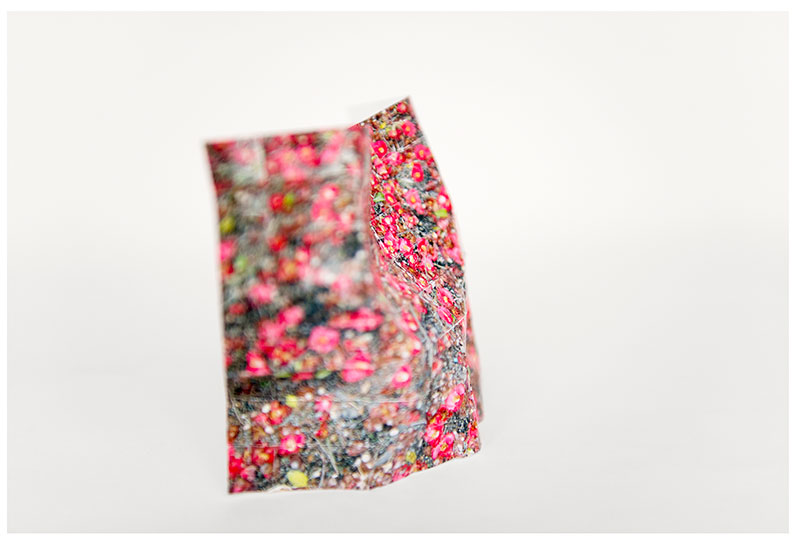 I prefer artwork that makes the viewer feel a sense of intimacy. To me, true understanding between a viewer and an artist comes when a viewer's sympathy is aroused. By combining text with images and abstractions, I am trying to create new energy that will help me get close to a viewer. Simple language becomes artwork when put together with images.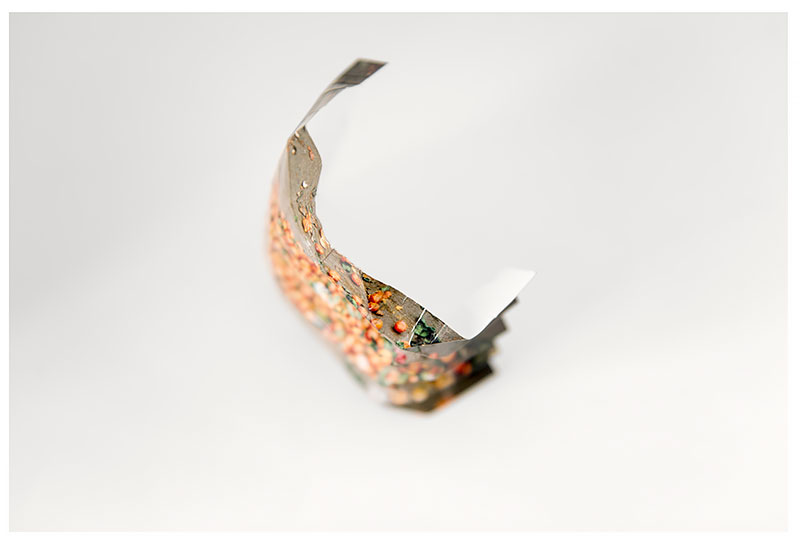 Move over Lucas Samaras.
Luckily for those of you who haven't been able to hold these Polaroids in your hands or even view them on a wall, Mimi Youn has a book that contains them all: XOXO.
That's the title, simply XOXO.
Recently Youn has embarked on a new project, this one of bent paper and mysterious disappearing landscapes. When I first viewed the sculptural images, I thought of kites... and then I thought of memories... and then I thought about being in flux and being lost and then almost found, but not quite. It was a really interesting experience, the way my mind processed these images.
I had to ask Mimi about these photographs too, so different from the cut Polaroids, but yet just as emotionally charged. Here is what she had to say:
I had been sick for a few months upon moving home to South Korea, having lived abroad for 5 years. After a long and slow recovery, I found that I lost some memories about the period in which I struggled against the illness. It is a kind of memory disorder which is called psychogenic amnesia. It means that the memories I have left are only the ones that I can handle. It was uncanny because I realized that I was no longer the person I had been. I had no Idea what was missing from my mind, but I knew instinctively that I had a new starting point.

Therefore, I started creating distorted, erased and modified memory through my works. I have been reconstructing images from pieces of photographs I took before with other materials rather than taking pictures. I also have been eager to see multi-dimensional shape forms of transformed memories. I make a photographic object folding, bending and crumpling and take pictures of it carefully. And the object is shown as unexpected shape by lower f-stop and different angle.

Also I have been interested in materiality of photograph. In my previous work I usually scratched and etched text and figure from the surface because Polaroid has layers. This time I am folding repeatedly photographs based on paper to make object as material, the weakness of structure and repeated behavior represents anxiety of loss, obsessions.

Physical traces in the photographs I made coexist with the photographic image like a crack in an iceberg.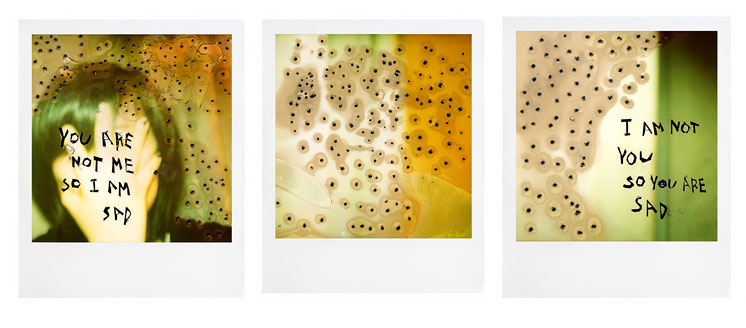 Well said, Mimi, well said. I felt this and more when I tried to discern what was happening in these pieces.
Mimi Youn is currently creating these new works and applying for residencies around the world. I'm secretly hoping she gets one near me so I can see her works in person again and be shaken to my core once more.
Biography:
Mimi Youn is a South Korean artist who graduated from The Slade School of Fine Art in London with a M.F.A. in Fine Art in 2008. She was awarded the Lens Culture/Rhubarb Photo book Award for Mememimi in 2008, and in 2009 was an Artist in Residence at Cite International des arts, Paris. She has exhibited both in the US and abroad. Youn uses Polaroids to create autobiographical narratives. By etching words and designs into the emulsion, she is able to essentially document her emotions and experiences as immediate as the image appears.