I met
Dave Jordano
at
Review Santa Fe
more than seven years ago. This is a particularly good portfolio review because the participants are juried into the festival. Dave Jordano was the last artist I met with at that review... I remember seeing him meeting with another reviewer and I thought, I've got to see what that photographer is showing. It looked powerful, even from a distance. At the time, he was showing work from his project, Articles of Faith, which documented African-American storefront churches in Chicago. Jordano photographed the interiors of these churches; his images of these luminous, decorated spaces captured so much more than their exteriors could ever reveal. I was honored to feature him in a show I curated called simply, Faith, where his work was met with a great response.
Now I am lucky that six years later, I get to show another of Dave Jordano's incredible long-term projects, Detroit: Unbroken Down. This one about a place that has often been in the news and which also happens to be the photographer's birthplace. Dave Jordano returned to his hometown of Detroit to document the people who still live in what has become one of the country's most economically challenging cities. Stricken with mass abandonment through years of white flight to the suburbs, unemployment hovering at almost three times the national average, city services cut to the bone, a real estate collapse of massive proportions that stripped the tax base bare, and ultimately filing the largest municipal bankruptcy in U.S. history, Jordano searches for the hope and perseverance of those who have had to endure the hardship of living in a post-industrial city that has fallen on the hardest of times.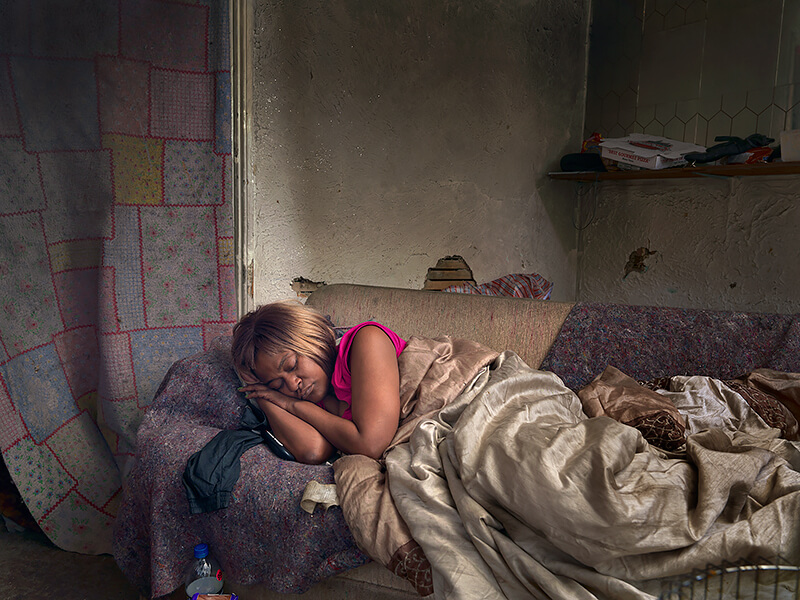 © Dave Jordano - Diane sleeping, Detroit 2013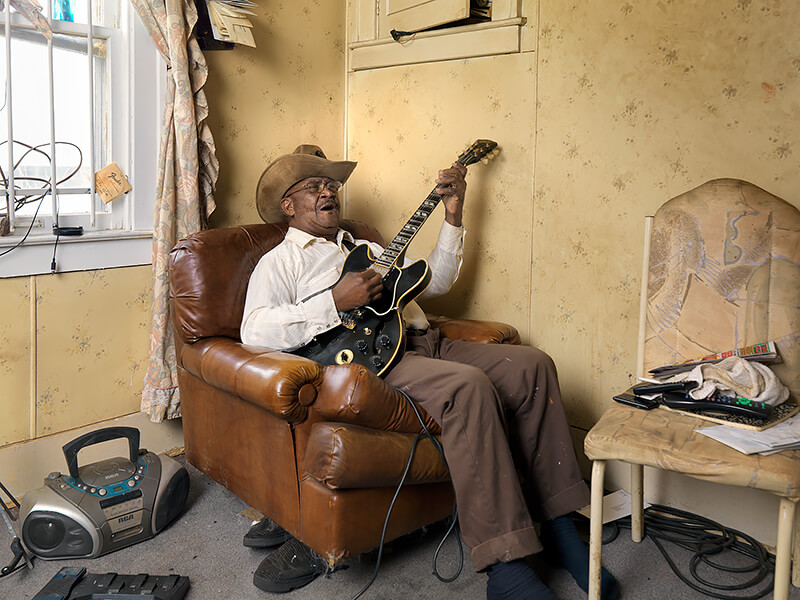 © Dave Jordano - Glemie, Detroit 2011
From the lower southeast side where urban renewal and government programs slowly became the benchmark of civic failure, to the dwindling enclaves of neighborhoods like Delray and Poletown, blue-collar neighborhoods that have all but vanished, Jordano seeks to dispel the popular myth perpetrated through the media that Detroit is an empty wasteland devoid of people. Through the many acquaintances he encounters along the way, from a homeless man who decided to build his own one room structure on an abandoned industrial lot because he was tired of sleeping on public benches, to a group of squatters who repurpose long abandoned houses on a street called Goldengate, Jordano brings to the forefront a message of hope and endurance to an otherwise greatly misunderstood and misrepresented city. Detroit: Unbroken Down is not a document solely about what's been destroyed, but even more critically, about all that has been left behind and those who remain to cope with it.
Dave Jordano will be signing copies of his his new monograph, Detroit: Unbroken Down at his solo show opening at RayKo Photo Center on June 15 from 6-8pm. If you can't attend the reception, the exhibition will be on view through July 26, 2016. This is a must see and a great story of the struggles and hopefully ultimately the triumph of a once-great American city.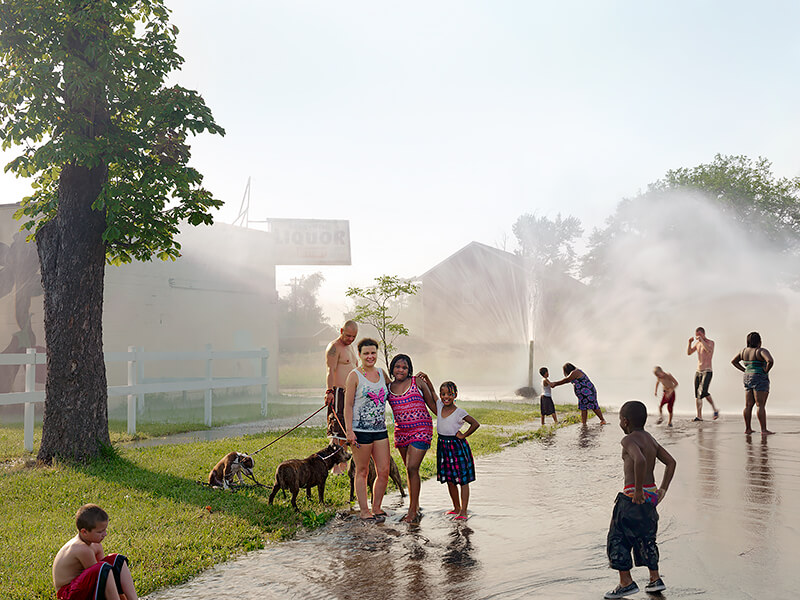 © Dave Jordano - Group with Hydrant, Detroit 2012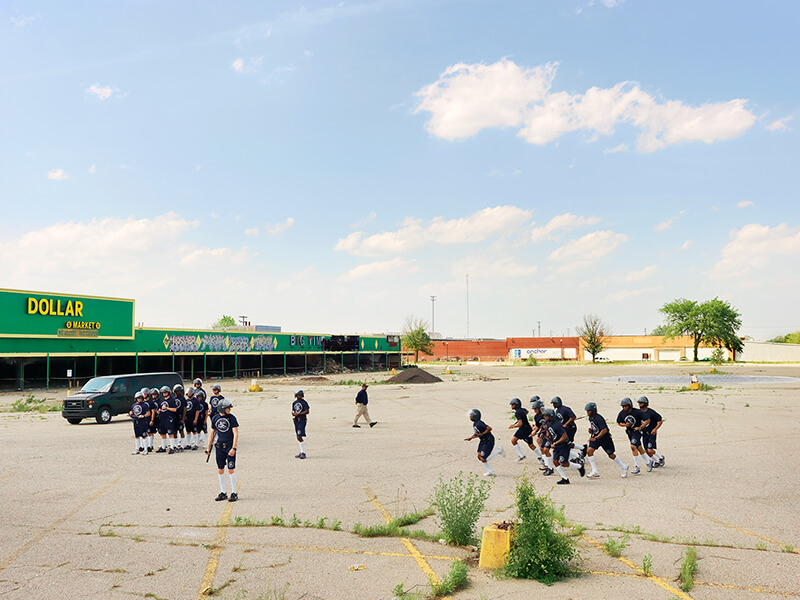 © Dave Jordano - Riot Training, Detroit 2010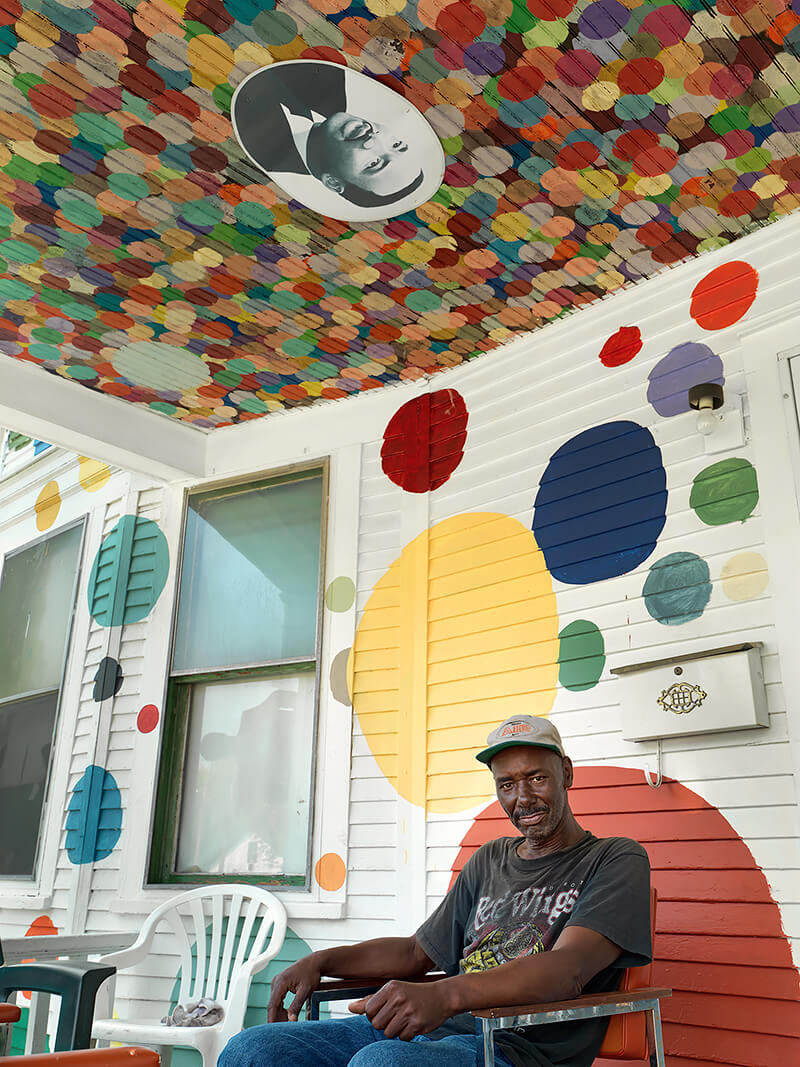 © Dave Jordano - Lynn Guytong, Detroit 2010
Biography
Dave Jordano was born in Detroit, Michigan in 1948. He received a BFA in photography from the College for Creative Studies in 1974. In 1977 he established a successful commercial photography studio in Chicago, IL, shooting major print campaigns for national advertising agencies.
As a mid-career fine art photographer, he was awarded an honorable mention in the Houston Center for Photography's Long Term Fellowship Project in 2003, and received the Curator's Choice Award the following year. In 2006, 2008, and 2013 he was a three time top twenty finalist in Photolucida's Critical Mass national photographic book award in Portland, Oregon.
In 2012 and 2014 he was a finalist in LensCultures International Exposure Awards. He was also selected for inclusion in One Hundred Portfolios, a compilation featuring the work of 100 leading photographers from around the world and sponsored by Wright State University, Dayton, OH. A major exhibition of his work from his Articles of Faith project was held at the Chicago Cultural Center, Chicago, Illinois in 2009.
In 2015 Jordano won the prestigious $50,000 Canadian AIMIA AGO Photography Prize and became a finalist in the 2016 Outwin Boochever Portrait Competition Award, exhibited at National Portrait Gallery, Smithsonian Institution, Washington DC.
Jordano has had solo shows both nationally and internationally and his work is included in the permanent collection of several private, corporate, and museum institutions, most notably the Museum of Contemporary Photography, Chicago, IL, The Museum of Fine Arts Boston, The Museum of Fine Arts Houston, The Detroit Institute of Arts, The Detroit Historical Museum, The Mary & Leigh Block Museum of Art at Northwestern University, Evanston, IL, the Harris Bank Collection, and the Federal Reserve Bank.
His previous book, published by the Center for American Places at Columbia College, Chicago titled, Articles of Faith, Small African-American Community Churches of Chicago, was released in April 2009.
His current project titled, Detroit: Unbroken Down documents the cultural and societal changes of his hometown of Detroit and was published by PowerHouse Books in the fall of 2015. Dave Jordano currently lives in Chicago, Illinois.