Erika Gentry
is a self proclaimed Francophile as well as a tireless documentarian. French culture was introduced to her by her extended family originally hailing from Cholet, France, and she has studied in and traveled through the country extensively. Her most recent body of work, Allez is an investigation using contemporary digital tools inspired from photography's historical roots.
This photographic project explores the fleeting experience of the voyage as seen out the window. Made entirely in France, it takes as its starting point the photographic motion studies of Étienne-Jules Marey and Eadweard Muybridge and writer Rebecca Solnit's notion that the work coincided with passenger experience. According to
Solnit
,, the persistence of vision held these motion studies responsible for confluences of art and science. Travel by train allowed Victorians to see the world passing before them in constant motion. Gentry's series, Allez continues this conversation through its contemporary street photographs of Paris.
The series attempts to explore the technological influences on contemporary photography through the use of small mobile cameras. While sharing public spaces, the subjects appear fragmented and disconnected. Constantly in motion - a lack of engagement and being present with one another is evident. The photographer too is alone but together with passengers, acting as a voyeur making long continuous and un-manipulated exposures while in constant moving transit.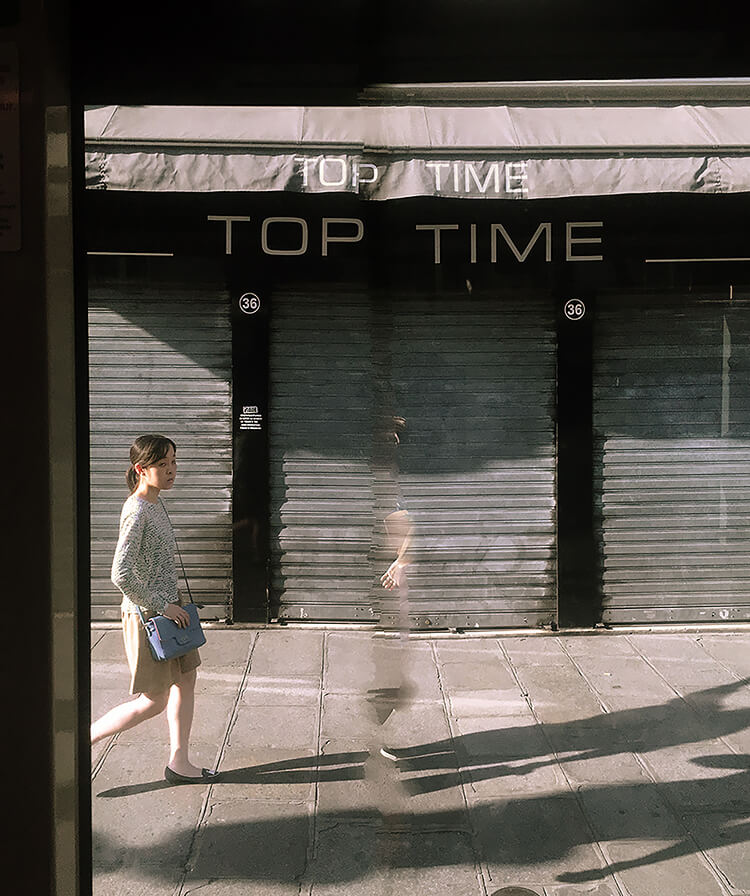 Some selections from Allez are on view this month at RayKo Photo Center in San Francisco. Alongside Erika Gentry's innovative images, are those of her students. Besides being a relentless photographer and explorer, Gentry is also an award winning Professor of the medium. She is an early adopter of digital media and one of the early Professors to begin teaching it in art schools. During her decades of teaching, she has also created her own photography program in her beloved France. Every year (this will be her Tenth year), Gentry takes a group of photographers to Provence and beyond, and this year is no different. Erika Gentry invites seven photography lovers to join her July 11-18 2016 for a photography workshop and tour titled
Photography in France: A Photographic Journey.
This special tour is designed for intermediate photographers and photography lovers.
Photographic opportunities abound in the Roman city of Arles and its surrounds as well as the opportunity to experience one of the world's premiere photography festivals, the Rencontres d'Arles, to inspire your own work. Experience guided visits of the festival and make your own photographs via excursions to surrounding Provencal towns seeing subjects explored by the likes of Van Gogh, Gaugin and Koudelka (to name a few). Get one-on-one help in the photographic field and feedback from Gentry and special guests. Experience food, art, culture and camaraderie on this very special guided tour designed for serious photography enthusiasts.
The Rencontres d'Arles
festival will take place July through September with exhibits, lectures and special workshops. The festival, with over 50 exhibitions of photography showcased at heritage sites (12th century churches and abbeys, 18th century townhouses, 19th century industrial buildings) throughout the ancient city of Arles, France, also includes a book pavilion and portfolio reviews by renowned reviewers should you choose to participate.
Get on the air conditioned min-bus with seven other photographers and explore Provence with your camera and the group including the famous Van Gogh sunflowers, the streets and ruins of the town of St. Remy de Provence, the lavender fields in bloom near Gordes, the Luberon from a hot air balloon at sunrise, the infamous Pont du Gard at sunset, Bastille day fireworks and more...
Now I'm getting filled with wanderlust too. To visit a place with someone who is more than passionate and knowledgeable about that place is rare. I think I may have to see if Gentry needs a teaching assistant for this expedition. Allez!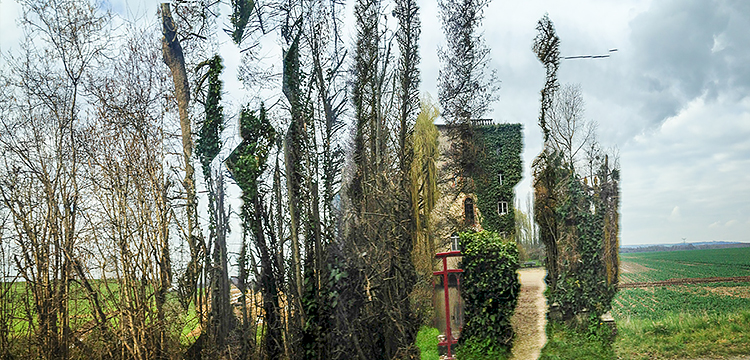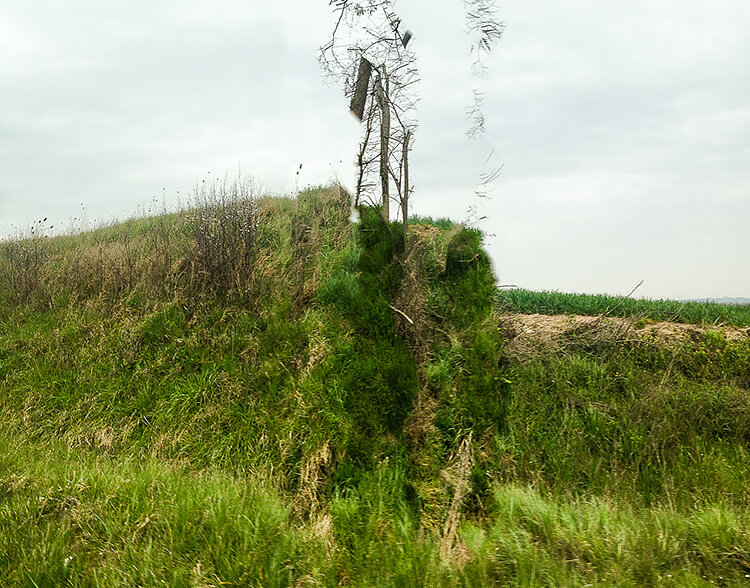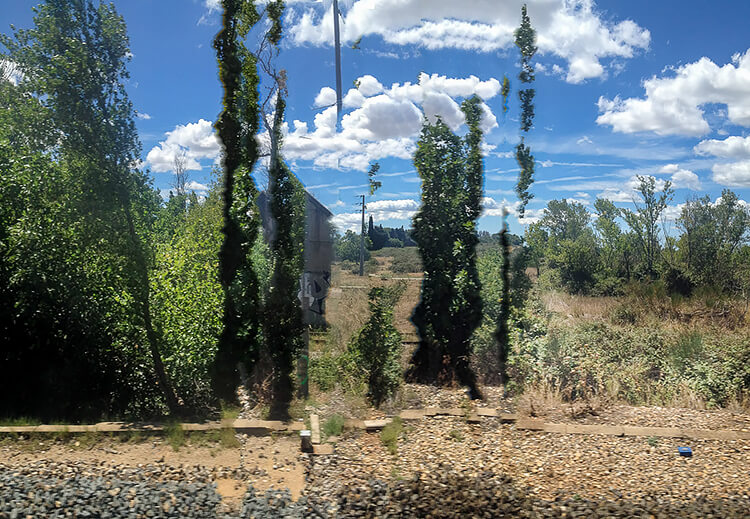 Biography
Erika Gentry is an internationally exhibited, interdisciplinary artist working within photography, video and installation. Her projects explore issues of identity as expressed through the use of technology and place. An enthusiastic Francophile, she exhibits and travels internationally and in 2014 was an artist in residence in France funded in part by the Tenot Foundation and Center for Cultural Innovation. She also designs photography workshops for intermediate photographers in France and San Francisco:
www.photographyinfrance.com
and
www.erikagentry.com.
Gentry specializes in lens based media (video, photography) digital imaging, multi media arts, education and fine art printing in the Bay Area. An early advocate of the creative digital domain, she has been teaching and presenting electronic arts and photography nationwide since 1996 and has been a consultant to many of the industry's leading photographers. She has worked in freelance visual arts, magazine and book picture editing, art direction, advanced digital post-production, web design and as a curator and educator. She has taught one-on-one and group courses at corporations and colleges such as The Rochester Institute of Technology, The San Francisco Art Institute, Foothill College, City College of San Francisco and Rayko Photo Center. She is currently a full-time faculty member and at the City College of San Francisco.
Gentry grew up in Portland Oregon and received her Bachelor of Arts degree from The School of Journalism and Communications at the
University of Oregon
in Eugene. She completed her master of fine arts degree at The College of Imaging Arts and Sciences from New York's
Rochester Institute of Technology.
She has served as a Director on the National Board and the West Regional Board for
The Society for Photographic Education
where in 2012 she co-chaired it's first sold out national conference in San Francisco. She has also served on the advisory board of
Lens Culture Magazine
and is former Vice President to the Board of Directors for Fotovision.org. She is a twice-honored candidate for the CENTER's Excellence in Teaching Award and enjoys sharing her knowledge of photo history as well as traditional and digital processes with her students.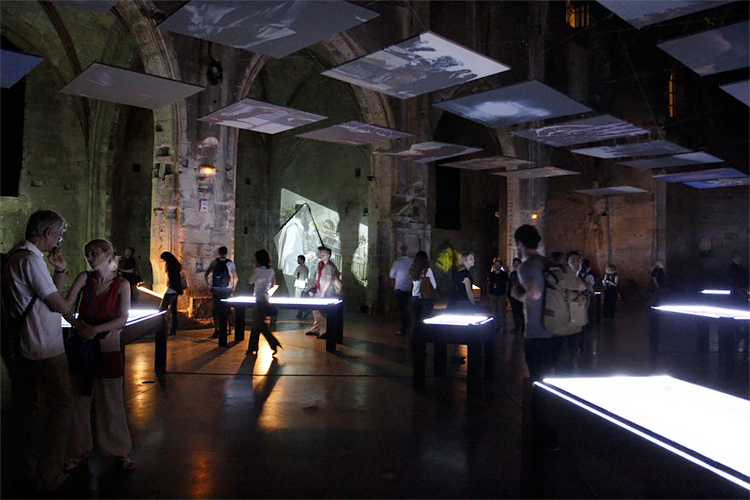 © Erika Gentry - Film installation by Amos Gitai at the Eglise des Fréres Précheurs, Rencontres d'Arles, France 2012