You Can't Get There From Here: The 2015 Portland Museum of Art Biennial
highlights Maine's artistic legacies in the making. Curated by Alison Ferris, this year's Biennial provides a comprehensive overview of the many facets of Maine's contemporary art scene. The exhibition will be on view through January 3, 2016 and there is dynamic public programming in conjunction with the Biennial.
On December 5th, at 11 a.m.,
Christine Collins
with be giving an artist lecture on one of her most recent projects. In
Reclaiming the Landscape,
Collins talks about her work and the development of her ideas in relationship to the sustainable food movement and our shifting relationship to the natural world. As an artist, Collins carefully considers how local farms and community agriculture has enjoyed an elevated status in contemporary life. In this lecture, she shares her thoughts on this subject, as well as how her ideas relate to art history and manifest themselves in her photographic series that portrays a compost pile as wild, sprawling, and ever-changing.
Her work is one of the highlights of the Biennial. These 40x50 prints are part of a series titled Reclamation which features photographs of a compost pile. This may not sound exciting when written in words, but to see the large-scale photographs in person is something else. Her images are bold, colorful, and highly detailed-calling to mind Dutch paintings that also portray an agrarian lifestyle. The sustainable food movement, a recent catch phrase for a practice that long precedes us, has reinvigorated our relationship to the landscape. Local farms have become temples to this movement. These romanticized patches of land are the backdrops for our fantasies about a harmonious participation in the landscape. Vegetables procured from Community Supported Agriculture enjoy a privileged status and suggest a better life through a perceived connection to the sources of our food. We seek to make this halcyon vision congruent with the many hours most of us spend inside. The landscape is a concept to be defined.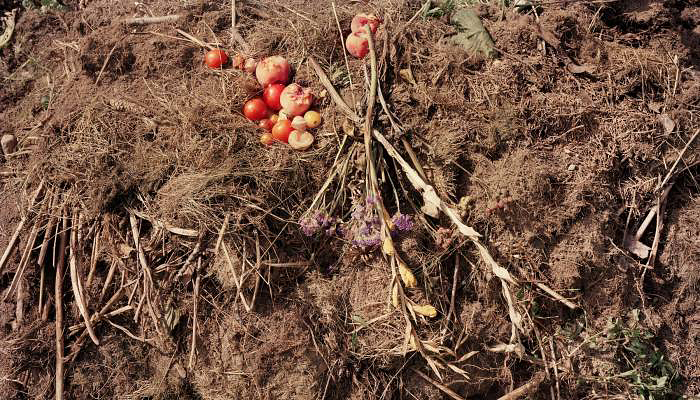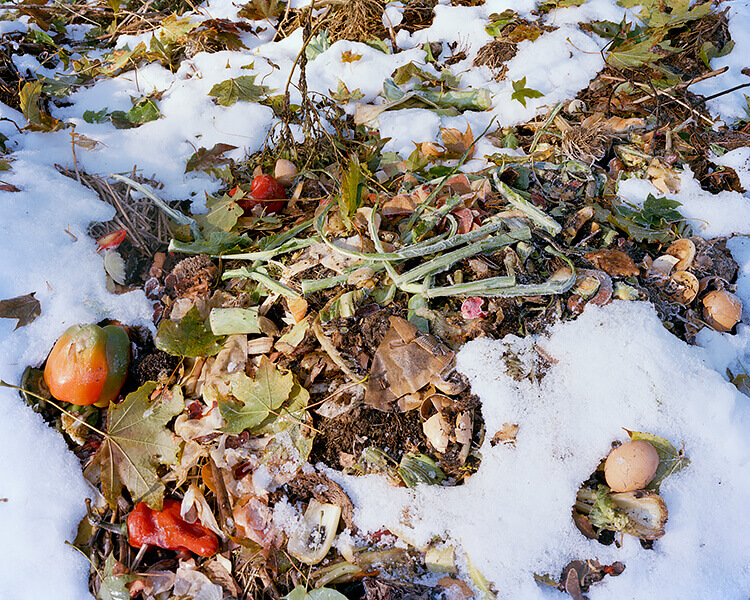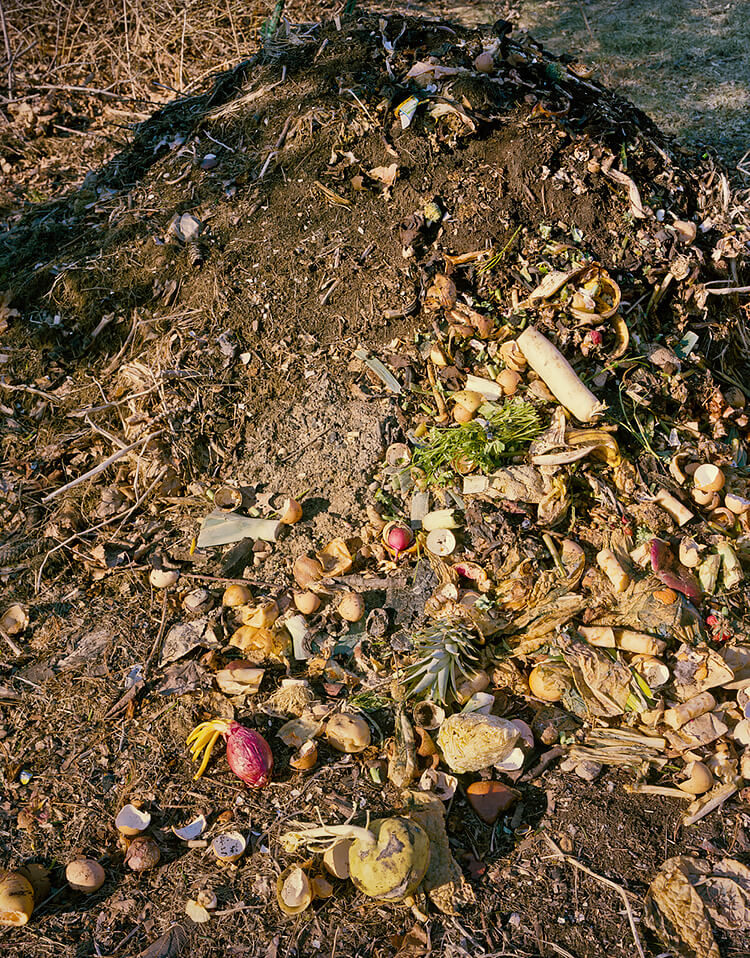 In Collins' photographs of farms and their resulting fruits, she references the art historical impulse to use food as allegory and a more contemporary (mediated) relationship to the natural world. In the series Reclamation, the artist photographed the same family's compost pile over the span of many months. Located in the back corner of a well-tended yard, the pile is wild, sprawling, and ever changing. She is interested in how the physicality of the pile changes with the seasons and references both cycles of time and the desires of a family. A centuries' old agrarian practice reminds us of who we want to be.
If you are anywhere near Portland, Maine, tomorrow, stop by the museum to hear this inspiring lecturer and seasoned photography educator speak about her pictures and her process. As a bonus, she will also be presenting her work from an earlier series titled The Keepers.
In the series The Keepers, Collins is photographing people who are keeping beehives in suburban environments. Once limited to more rural areas, the practice of beekeeping participates in our fantasies about a suburban utopia, where we attempt to achieve both a pastoral and domestic landscape. Beekeeping speaks to our desire to hold nature in the face of an increasingly disconnected culture. The artist sees these people as facilitators, and she thinks about how the small action of placing a hive in a backyard has broad implications about our desire for an interconnectedness with nature. There is a kind of magic in beekeeping; it is a practice that requires patience and faith. Collins is making pictures that suggest ceremony, ritual, and mystery of survival.
I've been fortunate enough to exhibit these images from The Keepers at RayKo Photo Center in San Francisco. Sublime is the best word to describe them. Magical is another. Perhaps even transcendent. They are an achievement and a gift to those of us who have seen them.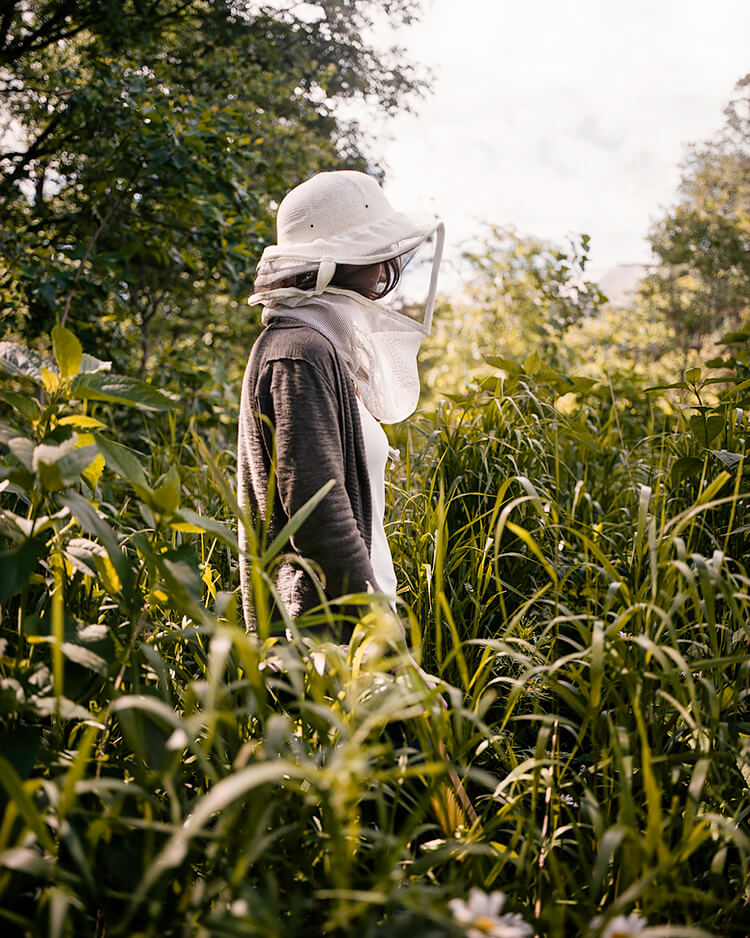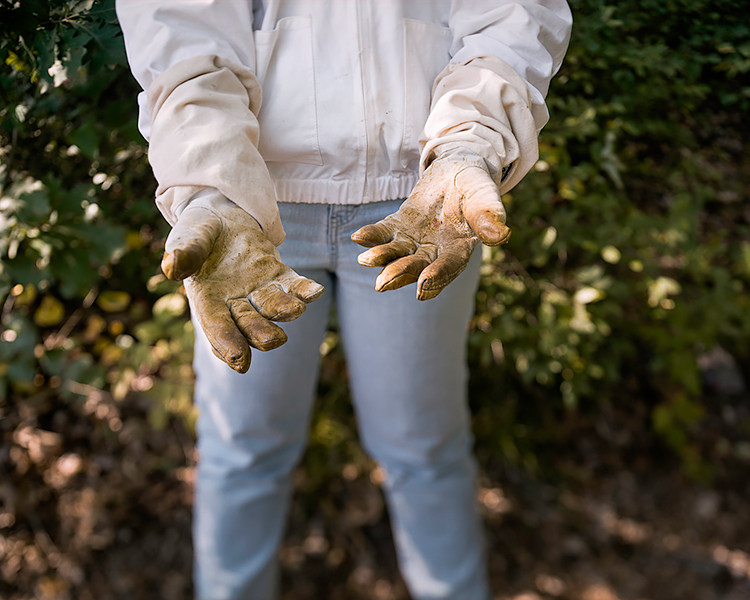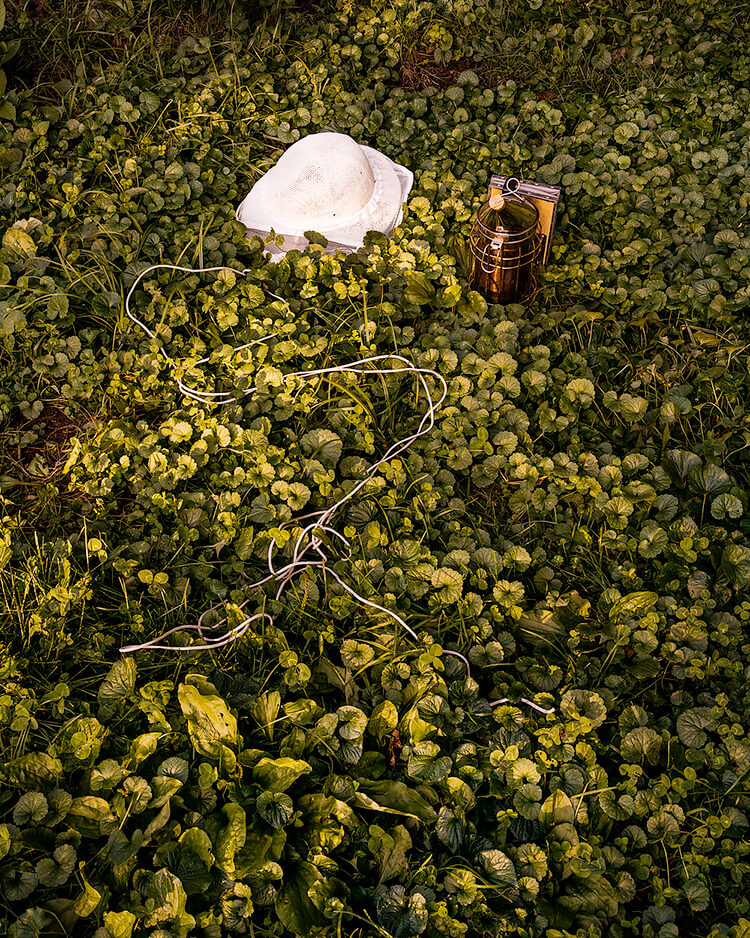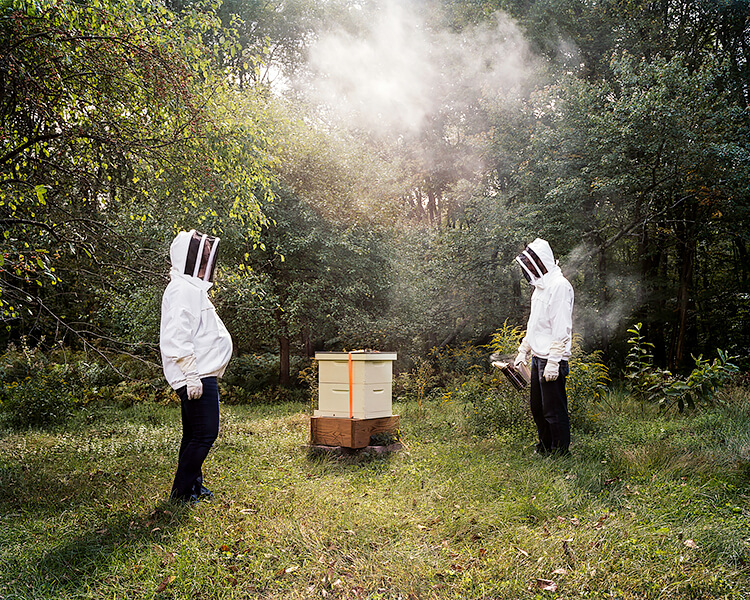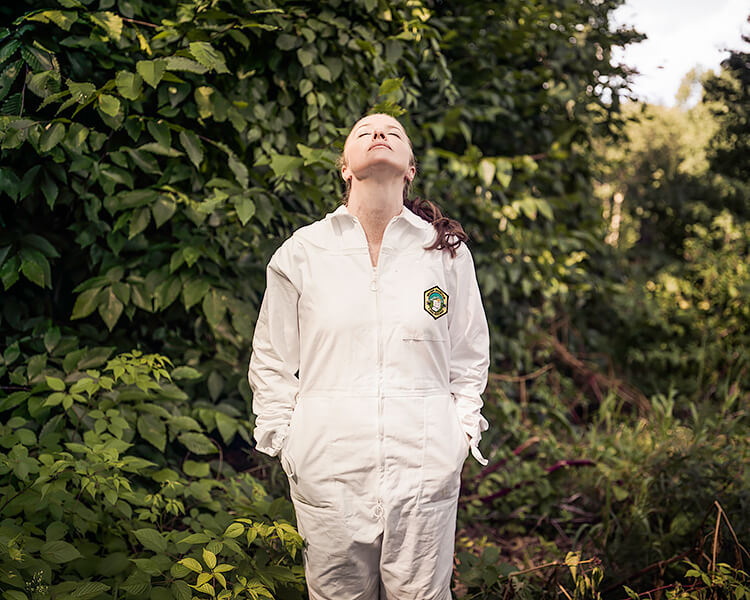 Biography
Christine Collins is an artist and educator who lives and works in Boston, MA. She received a BA Skidmore College and a MFA from Massachusetts College of Art and Design. Her work is currently on view at the Portland Museum of Art and recent exhibits include Landscape as Fetish, Kayafas Gallery, Boston, MA, Forces At Work, University of Texas at Austin, Austin, TX, [Photo]gogues: New England, Flash Forward Festival, Boston, MA, The Easiest Season, Rayko Gallery, CA, Photography Biennial, The Danforth Museum, Framingham, MA, Mentor: 40 Photographers, 40 Years, Maine Center for Contemporary Art, ME, and The Keepers, The Foster Gallery, MA, among others. Her work has been featured in The New Yorker, The Boston Globe, Town and Country Magazine, Esquire Magazine, and Hawk & Handsaw: Journal of Creative Sustainability. She has been a Critical Mass Finalist, nominated for the Prix Pictet, and selected for the Review Santa Fe 100. Collins teaches workshops at the Maine Media Workshops and Anderson Ranch Arts Center. She has taught at Massachusetts College of Art and Design and Lesley University College of Art and Design, where she is currently an Assistant Professor and Chair of Photography.