A recently recovered photographic series documents the compelling photographic journey of American photographer Todd Webb through nine African countries on the cusp of independence.
In 1958, photographer Todd Webb, best known for his remarkable images of the everyday life and architecture of New York and Paris, as well as photographs of the American West, was commissioned by the United Nations Office of Public Information to document the progress of industry and technology in what were then nine different African nations, either recently independent or on the cusp of gaining independence in the aftermath of World War II.
Over the course of four months, Webb traveled through Togo, Ghana, Sudan, Somalia, the Federation of Rhodesia and Nyasaland and Southern Rhodesia (now Malawi, Zambia and Zimbabwe), Tanganyika and Zanzibar (now merged as Tanzania), and Kenya. Outfitted with three cameras, he amassed approximately 2,000 images in that time; yet only 22 of them were published by the U.N., in black & white, in a 7-page brochure. The remainder of the negatives were dispersed in the 1970s and only reunited with the Todd Webb Archive in 2017.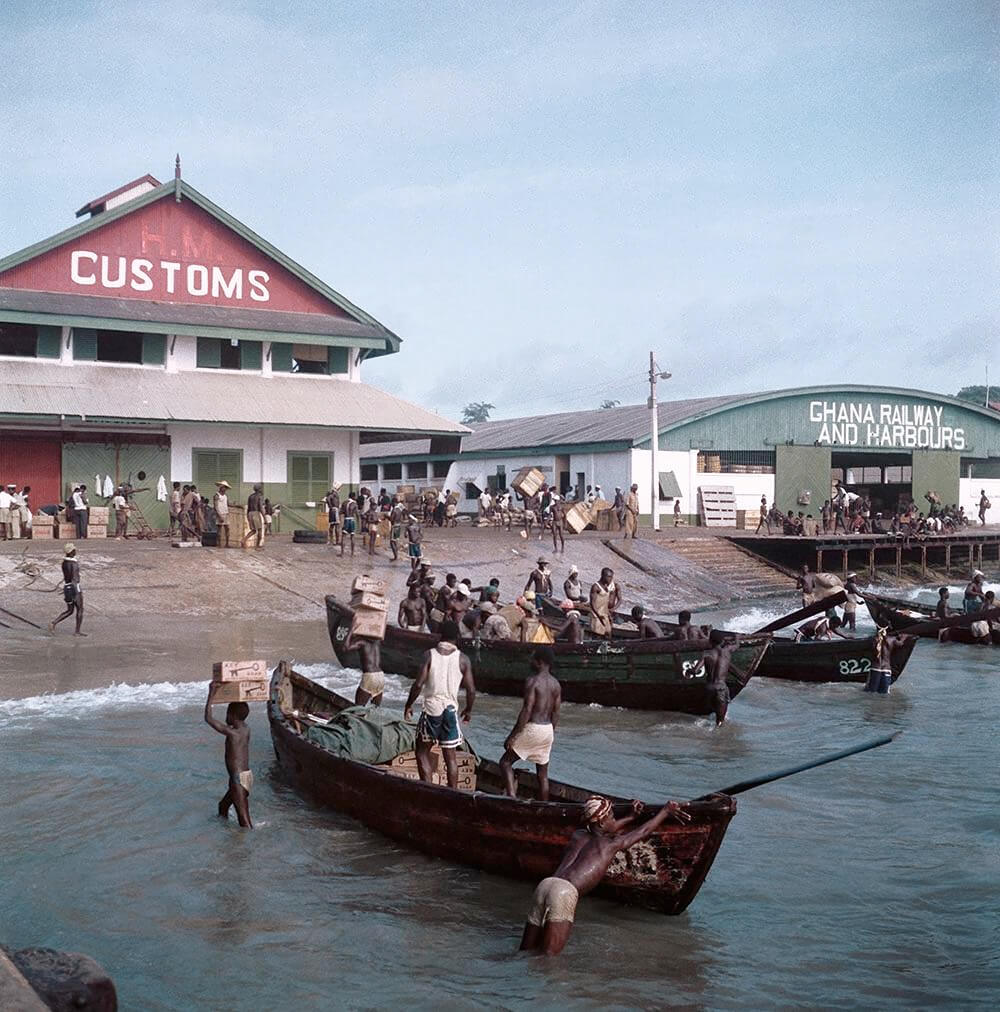 Todd Webb, Untitled (44UN-7997-226), Ghana, 1958. Unloading cargo with Customs House and Ghana Railway and Harbours in the background, Accra © 2021 Todd Webb Archive
Webb's striking color photographs present an outsider's view onto the social, political, and cultural dynamics on the continent at a critical period between colonialism and independence. Resisting stereotypical or exoticizing frameworks, Webb created images of countries on the brink of change, documenting not only industrial change but also people, homes, landscapes, and daily activities, bringing the past to vibrant life.
At the same time, the neglect or suppression of his photographs until recently raise important questions concerning photographic agency and power, racial and national privilege, and the ways in which Euro-Americans conceived of modernization at a crucial period in Africa's history.
The accompanying book
Todd Webb in Africa: Outside the Frame (Thames & Hudson)
showcases more than 150 photographs from Webb's African journey. Included essays by co-authors Aimée Bessire and Erin Hyde Nolan engage the photographs in their historical and artistic moment and provide crucial insight into the role of photography in visualizing national independence and ingrained imperialism.
In the book's introduction, the co-authors write: "Todd Webb in Africa: Outside the Frame investigates the motivations and complicated historical narratives embedded within Webb's photographs, mining a complex body of work with an intersectional mindset. The authors acknowledge Webb's practices as ones that were informed by American understandings of African nations, cultures, and histories—all during a pivotal moment in race relations and civil rights in the United States. Most importantly, the essays gathered within this book acknowledge the challenges of interpreting Webb's photographic series within their colonial context and from today's temporal distance.
Todd Webb in Africa also features essays by African and American scholars, artists, historians, photographers, and writers who engage with Webb's photographs, on both historical and artistic levels, to provide context for the images and insight into the role that photography played in presenting to the rest of the world the social, governmental, and economic transformations of these African countries—including their national independence and entrenched imperialism.
Exhibition Details:
The Portland Museum of Art
7 Congress Square
Portland, Maine 04101
For more information, go
here
.
Todd Webb in Africa is organized by the Minneapolis Institute of Art (Mia). The show was developed by Casey Riley, Curator and Head of the Department of Photography & New Media at Mia and other Mia collaborators, along with the book's co-authors, Aimée Bessire and Erin Hyde Nolan. The inaugural exhibition took place at Mia from January – June 2021. The Portland Museum of Art's presentation is organized by Anjuli Lebowitz, Judy Glickman Lauder Associate Curator of Photography, with consulting curator Erin Hyde Nolan, Bates College and Tufts University.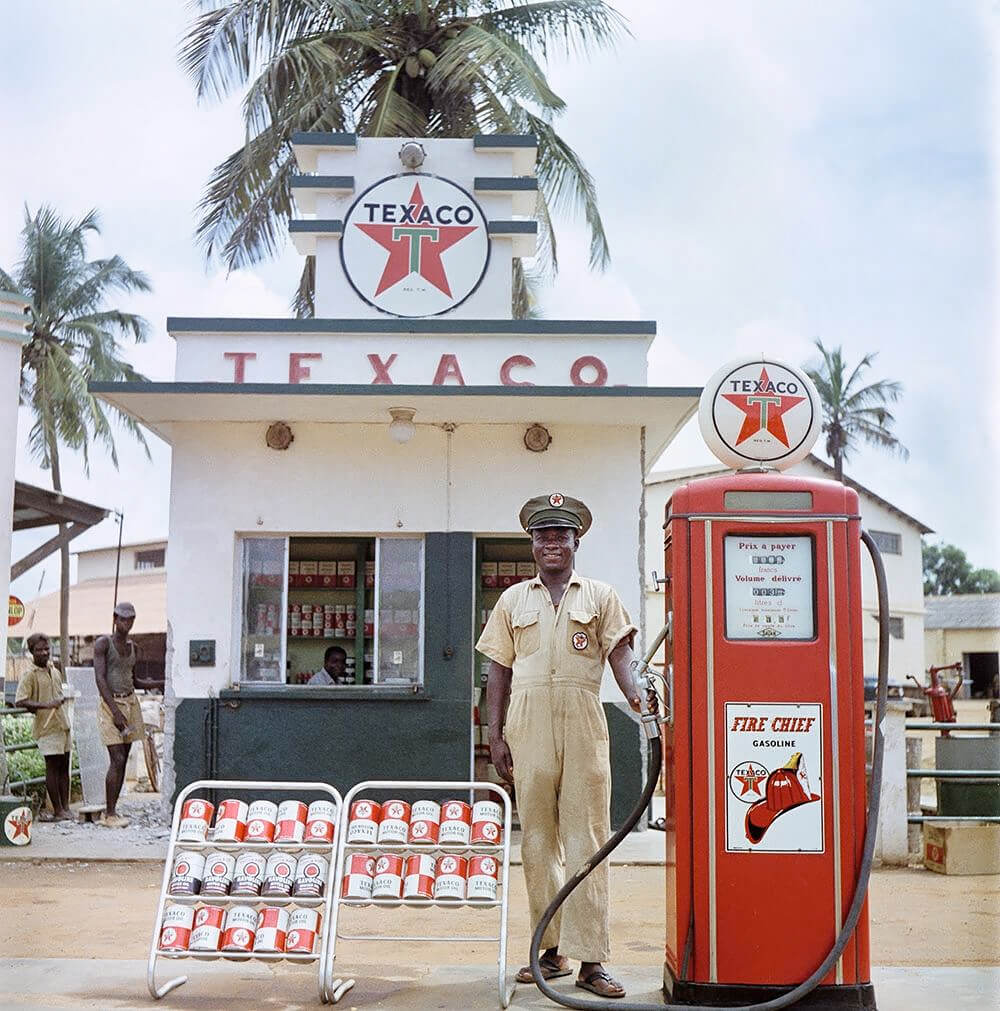 Todd Webb Untitled (44UN-8002-165) Togoland, (Togo) 1958. Attendant at Texaco station. © 2021 Todd Webb Archive
About the Authors:
Aimée Bessire teaches courses in African art and culture, African photography, contemporary art, and history of photography at Bates College. She received her PhD and MA specializing in African Art from Harvard University and has a MA in Ancient Near Eastern and 20th-century art from NYU's Institute of Fine Arts. Bessire was a Helena Rubinstein Fellow in Critical Theory and Curatorial Studies at the Whitney Museum Independent Study Program. She has published on contemporary African art and photography and Sukuma culture in Tanzania. She is currently working on a manuscript on Sukuma power objects.
Erin Hyde Nolan is a Visiting Assistant Professor at Maine College of Art. As an art historian, she examines the photographic history and visual culture of the Islamic world, particularly in Europe, the Mediterranean and Central Asia. Between the many intersections of these fields, Hyde Nolan investigates the cross-cultural circulation of people, objects, and ideas, considering how modes of artistic exchange open alternate frameworks of meaning and reception. Her current book manuscript, Portrait Atlas: The Circulation of Portrait Photographs Between the Ottoman and Euro-American Worlds, is in progress. From 2010 to 2016, she managed the Todd Webb Archive. She received her PhD from Boston University in 2017 and her research has been supported by the Kunsthistorisches Institut-Florenz, Museum of Fine Arts, Houston, and Getty Research Institute, among others. Before attending graduate school, Hyde Nolan worked at the Peggy Guggenheim Collection, the Harvard Art Museums, and the Morgan Library & Museum.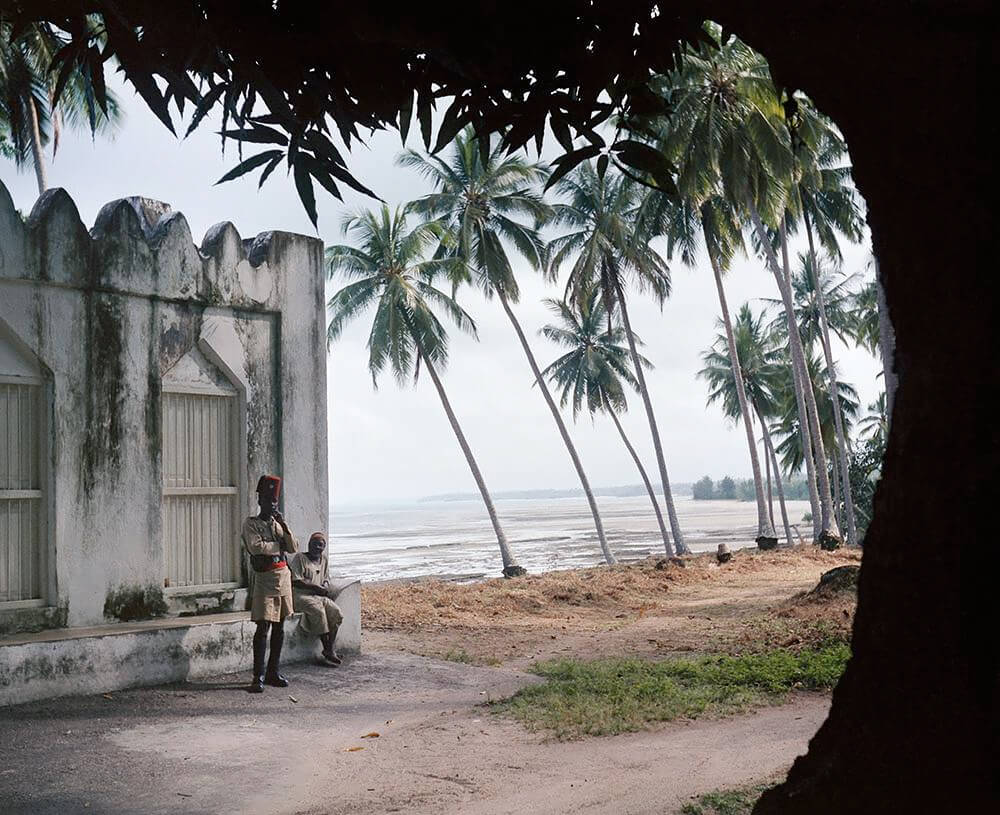 Todd Webb, Untitled (44UN-8014-463), Tanganyika (Tanzania), 1958 Tanganyika police officer and man next to a wall near the Indian Ocean coastline. © 2021 Todd Webb Archive
About Betsy Evans Hunt and the Todd Webb Archive:
Betsy Evans Hunt is the Executive Director of the Todd Webb Archive in Portland, Maine. She first met Todd and Lucille Webb when they visited her gallery in 1989. A wonderful friendship and partnership ensued. They had similar sensibilities artistically and socially, both interested more in the integrity of Todd's work and its presentation than in commercial opportunity. As fate would have it, they did pretty well and enjoyed themselves thoroughly along the way. Evans Hunt inherited the responsibility for the Todd Webb Estate in 2008 and since then has pursued her goal to educate the public about Webb and his oeuvre. She shepherded and edited the book on Webb's New York photographs, I See a City: Todd Webb's New York (Thames & Hudson, 2017) and is currently working on several other related projects. Before moving to Maine in 1988, she was director of a photography gallery in San Francisco (1978–81), managed Robert Mapplethorpe's Studio in New York (1981–83), catalogued the collection at the Addison Gallery of American Art, Andover, MA (1984–86), and completed Sotheby's American Art Course in 1987. For more information, go to:
www.toddwebbarchive.com
.