I'd say I came of age in Maine. Not just in Maine. Specifically, at the Maine Photographic Workshops. I had a summer internship there between my first and second years of grad school and as soon as I graduated with my MFA, I went back at age 23. Thanks to the fearlessness and risk-taking nature of the founder, David H. Lyman, I was hired as resident faculty. Even I thought it was a little crazy to hire a wide-eyed kid fresh out of school, but David is a man who sails the ocean alone through giant seas, so hiring me wasn't so daring in his eyes.
The Maine Photographic Workshops, now the
Maine Media Workshops
, is an international non-profit educational organization offering year-round workshops for photographers, filmmakers, and media artists. Students from across the country and around the world travel to coastal Maine to attend courses of all levels, from absolute beginner and serious amateur to working professional. The Young Artists Program offers creative course opportunities for high school students. Professional certificate and MFA programs in photography, film, and multimedia are available through Maine Media College. The school's curriculum honors historical and traditional practices of image making while embracing new technologies and modes of creative expression in both film and photography. I'm certain that I am just one of many people who's lives were transformed at this magical place.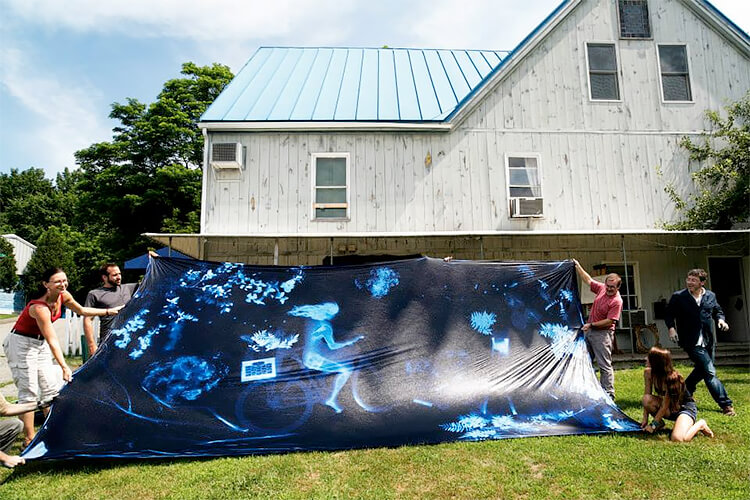 © Christian Tyler Randolph
The person who impressed me the most and affected my life the most (and I'm also certain that I'm not the only one who feels this way), was veteran instructor and consummate artist,
Brenton Hamilton
. He took me under his wing ultimately and completely. As the years passed and I came into my own as a teacher, I was still in awe of Brenton and his ability to not only teach with mastery all the things we loved about photography (it was the early nineties and the workshops focused on the b&w darkroom printing, advanced craft, color photography, alternative processes, vision, vision, vision...), but besides the intensive hours in the classroom and the lab and the painful days of exposure index testing and densitometer calibration, Brenton somehow still managed to make his art. Always true to his own vision while nurturing that of his students. I finally struck a balance years later between my own art-making and my class load, but Brenton never wavered or faltered. Late at night in his studio, experimenting with historic processes, re-inventing them and reclaiming them for his own purposes. He was like a mad scientist. We watched the seasons change, the ocean freeze, the ships locked in ice in Rockport harbor, and he wouldn't slow down. The rest of us would struggle with the real urge to hibernate, to move at a different pace, to put on more layers and just survive until the spring thaw. But not Brenton. Surrounded by humidifiers filling the air with warm steam, he saw and he created. We'd ask him about his bathtub stained blue and he'd just smile and return to his work.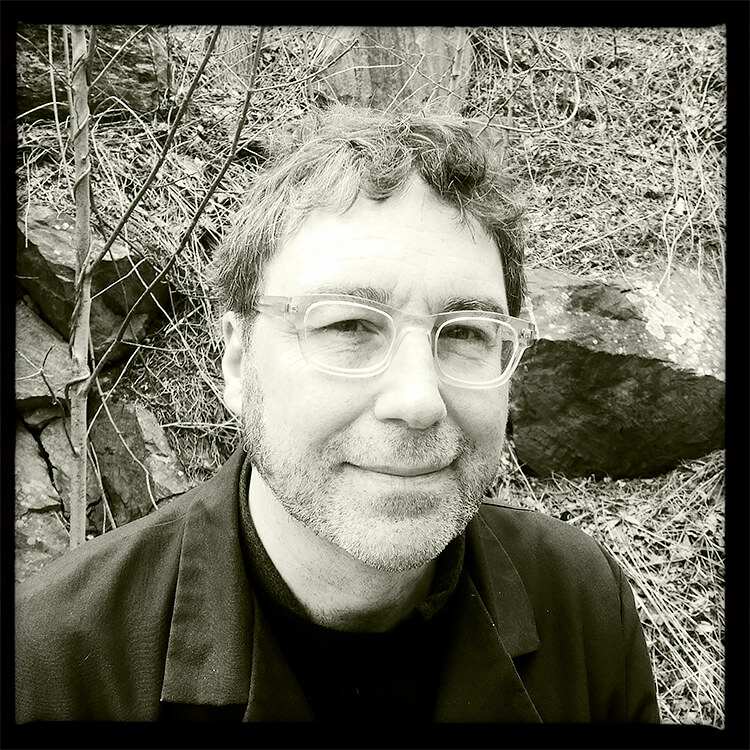 Brenton Hamilton © Mark Dawson
To put it simply, Brenton Hamilton is a visual artist and historian of photography (it was him putting together those three hour lectures on the history of the medium, that despite the fact that you could see your breath in the air in the lecture hall, the class would have full attendance. Always.). Hamilton, a master of the 1840s cyanotype process, chooses this antique medium to render his one-of-a-kind dreamlike visions in an equally unique and intense hue, mirroring the ocean outside his studio window and the blue-black depths of the night sky in Maine. He has begun incorporating other alternative processes into his working methods, but that blue bathtub remains part of the secret. Mining history, Brenton appropriates images to refashion an eccentric personal story. A journey into the night sky and a place of otherness. Even as his friend and accomplice, there would be many pieces to the puzzles in his work that I would never fully grasp, but will always appreciate for their beauty and strangeness. Recently, new associations from medical studies, astronomy and other sciences, as well as the history of art, re-fashioned and re-appropriated as an eccentric mash up of private marks and as well as a private journey. Hamilton has worked for over 20 years in this manner, constantly reinventing a story and attempting to make sense of a separate world.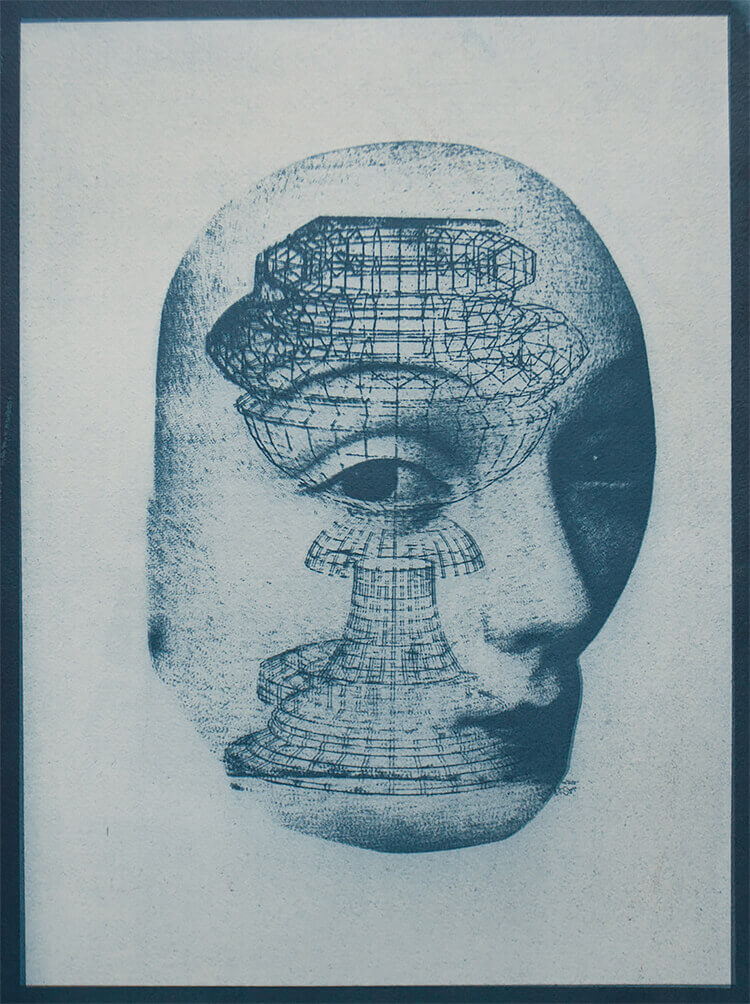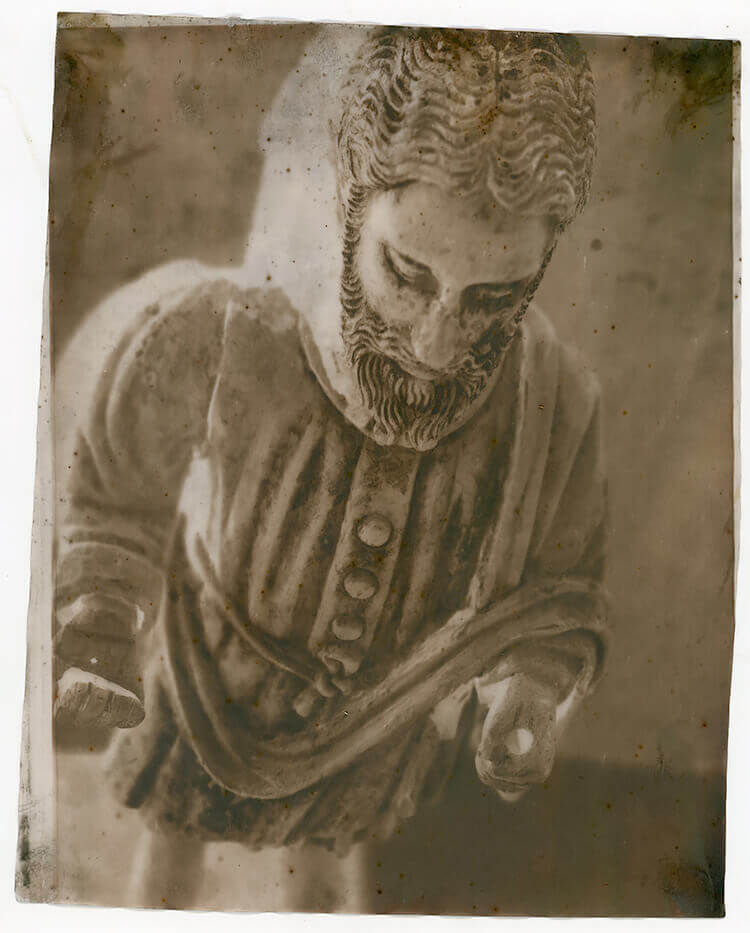 You can visit his
website
to view his creations or one of his galleries in the US or if you are lucky enough, you could see the mad scientist's studio itself in all its mystery and glory. You can also, and should also, expose yourself to one of his workshops in Maine. To be with one of the best photography instructors in the world, this is worth miles of travel. A journey, to begin another greater journey. The Workshops are getting their
summer catalogue
on line soon, but here is the line-up of Brenton's courses now:
June 26-July 27
Exploring Alternative Processes
July 3-July 9
Advanced Alternative Processes
July 10-July 16
Historic Mentoring
July 17-July 30
Alternative Process- Young Photographers
July 31 - August 6
Wet Plate Collodion - Young Photographers
August 7 - August 13
Tri-Color Gum Bichromate
In this digital age, it's important sometimes to step back 170 years or so and make some slow pictures and be inspired to create images in a different way. And, of course, see that night sky in Maine for yourself. It's never too late to come of age.