Chinese artist Liu Bolin has painted himself to show his support of the United Nations Global Goals campaign - the sequel to the Millennium Development Goals.
The artwork 'The Future' features Liu against the backdrop of 193 UN flags. This draws attention to the 17 Global Goals which aim to end extreme poverty, fight inequality and injustice, and tackle global climate change by 2030.
The special piece was created in Liu's studio in Beijing and is one of a number of initiatives around the world to draw attention to the Global Goals, which will be adopted by 193 world leaders on 25th September 2015.
Liu is one of a number of well-known figures behind the campaign founded by Richard Curtis, which includes activity around the world including the Global Citizen Festival headlined by Ed Sheeran, Pearl Jam and Coldplay.
London, September 2nd 2015: World famous artist Liu Bolin, also known as the 'Human Chameleon' or 'The Invisible Man', has created a special image to draw attention to the UN Global Goals - a series of 17 ambitious targets to end extreme poverty, fight inequality and injustice as well as tackle climate change, by 2030. The Beijing-based artist was invited by the Global Goals team to paint himself within the 193 flags of every country. In light of these goals, he has titled the artwork 'The Future'.
Across all of his art, Liu silently comments on the contemporary world by painting himself into his surroundings, highlighting social issues that are often hiding in plain sight. This powerful technique has helped make Liu one of the most interesting and relevant artists today.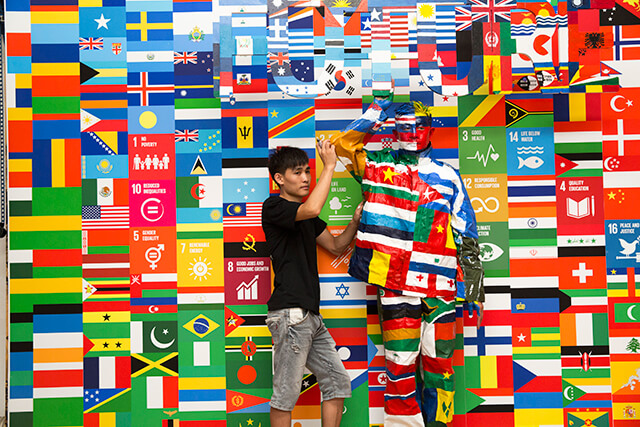 Liu Bolin says:
The name of this new work is called 'The Future'. Compared with my former works, where I draw attention to social issues by hiding myself in the background, this piece aims to make people think about the future of human beings. I want this new work to help raise consciousness about issues such as poverty, unbalanced development, and global climate change. We can't stand idle around these issues. We need to do something. Art cannot change the future, of course, but it can touch the present. I hope that through this work, more and more people will become aware of how serious the issues we face are, and start making an effort to change the world.
The Global Goals campaign is set to be the biggest campaign of all time, aiming to reach seven billion people in seven days starting from the 25th September, 2015, when 193 world leaders will adopt these Global Goals at the United Nations Headquarters in New York.
Speaking about the ground-breaking collaboration, Richard Curtis says:
Liu's incredible artwork for the Global Goals campaign is a powerful statement of our ambition. He is a master at creating powerful, thoughtful and beautiful images and in 'The Future' he asks us all to consider the years ahead for our children and our children's children. Because by making the Global Goals famous with images like Liu's, we can be the first generation to end extreme poverty, the most determined generation in history to end injustice and inequality, and the last generation to be threatened by climate change.
Liu Bolin's artwork 'The Future' is the very first collaboration project enacted by the UN Global Goals campaign, which is also supported by a global collection of campaigners, NGOs and companies.
To show your support across social media, use #GlobalGoals.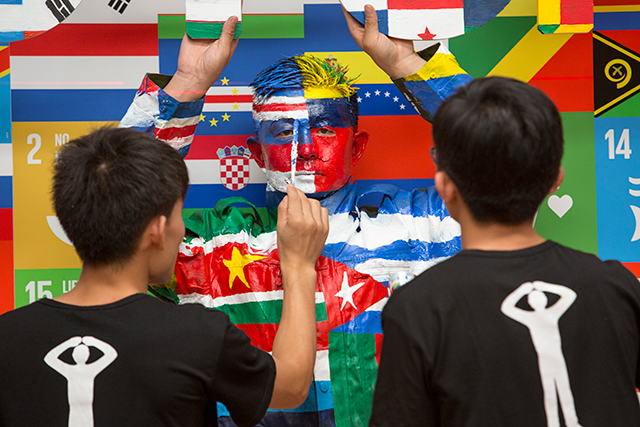 ABOUT THE GLOBAL GOALS CAMPAIGN
On September 25th 2015, at the United Nations Headquarters in New York, 193 world leaders will commit to 17 Global Goals. The aim is to target 3 pressing global concerns every 15 years, starting with sustainable development and climate change in 2015. To activate this campaign, the Global Goals team launched a media project that aims to reach 7 billion people in just seven days.
Founded by Richard Curtis, the Global Goals campaign in partnership with Global Citizen, action/2015 and many UN agencies, is the biggest ever collaboration of NGOs, global brands, public figures, educators, sports clubs, faith leaders, TV and Radio broadcasters, cinema advertisers, telecoms operators, digital and social media platforms, creative and media agencies, publishers, space organizations, artists and grassroots organizations.
Alongside the founding partners are Aviva, Cineme, Getty Images, Pearson, Standard Chartered and Unilever. Project Everyone is supported by action/2015, Akshaya Patra, Bill & Melinda Gates Foundation, Global Citizen, Google, Huffington Post, ONE, Penguin Random House, Reliance Group, Save the Children, SAWA, UNDP, UN Foundation, UNICEF, Universal South Africa, Virgin, Vodafone Foundation, WeTransfer and Wikipedia.