American Photographer | Born: 1949

Jeff Bridges is one of Hollywood's most successful actors and an Academy Award® winner. Over a career that spans five decades, his work has been recognized by the Academy Awards®, the Golden Globes, the Independent Spirit Awards, and the Screen Actors Guild. Truly passionate about photography, he makes behind-the-scenes pictures of the actors, crew and locations on his film sets. After completion of each motion picture, he edits the images into a book and gives copies to everyone involved. The books, which have become valued by collectors, were never intended for public sale, but in the fall of 2006, powerHouse Books published Pictures: Photographs by Jeff Bridges, a compilation of photos made on numerous film locations over the years, to much critical acclaim. Proceeds from the book benefit the Motion Picture & Television Fund, a nonprofit organization that offers charitable care and support to film industry workers.

Gallery:
Website: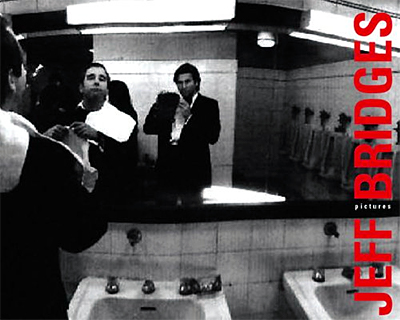 Author: Jeff Bridges
Publisher: powerHouse Books
Year: 2004 - Pages: 192
For more than twenty years, on dozens of film sets, Bridges has perfected his own photography, shooting between takes and behind-the-scenes with a Widelux F8 camera. This fascinating, surprisingly candid body of work began as a personal project, as he recorded the arduous, emotionally intense, evanescent work of the film shoot in books that were privately printed and given as gifts to cast and crew. These are not traditional "Hollywood" pictures, but rather—despite the costumes and lighting, the crowds of extras, the stardom of the subjects—pictures of friends at work. Taken together, the pictures act as Bridges' personal and professional diary, with actors, directors, and crew appearing as coworkers, all equal participants in the job at hand.

With a foreword by Peter Bogdanovich and Jeff Bridges' hand-written commentary and captions throughout, Pictures promises to be a rare and exciting publishing event, offering a vision of Hollywood that is both intimately human and formally beautiful.

Jeff Bridges' proceeds from Pictures will be donated to the Motion Picture & Television Fund, a non-profit organization that offers charitable care and support to film-industry workers.