From November 03, 2020 to December 06, 2020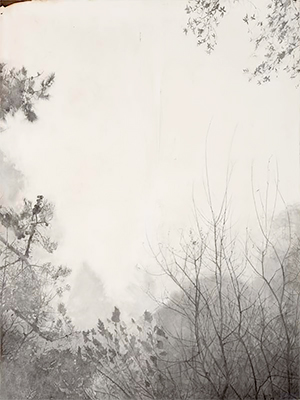 108 Throckmorton Avenue
Mill Valley, CA 94941
Jane Hambleton is a Berkeley-based artist working in multiple mediums with an emphasis on graphite drawing. Her work spans the world of painting, drawing and collage with equal agility. Whether focused on the figure or the natural world around us, her highly detailed and layered pieces explore the ephemerality of life asking us to pause, be present and look more deeply.

Each of the drawings in the exhibition are large-scale and are mostly taken from walks around the artist's neighborhood. The title of the exhibition, One Day refers to "now", a particular point in time. "It is all part of my practice of trying to be present in my life," said the artist. "It happens to me most successfully when I am on my walks. I am trying to really look, to really see and to let that be all that I am doing - to observe in stillness."

Hambleton works on Stonehenge paper with a full range of the B (softer) graphite pencils. Layering the drawing to get the exact tonal elements, she often draws each leaf and detail of the drawing seven or more times to refine the image, working carefully so as not to damage the tooth of the paper. It is a patient and reverential process.

She then coats the drawing with acrylic gel medium and applies an oil paint mixture that she removes with a cloth giving it a patina of time and allowing for imperfections in the surface that give each work its own particular character while also strengthening the paper.

Symbolic of the "One Day," theme is March 17, 2020, an image of the artist's hand holding a single fallen leaf. That singular day was the day after the "shelter in place" order for Californians. On that particular day at a that particular time, Hambleton took a walk and picked up that particular fallen leaf. There is the moment. "Our place on this planet is so small." said Hambleton. She is interested in what the Japanese call "mono no aware," literally "the pathos of things." It is the Japanese term for the awareness of the impermanence of things and refers to the ephemeral nature of beauty - the quietly elated bittersweet feeling of being witness to all of the up and down moments of life, balanced by the awareness that none of it can last.