From September 11, 2020 to October 17, 2020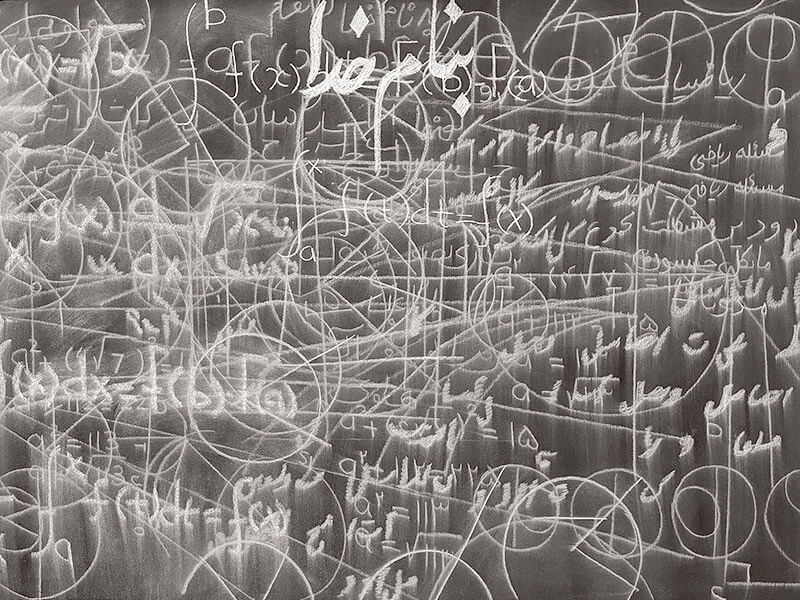 475 25th St
Oakland, CA 94612
Since 2014, Pantea Karimi's work has been an exploration into the pages of medieval and early modern scientific manuscripts. Karimi's infatuation with science harkens back to a four-year science training in high-school with the aim of becoming a doctor; a goal that she abandoned to pursue an art career.

For her solo exhibition, The Unbearable Lightness of Mathematics, Karimi has made a series of mock blackboards animated by mathematical formulas in white chalk, topped with the phrase, In the Name of God, as well as the iconic headshots of Iran's revolutionary leaders. Coupled with "forbidden" objects that she was not supposed to carry in her school, mounted in the gallery, Karimi reconstructs the classroom of her science school in Iran.

While a personal story, this "total work of art" connotes an oppressive educational system that did not leave any room for artistic and humanistic explorations. The paucity of the latter subjects is captured through the gradual fading of the contents of the mock blackboards into pure white. Mathematics was, indeed, too abstract and aloof to stimulate the articulation of subversive thoughts, artistic sentiments, and socio-political views. Unbearably "light" for the "heavy" atmosphere in which it was celebrated, mathematics is both the agonizing and the celebrated protagonist in this exhibition.

PANTEA KARIMI is an Iranian-American multidisciplinary artist, based in the San Francisco Bay Area. Her works explore the intersection of art, history and science and examine how the broader aesthetic considerations of science are closely related to art. Utilizing conceptual and visual interpretations from her research, she creates individual bodies of artwork using interactive installations, VR, silkscreen, digital illustrations, and prints. Pantea Karimi has exhibited her works in diverse solo, group and traveling exhibitions in Iran, Algeria, Germany, Croatia, Mexico, the UK, and the United States. Her works are held in private and public collections and have been featured in several publications in Iran, Italy, Croatia, the UK and the United States. She is the recipient of the 2019 City of San Jose Arts and Cultural Exchange Grant; the 2019 Silicon Valley Artist Laureates Award; and the 2017 Kala Fellowship-Residency Award.